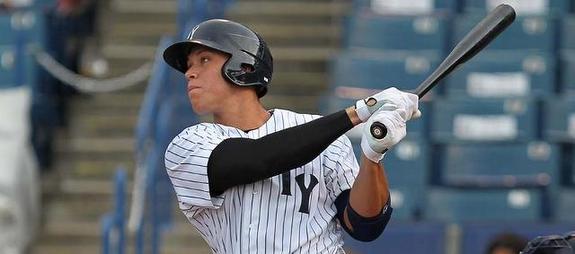 After the nightmare that was 2013, the Yankees' farm system rebounded to have a strong but not really great year in 2014. It was more of a normal season than anything. There were a few surprises, a few disappointments, a bunch of injuries, and several comebacks. Pretty typical year for a minor league system, and, for the Yankees, a typical year meant a huge step up from last season.
The team's seven domestic minor league affiliates combined to go 387-373 (.509) this summer, so after having their consecutive winning season streak snapped at 30+ years last year, they got turned things around quickly. None of the four full season affiliates qualified for the postseason, however. Only the two Rookie GCL Yankees squads did. The system did not have at least one league champion for only the third time in the last eight years.
As a reminder, this annual awards post has nothing to do with prospect status. This is all about recognizing 2014's notable performances in the farm system. Pure production with future outlook taking a backseat. These are also my awards and my opinions, so you're welcome to disagree. There is no right answer with stuff like this. Here are my 2007, 2008, 2009, 2010, 2011, 2012, and 2013 awards posts. So, without further delay:
Minor League Player of the Year: 2B Rob Refsnyder
From start to finish, the best and most consistent player in the system this year was Refsnyder. The 23-year-old opened the year with Double-A Trenton, hit .342/.385/.548 (159 wRC+) with 19 doubles and six homers in 60 games, then was promoted up to Triple-A Scranton. Refsnyder hit .296/.386/.453 (135 wRC+) with 19 doubles and eight homers in 77 games with the RailRiders, giving him an overall .317/.385/.495 (~145 wRC+) batting line. The team's fifth round pick in the 2012 draft led the farm system in batting average (min. 400 PA), doubles (38), and total bases (255) while placing second in hits (163). He also cut his error total from 25 in 108 games last season to 12 in 122 games this season. Refsnyder put himself on the map a year ago and this year he proved he was no fluke. He's played his way into big league consideration just two years after being drafted and asked to change positions.