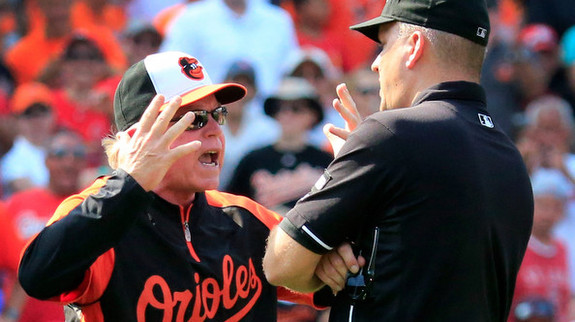 For all intents and purposes, this three-game series against the Orioles in Camden Yards will determine whether the Yankees have a realistic chance of winning the AL East this season, or if they'll have to focus solely on the wildcard. The O's have won two of three in each of the first three series these two teams have played this year.
What Have They Done Lately?
The Orioles outscored the Cardinals 25-13 this weekend but "only" won two of three. They've won six of their last eight games and are 15-8 since the All-Star break. Baltimore is 67-50 with a +48 run differential, giving them the biggest division lead in baseball at five games. The Yankees are six games back.
Offense
At 4.29 runs per game with a team 105 wRC+, the Orioles are only a slightly above-average offense despite leading baseball with 147 homeruns. They don't get enough guys on base in front of the power hitters. Baltimore is without C Matt Wieters (131 wRC+), who is done for the year following Tommy John surgery. SS J.J. Hardy (94 wRC+) is currently day-to-day with a thumb sprain and may or may not be available this series.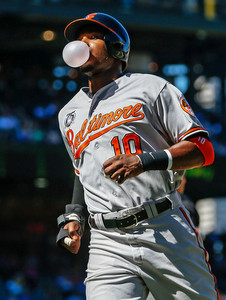 Manager Buck Showalter's lineup is built around the 30-homer power of OF Adam Jones (117 wRC+) and OF Nelson Cruz (129 wRC+). Cruz already has 30 homers and Jones will get there before season's end. (He's at 22.) 1B Chris Davis (90 wRC+) is having a relatively awful year, but OF Steve Pearce (139 wRC+) has picked up some of the slack. Steve Pearce, huh? Both OF Nick Markakis (114 wRC+) and 3B Manny Machado (107 wRC+) have been productive on both sides of the ball.
C Caleb Joseph (95 wRC+) recently went deep in five consecutive games. Corban's brother splits catching duties with C Nick Hundley (68 wRC+) in the wake of Wieters' injury. DH Delmon Young (129 wRC+ in limited time), OF David Lough (71 wRC+ in limited time), IF Jonathan Schoop (59 wRC+), and UTIL Ryan Flaherty (62 wRC+) fill out the rest of the bench. Flaherty has been filling in at short while Hardy's been banged up.
Pitching Matchups
Monday: LHP Chris Capuano (vs. BAL) vs. RHP Bud Norris (vs. NYY)
The 29-year-old Norris has arguably been his team's most consistent starting pitcher, with a 3.68 ERA (4.36 FIP) in 19 starts and 115 innings. His peripherals don't jump out at you — 6.73 K/9 (17.9 K%), 2.90 BB/9 (7.7 BB%), 1.02 HR/9 (10.4 HR/FB%), and 42.3% grounders — but he has essentially zero platoon split and simply keeps runs off the board. After years of underperforming his peripherals, he's now doing the opposite. Maybe it's dumb luck. Norris is basically a two-pitch pitcher with two other pitches. He relies heavily on his low-90s four-seamer and mid-80s slider, throwing them roughly 80% of the time combined, but he'll also throw a handful of mid-80s changeups and low-90s two-seamers per start. He held the Yankees to one run in five innings back in June.
Tuesday: RHP Shane Greene (vs. BAL) vs. LHP Wei-Yin Chen (vs. NYY)
Chen, 29, has a 3.90 ERA (4.16 FIP) in 22 starts and 129.1 innings this year, his third straight year pitching at almost exactly the same level. The only thing he does exceedingly well is limit walks (1.60 BB/9 and 4.2 BB%). His strikeout (6.68 K/9 and 17.7 K%), homer (1.32 HR/9 and 12.8 HR/FB%), and grounder (40.9%) numbers aren't special at all. Like Norris, he also has what amounts to no platoon split whatsoever. Chen has the standard issue four-pitch mix, so a low-90s fastball, mid-80s changeup, low-80s slider, and low-70s curveball. The changeup is his go-to offspeed pitch. The Yankees scored four runs in five innings when they faced the Taiwanese southpaw back in April.
It's worth noting the Orioles will be the first team to see Greene a second time as a starting pitcher, which is always a big test. That mid-90s sinker and hard upper-80s slider won't sneak up on them this time.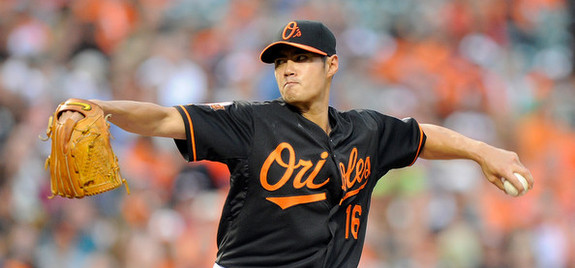 Wednesday: RHP Esmil Rogers (vs. BAL) vs. RHP Chris Tillman (vs. NYY)
Tillman started Opening Day for the Orioles but he's been unable to build on last year's success, instead posting to a solid 3.73 ERA (4.22 FIP) in 149.2 innings across 25 starts. His strikeout rate (6.13 K/9 and 15.9 K%) is his lowest since breaking into the league full time three years ago while his walk rate (3.19 BB/9 and 8.3 BB%) is its highest. Tillman has done a much better job of keeping the ball in the park this season (0.90 HR/9 and 8.2 HR/FB%) even though his ground ball rate (41.1%) continues to be no better than okay. Again, like Norris and Chen, he has zero platoon split, but he has pitched quite a bit better at home (.281 wOBA) than on the road (.332 wOBA) in 2014. Low-90s four-seamers and cutters set up Tillman's mid-80s slider, low-80s changeup, and big-breaking mid-70s curveball. He's lost about one mile an hour off his fastball for the second straight year. The Yankees have seen Tillman twice this year: seven shutout innings in June and three runs in 6.2 innings in July.
Rogers is still listed as the starter for the series finale though there are rumblings Michael Pineda may rejoin the rotation that day. He got up 72 pitches in his second rehab start this weekend, meaning he should be good for 85-90 pitches next time out. "That's something we'll have to talk about," said Joe Girardi to Brian Heyman over the weekend. "Ideally you'd like to get someone to 90 pitches … We'll sit down, Brian (Cashman) and the people who saw it, and decide what's next for him."
Bullpen Status
The Cardinals did the Yankees a favor by both forcing Kevin Gausman out of yesterday's game early and keeping the score close enough that Showalter used his key relievers. Both closer RHP Zach Britton (3.15 FIP) and setup man/deadline pickup LHP Andrew Miller (1.73 FIP) not only pitched, but they also allowed runs and threw longer than usual innings. LHP T.J. McFarland (3.58 FIP) threw 51 pitches across two innings of work as well.
The rest of Showalter's bullpen includes RHP Brad Brach (3.59 FIP), RHP Tommy Hunter (3.44 FIP), LHP Brian Matusz (4.30 FIP), and RHP Darren O'Day (2.88 FIP). Matusz is a pure lefty specialist while McFarland is a multi-inning lefty and Miller is a one-inning high-leverage guy who will face both lefties and righties. The eight-man Yankees bullpen is in relatively good shape. Check out our Bullpen Workload page for details and then check out Camden Chat for the latest on the Orioles.