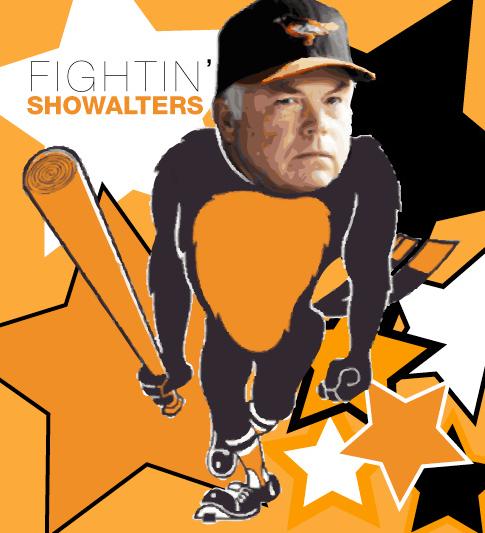 The Yankees went 4-2 on their six-game road trip through Boston and Toronto, and now they'll return home for a four-game set against the Orioles this weekend. After this series, the Yanks will head out on another ten-game road trip. This will be the team's only home series from April 30th through May 22nd. Baltimore took two of three games from the Yankees last month, in their first meeting of 2015.
What Have The Orioles Done Lately?
The O's beat the Yankees to New York by several days — they've been in town playing the Mets. The Mets swept the two-game series and Baltimore has now lost eight of their last 13 games. Manager Buck Showalter's squad is 12-13 with a +7 run differential on the season, which has them in fourth place in the AL East.
Offense & Defense
Despite scoring only three runs total in the two games against the Mets, the Orioles are averaging a healthy 4.92 runs per game with a team 113 wRC+ this season. The O's are pretty banged up — they're without SS J.J. Hardy (shoulder), C Matt Wieters (Tommy John surgery), UTIL Ryan Flaherty (groin), and IF Jonathan Schoop (knee). It sounds like Hardy might come off the DL this series though, according to Steve Melewski.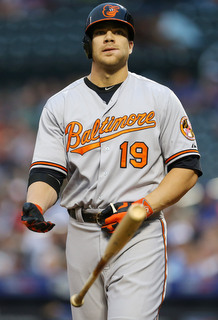 Baltimore's offense is led by OF Adam Jones (187 wRC+), who has legitimately been MVP caliber so far this season. 1B Chris Davis (139 wRC+) is striking out a ton (40.0%) but is also putting up some real nice numbers. C Caleb Joseph (129 wRC+) has done well replacing Wieters, OF Travis Snider (113 wRC+) has been solid, 3B Manny Machado (122 wRC+) has been on fire of late, and ex-Yankees farmhand UTIL Jimmy Paredes (160 wRC+) has been great in part-time duty.
The rest of the regular lineup isn't doing much of anything. DH Delmon Young (101 wRC+) has been fine in a platoon role but OF Alejandro De Aza (74 wRC+), IF Everth Cabrera (24 wRC+), and UTIL Steve Pearce (52 wRC+) aren't hitting at all. Pearce has actually been playing second base of late, if you can believe that. C Ryan Lavarnway, IF Rey Navarro, and OF David Lough are what's left on the bench.
The O's have a good team defense that has somehow developed the reputation for being a great team defense. I guess because they rarely make errors, which don't tell us much. Anyway, Machado is elite at third base while Jones and De Aza are above average in the outfield. Davis and Joseph are solid at first and behind the plate, respectively. Snider is an adventure in right, Cabrera's nothing special at short, and Pearce at second is … yikes. It's yikes.
Pitching Matchups
Thursday: RHP Nathan Eovaldi (Career vs. BAL) vs. RHP Chris Tillman (Career vs. NYY)
It's been a rough start to the season for the 27-year-old Tillman, who has a 6.23 ERA (5.31 FIP) in five starts and 26 innings. His strikeout (17.7%) and ground ball (35.1%) rates are right where they usually sit, but he's walked a ton of batters (13.3%) and his homer rate (1.38 HR/9) has returned to its pre-2014 levels. His reverse split (.372 vs. .338 wOBA in favor of righties) is likely a function of sample size based on his career numbers. Tillman has historically had a tiny platoon split. There has been no real change in the right-hander's stuff this season — he still sits in the low-90s with his two and four-seamers, and uses them to set up mid-80s sliders, low-80s changeups, and mid-70s curves. Tillman has lots of weapons but hasn't yet gotten a handle on them in 2015. The Yankees did not face Tillman during the series in Baltimore a few weeks ago.
Friday: RHP Adam Warren (Career vs BAL) vs. RHP Miguel Gonzalez (Career vs. NYY)
Gonzalez, 30, is off to a nice start this year, posting a 2.59 ERA (3.88 FIP) in 31.1 innings across five starts. His strikeout (21.1%), walk (9.4%), and ground ball (42.5%) numbers are all a bit higher than they have been the last few seasons while his homer rate (0.86 HR/9) is much lower than his career rate (1.25 HR/9). Righties (.317 wOBA) have hit Gonzalez harder than lefties (.249 wOBA) this year, which is out of whack with the rest of his career. He's historically been another guy with no platoon split. Gonzalez sets up his trademark low-80s splitter-changeup hybrid — that pitch seems to give the Yankees fits every time they face him — with a low-90s four-seamer. He also throws low-80s sliders and mid-70s curves. The Yankees scored one run in seven innings against Gonzalez a few weeks ago, when he set a new career high with ten strikeouts.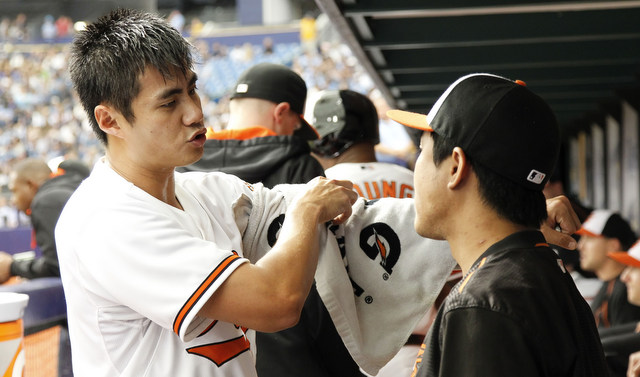 Saturday: RHP Chase Whitley (Career vs. BAL) vs. LHP Wei-Yin Chen (Career vs. NYY)
On one hand, the 29-year-old Chen is off to a great start (2.83 ERA). On the other, he's been really bad (5.45 FIP). Chen currently owns career worsts in strikeout rate (16.8%), walk rate (9.2%), and homer rate (1.57 HR/9) to go with a grounder rate (37.8%) in line with his career norms. He has no platoon split this year (.315 vs. 314 wOBA) but has been tougher on lefties than righties throughout his four years in MLB. Chen has lost approximately two miles an hour across the board this season. He now operates with an low-90s four-seamer, an even lower-90s two-seamer, a low-80s slider, a low-80s changeup, and a low-70s curveball. Chen held the Yankees to two runs in six innings in their first series of 2015.
Sunday: RHP Michael Pineda (Career vs. BAL) vs. RHP Bud Norris (Career vs. NYY)
Boy this season has been ugly for Norris. He has a 9.75 ERA (4.78 FIP) in 24 innings across five starts — so he's averaging fewer than five innings per start, which is never good — and his strikeout rate (14.0%) is down considerably from the last few years. His walk (8.8%), grounder (37.2%), and homer (1.13 HR/9) numbers are right in line with his career norms though. Lefties (.485 wOBA) has absolutely destroyed Norris this year. Righties (.317 wOBA) have had success too. Left-handers have hit him harder historically, but not to this extreme. Norris is basically a two-pitch pitcher, using his low-to-mid-90s heater and mid-80s slider nearly 95% of the time combined. He'll also throw a show-me mid-80s changeup hitters don't really have to worry about. The Yankees scored three runs in five innings against Norris when these two teams played in Camden Yards last month.
Bullpen Status
The Mets knocked Ubaldo Jimenez out of yesterday's game after only four innings, so Showalter had to get a dozen outs from his relievers. RHP Brad Brach (3.66 FIP) threw two innings while RHP Kevin Gausman (4.36 FIP) and Rule 5 Draft pick RHP Jason Garcia (7.88 FIP) threw one inning each. Otherwise the 'pen is pretty fresh. They were off Monday and didn't work much Tuesday.
LHP Zach Britton (1.14 FIP) is the closer and he's been really, really good in that role since moving into the bullpen full-time last year. RHP Darren O'Day (4.01 FIP) is his primary setup man and both RHP Tommy Hunter (4.08 FIP) and LHP Brian Matusz (5.78 FIP) will see important innings as well. Baltimore's bullpen isn't as strong as we're used to seeing — they have a 3.95 ERA (4.36 FIP) as a unit and that puts them in the bottom third of MLB.
As for the Yankees, head over to our Bullpen Workload page for the status of Jose Girardi's relievers. Camden Chat is the place to go for the latest and greatest on the Orioles.