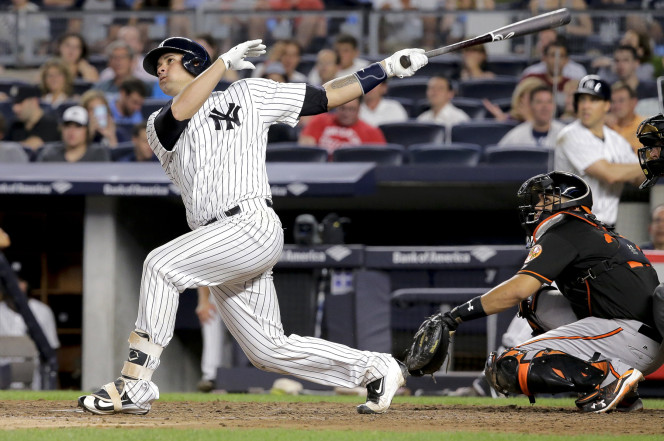 Mr. Unstoppable
One of the most incredible starts to a career continued on Friday night with Gary Sanchez extending his unprecedented assault on big-league pitching in the series opener. He added three more hits, including a double and a homer, and drove in four runs to lead the Yankees to a 14-4 blowout win.
Sanchez is setting the record books ablaze every time he steps the plate as his feats are reaching epic proportions and every at-bat becomes must-see television for Yankee fans everywhere. At this point in his record-breaking spree, it's just easier to recap with bullet points, so here we go:
By hitting his 10th homer on Friday, all of which have come in August, Sanchez broke the Yankee rookie record for homers in a calendar month. The previous mark of nine was set by Joe DiMaggio in August 1936 and later tied by Tom Tresh in August 1962.
He became the third-fastest player in MLB history to reach 10 homers, behind only Rockies shortstop Trevor Story (21 games earlier this year) and Red Sox infielder George Scott (21 games in 1966)
The three-hit, four-RBI performance also pushed his career totals in those stats to 31 and 20, respectively. The only Yankee to reach 30 career hits faster than Sanchez was Joe DiMaggio (16[!] games in 1936); the only Yankees to reach 20 career RBI faster than Sanchez were Hideki Matsui (20 games in 2003) and DiMaggio (21).
Where Sanchez truly stands alone in baseball history is his unique combination of elite hit and power tools: He is the first player in major-league history to compile at least 10 homers and 30 hits this early into his career (22nd game).
And we'll finish this section with a #FunFact, because why not? Sanchez is the youngest Yankee catcher with at least three hits, three runs scored and four RBI in a game since a 23-year-old Yogi Berra on Aug. 3, 1948 against the Tigers.
Sanchez is not human
On Saturday, this Sanchez kid officially zoomed past the basic level of historic and entered the upper realm of absurdity. Since we're beginning to run out of words to describe Sanchez's mind-boggling pace, I'll just put this GIF here instead:
Yup, he did it again. Sanchez homered for the 11th time this season, fueling another pinstriped offensive explosion as the Yankee routed the Orioles, 13-5. With his 370-foot blast to right-center in the fourth inning, he became the fastest player in the history of major-league baseball to reach the 11-homer mark, doing so in his 23rd career game.
All 11 of his homers came since his recall in early August, making this not just an unbelievable career-opening run, but also one of the best power-hitting months by any young player in recent memory. To the bullet points again:
Sanchez is the third Yankee ever to hit at least 11 homers in any month in his age-23 season or younger, joining Mickey Mantle (12 in August 1955) and Joe DiMaggio (15 in July 1937).
The rookie phenom is also the youngest big-league catcher since Johnny Bench in 1970 to go yard 11-plus times in a month.
And Sanchez is the first American League player in his age-23 season or younger to pile up at least 11 homers and 30 hits in a month since Alex Rodriguez (11 homers, 36 hits) for the Mariners in August 1999.
Sanchez wasn't the only Yankee with a monster game. One of the guys he shared the spotlight with was Starlin Castro, who repeatedly destroyed the baseball on Saturday as he went 4-for-6, scored three runs, stole a base and drove in three runs.
Only one other second baseman in franchise history has enjoyed such a productive night at the plate — at least four hits, three runs, three RBI and a steal: Alfonso Soriano had a game with those numbers on April 8, 2002 against the Blue Jays.
Overall, for the second time in two games against the Orioles, the Yankee bats punished Orioles pitching — in record-breaking fashion. Coupled with Friday's offensive fireworks, this is the first time since at least 1913 (and likely ever) that the Yankees have scored at least 13 runs, gotten 18 or more hits, and went deep at least three times in back-to-back games.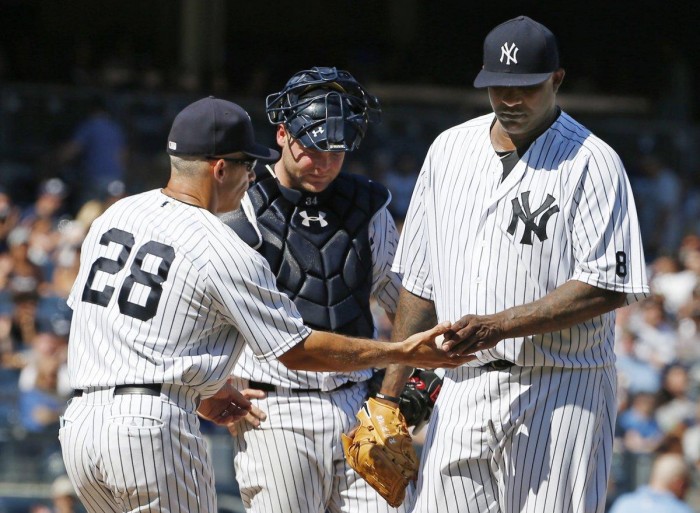 The Sunday Letdown
Nothing lasts forever, right? The Orioles somehow managed to cool off the torrid bat of Gary Sanchez and the streaking Yankees, blanking them, 5-0, on Sunday afternoon. For the seventh time this season the Yankees were going for a three-game sweep … and for the seventh time they failed to complete it.
The lack of three-game sweeps might be an odd stat, and sweeps are not "easy," but it does speak to the inconsistency — and an inability to go on an extended season-changing run — that has plagued this Yankee team since day one. (Though, to be fair, they do have two four-game sweeps.)
The Orioles did manage to keep Sanchez from sending a ball over the fences, but the young slugger's power binge was merely tempered. He still finished with two hits, a single and a double, in four at-bats, giving him a whopping 19 extra-base hits in the big leagues.
Only two major-league players in the last century had that many hits for extra bases this early into their careers (24th game): Mandy Brooks had 22 for the Cubs in 1925 and DiMaggio had 19 for the Yankees in 1936. Oh, and he now has more than twice as many multi-hit games (10) as hitless games (4) among the 22 contests he has started in pinstripes.
The fact that Orioles starter Kevin Gausman shut down the Bronx Bombers' surging bats is hardly surprising given his dominance of them this year. After throwing seven scoreless innings on Sunday, he now owns a 0.98 ERA across four starts versus the Yankees. The last pitcher to finish a season with a sub-1.00 ERA in four-or-more starts against the Yankees was Angels lefty Chuck Finley in 1996 (0.57).