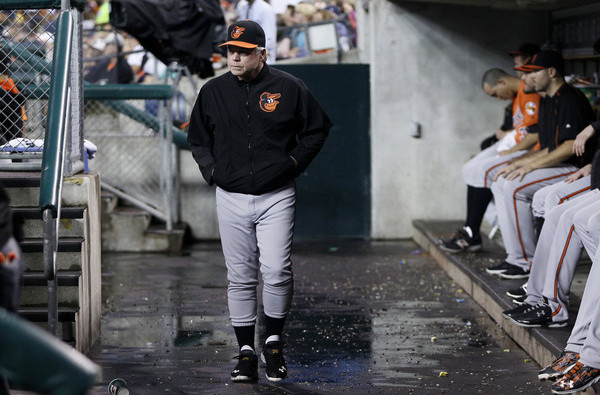 So here we are. The final series of the 2016 season. The Yankees were eliminated from postseason contention last night by the Orioles, who are in the Bronx for the final three games of the season this weekend. Baltimore beat the Blue Jays to knock the Yankees out. Alas. The Yankees are 8-8 against the Orioles this season, including 5-2 at Yankee Stadium.
What Have They Done Lately?
The O's took two of three from Toronto this week and they've won five of their last six games overall. They're 87-72 with a +23 run differential. The Orioles and Blue Jays are tied for the second wildcard spot, and the Tigers are 1.5 games back. Baltimore's magic number is three. Sweeping them this weekend wouldn't automatically push the O's out of the postseason — the Tigers still need to take of their own business — but it would be a big help for Detroit.
Offense & Defense
The Orioles have had exactly the kind of offense everyone expected them to have this season. They hit a ton of homers (247) but they're only okay at getting on base (team .317 OBP), which is why they're middle of the pack with an average of 4.58 runs per game. Their team wRC+ is exactly average at 100. The O's are without UTIL Steve Pearce (forearm) and Rule 5 Draft OF Joey Rickard (thumb), who are done for the year.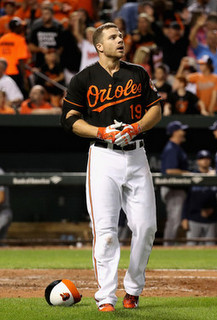 Despite a .314 OBP, CF Adam Jones (98 wRC+) remains manager Buck Showalter's leadoff hitter for whatever reason. Lately 1B Chris Davis (110 wRC+) has been batting second too, so that's fun. 3B Manny Machado (130 wRC+) and DH Mark Trumbo (121 wRC+) hit third and fourth. Showalter starting bunching his four best hitters at the top of the lineup about a week ago. DH Pedro Alvarez (117 wRC+) and rookie DH Trey Mancini (283 wRC+) have been platooning as the No. 5 hitters.
C Matt Wieters (85 wRC+), 2B Jonathan Schoop (94 wRC+), and SS J.J. Hardy (91 wRC+) are the team's other regulars. OF Hyun-Soo Kim (122 wRC+) and OF Nolan Reimold (78 wRC+) have been sharing time in left field of late. C Francisco Pena (33 wRC+), UTIL Ryan Flaherty (62 wRC+), and OF Michael Bourn (75 wRC+) were the regular bench players for much of the season. C Caleb Joseph, IF Paul Janish, and OF Drew Stubbs are the extra September call-ups.
Defensively the Orioles are a solid team with above-average defenders at all four infield spots. Well, Machado is arguably the single greatest defensive player in baseball, so he's more than above-average. Jones is solid in center, ditto Wieters behind the plate, but the corner outfield spots leave a lot to be desired regardless of who Showalter sends out there. When it doubt, hit it to Trumbo.
Pitching Matchups
Friday (7:05pm ET): RHP Michael Pineda (vs. BAL) vs. RHP Yovani Gallardo (vs. NYY)
Had Gallardo been merely bad instead of disastrous, the Orioles would have probably locked up a playoff spot a few days ago. The 30-year-old right-hander has a 5.63 ERA (5.09 FIP) in 22 starts and 112 innings this season, and there's basically no silver lining in his rate starts. Not enough strikeouts (16.3%) or grounders (43.4%), and too many walks (11.4%) and homers (1.29 HR/9). His platoon split is small because batters on both sides of the plate have hit him well. Gallardo's four-seamer and sinker sit right around 90 mph, and his trademark slider is still humming in around 87 mph. He'll also throw mid-80s changeups and upper-70s curveballs. The Yankees have seen Gallardo twice this year. The first start was okay (four runs in seven innings) and the second was a nightmare (eight runs in 1.1 innings).
Saturday (4:05pm ET): TBA vs. TBA
The O's still have Saturday's starter listed as TBA but it is expected to be lefty Wade Miley, who has been away from the team the last few days on paternity leave. The 29-year-old southpaw has a 5.40 ERA (4.50 FIP) in 29 starts and 160 total innings this season, though it's a 6.38 ERA (3.91 FIP) in ten starts and 48 innings with the O's since coming over from the Mariners at the trade deadline. His peripherals are middling (18.7 K%, 7.0 BB%, 47.9 GB%, 1.35 HR/9) and righties have hit him a ton harder than lefties. These days Miley sits in the low-90s with his four-seamer and sinker, and pairs them with low-to-mid-80s changeups and sliders. He'll also toss a few upper-70s curves per start too. The Yankees have seen him just once this season, scoring four runs in five innings a little less than four weeks ago.
As for the Yankees, Masahiro Tanaka (forearm) threw a bullpen session yesterday and says he wants to make his scheduled start tomorrow, but the Yankees might simply shut him down now that they've been knocked out of the race. If they do, I guess Luis Severino would get the start the instead. Kinda weird he hasn't been suspended, right? Maybe MLB forgot he threw at a hitter intentionally (twice!) and was ejected. Usually that's an insta-suspension announced the next day. Weird.
Update: Severino has been fined for his role in Monday's brawl, but not suspended. Huh.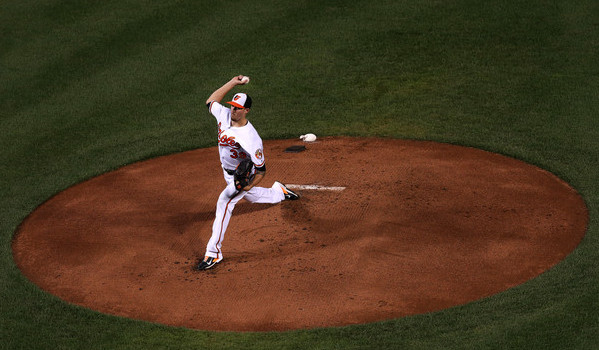 Sunday (3:05pm ET): RHP Luis Cessa (vs. BAL) vs. RHP Kevin Gausman (vs. NYY)
Hah, figures. Last game of the season and who do the Yankees have to face? The guy who's crushed them all season. Though, to be fair, Gausman has been dominating everyone of late. He has a 3.15 ERA (3.90 FIP) since the All-Star break. The 25-year-old northpaw has a 3.66 ERA (4.08 FIP) in 29 starts and a career high 172.1 innings. His strikeout (23.5%) and walk (6.3%) rates are very good, though Gausman has been a little too fly ball (43.4 GB%) and home run (1.41 H/9) prone. Then again, pretty much every pitcher has been homer prone this season. Righties have hit Gausman harder than lefties and that's not unusual because he has a nasty mid-80s splitter. That pitch is the equalizer against batters of the opposite hand. His fastball sits mid-to-high-90s and he'll also throw some low-80s curveballs. In five starts against the Yankees this season Gausman has a 0.80 ERA and a .205/.240/.279 batting line against in 33.2 innings. Yeah.
Bullpen Status
The Orioles are fighting for their playoffs lives and Showalter has declared this an all hands on deck weekend. That means starters RHP Dylan Bundy (4.02 ERA/4.69 FIP) and RHP Chris Tillman (3.77/4.22) are available in relief, if necessary. Tillman is lined up to start the wildcard game and they probably don't want to mess with that if at all possible though. Anyway, here is Showalter's bullpen.
Closer: LHP Zach Britton (0.55 ERA/1.59 FIP)
Setup: RHP Brad Brach (1.60/2.86), RHP Darren O'Day (3.90/4.68)
Middle: RHP Mychal Givens (3.18/3.26), LHP Donnie Hart (0.50/3.53), RHP Tommy Hunter (3.18/3.05)
Long: RHP Vance Worley (3.53/4.82)
Extra: LHP Jayson Aquino, RHP Oliver Drake, LHP Bran Duensing, RHP Tyler Wilson, RHP Mike Wright
O'Day has missed much of the season with hamstring and shoulder problems, but he's healthy now and on the roster. Him, Brach, and Britton form a really tough end-game trio. Britton might be the best closer in the game right now. Showalter, like Joe Girardi, loves his matchups, so get ready for lots and lots of pitching changes this weekend.
Brach (23 pitches) and Hart (four pitches) both pitched last night. Then again, with a 12-man bullpen, availability isn't much of a problem. Head on over to our Bullpen Workload page for the status of Joe Girardi's relief crew.