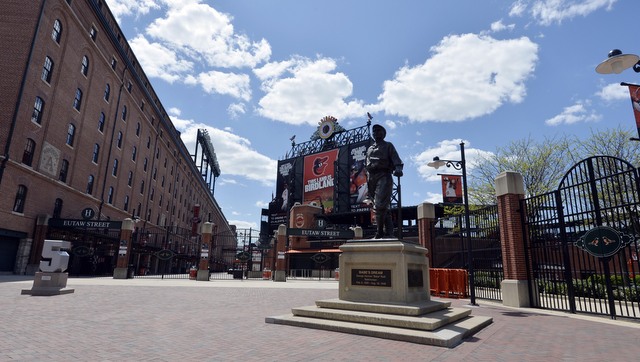 Third city in three days for the Yankees. This is also the fourth city and sixth day in a trip that will take the Yankees through five cities in nine days. Tampa to Toronto to Detroit to Baltimore to New York. At least most of the flights are short, I guess. Anyway, the Yankees will play three games against the Orioles at Camden Yards this weekend. The O's took two of three from New York in Baltimore a few weeks ago. These two teams have yet to play in Yankee Stadium this year.
What Have They Done Lately?
The Orioles and Red Sox just played one of those old school AL East slugfest series. They split the four games and each team scored 29 runs. Twenty-nine runs in four games. Reminds me of the mid-2000s. Anyway, Baltimore is 30-22 with a +17 run differential overall. They're one game back of Boston for the AL East lead and 5.5 games up on the fourth place Yankees.
Offense & Defense
As expected, the O's are one of the better offensive teams in baseball this year. They've averaging 4.37 runs per game with a team 107 wRC+, and they're second in baseball with 75 home runs. SS J.J. Hardy (85 wRC+) and C Caleb Joseph (21 wRC+) are both on the DL and not coming back this series. Hardy fouled a pitch off his foot and broke a bone. Joseph? He took a foul tip to the biscuits and was placed on the DL with what the team called a "testicular injury." Yikes. Calling it a groin injury would have sufficed. Here's the video.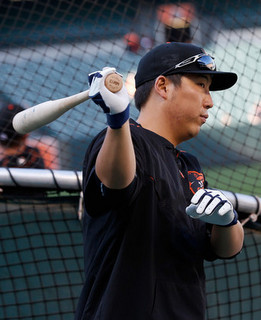 Manager Buck Showalter shook up his lineup recently and now bats CF Adam Jones (86 wRC+) leadoff despite his chronically low OBPs (.296 this year). Jones and Jose Bautista are now leadoff hitters. What a world. Korean import LF Hyun-Soo Kim (161 wRC+) has forced his way into the lineup even though Showalter wanted nothing to do with him earlier this season. He bats second. Megastar SS Manny Machado (165 wRC+) bats third and 1B Chris Davis (109 wRC+) cleans up. RF Mark Trumbo (149 wRC+) bats fifth. That's a dangerous fivesome right there.
The rest of the lineup includes C Matt Wieters (102 wRC+), DH Pedro Alvarez (86 wRC+), and 2B Jonathan Schoop (99 wRC+). The O's are playing Machado at short during Hardy's absence while UTIL Ryan Flaherty (44 wRC+) and IF Paul Janish (5 wRC+) handle third base. Alvarez has even seen some time at the hot corner too. C Francisco Pena (4 PA), Tony Pena's son, is the backup catcher, and OF Joey Rickard (80 wRC+) and OF Nolan Reimold (133 wRC+) are the other outfielders.
Baltimore is a strong defensive team at certain positions. Machado is an elite defender even at short while Schoop, Davis, and Jones are average or better at their positions. Wieters is rock solid behind the dish too. Trumbo is a disaster in right field and honestly, I haven't seen much of Kim to know what he is capable of defensively. The numbers say he is basically average in limited time. Flaherty and Janish are fine at third. Alvarez? lol no.
Pitching Matchups
Friday (7:05pm ET): RHP Nathan Eovaldi (vs. BAL) vs. RHP Chris Tillman (vs. NYY)
Tillman's up and down career continues. He's had some great seasons and some truly awful seasons too. This year the 28-year-old has a 2.92 ERA (3.78 FIP) with a 23.7% strikeout rate in eleven starts and 64.2 innings. His walk (10.5%) and grounder (40.1%) rates leave something to be desired, and he's keeping the ball in the park (0.84 HR/9) way more often than he has for most of his career. Lefties have hit him harder than righties so far this season, though his career platoon split is pretty small. Tillman has actually added some velocity this season and he now sits closer to 92-94 mph than 91-93 mph with his four-seam fastball and occasional sinker. A big upper-70s curveball is his trademark pitch. Tillman also uses mid-80s changeups and upper-80s cutters as well. Tillman limited the Yankees to one run in seven innings when they met in early-May.
Saturday (7:15pm ET): RHP Ivan Nova (vs. BAL) vs. RHP Tyler Wilson (vs. NYY)
The O's had some big question marks at the back of their rotation in Spring Training, and the 26-year-old Wilson took advantage of the opportunity and won a job. He has a 3.83 ERA (4.70 FIP) in 49.1 innings spread across seven starts and three relief appearances so far this season. Wilson gets grounders (49.4%) and limits walks (5.8%), but his strikeout (12.6%) and homer (1.28 HR/9) problems are scary bad. His platoon split is fairly small because his low-80s changeup is a solid pitch. Low-90s four-seamers and sinkers set up the change as well as an 80 mph slider. Wilson won't miss many bats and that's a plus for the Yankees. Of course, he held them to three runs (two earned) in six innings last month, so who knows.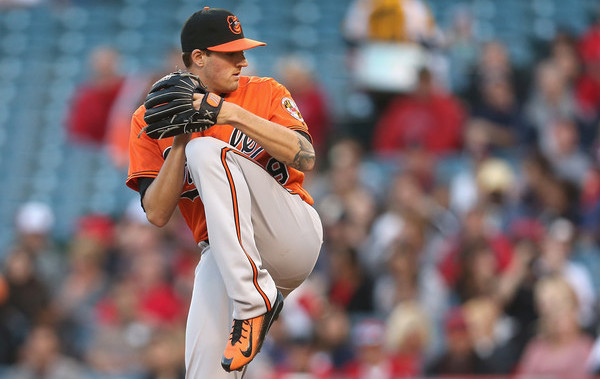 Sunday (1:35pm ET: LHP CC Sabathia (vs. BAL) vs. RHP Kevin Gausman (vs. NYY)
The Orioles player development system strikes again. It looked like the 25-year-old Gausman was ready to take the next step this season, but instead he has a 3.78 ERA (4.50 FIP) with an alarming 1.70 HR/9. The O's haven't drafted and developed a quality MLB starter since Mike Mussina. (The Yankees haven't done a whole lot better during that time, sadly.) Gausman's other underlying stats are solid (22.8% strikeout, 5.6% walks, 44.9% grounders) and he's dominated lefties this season, though that's a bit out of line with the rest of his career. A mid-to-high-90s heater is his No. 1 pitch, and he also throws a nasty mid-80s splitter. Gausman also has a low-80s curveball. The stuff is definitely there. He just hasn't put it together yet. Gausman chucked eight scoreless innings against the Yankees a few weeks ago. He was dominant that night. Would have crushed any lineup with the split he had that game.
Bullpen Status
As always, the bullpen is a strength for the Orioles. Their end-game arms are very good. Not as good as the guys the Yankees trot out there, but still very good. Here is Showalter's eight-man relief crew:
Closer: LHP Zach Britton (1.21 ERA/1.95 FIP)
Setup: RHP Darren O'Day (3.15/5.37) and RHP Brad Brach (0.91/2.28)
Middle: RHP Mychal Givens (2.16/2.84), LHP T.J. MacFarland (4.73/3.42), RHP Dylan Bundy (4.71/5.31)
Long: RHP Vance Worley (2.41/3.48) and LHP Brian Duensing (1 IP)
The O's had to dip so deep into their bullpen during the series with the Red Sox that they optioned out fifth starter Mike Wright in favor of an extra bullpen arm (Duensing) yesterday. It was one of those kind of series. Givens (21 pitches), Brach (12), and Duensing (25) all pitched yesterday. Worley threw 60 pitches Wednesday night and probably won't be available until at least tomorrow, if not Sunday. Our Bullpen Workload is the place to go for the status of Joe Girardi's bullpen.