At long last, the Yankees have escaped Florida. Aside from that quick little one-day trip to Atlanta for the exhibition game at SunTrust Park last week, the Yankees have been stuck in the Tampa area since mid-February. They're now in Baltimore for a three-game weekend set against the Orioles. After that, the first home stand of the season. Thank goodness.
What Have They Done Lately?
The Orioles had an even wonkier schedule than the Yankees this week. They opened the season with a little two-game series against the Blue Jays at Camden Yards. They played Monday, had an off-day Tuesday, played Wednesday, then had another off-day Thursday. What is that? Good grief. The O's won both games against the Blue Jays, including the first on a Mark Trumbo walk-off home run.
Offense & Defense
The Fightin' Showalters have scored six runs in their two games so far, and in typical Orioles fashion, four of those six runs have come on home runs. Adam Jones hit a two-run shot while Trumbo and Chris Davis hit solo homers. Here are the numbers so far and each player's 2017 ZiPS projection:
2017 Stats
2017 ZiPS Projection
C Welington Castillo
3-for-7 (.429), 1 2B
.243/.304/.421 (91 wRC+), 17 HR
1B Chris Davis
2-for-8 (.250), 1 HR
.239/.334/.509 (121 wRC+), 39 HR
2B Jonathan Schoop
1-for-7 (.143)
.264/.297/.453 (97 wRC+), 22 HR
SS J.J. Hardy
0-for-7
.249/.287/.368 (71 wRC+), 10 HR
3B Manny Machado
2-for-7 (.286)
.289/.349/.511 (127 wRC+), 32 HR
LF Hyun Soo Kim
0-for-3
.294/.370/.434 (117 wRC+), 11 HR
CF Adam Jones
2-for-8 (.250), 1 2B, 1 HR
.267/.304/.450 (97 wRC+), 27 HR
RF Seth Smith
1-for-4 (.250), 1 2B
.252/.341/.434 (107 wRC+), 14 HR
DH Mark Trumbo
2-for-8 (.250), 1 2B, 1 HR
.251/.307/.491 (109 wRC+), 32 HR
BENCH
C Caleb Joseph
N/A
.227/.274/.358 (65 wRC+), 9 HR
UTIL Ryan Flaherty
N/A
.217/.288/.357 (70 wRC+), 7 HR
OF Joey Rickard
0-for-5
.244/.314/.334 (75 wRC+), 4 HR
OF Craig Gentry
0-for-2
.216/.280/.264 (52 wRC+), 1 HR
1B/OF Trey Mancini
1-for-4 (.250)
.263/.314/.436 (98 wRC+), 21 HR
Like the Yankees, the Orioles are using early season off-days to skip their fifth starter. They have three off-days within the first nine days of the season and four off-days within the first 16 days of the season. Geez. Unlike the Yankees though, the Orioles are using the extra roster spot to carry a fifth bench player, not an eighth reliever. The only position player they're missing is outfielder Anthony Santander, a Rule 5 Draft pick who is on the disabled list with an elbow injury.
Baltimore has played two games and they've faced one right-handed starter and one left-handed starter. They're platooning the left-handed hitting Kim and Smith with the right-handed hitting Rickard and Mancini. Smith and Rickard hit leadoff in the two games, then the thunder followed in the two through five spots: Jones, Machado, Davis, Trumbo. Yikes. Schoop and Hardy have hit eighth and ninth, respectively, in both games so far.
The Orioles are going to hit a ton of home runs this season. That's what they do. They will not, however, steal bases. This is largely the same roster as last season — the only notable changes are Castillo in for Matt Wieters and Smith in for Pedro Alvarez — and last year the O's stole 19 bases total. 19! Rickard led the club with four. Gentry can fly and he's a quality pinch-running option. Otherwise this is a station-to-station team that lives and dies with its power.
On defense, Baltimore is very good to great all around the infield — Davis doesn't get enough credit for being a good defensive first baseman — and mediocre to bad in the outfield regardless of who is in the corners. Jones is still a decent center fielder but he has started to lose a step. Gentry is, far and away, the best outfield defender on the roster, and his bat makes him a bench player only. Castillo is a pretty good thrower behind the plate.
Pitching Matchups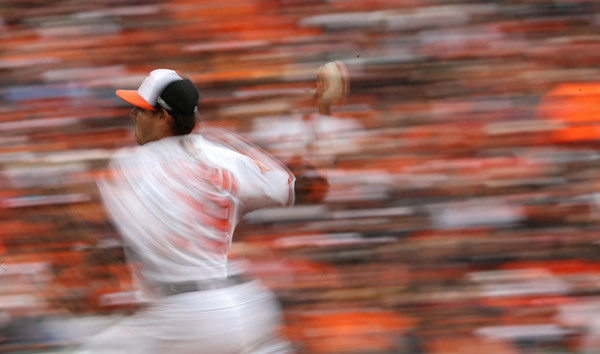 Friday (7pm ET): RHP Luis Severino (vs. BAL) vs. RHP Ubaldo Jimenez (vs. NYY)
I still do not understand using Ubaldo before Zach Britton in the AL Wildcard Game last season. I don't understand it and I never will. Jimenez, now 33, had a typical Ubaldo Jimenez season in 2016: 5.44 ERA (4.43 FIP) with 19.6% strikeouts, 11.3% walks, and 49.0% grounders in 142.1 innings. Actually, that's a bit worse than a typical Ubaldo season. Makes the Wildcard Game decision even more confusing. Last season Jimenez worked right around 90 mph with both his two and four-seam fastballs, and his go-to secondary pitch is a low-80s splitter. He also throws a mid-80s slider and a mid-70s curveball. Ubaldo is cut from the same cloth as Michael Pineda. Every once in a while he'll come out and dominate, but most of the time he'll leave you frustrated.
Saturday (4pm ET): RHP Masahiro Tanaka (vs. BAL) vs. RHP Kevin Gausman (vs. NYY)
The O's have so many early off-days that they can skip not only their fifth starter, but their fourth starter too. Gausman got the ball on Opening Day and he'll get the ball in the fourth game of the season as well. The 26-year-old right-hander held the Blue Jays to two runs in 5.1 innings in his season debut Monday. Last season he had a 3.61 ERA (4.10 FIP) in 179.2 innings and good gravy, Gausman dominated the Yankees in six starts: 41 IP, 33 H, 5 R, 5 ER, 6 BB, 35 K, 2 HR. That's a 1.10 ERA and 2.51 FIP. He shut them down every time out. Gausman is a three-pitch pitcher with a mid-to-upper-90s fastball and a knockout mid-to-upper-80s splitter. A low-80s slider is his third pitch. Hopefully all the new faces in the lineup will help the Yankees avoid being dominated by Gausman again this summer.
Sunday (1:30pm ET): LHP CC Sabathia (vs. BAL) vs. TBA
Officially, the O's are listing this rotation spot as TBA. It will be Wade Miley, however. He is currently on the 10-day disabled list with flu-like symptoms, which is total garbage and just a way for the team to manipulate the roster. It allowed them to carry an extra player for a few days. Miley will be activated for Sunday's start. He threw an 87-pitch simulated game Tuesday to get ready. Yeah. Miley, 30, was terrible overall last season (5.37 ERA and 4.45 FIP) and somehow even worse with the Orioles (6.17 ERA and 3.79 FIP) than the Mariners (4.98 ERA and 4.76 FIP) after coming over in a midseason trade. His overall strikeout (19.3%), walk (6.9%), and grounder (47.3%) rates were okay. At this point of his career Miley works right around 90 mph with his two and four-seam fastballs, in the mid-80s with his slider and changeup, and in the mid-70s with his curveball. The one thing that always stands out to me about Miley starts are how quickly he works. He gets the ball and is ready to throw. He puts the pressure on the batter to be in the box and ready to swing.
Bullpen Status
Okay, I kinda lied earlier. The Orioles are carrying both a fifth bench player and an eighth reliever. The Miley disabled list move makes that possible. So far Buck Showalter has only had to use four of his bullpen arms. Here are the real numbers and the fake projections:
| | Role | 2017 Stats | 2017 ZiPS |
| --- | --- | --- | --- |
| LHP Zach Britton | Closer | 3 IP, 5 H, 0 R, 0 ER, 2 BB, 2 K | 2.25 ERA (2.27 FIP) |
| RHP Brad Brach | Setup | 2 IP, 1 H, 0 R, 0 ER, 1 BB, 2 K | 3.04 ERA (3.38 FIP) |
| RHP Darren O'Day | Setup | N/A | 2.76 ERA (3.58 FIP) |
| RHP Mychal Givens | Middle | 1.2 IP, 2 H, 0 R, 0 ER, 0 BB, 2 K | 2.95 ERA (3.11 FIP) |
| LHP Donnie Hart | Middle | N/A | 3.45 ERA (3.88 FIP) |
| LHP Vidal Nuno | Middle | N/A | 3.77 ERA (4.14 FIP) |
| RHP Tyler Wilson | Long | 1 IP, 1 H, 0 R, 0 ER, 0 BB, 1 K | 4.96 ERA (4.77 FIP) |
| RHP Oliver Drake | Long | N/A | 3.81 ERA (3.76 FIP) |
Britton's had a tough go of it early on. I watched his two outings and he was struggling to locate both times. He missed some time with an oblique issue in Spring Training and it seems like he's still trying to get locked in with his command. Brach, O'Day, and Givens are a nice little trio of righties and they each have a different look. It's not like you're going to see a parade of fastball-slider guys out of the bullpen.
Both the Yankees and Orioles had an off-day yesterday, so their bullpens are well-rested. Checkout our Bullpen Workload page anyway.