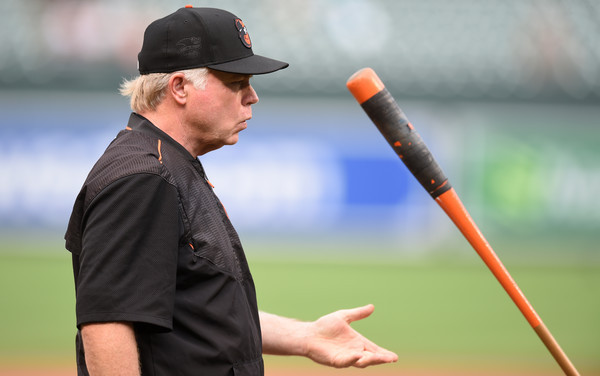 The calendar says August, but the Yankees are playing postseason baseball right now. They're 4.5 games back of the second wildcard spot at the moment, and it just so happens the team they are chasing, the Baltimore Orioles, will be in the Bronx for three games this weekend. Pretty big series, yes? Yes. The Yankees are 5-5 against the O's this season, including 3-1 at Yankee Stadium.
What Have They Done Lately?
August has not been kind to the Orioles, who are 11-12 this month and have gone from one game up in the division to one game back with both the Red Sox and Blue Jays ahead of them. The O's got shut out by the Nationals yesterday to fall to 70-57 with a +24 run differential on the season. I have to say, I never thought they would have this much success this season given the state of their rotation.
Offense & Defense
Baltimore is in the race despite their shaky rotation (4.89 ERA and 4.72 FIP) because they do score plenty of runs. They average 4.73 runs per game with a team 103 wRC+, and they lead all of baseball with 197 home runs. Dingers are their thing. The Orioles only have one injured position player: Rule 5 Draft pick and reserve OF Joey Richard (85 wRC+), who is out long-term with a damaged thumb ligament.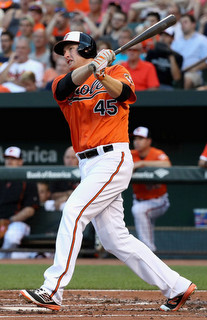 Manager Buck Showalter has been batting CF Adam Jones (103 wRC+) leadoff since late-May despite his less than stellar on-base ability (.317 OBP this year). Lately LF Hyun-Soo Kim (129 wRC+) and UTIL Steve Pearce (136 wRC+) have been platooning in the second spot of the lineup. Megastar 3B Manny Machado (137 wRC+) hits third and 1B Chris Davis (113 wRC+) and RF Mark Trumbo (122 wRC+) follow as the fourth and fifth hitters. Scary lineup is scary.
2B Jonathan Schoop (109 wRC+) and SS J.J. Hardy (86 wRC+) are the middle infielders, and C Matt Wieters (80 wRC+) is the regular catcher. DH Pedro Alvarez (118 wRC+) starts against righties and sits against lefties. On the bench is where you'll find OF Nolan Reimold (80 wRC+), UTIL Ryan Flaherty (65 wRC+), and backup C Francisco Pena (49 wRC+). Francisco is Tony's son, you know. This much is certain: the O's have a ton of power throughout their lineup. A ton.
Defensively, the O's are very good up the middle with Wieters, Hardy, Schoop, and Jones. Machado is outstanding at third base and Davis is underrated at first. Trumbo is a nightmare in right and none of the guys they use in left are anything to write home about. It's a solid team defense overall with a glaring weakness in right.
Pitching Matchups
Friday (7:05pm ET): TBA vs. RHP Yovani Gallardo (vs. NYY)
Things have not gone well for the 30-year-old Gallardo in 2016. First he flunked his physical and had to accept a reduced contract offer. Then he missed a bunch of time with a shoulder problem. When he has been healthy enough to pitch, Gallardo has put up a 5.08 ERA (5.02 FIP) in 17 starts and 90.1 innings. His peripheral stats are thoroughly mediocre: 15.5% strikeouts, 12.2% walks, 42.8% grounders, and 1.10 HR/9. Both lefties and righties have hit him hard this year. Gallardo's four-seamer and sinker sit right around 90 mph, and his trademark slider is still humming in around 87 mph. He'll also throw mid-80s changeups and upper-70s curveballs. The Yankees scored four runs in seven innings against Gallardo last month, the only time they've faced him this year.
Saturday (1:05pm ET): TBA vs. RHP Dylan Bundy (vs. NYY)
Man, I thought Bundy was going to be a star back in the day. He still might be down the road, but injuries and the Curse of Orioles Pitching Prospects™ have gotten in the way. So far this season the still only 23-year-old Bundy has a 3.33 ERA (4.40 FIP) in 81 innings spread across eight starts and 22 relief appearances. He moved into the rotation right out of the All-Star break and has a 3.56 ERA (5.03 FIP) in those eight starts. Bundy has a very nice strikeout rate (24.1%) as a starter, though his walk (8.1%), grounder (39.7%), and homer (1.88 HR/9) numbers need work. Righties have actually hit him harder than lefties this season. As a starter, Bundy works with a 93-95 mph fastball as well as a mid-80s changeup and an upper-70s curveball. His best pitch in high school — Bundy was the fourth overall pick in the 2011 draft, if you're unaware — was a nasty low-90s cutter, but the O's made him stop throwing it because they were worried he'd get hurt. So they took away his best pitch (he lost feel for it and has abandoned it all together) and he got hurt anyway. Yeah. The Yankees have seen Bundy twice this season as a reliever, scoring three runs in 3.2 total innings. This will be the first time they see him as a starter.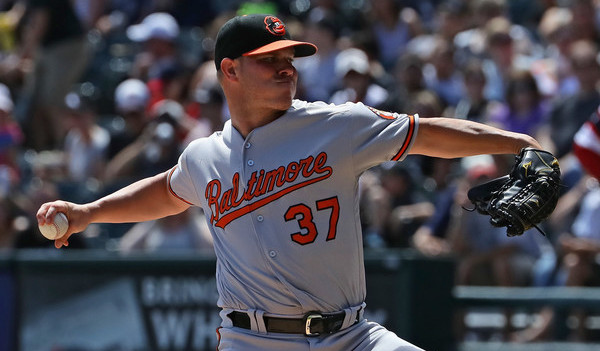 Sunday (1:05pm ET): TBA vs. RHP Kevin Gausman (vs. NYY)
Gausman, 25, is having the same kind of okay but not great but probably decent season he's been having for about three years now. That means a 3.92 ERA (4.35 FIP) in 23 starts and 133 innings. Meh. Gausman has nice strikeout (23.1%) and walk (6.7%) rates but yucky grounder (42.3%) and homer (1.56 HR/9) rates. Again: meh. Righties have hit him much harder than lefties and that's not unusual for Gausman because he has a nasty mid-80s splitter. That pitch is the equalizer against batters of the opposite hand. His fastball sits mid-to-high-90s and he'll also throw some low-80s curveballs. The Yankees have seen Gausman three times this year: eight scoreless innings in April, one run in six innings in June, and two runs in 6.2 innings in July. Progress?
For whatever reason the Yankees have their entire rotation listed as TBA at the time of this writing. No idea what that's about. Luis Cessa, Chad Green, and Michael Pineda are lined up to starting Friday, Saturday, and Sunday, respectively. Unless the Yankees use yesterday's off-day to rearrange things, we don't have any reason to think those three guys won't start this weekend.
Bullpen Status
As usual, the Orioles have a pretty strong bullpen this year, though stalwart setup man RHP Darren O'Day has been limited to only 27.1 innings due to nagging hamstring and shoulder problems. He's on the DL now and won't be back this weekend. Maybe not even next weekend when these two clubs meet again. Here is Showalter's relief crew:
Closer: LHP Zach Britton (0.69 ERA/1.98 FIP)
Setup: RHP Brad Brach (1.57/2.67)
Middle: LHP Donnie Hart (0.00/3.02), RHP Mychal Givens (3.17/3.42), RHP Logan Ondrusek (9.95/5.36)
Long: RHP Mike Wright (5.89/5.50), RHP Vance Worley (3.19/4.27)
Britton has been phenomenal this season. Good enough to get serious Cy Young consideration. He recently allowed his first earned run since April. The guy has a 31.0% strikeout rate and a 79.7% ground ball rate. Britton has faced 197 batters and only 26 have put the ball in play in the air. Crazy.
Only Ondrusek (32 pitches) and Wright (12 pitches) pitched last night, so Baltimore's bullpen is in good shape coming into tonight's series opener. The Yankees had an off-day yesterday as they flew west to east. Check out our Bullpen Workload page anyway.