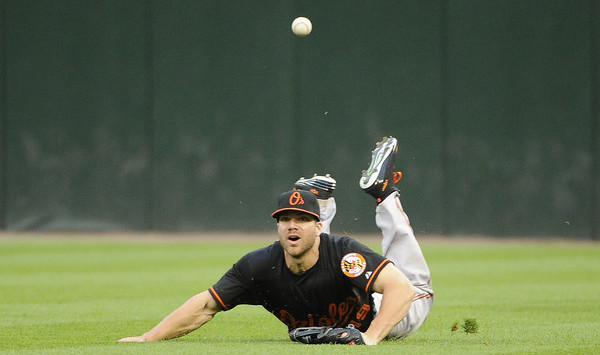 Another division rival visits the Bronx. The Orioles come to town clinging to very remote postseason hopes while the Yankees are very much in the race and in need of every possible win. Big series. They're all big series from here on out. The Yankees are 8-5 against the O's this season, including 6-1 at Yankee Stadium. The home team has won all four series these two clubs have played in 2015.
What Have The Orioles Done Lately?
Boy, manager Buck Showalter's team has collapsed big time the last few weeks. They have lost 14 of their last 17 games and are now 65-71 with a +26 run differential overall this season. They're 11.5 games back of the second place Yankees in the AL East and 6.5 games back of a wildcard spot. Doesn't look like there will be October baseball in Baltimore this year.
Offense & Defense
The O's average 4.34 runs per game with a 97 team wRC+, so they're an approximately league average offense this year. They hit a lot of homers (fourth in baseball with 179) but they don't get on base (27th in baseball with a .305 OBP). The O's are currently without SS J.J. Hardy (groin), who is not expected to return this series. C Matt Wieters (90 wRC+) is day-to-day with a sore wrist.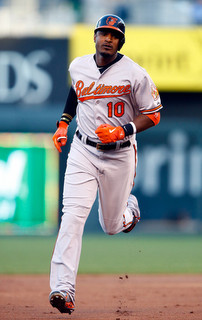 Showalter has three star caliber producers in the middle of his lineup: IF Manny Machado (132 wRC+), OF Adam Jones (116 wRC+), and 1B Chris Davis (140 wRC+). Davis leads all of baseball with 40 home runs, including 21 homers in his last 44 games. He's a monster. Machado, by the way, has been playing some shortstop with Hardy out. He came up through the minors as a shortstop. Those three are the core of the O's lineup.
Yankees killer IF Jonathan Schoop (118 wRC+) has been playing second everyday and C Caleb Joseph (101 wRC+) has played a ton this year thanks to Wieters' injuries. OF Gerardo Parra (117 wRC+) hasn't had much impact since being acquired at the deadline (60 wRC+ with the O's) and UTIL Steve Pearce (84 wRC+) has been unable to repeat last season's success. UTIL Jimmy Paredes (99 wRC+) predictably crashed back to Earth following his hot start. IF Ryan Flaherty (78 wRC+) is the utility infielder. OF Junior Lake, OF Nolan Reimold, IF Paul Janish, and C Steve Clevenger are the September call-ups.
The O's have a pretty good defensive club, though they've somehow picked up the reputation for being one of the best defensive units in the game. Jones and Parra are great in the outfield and Machado is unreal at third (haven't seen him much at short), plus Davis is underrated at first and Wieters is a stud behind the plate. Others like Schoop, Pearce, and Paredes are in the lineup for their bats, not their gloves. Well, Schoop's okay. That's not fair to him.
Pitching Matchups
Monday (1pm ET): RHP Michael Pineda (vs. BAL) vs. LHP Wei-Yin Chen (vs. NYY)
This has been a solid contract year for the 30-year-old Chen, who has pitched to a 3.36 ERA (4.37 FIP) in 26 starts and 160.2 innings. His walk rate (5.3%) is very good, his strikeout rate (19.4%) is about average, and both his grounder (40.7%) and homer (1.46 HR/9) rates are worse than average. Righties (.347 wOBA) have hit him a ton harder than lefties (.277 wOBA) this season. Chen operates with low-90s two and four-seamers, low-80s changeups and sliders, and a low-70s curveball. The slider is his go-to offspeed pitch. The Yankees have faced Chen three times this season: two runs in six innings in April, one run in seven innings in May, and three runs in 6.1 innings in July.
Tuesday (7pm ET): RHP Masahiro Tanaka (vs. BAL) vs. RHP Kevin Gausman (vs. NYY)
The O's have not had much success getting their top pitching prospects to fulfill their potential over the last two decades or so, and the 24-year-old Gausman is no different. He has a 4.59 ERA (4.46 FIP) in 12 starts and eight relief appearances this season. Like Chen, he has a good walk rate (5.7%), an average strikeout rate (20.1%), and below-average grounder (43.6%) and homer (1.53 HR/9) rates. Gausman has a big reverse split: righties have a .362 wOBA against him while lefties have a .294 wOBA. A mid-90s four-seamer sets up his mid-80s changeup and low-80s slider, the latter of which he's yet to really develop a feel for since being the fourth overall pick in the 2012 draft. The Yankees have seen Gausman twice this year, scoring two runs in two-thirds of an inning of relief in April, and then scoring four runs in a six-inning start in July.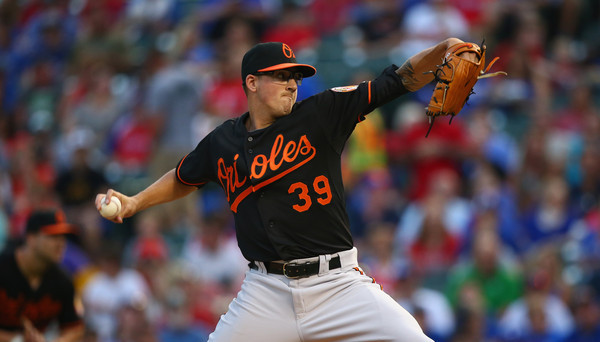 Wednesday (7pm ET): LHP CC Sabathia (vs. BAL) vs. RHP Ubaldo Jimenez (vs. NYY)
These are the same three starters — in the same order — the Yankees faced when they swept the O's at Yankee Stadium a few weeks ago, effectively knocking them out of the AL East race. Jimenez, 31, has a 4.24 ERA (4.11 FIP) in 153 innings spread across 27 starts this season. His 49.2% ground ball rate is better than the league average, but otherwise his strikeout (20.9%), walk (8.5%), and homer (1.06 HR/9) numbers are average or slightly worse. Ubaldo's platoon split is relatively small (.333 vs. .320 wOBA in favor of righties) because his out pitch is a mid-80s splitter, which helps him neutralize lefties. Jimenez sets the split up with low-90s two and four-seamers, and will also throw low-80s sliders and mid-70s curves. The curve is his distant fifth pitch. Ubaldo has faced the Yankees twice in 2015. One start went okay (three runs in five innings) and the other was a disaster (seven runs in 2.1 innings).
As for the Yankees, Sabathia (knee) is tentatively scheduled to come off the DL to make Wednesday's start. That depends on how he feels following today's bullpen session. If he has some sort of problem, Joe Girardi said the Yankees would simply stay on rotation, meaning Luis Severino would get the ball on normal rest instead.
Bullpen Status
Showalter's bullpen was a disaster early in the season, though they settled down in the middle of the summer and now have a 2.93 ERA (3.36 FIP) overall. Closer LHP Zach Britton (2.00 ERA/1.92 FIP) and setup man RHP Darren O'Day (1.71/2.73) are among the top end-game duos in baseball this year. LHP Brian Matusz (2.25/3.17) is the primary left-on-left matchup guy. Ex-Yankee RHP Chaz Roe (3.65/3.55) has had some success this year around injury.
RHP Brad Brach (2.58/3.48), LHP T.J. MacFarland (4.13/4.53), and Rule 5 Draft pick RHP Jason Garcia (4.62/5.16) are the other regulars in Showalter's bullpen. RHP Mychal Givens (1.42/1.83 in limited time) has seen a lot of work of late. The crop of September call-ups includes RHP Oliver Drake, RHP Steve Johnson, and RHP Jorge Rondon. Johnson, Matusz, Roe, Brach, Garcia, and Drake all pitched a bit yesterday. Check out our Bullpen Workload page for the status of Joe Girardi's bullpen, then check out Camden Chat for the latest on the Orioles.