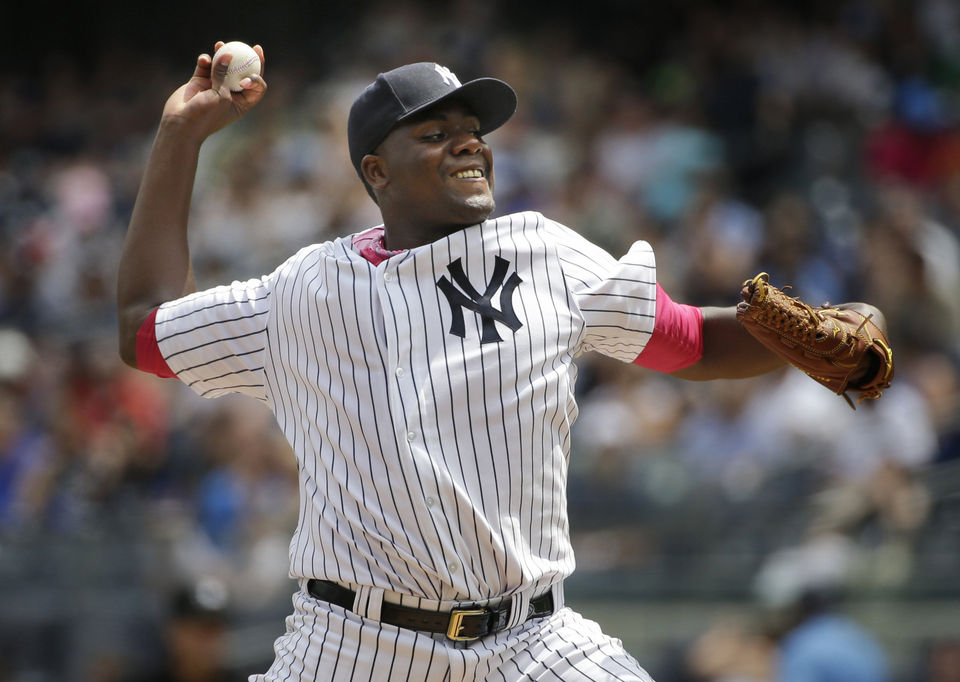 We're going to kick things off with Pineda's spectacular outing on Mother's Day… because, well, do we really need a reason?!
The Yankees won their 20th game of the season on Sunday afternoon but the story of the game was the incredible performance by Michael Pineda, who struck out 16 batters without allowing a walk in seven innings. It was a historic day for the 26-year-old right-hander at Yankee Stadium:
• He is the first Yankee with at least 16 strikeouts and no walks in a game. The last major-league pitcher to do it was Johan Santana on Aug. 19, 2007.
• At 26 years old, Pineda is the youngest pitcher with a 16-strikeout, no-walk game since a 22-year-old Mark Prior on June 26, 2003.
• He is the only MLB pitcher in at least the last 100 years (and probably ever) to have 16-or-more strikeouts and zero walks in a game when pitching fewer than eight innings.
• Pineda is the second Yankee right-hander to strike out 16 batters in a game, joining David Cone on June 23, 1997 vs. the Tigers.
And just for fun: He struck out 16 in seven innings, the equivalent of 20.6 strikeouts in nine innings. The major-league record for strikeouts in a nine-inning game is 20. If only Pineda had a rubber arm and there were no pitch counts…
He featured a nasty slider all afternoon, which netted him 12 swings-and-misses and eight strikeouts by Orioles batters. Pineda now has 30 strikeouts via his slider this season, the most among all pitchers in the majors.
Pineda is 7-0 in his last nine starts dating back to last September, with at least five strikeouts and no more than one walk in each of those games. Only two other pitchers have put together a streak like that – no losses, five-or-more strikeouts and no walks in a nine-start span – in the last 100 years: Bret Saberhagen in 1994 and Curt Schilling in 2002.
Pineda has three games this season with no walks, at least seven strikeouts and a win. Here's the list of pitchers to do that within the team's first 32 games during the last 100 years: Walter Johnson (1916), Greg Maddux (1994) and Fergie Jenkins (1971). Oh, just a few Hall of Famers, and Pineda.
A-Rod 'says goodbye' to Willie
With one swing of the bat, Alex Rodriguez once again etched his name in the record books – passing Willie Mays to move into sole possession of fourth place on the all-time home run list – and helped the Yankees to another key win over a division rival. Check out the similarities between career homers No. 660 and 661:
Last week it was a pinch-hit solo homer that broke a 2-2 tie to help the Yankees beat the Red Sox; on Thursday night it was another tie-breaking solo shot to give the Yankees a 3-2 lead against the Orioles, in a game they would eventually win, 4-3.
The (not) milestone home run No. 661 came off Chris Tillman, a pitcher that A-Rod has absolutely owned in his career. He's now 6-for-12 with four homers vs. Tillman, good for a nice round slugging percentage of 1.500 – his highest against any of the 315 pitchers he has at least 10 at-bats against in his career.
Nate Eovaldi gutted through 5 2/3 innings, allowing three runs on six hits for the win. He did match a season-high with 14 swinging strikes, six of which came via his curveball – a career-best whiff total for that pitch.
And your official 2015 Yankees closer is …
The Yankees followed a familiar script in beating the Orioles 5-4 on Friday night: a big blast to give the team an early lead, followed by a near-flawless performance from the back end of the bullpen to secure the win.
Brian McCann provided the power, sending a 3-0 pitch from Miguel Gonzalez over the fence that put the Yankees up 3-0 in the first inning. After Friday's game, the Yankees had swung at four 3-0 pitches this season – and two of them turned into home runs (also A-Rod's 660th last week). They are the only team this season to hit two homers on 3-0 pitches.
Trying to protect a one-run lead, Andrew Miller came on in the ninth inning to finish off the game and did Andrew Miller things. He pitched a perfect inning for his 13th save of the season, of course. And for the 15th time in 15 games, he didn't allow any runs or more than one hit. Guess how many Yankee pitchers have ever started a season with a streak like that? Keep guessing…. Yup, none.
The Chase is over
Chase Whitley came crashing back down to Earth in Saturday's loss to the Orioles, allowing five runs in 5 2/3 innings after he entered the game with a shiny 0.75 ERA in his first two starts this season.
It was hardly surprising that he ran into trouble against the O's. He's now pitched 11 1/3 innings vs. Baltimore and allowed 14 earned runs, good for a 11.12 ERA that ranks as the second-highest against the Orioles by any active pitcher (min. 10 IP). Only the Padres' Tyson Ross (17.10) has a worse mark than Whitley.
Jose Pirela was the only Yankee with more than one hit in the game, going 2-for-4 and notching the fifth multi-hit game of his career. He is just the seventh Yankee to debut in the last 100 years and have at least five multi-hit games within his first 10 career major-league appearances. He's in some pretty good company here: Jerry Coleman (1949), Snuffy Stirnweiss (1943), Phil Rizzuto (1941), Joe DiMaggio (1936), Leo Durocher (1928), Norm McMillan (1922).