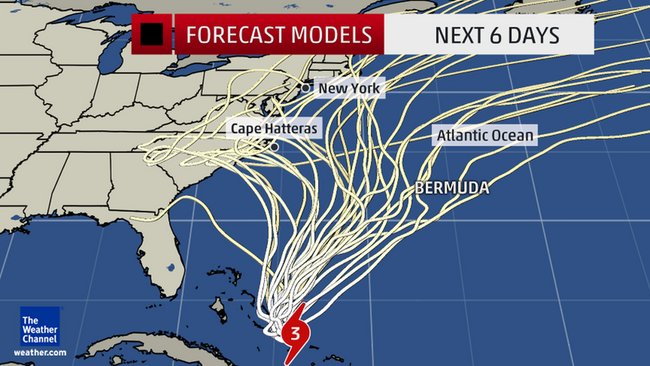 Welcome to the final regular season series of 2015. The season seems to move a little quicker with each passing year, doesn't it? The Yankees are in Baltimore for a three-game set with the Orioles. They are 10-8 against the O's this year, including 2-4 at Camden Yards. Those games were played a long time ago and under much different circumstances. The Orioles are just looking to get out of town now.
The weather has the potential to create some havoc this weekend. Not just for the Yankees, but all around baseball. Hurricane Joaquin is making its way up the East Coast, and, as you can see from the map above, no one has any idea which way it's heading. The weather in Baltimore this weekend could be legitimately dangerous hurricane conditions or only a few showers. Hopefully it's the latter, mostly for non-baseball reasons. These games do have postseason implications though — the Yankees have clinched a postseason spot but still need to clinch home field advantage — so MLB will figure out a way to get them in.
What Have The O's Done Lately?
The Orioles were eliminated from postseason contention earlier this week, though it was clear they were out of the race a few weeks ago. They checked out for the season last month. The O's have won two of their last seven games and they come into the final series at 78-81 with a +7 run differential.
Offense & Defense
The Orioles have been just about average at the plate this year. They've scored 4.35 runs per game with a team 94 wRC+, mostly because they don't get on base (.304 OBP, third worst). They do hit homers though (210, third most). OF Adam Jones (109 wRC+) hasn't played in a few days due to back stiffness and might sit out the weekend as well. Or maybe he'll start a game and get pulled after one at-bat so the home fans can give him an ovation, something like that. Otherwise the O's are healthy.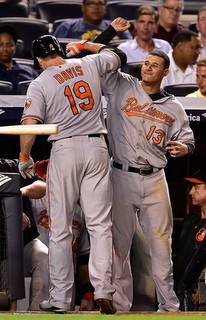 Even with Jones banged up, manager Buck Showalter has two star caliber hitters in his lineup in 3B Manny Machado (134 wRC+) and 1B Chris Davis (143 wRC+). Machado just turned 23 and he's hitting .287/.360/.498 with 33 homers this year. Quietest "hey guys I'm a superstar" season ever? Maybe. Davis has 45 homers, by the way. C Matt Wieters (94 wRC+), SS J.J. Hardy (45 wRC+!), 2B Jonathan Schoop (112 wRC+), and OF Gerardo Parra (103 wRC+) are the other regulars you'll recognize.
1B/OF Steve Pearce (96 wRC+), OF Nolan Reimold (91 wRC+), and UTIL Ryan Flaherty (76 wRC+) have been playing regularly this month while C Caleb Joseph (88 wRC+) has split time behind the plate with Wieters. The crop of September call-ups includes C Steve Clevenger, IF Paul Janish, 1B Christian Walker, OF Dariel Alvarez, OF Junior Lake, and OF David Lough.
The O's have a pretty good team defense when at full strength. Machado, Hardy, Jones, Parra, and Wieters are all above-average to great defenders, and Davis is pretty good at first too. Others like Schoop and Reimold are okay in the field.
Pitching Matchups
Friday (7pm ET): RHP Luis Severino (No vs. BAL) vs. LHP Wei-Yin Chen (vs. NYY)
The 30-year-old Chen made his first big league start against the Yankees four years ago — the first batter he faced, Derek Jeter, took him deep (video) — and it looks like he's going to make his final start with the Orioles against the Yankees as well. Chen is a free agent after the season and a Scott Boras client, which might price him out of Baltimore. He has a 3.35 ERA (4.18 FIP) in 30 starts and 185.1 innings this season, posting a good walk rate (5.0%), an average strikeout rate (19.6%), and below-average grounder (40.8%) and homer (1.36 HR/9) rates. Righties (.351 wOBA) have hit him a ton harder than lefties (.250 wOBA) this summer. Chen operates with low-90s two and four-seamers, low-80s changeups and sliders, and a low-70s curveball. The slider is his go-to offspeed pitch. The Yankees have seen Chen four times this season: two runs in six innings in April, one run in seven innings in May, three runs in 6.1 innings in July, and five runs in five innings in September.
Saturday (7pm ET): TBA vs. RHP Ubaldo Jimenez (vs. NYY)
Jimenez, 31, is wrapping up the second year of his four-year contract with the Orioles. Year two (4.10 ERA and 4.04 FIP in 178 innings) has gone a lot better than year one (4.81 ERA and 4.67 FIP in 125.1 innings). Ubaldo has an above-average grounder rate (49.3%) while his strikeout (21.1%), walk (8.5%), and homer (1.01 HR/9) numbers are average-ish across the board. He has a slight reverse split this year (.329 vs. .309 wOBA in favor of righties) that is out of line with the rest of his career. Jimenez's out pitch is a mid-80s splitter. He sets it up with low-90s two and four-seamers, and will also throw low-80s sliders and mid-70s curves. The curve is his distant fifth pitch. Ubaldo has seen the Yankees three times in 2015. One start was good (three runs in seven innings), one start was okay (three runs in five innings), and one start was ugly (seven runs in 2.1 innings).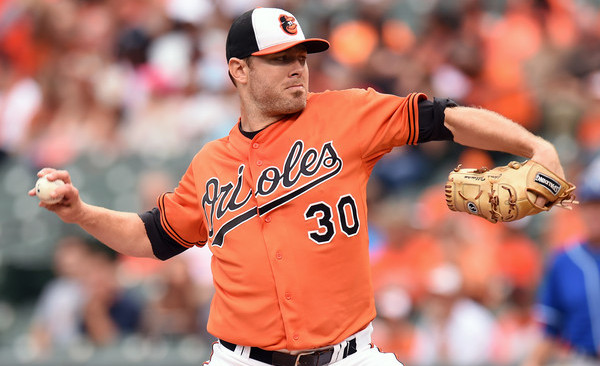 Sunday (3pm ET): TBA vs. RHP Chris Tillman (vs. NYY)
The Opening Day starter is also getting the ball in Game 162. Tillman, 27, has had his worst season as a big leaguer in 2015, throwing 167.2 innings across 30 starts with a 5.05 ERA (4.48 ERA). His strikeout rate (16.1%) is way down and everything else is average: 8.4 BB%, 44.0 GB%, and 1.07 HR/9. Tillman has a reverse split (.352 vs. .302 wOBA in favor of righties) that is in line with the rest of his career, though not to this extreme. His fastball sits in the low-90s, his cutter a notch below that, and his trademark curveball sits in the mid-70s. He'll also throw a mid-80s sliders and changeups. Believe it or not, the Yankees have faced Tillman just once this season. They scored four runs in 5.2 innings against him back in May.
Since this is the final series of the season, the pitching situation is subject to change. The Yankees are listing TBAs for Saturday and Sunday so they can set things up for the postseason. (Michael Pineda and Ivan Nova are lined up to pitch those day.) The Orioles could decide to simply shut their guys down and get a look at some kids. There's also the rain too. They might not want to run their regulars out there on a wet final in the final series of the year.
Bullpen Status
Way back in April, Baltimore's bullpen was a major weakness that contributed to their sluggish start. They turned it around and have had one of the best bullpens in the game over the last few months, with closer LHP Zach Britton (1.98 ERA/2.01 FIP) and setup man RHP Darren O'Day (1.54/2.42) the stars of the show. LHP Brian Matusz (2.94/3.59) is the primary lefty and RHP Mychal Givens (1.88/1.81) has pitched his way into high-leverage work of late.
RHP Brad Brach (2.77/3.44), LHP T.J. MacFarland (4.82/4.64), RHP Chaz Roe (4.14/3.87), and Rule 5 Draft pick RHP Jason Garcia (4.25/4.89) have been regulars in the bullpen most of the year. The list of September call-ups includes RHP Oliver Drake, RHP Jorge Rondon, RHP Tyler Wilson, and RHP Mike Wright. Wilson, McFarland, Givens, Brach, Matusz, O'Day, and Britton all pitched yesterday. Our Bullpen Workload page can keep you updated on Joe Girardi's bullpen. Head over to Camden Chat for the latest on the O's.