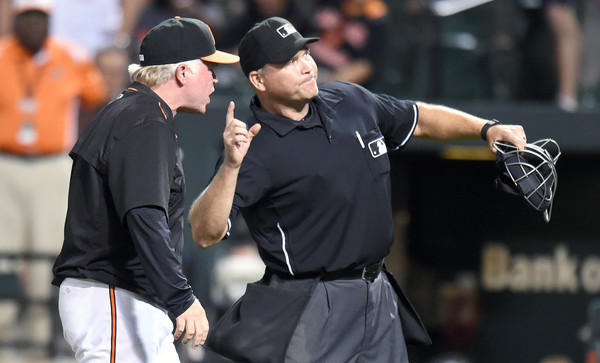 The Yankees are about to wrap-up a pretty important 12-game stretch against three wildcard competitors. They took two of three from the Mariners, two of three from the Orioles, two of three from the Royals, and now they play three more against the Orioles this weekend. This series is in Baltimore though, not the Bronx. The Yankees are 7-6 against the O's this season, but they've lost two of three in each of their two previous visits to Camden Yards.
What Have They Done Lately?
Like I said, the Yankees beat the Orioles twice in three games last weekend at Yankee Stadium. The O's returned home after that and lost two of three to the Blue Jays earlier this week. Baltimore is struggling, folks. They've lost five of their last seven games and 14 of their last 23 games. The O's and Tigers have identical 72-61 records and they're tied for the second wildcard spot. The Yankees are 2.5 games back. This series is: huge.
Offense & Defense
The Orioles can score runs. That's what they do. Their pitching is a bit shaky but their bats are going to do damage. They come into this series averaging 4.69 runs per game with a team 102 wRC+. Their 209 home runs are the most in baseball. No one else has hit 200 yet. The O's have two injured position players: OF Joey Rickard (85 wRC+) is out long-term with a thumb issue, and CF Adam Jones (102 wRC+) is day-to-day with a hamstring problem. He missed two games in New York with it last weekend.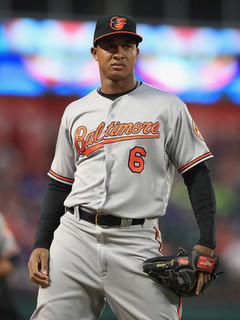 Jones had been hitting leadoff, but since his injury, manager Buck Showalter has used four different leadoff hitters in five games. The O's just picked up OF Michael Bourn (73 wRC+) from the Diamondbacks to add outfield depth and I wouldn't at all be surprised if he leads off tonight, should Jones remain out of the lineup. The middle of the order is 3B Manny Machado (138 wRC+), 1B Chris Davis (113 wRC+), and RF Mark Trumbo (121 wRC+). That's the scary part of the lineup. Those dudes can all hit the ball a very long way when they connect.
OF Hyun-Soo Kim (123 wRC+) and UTIL Steve Pearce (144 wRC+) have been platooning in left lately, and DH Pedro Alvarez (115 wRC+) starts against righties. 2B Jonathan Schoop (108 wRC+), SS J.J. Hardy (81 wRC+), and C Matt Wieters (80 wRC+) are the other regulars. OF Nolan Reimold (79 wRC+) is the extra outfielder, UTIL Ryan Flaherty (61 wRC+) is the extra do everything player, and C Francisco Pena (36 wRC+) is the backup catcher. The Orioles have not announced their September call-ups as of this writing, so I'm not sure who else is on the bench.
The Yankees and Orioles just played last week, so I'm going to take the easy way out and copy and paste what I wrote about Baltimore's team defense in the last series preview:
Defensively, the O's are very good up the middle with Wieters, Hardy, Schoop, and Jones. Machado is outstanding at third base and Davis is underrated at first. Trumbo is a nightmare in right and none of the guys they use in left are anything to write home about. It's a solid team defense overall with a glaring weakness in right.
The only difference now will be Bourn over Jones, which is a downgrade. Bourn's legs are not what they used to be.
Pitching Matchups
Friday (7:05pm ET): RHP Chad Green (vs. BAL) vs. RHP Dylan Bundy (vs. NYY)
After several years of injuries, the Orioles are finally getting some value from the still only 23-year-old Bundy. He has a 3.71 ERA (4.45 FIP) in 85 innings overall this season, including a 4.21 ERA (5.08 FIP) in nine starts and 47 innings since moving into the rotation. Bundy's strikeout rate (24.5%) has been very good as a starter, but his walk (8.7%), grounder (38.0%), and homer (1.91 HR/9) numbers are a bit of a problem. Righties have hit him harder than lefties so far this season. As a starter, Bundy works with a 93-95 mph fastball as well as a mid-80s changeup and an upper-70s curveball. The changeup was very good last week. The Yankees scored five runs in four innings against Bundy last weekend, the only time they've seen him as a starter this season. (He threw 3.2 innings of relief against them earlier this year.)
Saturday (7:05pm ET): LHP CC Sabathia (vs. BAL) vs. RHP Kevin Gausman (vs. NYY)
Blah. Can't escape him. Gausman, 25, has achieved Yankees Killer™ status this season. He has a solid 3.73 ERA (4.16 FIP) in 24 starts and 140 innings overall, and that's broken down into a 0.98 ERA in four starts against the Yankees and a 4.41 ERA in 20 starts against everyone else. His strikeout (23.6%) and walk (6.4%) numbers are good, his grounder (43.1%) and homer (1.48 HR/9) rates less so. Righties have hit Gausman harder than lefties and that's not unusual because he has a nasty mid-80s splitter. His fastball sits mid-to-high-90s and he'll also throw some low-80s curveballs. Here are Gausman's four starts against the Yankees this season: eight scoreless innings in April, one run in six innings in June, two runs in 6.2 innings in July, and seven scoreless innings last weekend. I really don't know what the Yankees could do at this point. The regulars haven't gotten it done against Gausman this year, so maybe change it up and give guys like Austin Romine and Rob Refsnyder and Ronald Torreyes a crack at him? It might be worth a try at this point.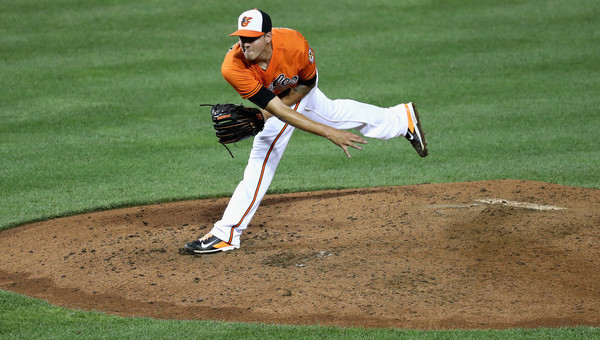 Sunday (1:35pm ET): RHP Michael Pineda (vs. BAL) vs. LHP Wade Miley (vs. NYY)
I didn't understand the point of the Miley trade at all. The O's traded a Major League ready pitching prospect (Ariel Miranda) the projection systems like more than Miley to the Mariners for Miley, and took on a boatload of money in the process. The veteran southpaw has 7.14 ERA (4.94 FIP) in six starts with Baltimore too. LOL Orioles, I guess. Miley, 29, has a 5.43 ERA (4.80 FIP) in 25 starts and 141 total innings this season. His underlying stats are completely forgettable (18.2 K%, 7.0 BB%, 46.7 GB%, 1.53 HR/9) and righties have hammered him all year. These days Miley sits in the low-90s with his four-seamer and sinker, and pairs them with low-to-mid-80s changeups and sliders. He'll also toss a few upper-70s curves per start too. The Yankees have not seen Miley at all this season. Not when he was with Seattle and not since he joined the Orioles.
As for the Yankees, I can't help but wonder if they'll use yesterday's off-day to shuffle their rotation once again, allowing Masahiro Tanaka to pitch Sunday instead of Pineda. Tanaka would be on normal rest and he only threw 71 pitches in five innings last time out because of the rain delay, so it's definitely doable. That would allow the Yankees to throw their ace against the team they're chasing in the wildcard race. Maybe that decision depends on how the first two games of the series go. Remember, they flipped Sabathia and Pineda for matchup reasons last weekend.
Bullpen Status
Given the state of their rotation, I'm sure Showalter will be very happy to have a bunch of extra relievers on his roster now that it's September. They're still without ace setup man RHP Darren O'Day, who is out with a shoulder problem. His return is not imminent. Here is the O's current bullpen:
Closer: LHP Zach Britton (0.67 ERA/2.01 FIP)
Setup: RHP Brad Brach (1.76/2.71)
Middle: RHP Mychal Givens (3.63/3.47), RHP Tommy Hunter (4.18/3.10), LHP Donnie Hart (0.00/2.93)
Long: RHP Oliver Drake (8.10/5.24), RHP Vance Worley (3.51/4.53)
Like I said earlier, the Orioles have not yet announced their September call-ups, so I'm not sure who else they'll have in the bullpen tonight. You can be sure there will be a bunch of extra arms out there though.
Britton has been off-the-charts good this season and Brach has been excellent as well, though he's come back down to Earth a bit in the second half. Givens is the No. 3 guy at the moment. Like the Yankees and most of the rest of the league, the Orioles had an off-day yesterday, so their bullpen is as fresh as it's going to get this late in the season.
Update: The Orioles have called up RHP Tyler Wilson, C Caleb Joseph, and LHP Jayson Aquino, the team announced. Also, Bourn and OF Drew Stubbs were added the roster as well. They were acquired in minor moves earlier this week. There's the O's first wave of call-ups.