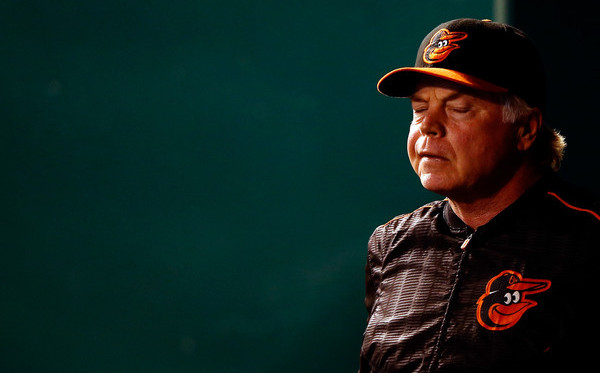 The Yankees begin a stretch of 20 games in 20 days tonight, with the first of three against the Orioles in Baltimore. For my money, Camden Yards is the best ballpark in the AL East. It's spectacular. Anyway, this is the first meeting of the season between the Yanks and O's, weirdly. The Yankees had an AL West heavy schedule in April for whatever reason.
What Have They Done Lately?
The O's won their first seven games of the season, and they won six of those seven games by no more than two runs. They've come back to Earth since the 7-0 start though. Baltimore is 7-10 since then, so they're 14-10 overall with a +16 run differential overall. The O's split a four-game series with the White Sox over the weekend. They won the first two games then lost the last two.
Offense & Defense
Manager Buck Showalter's team is living up to preseason projections. They're averaging 4.54 runs per game with a team 119 wRC+, and they lead the AL in home runs (34). Baltimore is only seventh in the league in strikeout rate (21.9%), however. I expected that number to be higher. The O's are currently without UTIL Jimmy Paredes (wrist) and SS J.J. Hardy (foot). Paredes is on a minor league rehab assignment and is not expected back this series. Hardy fouled a pitch off his foot over the weekend and suffered a hairline fracture. He'll miss 6-8 weeks. Ouch.
Showalter's lineup is headlined by 3B Manny Machado (199 wRC+), who has emerged as one of the game's truly elite players. In fact, I consider him the third best all-around player in baseball right now, behind only Mike Trout and Bryce Harper. (Nolan Arenado is in that mix too.) 1B Chris Davis (137 wRC+) is still a dinger mashing machine and OF Mark Trumbo (163 wRC+) has had a wonderful BABIP-fueled start to 2016 (.410 BABIP). OF Adam Jones (77 wRC+), who I don't think gets nearly enough respect for being a very good hitter because of his low OBPs, is off to a slugging start.
2B Jonathan Schoop (81 wRC+) has been below league average overall but has a history of crushing the Yankees. The C Matt Wieters (66 wRC+) and C Caleb Joseph (54 wRC+) tandem hasn't done much at the plate. Wieters had Tommy John surgery two years ago and the O's have allowed him to catch back-to-back games just once this year after he experienced some soreness in Spring Training. Tommy John surgery: it's not really that routine!
DH Pedro Alvarez (87 wRC+) hasn't gotten going yet, and Rule 5 Draft pick OF Joey Rickard (92 wRC+) is in the middle of crashing back to Earth. OF Nolan Reimold (199 wRC+) and OF Hyun-Soo Kim (288 wRC+) have been great in limited time. (They've combined for 54 plate appearances.) Kim has started only four of the team's 24 games and he was lifted for a pinch-hitter in two of those four starts. He came over from Korea and went straight into Showalter's dog house, it seems. Also, the Orioles will have to call someone up to replace Hardy. UTIL Ryan Flaherty seems likely.
Defensively, the O's have an outstanding infield when Hardy is healthy and everyone is at their normal positions. There's some talk they will play Machado at shortstop — his natural position — and Alvarez at third base (!) while Hardy is out. Alvarez is a total disaster in the field. Jones, Rickard, and Reimold are sound outfield defenders. Trumbo's really bad and I haven't seen enough of Kim to have an opinion about his defense. General rule of thumb: hit it to Trumbo and Alvarez.
Pitching Matchups
Tuesday (7pm ET): RHP Luis Severino (vs. BAL) vs. RHP Chris Tillman (vs. NYY)
It's hard to believe Tillman has now pitched in parts of eight (!) different big league seasons. The 28-year-old right-hander has a 3.24 ERA (2.75 FIP) in five starts and 25 innings in the early going, and right now he's running a career-high strikeout rate (24.2%). His walk (8.1%) and grounder (36.4%) rates are right in line with his career norms, though his homer rate (0.36 HR/9) is far below anything he's ever done before. Tillman's always been long ball prone (career 1.19 HR/9). Lefties have hit him hard this year, though for most of his career, his platoon split has been tiny. Tillman's velocity is up noticeably so far this season (via Brooks Baseball) …
… and he's been sitting more 92-95 mph than 90-92 mph. That's a big difference. He throws both a four-seamer and sinker, plus a little upper-80s cutter. His go-to secondary pitch is a big breaking upper-70s curveball. Tillman will also throw a mid-80s changeup. The sinker is a fairly new pitch for him — he didn't start throwing it regularly until last June — but it hasn't helped his ground rate a whole lot.
Wednesday (7pm ET): LHP CC Sabathia (vs. BAL) vs. TBA
It seems like the O's entire rotation is one big TBA behind Tillman. Ubaldo Jimenez started Sunday, we so definitely won't see him this series. Right-hander Tyler Wilson lines up to start this game, though the O's could also go with fellow righty Mike Wright. Wilson, 26, has a 3.06 ERA (4.20 FIP) in 17.2 innings across two starts and three relief appearances this year. He hasn't struck anyone out (12.3%), but his walk rate is good (4.1%) and he's getting a league average-ish number of grounders (46.7%). Wilson works in the low-90s with his four-seamer and sits in the low-80s with both his slider and changeup. Pretty generic arsenal.
Wright, 26, has a 5.40 ERA (4.35 FIP) in four starts and 23.1 innings in the early going. His peripheral stats are kind of blah: 18.6 K%, 6.2 BB%, 42.6 GB%, and 1.16 HR/9. Wright will sit right around 95 mph with his fastball, and he backs it up with a mid-80s slider and a low-80s changeup. He'll also flip a few upper-70s curves per start. Wright has the better stuff, Wilson the better 2016 results. If the O's keep their rotation on turn, Wilson lines up to start tomorrow night's game. Yesterday's off-day gives them the option of starting Wright instead.
Thursday (7pm ET): RHP Masahiro Tanaka (vs. BAL) vs. TBA
The Orioles have two options for Thursday's start: either Wilson or Wright, whichever one doesn't start Wednesday, or righty Kevin Gausman. Gausman's regular turn is Friday, but yesterday's off-day means the team can bump him up a day if they choose. The 25-year-old Gausman started the season on the DL with a shoulder problem and he's made two starts since being activated: 11 IP, 7 H, 4 R, 3 ER, 3 BB, 10 K. He's gotten exactly 50% grounders too. That works out to a 2.45 ERA (3.52 FIP). For what it's worth, Gausman had a 4.50 ERA (4.06 FIP) with good strikeout (21.5%) and walk (5.7%) numbers in 100.1 innings as a starter last season. Gausman throws very hard — he's averaged 97.1 mph with his four-seamer through two starts — and he also throws a low-80s curveball and mid-80s splitter/changeup hybrid. He used to have a hard mid-80s slider, but over the last year he's scrapped it entirely in favor of the curveball.
Update: Wilson will start Wednesday and Gausman will start Thursday, per Roch Kubatko.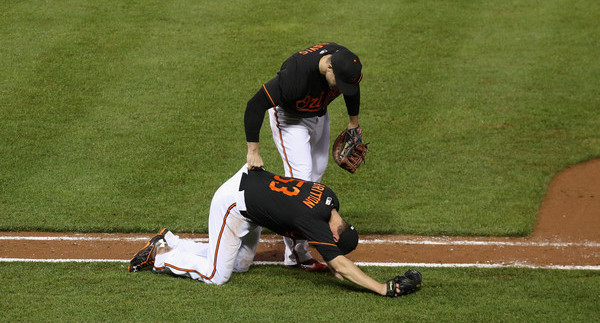 Bullpen Status
The O's lost closer LHP Zach Britton to an ankle injury over the weekend when he slipped fielding a bunt. He was in a walking boot and on crutches Sunday, but apparently he is considered day-to-day and will not be placed on the DL. Okie dokie. Either way, sounds like he's a no go for this series. Setup man extraordinaire RHP Darren O'Day will close in the meantime. Here is Showalter's relief crew:
RHP Brad Brach: 14.1 IP, 5 H, 2 R, 2 ER, 5 BB, 15 K, 1 HR
LHP Zach Britton: 10 IP, 6 H, 3 R, 3 ER, 2 BB, 13 K, 1 HR
RHP Dylan Bundy: 9 IP, 11 H, 2 R, 2 ER, 4 BB, 2 K, 0 HR
RHP Mychal Givens: 12 IP, 14 H, 5 R, 4 ER, 7 BB, 21 K, 1 HR
LHP Brian Matusz: 2.1 IP, 4 H, 2 R, 2 ER, 4 BB, 0 K, 0 HR
LHP T.J. McFarland: 12.1 IP, 9 H, 4 R, 4 ER, 3 BB, 4 K, 0 HR
RHP Darren O'Day: 9.2 IP, 8 H, 3 R, 3 ER, 3 BB, 15 K, 1 HR
RHP Vance Worley: 17.2 IP, 17 H, 8 R, 6 ER, 6 BB, 19 K, 2 HR
Poor Dylan Bundy. I thought that kid was going to be a megastar back in the day. Then he got sucked in the Orioles pitching prospect vortex of doom. The Orioles have needed 84.2 innings from their bullpen this season, third most in the AL, mostly because their rotation has been so hit or miss.
Like the Yankees, the O's had an off-day yesterday, so their bullpen is fresh as it is going to get. Head over to our Bullpen Workload page for the status of Joe Girardi's bullpen. It's in not bad shape, all things considered.