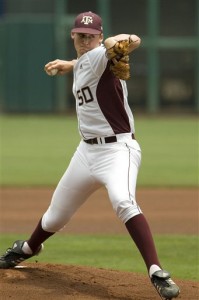 You probably caught this yesterday, but Bud Selig and the rest of his Major League Baseball gang have ruled that Barret Loux, a 21-year-old righthander out of Texas A&M, will become a free agent on Sept. 1st of this year and be able to sign with any club he chooses. The Diamondbacks selected Loux with the sixth overall pick in June's amateur draft, then reached an agreement with him on a slightly below slot $2M bonus (he was generally considered more of a back of the first round talent) only to have the player fail his physical due to shoulder and elbow issues.
The decision by MLB was remarkably fair actually, since the hard asses at the NCAA would have ruled Loux ineligible to play for the Aggies next year since he used an agent to negotiate with Arizona (nice job driving one of your best athletes away, NCAA!). His only option would have been an independent league, far from ideal. The Diamondbacks will get a compensation pick for their troubles (meaning they'll likely have two top seven picks in next year's epiphany draft), and now Loux gets to shop his services around to the highest bidder. The problem is that he's damaged goods.
According to Jeff Passan, Loux's physical revealed two major issues: he has a tear (of unknown severity) in his labrum, and enough ligament damage to his elbow to forecast Tommy John surgery in the future. While obviously very serious, the elbow is not the long-term concern, the shoulder is. The 6-foot-4, 220 lb. righty wasn't a huge stuff guy to begin with – low-90's fastball, hard changeup, okay slider and knucklecurve (video) – and the labrum issue could potentially sap his arsenal even further. The Diamondbacks took Loux with the idea of having him moving quickly as a mid-rotation starter to help their beleaguered staff, not because he had tremendous upside.
I thought I remember seeing that the Yanks were interested in Loux with their first round pick back in the spring, but I'm wrong. Turns out they were just projected to take him in a mock draft. Either way, here's an opportunity for the Yankees to add a first round caliber talent to the system using nothing but their checkbook. They have shown a willingness to gamble on injured prospects in the past, though they've definitely scaled back on the practice in recent years.
Given the injury, it's incredibly unlikely that Loux will command the same $2M bonus he'd agreed to with the Diamondbacks, but the competitive nature of the open market should still land him a seven-figure payout. I can't imagine that he and his agent would reasonably demand a big league contract even ignoring the injury, he's simply not that kind of talent. All it takes it one GM to make it happen, though. While the allure of adding a highly touted talent to the farm system is exciting, we have to remember what we're dealing with here. Shoulder issues are scary, scary business, and if the Yanks had drafted him and the injury came to light later, we'd all want them to walk away and take the compensation pick like the Diamondbacks did. Loux being a free agent now shouldn't change things.
It's just money, something the Yankees have plenty of, but we're not talking about a high reward kind of player with Loux. He was projected as an unspectacular mid-rotation guy from the outset, and his two arm-related injuries greatly increase the likelihood of a zero return. It's one thing to gamble on a player with the upside of Andrew Brackman when he needs a routine (but again, obviously still serious) elbow reconstruction, but it's another thing all together to do that when the best case scenario is a middling return.
The Yanks have build up a tremendous amount of pitching depth in the minors, and while there's always a reason to add more, at some point you have to take a step back and look at a player for what he is. Loux has the mystique of being a high draft pick, but he's damaged goods and I would not recommend spending seven figures on him. That money, no matter what budget it's coming out of, can be better used elsewhere.