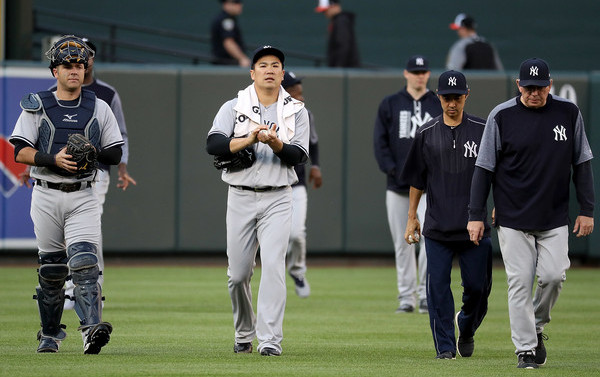 A few days ago the Yankees made the decision to push Masahiro Tanaka's next start back a day, allowing him to face the Mike Trout-less Angels in Anaheim tonight rather than the homer happy Orioles in Yankee Stadium yesterday. Smart move! Especially since the Yankees won Chad Green's spot start yesterday.
Now it's up to Tanaka to hold up his end of the bargain. He's in a pitcher's park and he'll face a team that isn't very good even when the best player on the planet is healthy. The Yankees are winning and Tanaka is their biggest problem right now, which is both cool and annoying. They're winning even though their best pitcher stinks! Dammit they could be winning even more if their best pitcher didn't stink! Whatever. Just win the series. Here is the Angels' lineup and here is the Yankees' lineup:
LF Brett Gardner
CF Aaron Hicks
RF Aaron Judge
DH Matt Holliday
2B Starlin Castro
SS Didi Gregorius
3B Chase Headley
1B Chris Carter
C Austin Romine
RHP Masahiro Tanaka
I'm not even going to bother to look up the weather report. It's probably sunny with temperatures in the 70s in Anaheim. No rain in the forecast either. The chances of that being correct are, like, 95%. Tonight's game will begin at 10:07pm ET and YES will have the broadcast. Enjoy the game.
Roster Moves: Following yesterday's game, the Yankees sent Domingo German back to Triple-A and called up Ben Heller, the team announced. I'm looking forward to seeing Heller again.
Awards!: Judge was named AL Player of the Week, MLB announced. He went 12-for-21 with about four miles worth of home runs last week. He's the first Yankee to be named Player of the Week since Gary Sanchez last August.