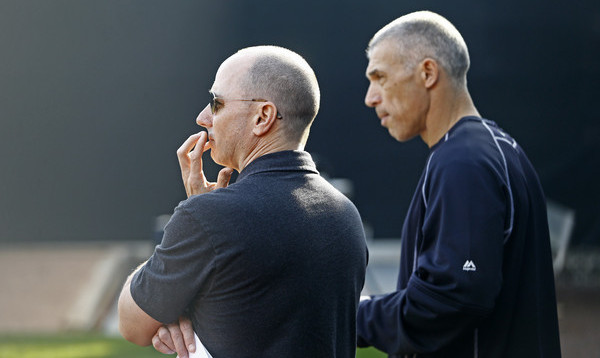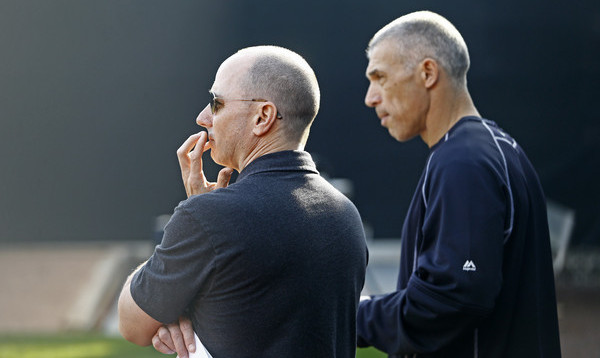 Despite my background as an English teacher, something that I don't usually care for in sports is the narrative thereof. As someone who deals with and has dealt with novels, short stories, and the like professionally for a while now, you'd think I'd dig stories and how they unfold over a long period of time, but as any of my students of recent vintage could tell you, plots are far less engaging and important than characters are. Still, they're unavoidable and, without them, the other stuff can't, won't, and doesn't happen. With the season (unfortunately) over for the Yankees, there won't be the "characters" and their actions–their play on the field–to distract us from the storylines that will emerge over the next few baseball-less months. These, like all things baseball, will lead to copious (if not repetitive) arguments amongst fans, so let's try to preview what they'll be to better prepare ourselves.
The general flow of offseason narratives is obviously dictated by when your team is eliminated from the playoffs, and with that time upon the Yankees, we've already seen the first part of the narrative cycle. Joe Girardi had his end-of-season conference and discussed many things, among them, possible changes for next year. Given that the Yankees–or any team for that matter–can't really get into actual changes with the playoffs still on-going, we have to speculate about what changes will come internally before any roster changes are made. That story starts with the departure of Billy Eppler, long-time Yankee assistant GM, who'll be taking over GM duties for the Angels. Will he take any staffers with him? Will he try to trade for some pet-players in the farm system? How will this affect the Yankees' general approach to free-agency? More broadly to that last point, who will or won't the Yankees sign in the offseason?
The team we saw in 2015 was flawed, but good enough up until the last two months of the season. There is room for improvement, but where will the Yankees find that room? Second base is probably the only spot where an offseason upgrade can occur, given the blockages at just about every other position on the field. Will they roll with a Dustin Ackley/Rob Refsnyder platoon until one of them forces the other out? Will they make a run at Ben Zobrist since he won't have draft pick compensation attached to him since he was traded mid-season? We know Brian Cashman tried to acquire Zobrist from the A's before the A's got him, but Cash didn't like the cost. The outfield could use some improvement–as the second halves of Brett Gardner and Jacoby Ellsbury could tell you–but where is that upgrade coming from? Both Gardner and Ellsbury are locked into contracts, and I'm not sure either is very tradeable right now. Ellsbury certainly isn't because of his salary and the remaining years on his contract. And though Brett Gardner's contract is reasonable, a team would really have to love him to make a trade for him. Gardner's a good player, don't get me wrong, but he's probably more valuable to the Yankees now than whatever piece they'd get back in the present (this is mitigated if the Yankees sign a big OF like Justin Upton or Jayson Heyward and flip Gardner for pennies on the dollar).
Of course, there's also the rotation. David Price is obviously the big target and in prior years, I don't think there'd be any doubt about the Yankees blowing him out of the water with an offer. However, it's very possible (even likely?) that the Yankees will view a Price contract as the second-coming of the CC Sabathia contract. Will they try for Jordan Zimmerman as a less flashy option? Will they try for Jeff Samardzija on a pillow contract? This will all go down between November and February before we get into the next phase of narratives: the Spring Training phase.
Who will be invited to Spring Training, both on the veteran side and on the prospect side? Are we going to get another Raul Ibanez or Marcus Thames? Who's going to headline the new crop of prospects we all dream about? And once all that's done, the "provisional" roster set, we'll get to argue about Spring Training battles. This will depend on whom the Yankees sign, but the two biggest ones on the horizon are the aforementioned Ackely/Refsnyder and the rotation, particularly what will happen if Ivan Nova is tendered a contract, how the team plans on using Adam Warren, and what happens with (a hopefully healthy and recovering) CC Sabathia.
While we're all staring out the window waiting for spring, we'll definitely have plenty to talk about. What forms do you think the Yankee narratives will take? Who'll be in or out? What will surprise us most? What will be so obvious we should've seen it coming?