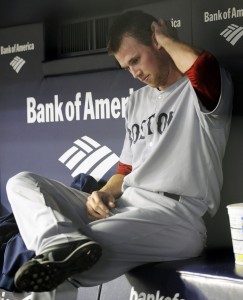 Following a frustrating four-game losing streak (frustrating because they didn't hit, the one thing they do better than anything else), the Yankees appear to have righted the ship and have won two in a row, the second against the great Felix Hernandez. Aside from various injuries, everything seems to be going pretty well in Yankeeland, but the same can't be said for their biggest rivals.
The Red Sox, in case you haven't heard, have lost five games in a row. While that was happening, the Rays won five in a row, so their deficit in the wildcard race dropped from eight games to three in less than a week. Suddenly the upcoming four-game series between these two clubs at Fenway Park this weekend has a whole lotta meaning, even though it was little more than an afterthought a week ago. The Sox have 16 games left, Tampa just 15. There is little in baseball more exciting than a late season comeback, as long as you aren't the team being comeback'd on.
Boston's problems are almost entirely pitching related. Their opponents have scored six or more runs eight times in their last ten games, and five or more runs ten times in their last 13 games. Their starting rotation at the moment is Jon Lester, John Lackey, Andrew Miller, Tim Wakefield, and Kyle Weiland, which is pretty awful outside of Lester. Legitimately Triple-A caliber. Josh Beckett will apparently be back from his ankle sprain sometime this week, so that will definitely help. Clay Buchholz may or may not return this season, but if he does, it sounds like he'll do so as a reliever. Who really knows what's up with Erik Bedard? Not I. As Yankees fans, you can't not enjoy watching this unfold. Oh, and the irony. I thought the Yankees were the team with the pitching problems?
Cool Standings says the Rays have just a 13.2% chance to make the postseason, but that's up from 0.6% just six days ago. The Red Sox went from a 99.4% chance to make to the postseason to 86.7% during that time. They're still in good shape, but there are definite reasons for the Fenway faithful to be concerned. This is more than a slump, there are very real issues. The Yankees, meanwhile, now have an 88.0% chance to win the AL East and a 99.4% chance to make the postseason. The only thing we have worry about is health and the number two starter in the ALDS. The Yankees aren't perfect, but they're the best team in the AL, hands down.
As a Yankees fan, I'm obligated to loathe the Red Sox. It's very, very easy to root for the Rays at the moment, because we all want to see a Boston collapse. And frankly, Tampa is a pretty fun team to watch. That said, if the Rays are going to pull off this comeback, the Yankees will be involved. They have seven games left with Tampa, including the final three of the season. These aren't isolated races, the Rays' pursuit of the Red Sox will impact the Yankees and their ability to keep Boston at bay in the East. Obviously priority number one for New York is getting into the playoffs, they can't worry about who is trying to catch who. If they rest players down the stretch, it will be to improve their chances in October, not help the Rays.
In all likelihood, the Red Sox will hold off Tampa and make the postseason. They do have seven games left with the Orioles, after all. Tampa had a huge mountain to climb just to get where they are now, and they still have a long way to go. It's going to be fun to watch over the next two weeks, and come on, what Yankees fan isn't enjoying this right now?