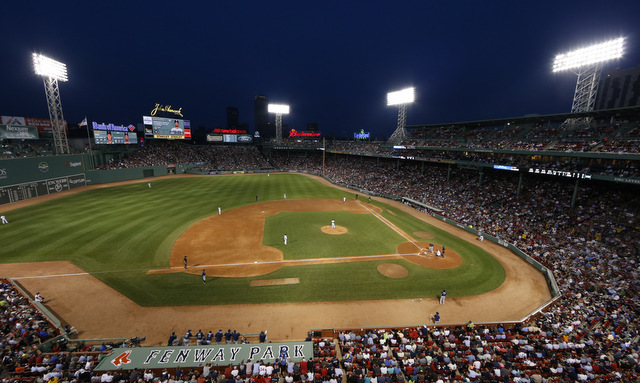 It's the final series of the first half, and, of course, it's up in the Boston. The last series before the break always seems to be a tough one. The Yankees are 4-2 against the Red Sox this season, including 3-0 at Fenway Park. They swept a series up there back in April, when Alex Rodriguez hit his unmarketable 660th career home run to tie Willie Mays for fourth place on the all-time list. You remember that, right? Of course you do.
What Have The Red Sox Done Lately?
The BoSox had an off-day yesterday and are playing much better than they were earlier in the season. They swept two games from the Marlins earlier this week, and have won four straight and eight of their last ten games overall. That has them all the way up to … 41-45 with a -39 run differential. The Red Sox are 5.5 games behind the Yankees and still in last place in the AL East.
Offense & Defense
At 4.23 runs per game with a team 97 wRC+, the Red Sox have had a below-average offense overall this season, just as everyone expected back in Spring Training. The Sawx are averaging 5.50 runs per game during their recent 8-2 stretch, however. 2B Dustin Pedroia (hamstring), OF Daniel Nava (thumb), C Christian Vazquez (elbow), and C Blake Swihart (foot) are all on the DL right now and aren't expected back this weekend.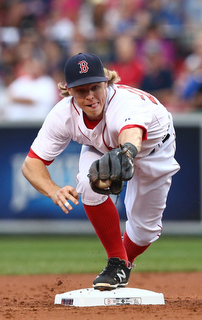 Manager John Farrell's lineup is still headlined by DH David Ortiz (103 wRC+), who has been better of late but clearly is no longer the hitter he was in his prime. Nowadays CF Mookie Betts (112 wRC+) and SS Xander Bogaerts (107 wRC+) are leading the offense with All-Star UTIL Brock Holt (123 wRC+) chipping in as well. OF Hanley Ramirez (119 wRC+) and 3B Pablo Sandoval (92 wRC+) have been up and down all year.
1B Mike Napoli (80 wRC+) has been so bad this year that Ortiz has played first base a handful of times recently. Seriously. OF Alejandro De Aza (108 wRC+) and OF Shane Victorino (103 wRC+) are currently platooning in right field, and C Ryan Hanigan (107 wRC+) is the regular backstop. C Sandy Leon (15 wRC+), IF Deven Marrero (-100 wRC+ in extremely limited time), and IF Travis Shaw (43 wRC+) fill out the bench.
The Red Sox are an okay defensive club with some major weak spots. Hanley is legitimately the worst defensive outfielder in baseball and Sandoval seems to have lost quite a bit of range this year. He handles stuff hit to him, but anything requiring a few steps in either direction has been an issue. Betts is good in center and De Aza is good in right (Victorino not so much these days), and Bogaerts is much improved at short. Holt is a fine fill-in for Pedroia and Hanigan can't throw anyone out (21% caught stealing rate), but he is one hell of a pitch-framer. Whoever they play at first is no bueno.
Pitching Matchups
Friday (7pm ET): RHP Michael Pineda (vs. BOS) vs. RHP Clay Buchholz (vs. NYY)
Buchholz, 30, has really turned around his season the last few weeks and is currently sitting on a 3.27 ERA (2.54 FIP) in 17 starts and 110 innings. His strikeout (23.0%), walk (5.1%), ground ball (49.4%), and home run (0.41 HR/9) rates are all better than the league average. Buchholz has a reverse platoon split this season (.310 wOBA vs. 268 wOBA in favor righties) which doesn't match up with the rest of his career. Low-90s two and four-seamers and an upper-80s cutter set up his upper-70s curveball and low-80s changeup, both of which are legit swing-and-miss pitches on their best days. The Yankees annihilated Buchholz back in April, scoring ten runs (nine earned) in 3.1 innings. It was a bloodbath.
Saturday (7pm ET): RHP Ivan Nova (vs. BOS) vs. LHP Eduardo Rodriguez (No vs. NYY)
The Red Sox called up the 22-year-old Rodriguez a few weeks ago and he has a 3.69 ERA (3.12 FIP) in eight starts and 46.1 innings so far as a big leaguer. His strikeout (22.9%) and walk (7.8%) rates are close to league average and his ground ball (41.9%) and homer (0.58 HR/9) rates don't really match up. One or the other figures to climb going forward, especially considering his home ballpark. Righties (.278 wOBA) have had a little more success against him than lefties (.266 wOBA). Rodriguez is a three-pitch pitcher and he uses mid-90s four-seamer a ton, more than 70% of the time. Mid-80s changeup and sliders are his other two offerings. The Yankees haven't faced Rodriguez yet this year. They're going in blind.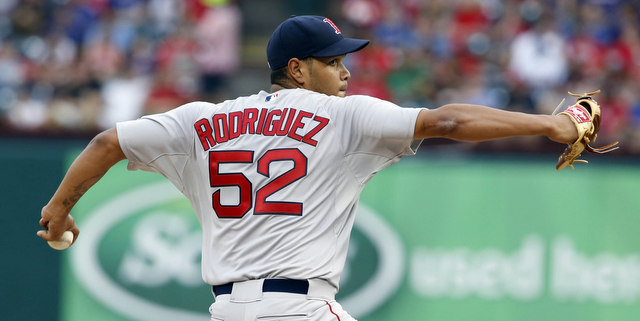 Sunday (1:30pm ET): RHP Nathan Eovaldi (vs. BOS) vs. LHP Wade Miley (vs. NYY)
Miley, 28, has turned things around a bit, though not to the extent of Buchholz. He has a 4.50 ERA (3.90 FIP) in 17 starts and 96 innings, and does it mostly by getting grounders (48.7%). His homer rate (0.75 HR/9) is fine but both his strikeout (17.0%) and walk (8.9%) rates are below the league average. Miley has had much more success against left-handed batters (.254 wOBA) than right-handed batters (.354 wOBA) this season, which has been the case his entire career. Low-90s two and four-seamers are Miley's main offerings, which he uses to set up mid-80s sliders and low-80s changeups. He tends to throw the two-seamer more than the four-seamer. The Yankees have already seen Miley twice this year, scoring two runs in 5.1 innings back in early-April and three runs in seven innings in late-April.
Bullpen Status
The bullpen, specifically the middle relief, can be a bit of a headache for Farrell. At least the late innings. Boston's bullpen has a 3.93 ERA (4.32 FIP) overall, which has them in the bottom five of the league. RHP Koji Uehara (2.53 ERA/2.27 FIP) closes and RHP Junichi Tazawa (2.45/2.67) is his primary setup man. LHP Tommy Layne (3.46/3.77) is the go-to late-inning matchup lefty.
RHP Matt Barnes (5.24/5.54), LHP Craig Breslow (4.15/5.59), RHP Alexi Ogando (3.32/4.92), and LHP Robbie Ross Jr. (4.13/4.84) are the rest of the relievers. Baseball is a different game than it was 10-15 years ago, but the old school approach of "wear down the starter and get to the shaky middle relief" strategy will work against this Red Sox club. Their bullpen is fresh thanks to yesterday's off-day. Check out our Bullpen Workload page and Over The Monster for the status of the Yankees' bullpen and the latest on the Red Sox, respectively.