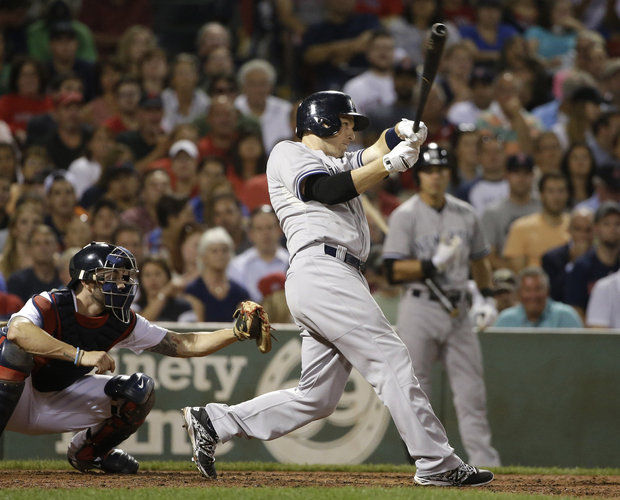 Yankee wasteland in Boston
The Yankees had so many missed scoring opportunities in their 4-3 loss to the Red Sox on Monday night, it's not worth recounting here. But know this: they left 14 men on base, their most stranded baserunners in any nine-inning game that they ended up losing by one run since Sept. 11, 2010 against the Rangers. And the last time they endured a loss like that against the Red Sox was July 17, 1996.
A plane trip to Boston couldn't cool down the red-hot bat of Didi Gregorius, who had another four-hit night, and just missed being the hero when his ninth-inning fly ball was caught for the final out at the warning track by Rusney Castillo. Oh, and he did this: Sir Didi became the first Yankee shortstop with at least four hits in a game at Fenway Park since the immortal Rafael Santana on June 13, 1988. Yup, Mr. Jeter somehow never did that.
Carlos Beltran quietly reached a pretty cool milestone in this game with his 500th career double in the fifth inning. He's now the only switch switch hitter in major-league history with at least 500 doubles, 300 homers and 300 stolen bases. The only other players to reach those totals (regardless of batting side) are Barry Bonds, A-Rod, Willie Mays and Andre Dawson.
13 times a charm
The Yankees overcame a really impressive performance by Rick Porcello (and his 5.47 ERA) on Tuesday night to win a pitchers' duel, 3-1, against the Red Sox.
Porcello recorded 13 strikeouts in his eight innings of work, becoming just the third Red Sox pitcher in the last 100 seasons to reach that total against the Yankees. Roger Clemens struck out 13 Yankees on Sept. 30, 1987; Pedro Martinez got 13 punch outs against them on May 30, 2001 and then had 17 strikeouts in an epic one-hitter at Yankee Stadium on Sept. 10, 1999.
The New Jersey native also joined an even more exclusive club, though, when he got tagged with the loss. He is the only major-league pitcher in the last 100 years to lose a game against the Yankees despite getting 13-or-more strikeouts and allowing no more than one earned run.
Michael Pineda didn't quite dominate like Porcello (only seven strikeouts), but his six innings of one-run, four-hit ball were plenty good enough for the win. It was also Pineda's third straight start of no more than one run allowed against the Red Sox in Boston, a streak that is unprecedented for any Bronx Bomber since at least 1914. That's right, Pineda is the first Yankee in more than a century to allow one run or fewer in three straight starts at Fenway Park.
The friendly confines of … Fenway?
It has been more than five decades since the Yankees enjoyed their trips to Fenway Park as much as they have over the last two seasons. With their win over the Red Sox on Wednesday, the Yankees have now captured the last six series played between these rivals in Boston. That's their longest streak of series wins on the road against the Red Sox since taking seven in a row from 1956 to 1958.
The Yankees jumped out to an early double-digit lead, scoring eight runs in the second and then three more in the third. This was the first time ever that the Yankees scored at least 11 runs combined in the first three innings of a game at Fenway Park.
Red Sox rookie Henry Owens was on the mound for most of the damage and charged with seven runs in 1 2/3 innings. He's the first Red Sox starter to give up at least seven runs while pitching fewer than two innings at Fenway against the Yankees since Luis Tiant (who was at the game!) on Sept. 29, 1976.
The young bats shined for the Yankees in this game, with three of their five home runs coming from Greg Bird (age 22), John Ryan Murphy (age 24) and Didi Gregorius (age 25). The last time the Yankees had at least three players age 25 or younger homer in the same game was Sept. 25, 1990 versus the Orioles.
But the biggest offensive star of the game was probably Stephen Drew, who went 3 for 4 with a homer and three RBIs. He's the third Yankee No. 9 batter with at least three hits and three RBIs in a game at Fenway Park, joining Scott Brosius (June 19, 2000) and Pat Kelly (Aug. 15, 1995).