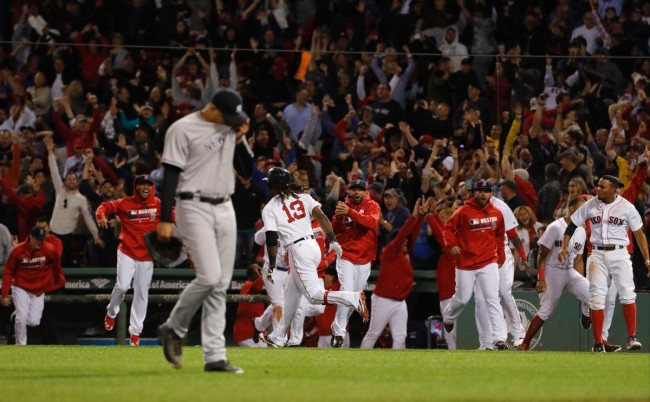 Speechless
Just when you started to believe in this plucky, underdog team with a nothing-to-lose mentality and pinstripes on its uniforms … Thursday night happened.
The Yankees suffered their most devastating loss of the season, blowing a three-run lead in the bottom of the ninth inning — they were two strikes away from a win — and losing in truly heartbreaking fashion when Dellin Betances served up a walk-off home run to Hanley Ramirez.
In the long history of the Red Sox-Yankees rivalry, this was just the third time that a Yankee pitcher coughed up a game-ending home run with the lead and one out to go.
The most recent game came on June 30, 1953 when Sammie White hit a two-run shot off Allie Reynolds in the bottom of the ninth to give Boston a 5-4 win; the first instance was August 7, 1935 when Joe Cronin took Johnny Broaca deep to turn a 5-3 Yankee advantage into a 6-5 loss.
The deflating defeat becomes even more depressing and soul-wrenching given that the Yankees also wasted an absolute gem by Masahiro Tanaka.
The right-hander added another chapter to his Cy Young resume with a stellar one-run, seven-inning performance against the league's most potent lineup. It was his ninth start of at least seven innings and no more than one earned run allowed, a number that led all American League pitchers through Thursday's slate.
The brilliant outing lowered his ERA to 2.97, pushing Tanaka past Chris Sale to the top of the AL leaderboard. If he can keep up this pace, he'd be the first Yankee to lead the league in ERA since Rudy May in 1980. And no Yankee has qualified for the ERA title with a sub-3.00 ERA since David Cone (2.82) and Andy Pettitte (2.88) in 1997.
He dominated the Red Sox batters not with his typical nasty, swing-and-miss stuff, but rather with an aggressive, pitch-to-contact approach. He located his off-speed pitches at the knees and pounded the edges of the strike zone with his fastball, generating a personal-best 15 ground ball outs while failing to record a strikeout for the first time in his MLB career.
Tanaka's streak of 73 straight games with at least one punchout to begin his major-league career was the second-longest by any Yankee, behind only Dave Righetti (88 games). He's also the first Yankee to go at least seven innings without striking out a batter in a game since Andy Pettitte on April 21, 2009 vs. the A's and the first to do it against the Red Sox since Tommy John on June 25, 1980.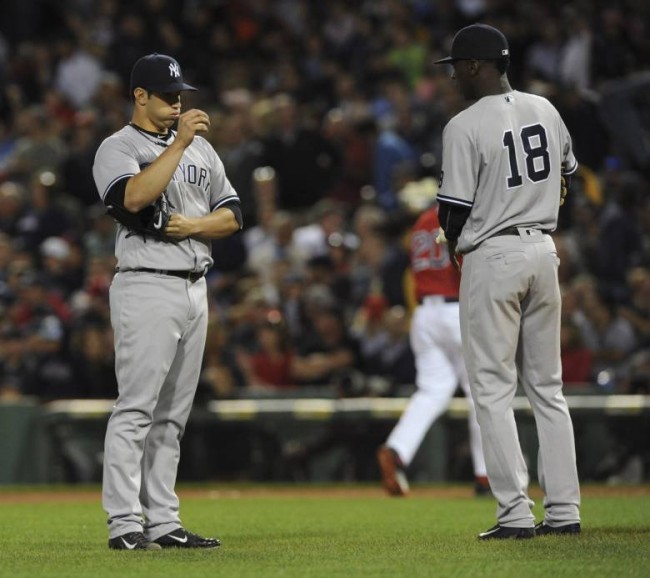 Different story, same result
The Yankees took another beating from the Red Sox on Friday night, losing again but this time with much less drama and in more conventional fashion: The Yankees fell behind early, their inexperienced middle relief arms put them in a deeper hole, and the bats wasted numerous scoring opportunities in an attempt to come back from a too-big deficit.
Following their pathetic 1-for-11 performance with runners in scoring position on Friday night, their season batting average in that situation fell to .231, which is by far the lowest among all AL teams this season and would be the worst by any Yankee team since 1969 (.224).
The offense was shut down by Boston's Clay Buchholz, a pitcher that the Yankees had routinely pounded in the past. He entered Friday's start with a 6.19 ERA in 18 career games (17 starts) versus the Yankees, the third-highest among all active pitchers with at least 60 innings pitched against them.
Snatching defeat from the arms of victory, again
The Yankees sudden and swift free fall in the playoff race continued on Saturday afternoon, enduring yet another excruciating loss while sinking further and further in the standings.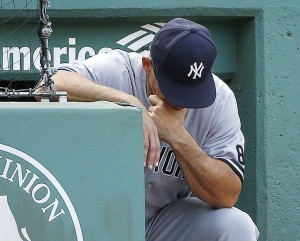 Gary Sanchez gave the Yankees a 3-0 lead when he clobbered a 95-mph fastball over the Green Monster. It went an estimated 407 feet, the 12th time he's hit a ball at least 400 feet. From his call-up on August 3 and through Saturday, only one player (Brian Dozier) hit more 400-foot batted balls than Sanchez.
Milestone alert: Brett Gardner's RBI triple in the third inning was his 50th career three-bagger. He is the only Yankee to pile up at least 50 triples, 50 homers and 200 stolen bases within his first nine major-league seasons.
Just seven other AL outfielders in baseball history have achieved the feat: Carl Crawford, Ichiro, Johnny Damon, Kenny Lofton, Brady Anderson, Lloyd Moseby and Ben Chapman.
That was fun while it lasted …
Hello coffin, meet nail.
Yes, the Yankees are still mathematically alive for a playoff spot, but their improbable quest for a postseason berth is now on life support and it will take a near-miracle to earn a ticket to the October party. Nearly all the momentum and ground they'd gained during their magical seven-game win streak has been nullified in the blink of an eye, as they've gone from postseason contenders to pretenders in less than a week.
The latest horrible loss capped off an absolutely crushing sweep in Boston, the first time the Yankees have been swept in a four-game series by the Red Sox since June 4-7, 1990. [The Stump Merrill era began during that series when he replaced Bucky Dent as manager after the second of the four losses.]
It wouldn't be a hyperbole to suggest that Fenway Park has become the latest "house of horrors" for the Yankees, who finished with a record of 2-8 at the ballpark, the most losses by a Yankee team there since they went 1-8 in 1973.
And finally … Let's end on a positive note: Gary Sanchez's assault on American League pitching continued with his 16th homer of the year (in 159 at-bats), a blast to left field that put the Yankees up 2-0 in the third inning. Sanchez's incredible rate of 9.94 at-bats per homer would be the best by any Yankee in a single season since Roger Maris (9.67) and Mickey Mantle (9.52) waged their epic home run battle in 1961.
While Sanchez is best known for his tape-measure bombs, he's also the rare young slugger who hits for average. After going 3-for-5 on Sunday night, he's now hitting .327 this year, and is on pace to join Joe DiMaggio (1936) as the only Yankees to have a rookie season with at least 15 homers and a .300-plus batting average.