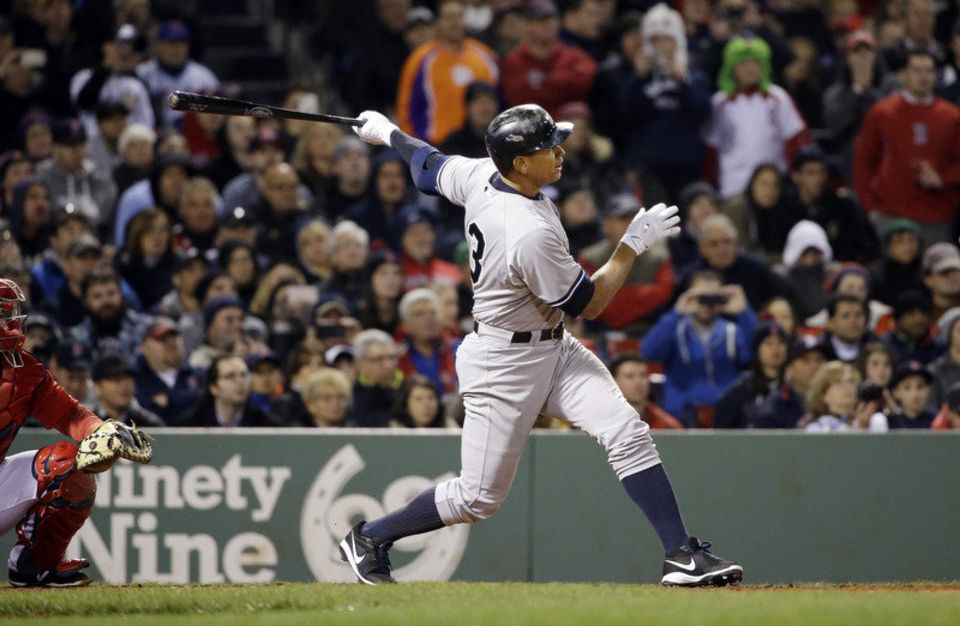 The Not Milestone Home Run
Alex Rodriguez just doesn't do normal. So it was hardly surprising when his 660th career home run on Friday night played out like a movie script: a pinch-hit, tie-breaking solo shot in the eighth inning that not only silenced the unremitting boos of the Fenway crowd but also lifted the Yankees to a critical win over the Red Sox.
Although he's had his share of dramatic longballs in his career, this home run was far from predictable for A-Rod:
• Before Friday, he was 1-for-19 as a pinch-hitter (including the postseason) and that lone hit was a single in 2013. Of those 19 at-bats, only three times did he even hit the ball to the outfield.
• He swung away on a 3-0 pitch and hit just the third homer of his career on a 3-0 count. The others were in 2001 off Barry Zito and 2009 off Ervin Santana.
• The pitch that went over the Green Monster was a 94 mph fastball from Junichi Tazawa; prior to the homer, A-Rod was 1-for-13 in at-bats ending in pitches at least 94 mph this season.
Matching Willie Mays for fourth place on the all-time home run list wasn't the only history that A-Rod made with that swing of the bat.
He also became the first Yankee to hit a go-ahead pinch-hit home run at Fenway since Johnny Blanchard in 1961. And the homer was his fourth against the Red Sox in the eighth inning or later that gave the Yankees the lead – twice as many as any other Yankee has hit in the last 50 years.
Evolution of Eovaldi
The Yankees clinched their fifth straight series win this season with a 4-2 victory against the Red Sox on Saturday afternoon. It's also the fourth series in a row at Fenway Park that they've taken from the Red Sox.
Nathan Eovaldi turned in another strong outing by holding the Red Sox to just two runs while pitching into the seventh inning. For the first time all season, his four-seam fastball was a legit weapon, netting him 14 outs and allowing just two hits off the pitch. Entering the game, batters were hitting .481 in at-bats ending in his heater, the worst mark among all pitchers this season (min. 100 fastballs).
With Joe Girardi deciding to rest the official non-closer, Dellin Betances got his first save opportunity of the season and left no doubt that he could handle the pressure of closing out a game. He entered in the eighth inning and needed just 14 pitches to strike out all four batters he faced to secure the 4-2 win.
How impressive was that performance? Betances joined Goose Gossage (May 14, 1982) and Mariano Rivera (June 24, 2009) as the only Yankee relievers to record a save of at least four outs and strike out every batter he faced.
Brooms out in Beantown
The Yankees improved to 16-9 with a win on Sunday night, giving them their first series sweep of three-or-more games at Fenway Park since the epic five-game sweep in August 2006.
Jacoby Ellsbury is scorching hot right now and added four more hits on Sunday night, bringing his season batting average up to .351. He is the first Yankee outfielder to go 4-for-4 or better against the Red Sox since Dave Winfield in 1985. Ellsbury also walked and was hit by a pitch, becoming the first Yankee to reach base six times in a nine-inning game against Red Sox since Snuffy Stirnweiss in 1945.
Brett Gardner put the game out of reach with a three-run homer in the sixth inning to make it 8-0, the second straight day he plated three runs against Boston. He's the first Yankee left fielder with back-to-back games of at least three RBI and two hits against the Red Sox since Mickey Mantle in 1966.
Despite a shaky ninth inning during which he loaded the bases, Andrew Miller pitched a scoreless frame for his 10th save in 10 tries this season. Miller is the second Yankee to convert his first 10 save opportunities with the team (since saves became an official stat in 1969), joining Tippy Martinez in 1975-1976.