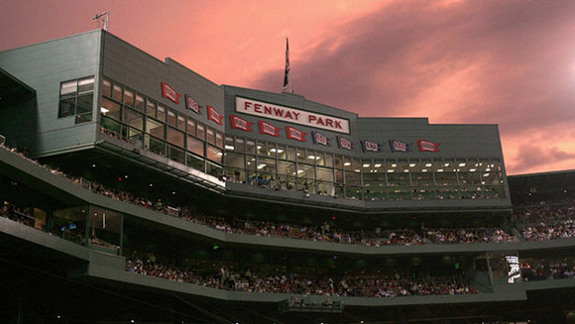 Even though April is just about over, the Yankees are only now about to play their third series against an AL East team this year. They've spent a lot of time playing the AL West already. Weird schedule this year. Anyway, the Yankees are up in Boston to Renew The Rivalry™ with the Red Sox this weekend. They'll play three games — all night games too, blah — at Fenway Park.
What Have They Done Lately?
The schedule makers did the Red Sox a solid this year and scheduled them a four-game home-and-home interleague series with the Braves. Atlanta did actually win the series finale yesterday, which is one more game than I expected them to win. The BoSox are 12-10 with a +11 run differential in the early going.
Offense & Defense
The Red Sox were expected to score runs this season and they have done exactly that so far. They're averaging 5.18 runs per game with a team 117 wRC+ in 2016. Their only injured position player is 3B Pablo Sandoval, who is out with a shoulder problem. He was awful last year and showed up to camp out of shape again this year. I'm guessing the Red Sox aren't exactly rushing him back.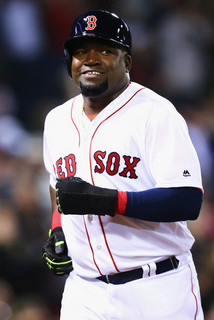 As always, manager John Farrell's lineup is built around the still annoyingly productive DH David Ortiz (168 wRC+). I really can't wait until he retires. RF Mookie Betts (112 wRC+), 2B Dustin Pedroia (156 wRC+), and SS Xander Bogaerts (121 wRC+) usually hit ahead of Ortiz in the lineup. That's their standard top of the batting order. 1B Hanley Ramirez (87 wRC+) and 3B Travis Shaw (157 wRC+) have been hitting behind Ortiz.
The bottom of the lineup is occupied by LF Brock Holt (102 wRC+), CF Jackie Bradley Jr. (84 wRC+), and C Christian Vazquez (61 wRC+). Former Yankee OF Chris Young (59 wRC+) is the extra outfielder, IF Josh Rutledge (211 wRC+) is the extra infielder, and C Ryan Hanigan (65 wRC+) is the backup backstop. Boston is currently carrying 13 pitches for whatever reason. They're dealing some rotation injuries and want the extra relievers around in case the fill-ins get knocked out early, I guess.
On defense, the BoSox have above-average defenders up the middle in Vazquez, Pedroia, and Bradley. Bradley and Vazquez are truly elite defenders. Bogaerts has improved over the last year or so but is still closer to average than great. Betts has looked lost at times in right — he's made some great catches thanks to pure athleticism — and Holt's been adequate in left. Shaw and Hanley are no bueno on the infield corners.
Pitching Matchups
Friday (7pm ET): RHP Masahiro Tanaka (vs. BOS) vs. LHP Henry Owens (vs. NYY)
Both Eduardo Rodriguez (knee) and Joe Kelly's great stuff (shoulder) are on the DL, which is why the 23-year-old Owens joined the rotation last week. He allowed three runs on five hits and four walks in 3.1 innings against the Astros the other day in his only big league start of 2016. Owens had a 4.57 ERA (4.28 FIP) with an 18.8% strikeout rate, an 8.8% walk rate, a 34.7% ground ball rate, and a 1.00 HR/9 in 63 MLB innings last season. He sits a tick below 90 mph with both his four-seamer and sinker, and his bread and butter is a great upper-70s changeup. Owens will also mix in some low-70s curveballs. Guys with upper-80s fastballs need good command and Owens doesn't have it. He doesn't even have good control. He's liable to walk himself into trouble and lay cookies over the plate. Patience is the key tonight.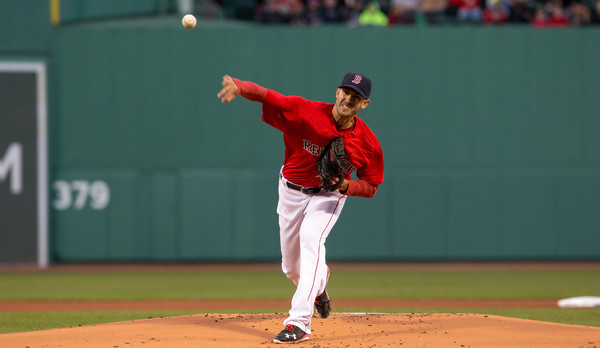 Saturday (7pm ET): RHP Michael Pineda (vs. BOS) vs. RHP Rick Porcello (vs. NYY)
Porcello's second season with the Red Sox has gotten off to a much better start than his first season. He has a 3.51 ERA (4.12 FIP) in four starts and 25.2 innings, and his 29.2% strikeout rate is by far a career high. Porcello also has a 4.9% walk rate and a 50.0% ground ball rate, though his 1.75 HR/9 is an eyesore. Lefties have historically hit him a lot larder than righties. Porcello, 27, uses a sinker right around 90 mph as his main fastball, and so far this season he's preferred his low-80s changeup to his low-70s curveball. He'll also throw some mid-80s cutter/slider things. With Porcello, it's all about the sinker. If he's commanding it at the bottom of the zone, he'll dominate. If he's doing anything else, he'll get knocked around.
Sunday (8pm ET): RHP Nathan Eovaldi (vs. BOS) vs. LHP David Price (vs. NYY)
We started doing these series preview posts at RAB back in 2011, and during these last five years and one month, I think we've written about Price as an opposing starter more than any other pitcher. Has to be, right? It's either him or Chris Tillman. The Yankees never seem to miss Price (or Tillman) whenever they play whatever team he happens to be playing for at the time.
Anyway, Price's tenure in Boston has gotten off to an uneven start. He has a 5.76 ERA (2.44 FIP) in 29.2 innings, and he currently has a career high strikeout rate (35.4%) and a career low ground ball rate (36.1%). His walk (6.2%) and homer (0.91 HR/9) rates are higher than they have been in four or five years now. Price, 30, has never had much of a platoon split because his stuff and command are so good. He's sitting around 93 mph with his four-seamer and sinker, and about 88 mph with his cutter. His velocity is actually down noticeably from last year (via Brooks Baseball):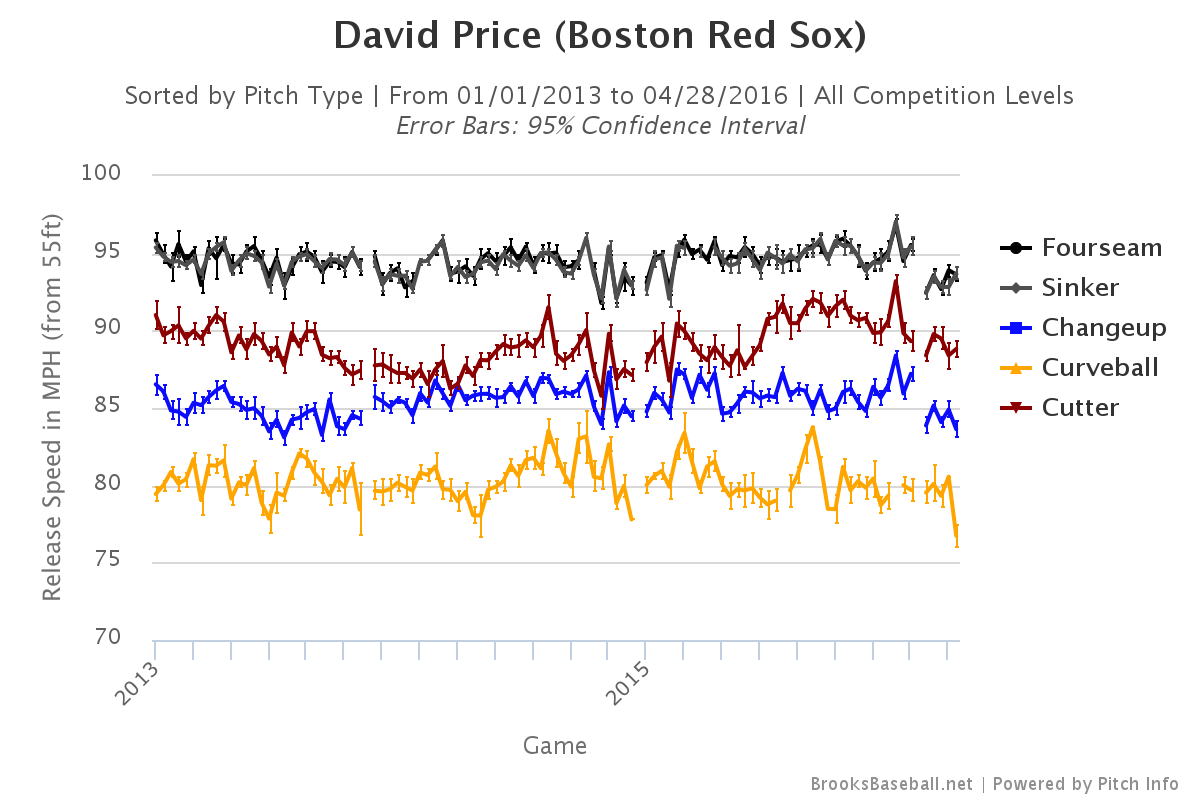 Price uses a low-80s changeup as his main secondary pitch, and he'll also mix in a few low-70s curveballs per start. There's no messing around here though. Price throws his three fastballs about 70% of the time combined. He throws hard and he dares you to hit it.
Bullpen Status
New president of baseball operations Dave Dombrowski went out and made some big trades this offseason to improve his bullpen, which was an obvious team weakness last year. One of his trade pickups, RHP Carson Smith, has been on the DL all season with a forearm injury. The other, RHP Craig Kimbrel, has already had some high-profile meltdowns. Here's the bullpen:
RHP Matt Barnes: 11.1 IP, 14 H, 6 R, 4 ER, 6 BB, 13 K, 1 HR (0 pitches Thurs., 19 pitches Weds.)
RHP Heath Hembree: 9 IP, 5 H, 0 R, 0 ER, 1 BB, 11 K, 0 HR (15 pitches Thurs., 0 pitches Weds.)
RHP Craig Kimbrel: 10 IP, 5 H, 5 R, 5 ER, 5 BB, 18 K, 2 HR (0 pitches Thurs., 0 pitches Weds.)
LHP Tommy Layne: 5 IP, 6 H, 2 R, 2 ER, 3 BB, 6 K, 1 HR (23 pitches Thurs., 11 pitches Weds.)
RHP Pat Light: 1 IP, 2 H, 2 R, 2 ER, 1 BB, 0 K, 0 HR (0 pitches Thurs., 0 pitches Weds.)
LHP Robbie Ross. Jr.: 10 IP, 10 H, 4 R, 4 ER, 2 BB, 9 K, 1 HR (0 pitches Thurs., 0 pitches Weds.)
RHP Junichi Tazawa: 8.2 IP, 3 H, 1 R, 1 ER, 3 BB, 11 K, 1 HR (0 pitches Thurs., 0 pitches Weds.)
RHP Koji Uehara: 9.1 IP, 3 H, 4 R, 4 ER, 4 BB, 9 K, 0 HR (0 pitches Thurs., 0 pitches Weds.)
Like Joe Girardi, Farrell likes to assign his relievers set innings whenever possible. Kimbrel is the closer, Uehara is the eighth inning guy, and Tazawa is the seventh inning guy. That's the formula. Layne is the left-on-left specialist and Ross is more of the long man lefty. Barnes is the low leverage middle reliever and Hembree has kinda come out of nowhere to pitch well.
The Yankees had an off-day yesterday, so their bullpen is as fresh as it's going to get one month into the season. Dellin Betances and Andrew Miller have each had three straight days off, so they're good to go. Our Bullpen Workload page will tell you all you need to know about the team's relief corps.