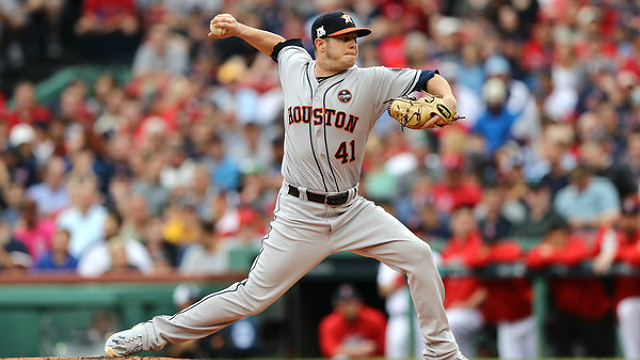 The Astros changed course this series, opting to start Lance McCullers Jr. and not Brad Peacock in an important Game 4.
If you were seeing this in July, you would have laughed. McCullers was the Astros' No. 2 starter then behind Dallas Keuchel and you could have argued he was their No. 1. Now? Not so much, yet maybe that ace-like performance comes through Tuesday.
But even though he isn't starting, you can't forget about Peacock. He has a role to play in this series, in the rotation or not.
Before this season, Peacock was an OK swing-man who was shuffled between Triple-A and the majors. He had made a total of 11 appearances over 36.2 innings in the majors in 2015-16. But he pitched nearly like an ace for much of this season, in large part because of his new slider he learned from teammate Jordan Jankowski in 2016.
His slider is actually his primary pitch now. He throws the low-80s slider nearly 40 percent of the time. He's cut down significantly on his four-seam fastball usage (52.6 to 27.2 percent) and utilized his sinker more (24 percent). He'll occasionally use his curveball and changeup, but he's basically a fastball-slider pitcher.
Thanks to the slider, he's become a significant strikeout pitcher. He was eighth among pitchers with at least 100 innings in strikeout rate with a 29.5 percent mark. The guy ahead of him? Clayton Kershaw. The guy behind him? Luis Severino.
The 29-year-old starter had never struck out more than 8.3 batters per nine, but has K'd 11.0 this season. He walks nearly four per nine, but makes up for it with plenty of grounders and soft contact.
With that in mind, Peacock could be the Astros' secret weapon in this series. Why not start him then? That's a fair question, but he might be the perfect multi-inning reliever.
Here's the main reason why: The first time through the order as a starter this season, he held opposing batters to a .145/.222/.198 line. That's unreal. His lines got significantly worse each time through the order to the point where he was not effective at all once the lineup turned over a third time.
A.J. Hinch was criticized for removing Peacock pretty early on in his start during ALDS Game 3, but Hinch is likely seeing the same statistics we are. Removing Peacock early wasn't a poor decision (maybe going to Francisco Liriano was, but I won't judge).
In the regular season, Hinch could let his starter go a second or third time through without worrying too much. But in the postseason, Hinch can afford to pull him early, particularly with the dependable arms of Keuchel and Justin Verlander coming in Games 5 and 6. It also helps to have Collin McHugh absorb four innings on Monday night.
So if McCullers struggles at all, Hinch has an easy decision: Go to Peacock. He can turn over a lineup before the Houston manager has to make any decisions about which relievers he trusts besides Chris Devenski and Ken Giles. And if McCullers can get through the lineup a few times just fine, well, Peacock has short relief experience, too, and could be a factor in 1-2 inning appearances the rest of the way.
It remains to be seen how Peacock will be used on Tuesday, if at all. But if he's piggybacking McCullers, the Astros could merge two starts into one, coalescing into a strong challenge to Sonny Gray and the Yankees.