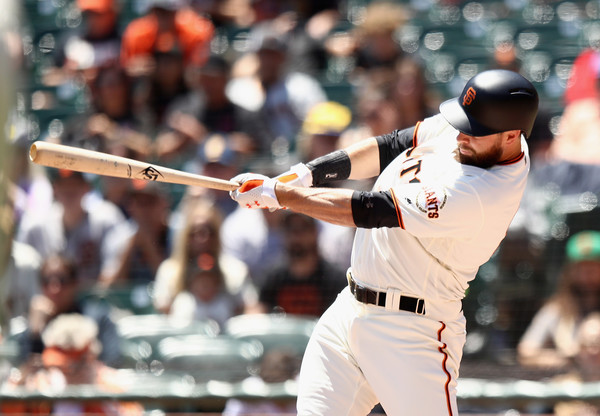 Yankees fans and writers have been discussing the Giants as a potential trade partner for the last year or so, with much of the focus centered on Madison Bumgarner. And, with the Giants seemingly willing to spend money, they've also popped-up as a potential destination for persona non grata Sonny Gray. But with the Yankees in need of some semblance of certainty at first base and the Giants (probably) moving Buster Posey there full-time in the not-so-distant future, Brandon Belt might just be the player most worthy of our discussion.
Background
Belt was drafted by the Giants in the fifth round of the 2009 draft, following his junior year at Texas. It was actually his third time being selected in a draft (the Red Sox took him out of HS in 2006 and the Braves popped him out of JuCo in 2007), but he had never received the sort of bonus that he was looking for, so he chose to pursue college ball. He wasn't regarded as a top prospect heading into that draft (Baseball America didn't rank him in their top-200), and Belt ended up signing for $200,000.
The then-22-year-old Belt made his professional debut in 2010, and tore his way through the minors, slashing .352/.455/.620 with 23 HR and 22 SB in 595 PA between three levels (from High-A through Triple-A), and was a consensus top-25 prospect heading into 2011. He broke camp with the team in 2011, but ended up splitting the year between Triple-A and the majors, and battling for playing time with Aubrey Huff – but that's not really a story worth reliving. It's kind of funny in hindsight, though.
Offensive Performance
Through eight big-league seasons, Belt has offered fairly consistent production. He has not quite lived up to the hype generated by his obliteration of the minors, but he has been an above-average hitter every year, and has been able to count himself among the best first basemen in the game a couple of times. Let's took a look at his last three seasons:
| | AVG/OBP/SLG | wRC+ | HR | SB | K% | BB% | PA |
| --- | --- | --- | --- | --- | --- | --- | --- |
| 2016 | .275/.394/.474 | 136 | 17 | 0 | 22.6% | 15.9% | 655 |
| 2017 | .241/.355/.469 | 118 | 18 | 3 | 23.1% | 14.6% | 451 |
| 2018 | .253/.342/.414 | 107 | 14 | 4 | 23.5% | 10.7% | 456 |
There is a slightly disconcerting trend in there, as the 30-year-old has had back-to-back years of diminishing returns. However, 2016 was either his best or second-best year, and 2017 was basically his career norm (compared to his average of .266/.356/.455) – so it's not as bad as it looks. And that's particularly true when last year was a borderline lost season for Belt, as he missed two weeks in June with an appendectomy, and missed another few weeks with a torn meniscus before attempting to play through it down the stretch. He hit .307/.403/.547 (156 wRC+) with 11 HR in 226 PA prior to the appendectomy, and .203/.283/.290 afterward; it seems clear that he was never completely healthy.
Belt isn't a superstar level hitter, to be sure – but he posted a wRC+ between 115 and 140 in the six seasons heading into 2018, and that sort of consistency is worthwhile; as is the combination of his above-average walk rates, solid power numbers (career .189 ISO), and average strikeout rates. And he's a left-handed hitter with something of a pull tendency:
His pull rates are just about league-average, which is enough to lend hope that Yankee Stadium will help him tap into some power, without making him a huge liability against the shift. And his numbers against the shift are right in-line with his norms, which is great. He's also willing to do this:
Belt bunted against the shift six times in 2018, and was successful on four occasions. And he has nine bunt hits against the shift for his career.
Defensive Performance
Belt has dabbled in the outfield in his career, amassing 75 games in left and 3 in right, but first base has otherwise been his home. He's regarded as an excellent defender there, too, despite having never taken home any hardware for his work in the field. The metrics bear that out, as Belt has never been anything other than a net positive by both DRS and UZR. Focusing again on the last three years:
2016 : 9 DRS, 2.5 UZR
2017: 11 DRS, 7.5 UZR
2018: 13 DRS, 6.0 UZR
Belt leads all first basemen in DRS, UZR, and UZR/150 in that span, despite missing time with injuries the last two years (keep in mind that DRS and UZR are counting stats). Yankees first basemen, by comparison, were middle of the pack in both metrics in 2018, and haven't been better than that since Mark Teixeira retired.
Injury History
As outlined above, Belt missed time following an appendectomy last year, and required surgery on his torn meniscus in September. He's slated to be ready for Spring Training this year, though.
This wasn't the first time that Belt dealt with a major injury, though. A concussion – the result of being hit in the head with a pitch – in August knocked him out for the remainder of the 2017 season, and that was his fourth concussion. Given what has happened to Clint Frazier over the last year or so, that's absolutely terrifying.
Belt has also suffered a series of nagging injuries throughout his career, which has led many to label him with the dreaded 'injury prone' tag. However, many (if not most) of those maladies were fluky in nature, so it may not be fair to hold that against him. At the same time, though, concussions are scary, and he's recovering from knee surgery – so the cause of the injuries isn't as important as the toll they take.
Contract Status
Belt is owed $17.2 MM for each of the next three years, as he wraps up a 6-year, $79 MM contract. That gives him a luxury tax hit of roughly $13.2 MM a year.
What's it Going to Cost?
This is always the biggest question in trade talks, and our trade proposals always suck. It's made even more difficult by the fact that Belt is (1) a first baseman only (2) coming off of knee surgery (3) with three not-so-cheap years on his contract. Maybe it's not fair to look for a one-to-one in this situation – but Belt is a unique case, to me, as his name value is probably at least a bit more than his actual value when we drill down the position. First base has something of an abundance of trade and free agent options on a year-to-year basis.
C.J. Cron, for example, was dealt with three years of arbitration remaining for a player to be named later (that ended up being a middling prospect). Matt Adams was traded for a middling prospect with three years of team control remaining, and then non-tendered. Justin Bour was dealt at midseason with two-plus seasons of team control, and the return was … a middling prospect.
Belt is better than all of these guys with a longer track record – but it seems like first basemen are always worth a bit less on the market than you'd expect. And the fact that the Diamondbacks are shopping the superior Paul Goldschmidt might muddy how much the Giants could ask for, to boot.
Does He Make Sense for the Yankees?
It all depends on the cost, really.
Belt is obviously a worthwhile option at first base, with stellar defense and offense that ranges from good to great. At the same time, though, I kind of talked myself out of giving up much of anything when I looked into other first basemen that changed organizations over the last year or so, and the return they generated. Again, Belt is better than Cron and Adams and Bour – but for that much more money, and a higher cost in talent? I'm not so sure.