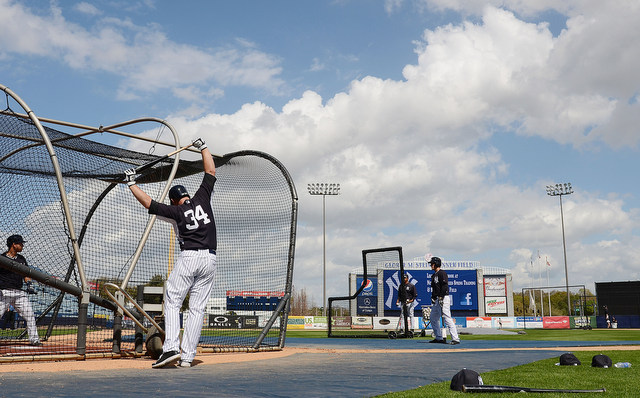 About a month ago, I wrote about some way too early lineup musings and as the report date for pitchers and catchers approaches, I've been thinking about the Yankees' lineup again. This time, though, the thoughts aren't about the hitters and their positions in the lineup, but rather their positions on the field.
Going back generations, the Yankees' offense has always been buoyed by strong up-the-middle hitters, especially center fielders and catchers. Most organizations would be lucky enough to have had one or two players of the caliber the Yankees have trotted out across their history: Bill Dickey; Yogi Berra; Elston Howard; Thurman Munson; Jorge Posada; Earle Combs; Joe DiMaggio; Mickey Mantle; Bernie Williams. The four "worst" players in that collection are borderline Hall of Famers. Throw 20 years of Derek Jeter into the mix–as well as players like Willie Randolph and Robinson Cano at the keystone–and it's easy to see why the Yankees have earned their "Bronx Bombers" moniker and have had so much offensive success. Of course, this isn't to discount what the prolific hitters the Yankees have at the corners have done. From Babe Ruth and Lou Gehrig to Alex Rodriguez and Mark Teixeira, the Yankees have had legendary and elite players fill left, right, first, and third. Coming into the 2016 season, the Yankees are set up to have some balance in their lineup, with no position/position grouping dominating the lineup.
Taking a rather general and broad view–the forest, not the trees–let's look at the position groups of the Yankees' likely starters and see what we can find. For organizational purposes, I'm placing A-Rod in the "corner" category, since DH is more like a corner position anyway.
On the corners, we have the aforementioned Tex and A-Rod, as well as Brett Gardner, Chase Headley, and Carlos Beltran. Four of these players are going to be a key part of the offense, as, together, they'll occupy some combination of spots one/two and some combination of spots three-five or six. The other is Headley, who'll be a bottom of the order guy regardless. On the negative side of things, Tex, Rodriguez, and Beltran are all old and could break down at any time in the season. Headley is coming off a career worst year. Gardner had an abysmal second half. On the positive side of things, Tex, Al, and Carlos are all capable of great power that can help carry the team. Almost anything Headley does will be an improvement. Gardner tends to have good first halves and will (hopefully) be healthy again.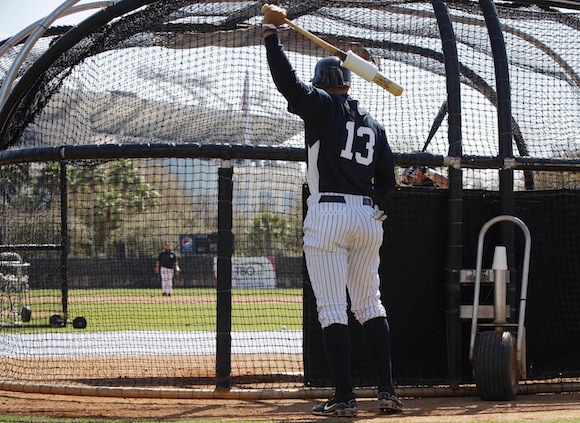 Up the middle, returning players Brian McCann, Didi Gregorius, and Jacoby Ellsbury are joined by newcomer Starlin Castro. Castro and Ellsbury, like Headley, are coming off of forgettable years. Brian McCann isn't getting any younger and Didi's offensive ceiling probably isn't much higher than his production was last year. On the plus side, Castro and Ellsbury, like Headley, likely can't be any worse than they were last year and there is tons of room for improvement for both of them, especially for Castro if he doesn't have to be a mainstay of the offense. Despite aging, McCann was solid last year and is likely to provide similar power. If things go the way they should–hell, even if they mirror last year–Didi doesn't need to be much more than he is on offense, especially given his glove.
The 2016 Yankee offense is essentially the opposite of its pitching staff, the latter dominated by one position grouping: relievers. While the Yankee rotation mirrors the lineup with a healthy blend of risk and reward, the bullpen is clearly where the reliability and elite performance lie. At the plate, the Yankees are in a position of balance, with no group the clear focus or the clear carrier. Despite some risks, the hitters are set to compliment each other, with those recovering offsetting those who may be declining. This team may not have any hitters of the same caliber as the ones listed before–even if A-Rod and Tex are still around, they're not necessarily what they used to be–but it can still be successful.