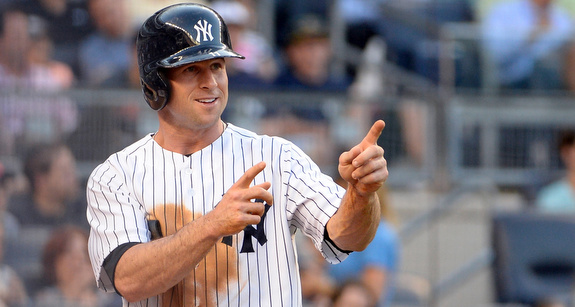 As bad as the Yankees were in 2013, it was a very good year for Brett Gardner. Curtis Granderson's broken forearm and Derek Jeter's fractured ankle guaranteed him the everyday center field and leadoff hitter jobs, roles he had filled on an off earlier in his career. For the most part he was a number nine hitting left fielder from 2008-12. Gardner took advantage by hitting a solid .273/.344/.416 (108 wRC+) with a career-high eight homers and 24 stolen bases in 2013.
The Yankees rewarded Gardner's strong season by … displacing him from center field and the leadoff spot by signing Jacoby Ellsbury to a gargantuan contract. Back to left field and the bottom of the order he went. But! The Yankees actually did reward Gardner's strong season by giving him a nice four-year contract extension worth $52M in Spring Training, a few months before he was scheduled to hit free agency. Signing Ellsbury was about adding a very good player. Extending Gardner was about keeping a very good player.
Of course, things don't always go according to plan, and Gardner wound up spending the majority of the 2014 season hitting leadoff anyway. He opened the year hitting seventh or eighth on most nights, but a combination of injuries to middle of the order hitters Carlos Beltran and Mark Teixeira forced Joe Girardi to bat Ellsbury third, clearing the leadoff spot for Gardner. One hundred and seven of his 141 starts this year came atop the order.
Gardner was New York's second best player behind Robinson Cano last year, and for a big chunk of the first half, he was the team's very best player in 2014. He hit .279/.347/.349 (100 wRC+) with a homer and seven steals in April before really hitting his stride in early-May. Starting on May 3rd — arbitrary endpoint alert! — and continuing though August 4th, a span of 82 team games, Gardner hit a stellar .292/.370/.506 (145 wRC+) with 14 homers and eleven stolen bases. Think about that for a second.
…
…
…
Okay, ready to continue? Miguel Cabrera hit .313/.371/.524 (147 wRC+) this past season. Gardner hit approximately that over a stretch of games equal to half a season while hitting homers at a 28-per-162-games pace. That's a thing that actually happened. Gardner put up middle of the order numbers from the leadoff spot for a three-month chunk of time. During one series against the Rangers at the end of July, he managed to hit four homers in three games:
| Date | Tm | | Opp | Rslt | PA | R | H | 2B | 3B | HR | RBI | BB | SO | SB | CS | BA | OBP | SLG | OPS | wpa_bat" data-filter="1″ data-name="Win Probability Added">Win Prob. Added |
| --- | --- | --- | --- | --- | --- | --- | --- | --- | --- | --- | --- | --- | --- | --- | --- | --- | --- | --- | --- | --- |
| Jul 28 | NYY | @ | TEX | L,2-4 | 5 | 2 | 3 | 0 | 0 | 2 | 2 | 0 | 0 | 0 | 0 | .276 | .352 | .437 | .789 | 0.224 |
| Jul 29 | NYY | @ | TEX | W,12-11 | 5 | 3 | 4 | 2 | 0 | 1 | 1 | 0 | 0 | 0 | 0 | .283 | .357 | .455 | .812 | 0.340 |
| Jul 30 | NYY | @ | TEX | L,2-3 | 4 | 1 | 1 | 0 | 0 | 1 | 1 | 0 | 2 | 0 | 0 | .283 | .356 | .460 | .816 | 0.008 |
Two of those homers — the July 28th game — came off Yu Darvish, who Gardner had taken deep a week earlier as well. That series earned Gardner AL Player of the Week honors. On August 4th, the final day of this cherry-picked swath of games, Gardner's season batting line sat at .286/.364/.468 (134 wRC+) with 15 homers and 18 steals in 22 attempts.
Did it last? Of course not. Gardner played through some sort of abdominal strain for most of the second half and hit a weak .159/.216/.217 (18 wRC+) in his final 40 games and 78 plate appearances of the season. That uglified his season batting line and dragged it down to .256/.327/.422 (110 wRC+) overall. That's still pretty darn good, but not nearly as impressive as it was in early-August. The abdominal injury, which apparently was so bad it required offseason surgery, really ruined the final two months of his year.
Obviously, the power numbers were the most surprisingly part of Gardner's season. His previous career high was eight homeruns set last summer. He more than doubled that and smashed 17 dingers in 2014. Some of them were Yankee Stadium cheapies of course, but Hit Tracker says 13 of the 17 would have been out in at least half the 30 ballparks. Gardner's average homer distance was 385 feet, on par with Yoenis Cespedes (387.5 feet) and longer than 37-homer man Chris Carter (384.1 feet). He hit the Yankees' very first homerun of the season — in their sixth game! — and he also hit the 15,000th homer in franchise history on September 21st. (No other team has even 14,000 dingers.)
I don't think it's a coincidence six of the 17 homers came within the first two pitches of the at-bat or that 13 of the 17 came on fastballs — Gardner will straight up guess fastball and try to ambush a pitch on occasion, and every so often he runs into one. That hasn't only resulted in more homers either, this approach has led to more doubles and triples as well. Gardner and hitting coach Kevin Long acknowledged giving the ambush approach a try early last year, and look:

Source: FanGraphs — Brett Gardner
Gardner's power production has jumped noticeable the last two seasons. Don't get me wrong, he's still nothing more than a league-average power producer in terms of ISO, but Gardner was a pure singles hitter from 2008-12 who can now go yard if the pitcher makes a mistake or gives him the fastball he's looking for. That makes him a lot more dangerous at the plate. I have no idea if Gardner will ever hit 17 homers again but that's a conversation for another time. He hit them in 2014.
In the field, Gardner appeared to be something less than his usually awesome self, both according to the eye test and the various defensive stats. He wasn't bad by any means in left field, but he went from being truly elite in 2008-12 to being just a tick better than average in 2014. That could be the result of a million things. Gardner could legitimately be losing a step in the field, or it could have been a down year defensively. Those happen just like down years at the plate. Maybe the adjustment he had to making moving back to left after playing center isn't as easy as we think. Who knows. Either way, Gardner was an asset in the field but not otherworldly.
Overall, Gardner was again one of the team's best players on both sides of the ball this past season. He led Yankees' regulars in OPS (.749), OPS+ (111), SLG (!) (.422) and wRC+ (110) while ranking either second or third in homers (17), hits (142), doubles (25), steals (21), walks (56), total bases (234), AVG (.256), and OBP (.327). Had it not been for the abdominal injury, chances are Gardner would have led the team in a bunch of those other categories as well. He's become a rock solid player for the Yankees and is a key part of the team as they try to get back to the postseason.