Taking two of three always represents a favorable outcome. That works out to a 108-win season, excellent by any standard. But when the opportunity to sweep a team arises, I always find myself a bit disappointed if they don't deliver. For instance, not sweeping the first three series was fine because each featured a rubber game. In this weekend's series, however, the Yankees had a chance to walk away perfect. They delivered in their first opportunity, defeating the Rangers 5-2.
Biggest Hit: Ramiro Pena's two-run single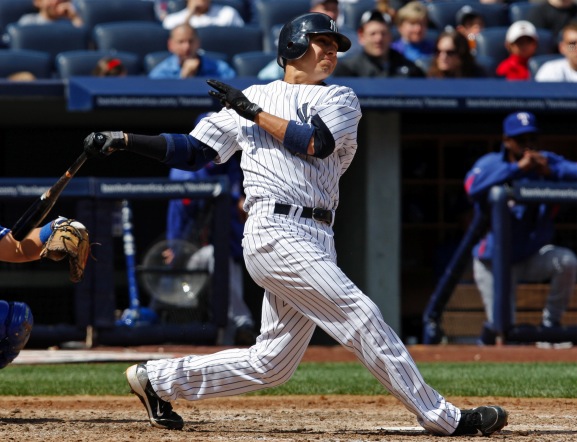 Rangers' starter Rich Harden lived up to his reputation yesterday, showing good stuff and poor control. The Yankees took advantage, working the pitch count an driving Harden from the game in the fourth inning. The greatest damage came in the third, when eight Yankees came to the plate and saw 35 pitches. They also erased their only deficit of the game in quick, impeccable fashion.
Walks to A-Rod and Curtis Granderson, sandwiching a Jorge Posada single, set the Yanks up with bases loaded and one out. Nick Swisher failed in his attempt to capture the lead, striking out on three pitches. That left the inning up to Ramiro Pena. Harden started the at-bat with a low changeup, which Pena swung over. He came back with a fastball, slightly off the plate inside, but Pena kept his hands in and got a good part of the bat on the ball, sending it over Ryan Garko's head for a single.
With Andy Pettitte dealing, the Yanks didn't need any more than this. They got more, which is always appreciated, but they didn't need it. The pitching has just been that good this season.
Honorable Mention: Teixeira's jack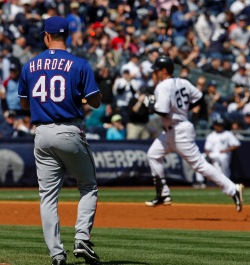 For the second straight season Mark Teixeira has started the season in a slump. It seems like he's just missing some of these pitches, which is both encouraging and frustrating. Encouraging because it means that he'll surely be in mid-season form before long. Frustrating because he's so close to making an impact. Yesterday he took a step forward, hitting his first home run of the season and tying the game after the Rangers had taken the lead in the top of the inning.
Harden did not come out throwing gas in the third. His first pitch registered only 86 mph, and while it looked like a fastball PitchFX classified it as a changeup. The next pitch was similar in speed, just 1 mph faster, and break, but it was classified a fastball. In any case, neither of them were particularly impressive, and they both ran right down the middle. Teixeira jacked the second one, about thigh high, into the second deck in right.
Tex didn't pick up a hit the rest of the afternoon, and it's quite possible that his slump continues a bit longer. Still, it was nothing but encouraging to see him tie the game with his first homer of the year.
Biggest Pitch: Andrus and Young give Texas the lead (tie)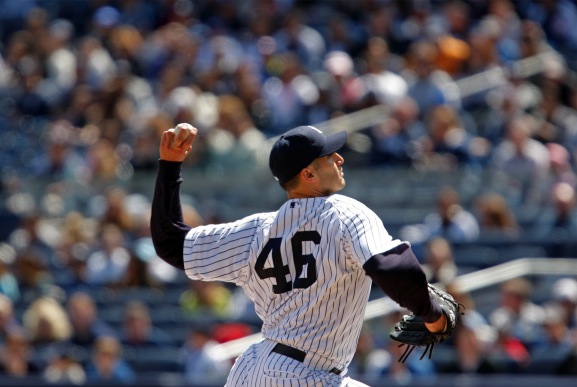 While Pettitte pitched well for most of the game, he still ran into a bit of trouble in the third. Matt Treanor opened the inning with a single, and after a sacrifice bunt found himself on second with one out. On a 1-2 count, Pettitte threw a cutter inside to Elvis Andrus, and the latter hit one sharply down the line for an RBI single. It wasn't a bad pitch by any means. The pitch was in on Andrus's hands, but he reacted quickly enough. It was much like Pena did in the bottom of the inning, though Pettitte's pitch had a bit more movement than Harden's.
Pettitte then delivered three fastballs off the plate outside to the next hitter, Michael Young. After a fastball strike on the outside corner, Pettitte again went away with the fastball, this time catching a bit of the plate. Young lined it to right, which all but assuredly would score Andrus. Swisher, possibly overestimating his own arm strength, gave it the ol' college try, but all it did was allow Young to advance to second.
The situation nearly got worse when the next batter, Josh Hamilton, smoked one toward right field. Mark Teixeira made a leaping catch, though, and nearly got Young going back to second. One batter later, Vlad Guerrero popped one up to the infield, leaving the Rangers with their one-run lead.
Cano's impatience can be frustrating
We've gone out of our way to praise Robinson Cano, the new fifth hitter, for his hot start. At times he's seemed a bit more selective at the plate, even if he drew only his second walk today. During other at-bats, though, he still seems like the hacking kid who came up in 2005. This is what his at-bat in the third felt like.
After Teixeira's game-tying homer, Harden lost control a bit. He walked A-Rod on five pitches, the four balls all high pitches. What does Cano do to follow-up? He swings at the first three pitches he sees. Harden went down the well, starting Cano with a fastball low in the zone, which the latter fouled away. He fouled the next pitch, a changeup that fell below the zone. The final pitch, a changeup in the dirt, drew a futile swing.
Cano will do this from time to time. The key, I think, is that these incidents are spread further apart than in the past. So far we've seen that, an encouraging sign. It's tough to not be frustrated after watching that at-bat, though.
Happy thoughts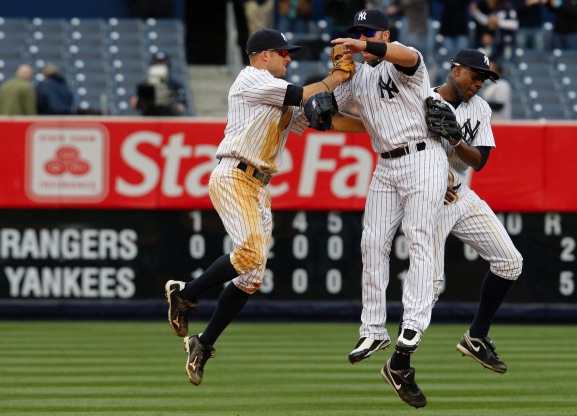 Andy's continued April brilliance. It seems like he's been excellent to start the year since returning in 2007. He ran into a bit of rough patch early in 2008, but other than that he's been money in the early goings. He's not going to pitch like this every time out, but it's nothing but encouraging to see Pettitte at the top of his game in April.
Brett Gardner's big day. As Mike said, this isn't going to be a regular occurrence, but it's a nice reminder of what Gardner adds to the team when he gets on base. At very worst, his willingness to take pitches works right with the Yankees' M.O.
The Yanks continue to work opposing pitchers like few other teams. Not only did they force Harden to throw 94 pitches in his 3.2 innings, but they also put a dent in the Rangers' bullpen. Dustin Nippert threw 40 pitches in 2.1 innings, though Darren Oliver used just 23 to complete the final two. I wonder, though, if by the time Oliver came in everyone was just racing to the finish.
Jorge's home run was a think of beauty. Nippert opened the AB with two curveballs that missed, and then went exclusively to the fastball. He reached back for something extra on the 3-2, hurling it at 94 after sitting mostly 91-92. It caught all of the plate, though, and Jorge sent it on a line over the right field wall.
Annoyances
Other than Cano's three-pitch strikeout after A-Rod's walk, I had few complaints about this one. I had few complaints about the series in general, and seeing how it resulted in a sweep I think I'll back off the annoyances section for now.
WPA Graph
It dips and rallies.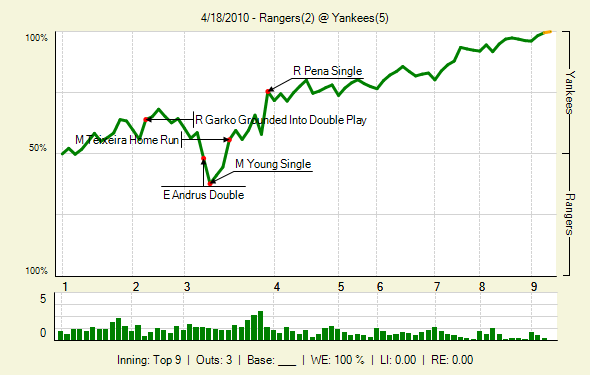 You can check out the player breakdowns at FanGraphs.
Up Next
The Yanks take the day off today as they travel to start a six-game tour of the AL West. Thankfully, only half of those games start at 10 p.m., with the schedulers cutting us a break on Wednesday with a rare road getaway game. The A's are up first, 10 p.m. on Tuesday.