The Yankees do not cheap out when they have the opportunity to land a superstar player. Whether it's locking up Jeter, trading for A-Rod, or signing CC Sabathia, we all know that the Yankees will spend money. They've spent so much, in fact, that they currently have $144 million committed to just nine players in 2011. With such a top-heavy group of players, the team still needs young, cost controlled talent to fill out its roster. Thankfully for them, there can be plenty of value in those players.
To examine how much the Yankees paid their best players for their contributions, I'll put their Wins Above Replacement (WAR) up against their salary for the season. We can take this all the way back to 2005, just because it's easy and the data is so readily available. I'm going to leave out players who the Yankees traded for mid-season, just to make everything a little easier. Also, I'm clearly only going with position players, at least in this post.
2005: Alex Rodriguez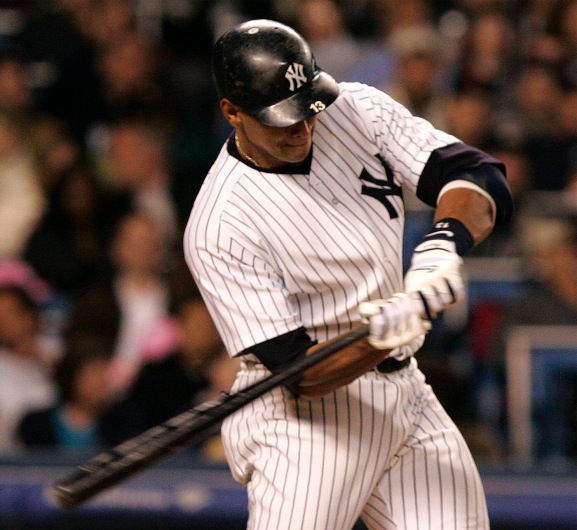 Photo credit: Gregory Bull/AP
Yes, the Yankees got more value out of Alex Rodriguez than any other player in 2005. With his salary that might not have seemed possible. Remember, though, that Texas was still paying a chunk of that salary, at least until 2008. According to Cot's, the Yanks paid $16 million for a $25 million player. That covers 2005 and 2006. In 2007 his salary escalated to $27 million, so we'll add another $2 million to the Yankees' contribution (even though they might have still paid him $16 million). The team also got quality values from Jorge Posada, Jason Giambi, and Hideki Matsui, for whom they paid less than $2.6 million per win above replacement.
While WAR is a big picture value tool, it can't see the nuances throughout a season. For instance, it has the Yankees paying Tino Martinez $4.58 million per win, since he produced only 0.6 WAR. His home run streak in May, though, did help the Yankees recover from a stagnant start.
2006: Robinson Cano
The Yankees got excellent value from Robinson Cano in his second season. At a league minimum salary he produced 3.5 WAR, finishing third in the AL batting average race. His buddy, Melky Cabrera, was also effective, producing 1.6 WAR at his paltry salary (which, during a partial season, I estimated at about $300K). Gary Sheffield's and Hideki Matsui's injuries skewed their value numbers, though that's to be expected. The Yankees did seemingly pay a lot for Johnny Damon and Jason Giambi that season, over $4.5 million per win.
2007: Robinson Cano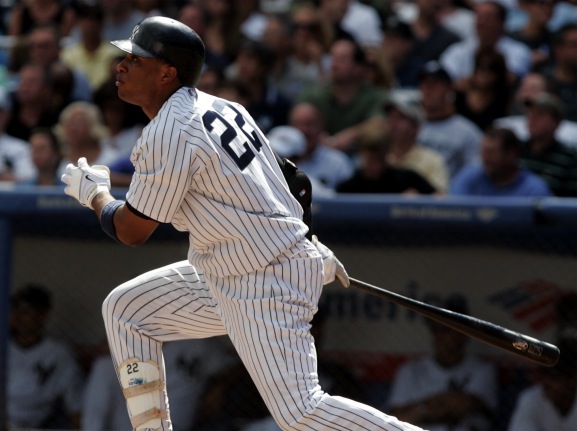 Photo credit: Frank Franklin II/AP
While Cano did lead the Yankees in win value in 2006, he was outstanding in 2007. His 5 WAR at a $490,800 salary meant under $100,000 per win, easily the best mark on this list. His overall WAR mark is also impressive, as it ranked third on the team behind Alex Rodriguez and Jorge Posada.
Again, we see A-Rod come in under $2 million per WAR despite his enormous salary. Jorge Posada made a bit more in 2007 than he had in the past, but still came in at $1.7 million per win. He hasn't gotten close to there since. Then again, he hasn't come close to his 2007 production, either.
2008: Brett Gardner
I made something of an exception to the partial season idea by including Melky in 2006 and Gardner in 2008. There was good reason, though, as both produced more than 1 WAR. Gardner, in fact, produced somewhere around $200,000 per WAR, though that comes with a roughly estimated $200K salary. Adjust that all you want, he's still way out in front of the rest.
Johnny Damon, at 3.7 WAR, was the next highest, followed by Alex Rodriguez, his full salary finally realized. Bobby Abreu, or at least Bobby Abreu's defense, was the goat here, as he produced just 1.3 WAR for his $16 million. While a team certainly can win while paying a lot of money for its wins, it's unsurprising that the Yankees didn't have any players, other than Gardner, for whom they paid less than $3.5 million per WAR. That doesn't sound like a winning formula.
2009: Brett Gardner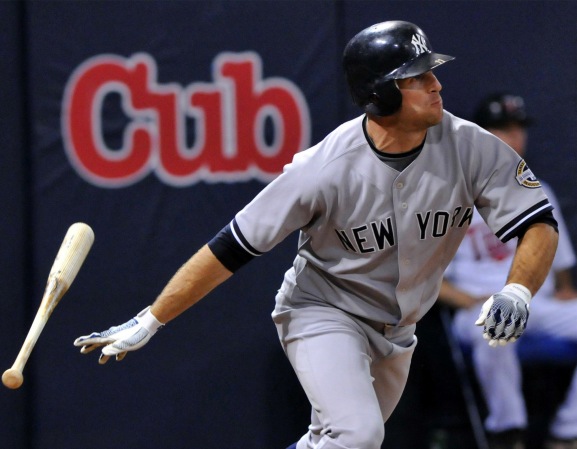 Photo credit: Jim Mone/AP
Clearly, if Gardner took home the prize in 2008 he did again in 2009. He produced 2 WAR while earning just $414K, or $207K per win. Melky Cabrera, with 1.7 WAR, was also a decent value. Count Cano and Swisher as others for whom the Yankees paid less than $2 million per WAR.
Alex Rodriguez falls to the cellar on this list, not only because of his $32 million salary, but because his shortened season hurt his value. Jeter's 7.4 WAR season also played nicely with his $20 million salary, as he cost only $2.7 million per WAR. Damon and Matsui were trailers here, too, but it wasn't as bad as the situation in 2008. Not by a long shot.
Here's the spreadsheet, in case you wanted to take a look at the whole list: