I hope to write the same headline again later this week.
The offense might seem the focal point in a 12-3 win, and the Yanks' hitters certainly put on a display. The story, though, was Phil Hughes and his continued dominance of the American League. He threw 99 pitches in seven innings, and might have come out for the eighth if not for a 10-batter, five-run bottom of the seventh. Everything looked good, from his strikeouts to his lack of walks, and especially to his lack of hits allowed. I can't wait to see him face the Red Sox this weekend.
Biggest Hit: Cano ices it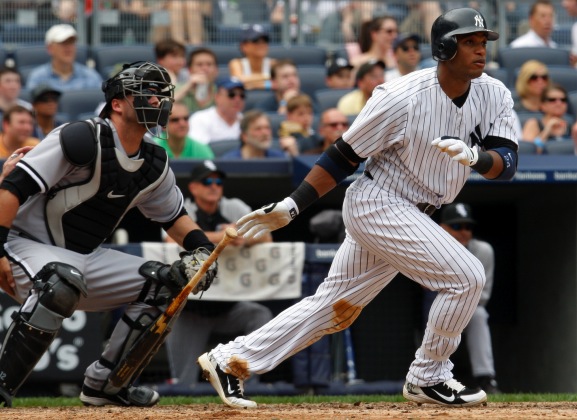 From the couch, this game felt pretty well in control from the beginning. The Yanks put together a run in the second, and then nearly struck it big in the third. With the bases loaded and two outs Mark Buehrle threw a changeup that caught a bit too much of the plate. Jorge Posada hit it on a line, but right to Juan Pierre. Still, it seemed like they were on the brink of getting to Buehrle.
They confirmed that in the fifth inning. For the second time in the game Mark Teixeira and Nick Swisher hit back-to-back singles to set up Robinson Cano. While Buehrle pitched around him the first time, he went at him with fastballs in the fifth. Cano fouled off the first and swung through the second, putting himself in an 0-2 hole. The next pitch, a changeup, was in a good location, low and away, but Cano adjusted and got his bat head on the ball. About a second later it collided with the right field stands, and the Yankees took a 5-0 lead.
With his 2 for 4 day Cano improves his triple slash to .387/.433/.763. He came into the day trailing Justin Morneau, who went 2 for 6 with two doubles, in wOBA. Will the homer and the walk make up the difference? We'll see in the morning.
Honorable Mention: Gardner's no doubter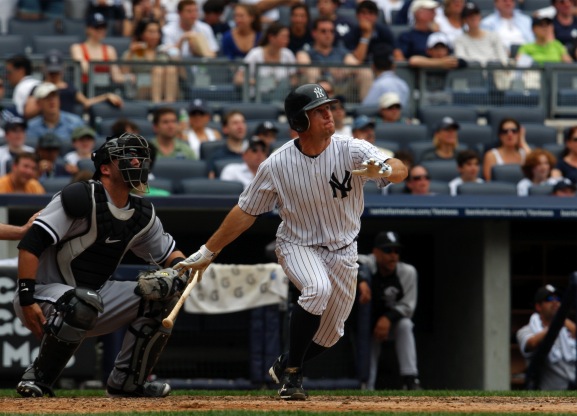 Coming into the game Brett Gardner had seen 4.17 pitches per plate appearances, third in the AL. (Curtis Granderson was fourth. Never would have guessed.) He saw only two during his first at-bat, but he made them count. The second time up, though, Gardner worked up his average. Buehrle worked him mostly away, mixing his four-seamer and cutter. Gardner didn't deign to swing, and five pitches later the count was full.
Buehrle tried to blow an 86 mph fastball by Gardner, but he squared up the high pitch and absolutely crushed it over the right field wall. It ended up in the first row of the bleachers, so it wasn't some cheapie. That's not Gardner's game, of course. His game is more like what he did in the first. Still, the Yanks will take it any time. He's really taken to his starting role so far, hitting .342/.410/.438 in 83 PA.
Biggest Pitch: Kotsay's leadoff single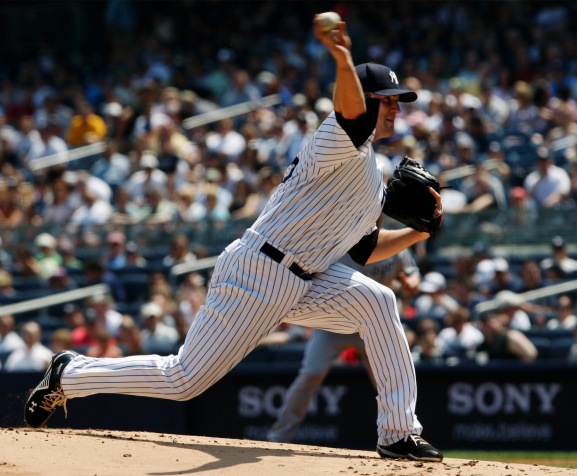 The sign of a truly dominant start: the hit that made the biggest dent in the WPA is a hit to lead off the game. That raised Chicago's chances of winning by 3.4 percent. Seriously. That's as big a dent they made in the game. Hughes completely shut them down, and then the Yankees' offense pounced. The White Sox had a couple of similar positive WPA swings in the third and fourth innings, but they were more of the same. Hughes quickly rendered them moot.
While his four-seamer remains his weapon of choice, Hughes threw 22 cutters yesterday, generating five swings and misses. He also threw it for a strike 18 times, quite the ratio. He worked in a good number of changeups, including one on a strikeout of Mark Teahen in the fourth. (Note: pitch f/x classified it a fastball for some reason.) Everything seems to be in place for Hughes. Again, he'll get his biggest test to date over the weekend.
Slump busting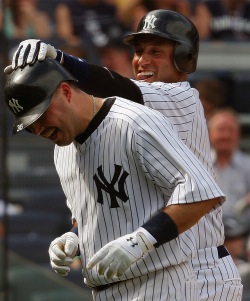 Both Nick Johnson and Mark Teixeira have started the season slow, hitting under .200 for the first month. While Johnson's struggles continue, he did double during the five-run seventh. He's still hitting .141, but with Curtis Granderson's bat out of the lineup it's doubtful that Girardi platoons him with Thames. Maybe he'll get back into a groove this week.
Mark Teixeira presents the more exciting case. He entered the series hitting .139/.292/.266, but after going 6 for 11 with a double he raised that to .188/.336/.311. He broke out of his slump around this time last year. He'll get a chance to feast on some Orioles pitching to keep it going.
Joys
Gardner's homer. That thing was just a shot. Not what we expect from him at all.
Robinson Cano. Because damn, he just keeps hitting.
Phil Hughes. It's like picking a winner in the Derby.
Seeing Mark Melancon get into a game. Even if he did give up the Konerko homer, I'd still like to see more of him while he's up. Though that might not be for much longer.
Annoyances
None to register. This game was an absolute joy.
WPA Graph
Behold, my latest invention!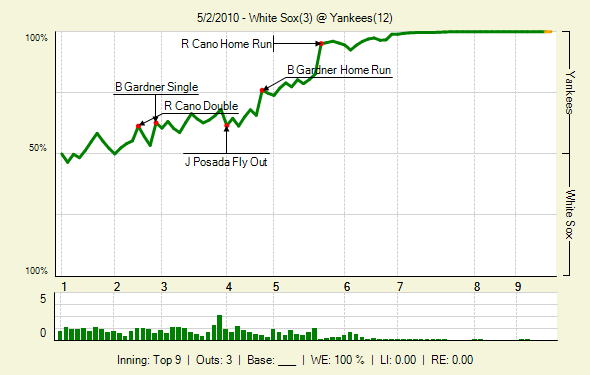 Next Up
The Orioles just swept the Red Sox, and now they're headed up to New York to face the Yankees for three games. The Yanks will send their best to the mound, while the O's will send…Jeremy Guthrie. Body armor up.