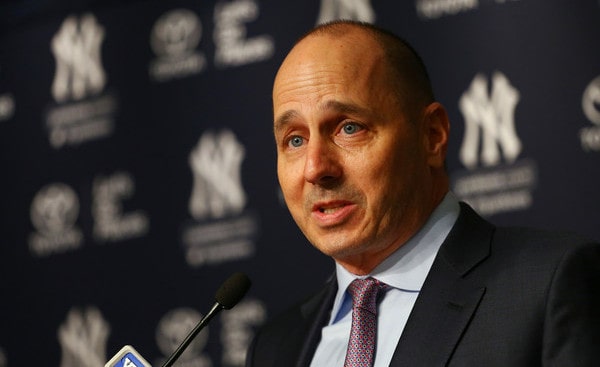 This is not, I'm sorry to say, Paul O'Neill fans, a post about the Yankees making themselves in number 21's image. This is not a post about the Yankees being gritty and gutty and all those other things. This is about taking a cue from a team 2,906 miles away that has been dominating its sport for years, and shows few signs of stopping.
I'd love to see the Yankees build a superteam this offseason just to see how that plays out over 162 games. Very intriguing and obviously risky but that would be something special for baseball. Becoming the Golden State Warriors of baseball should be Hal's priority right now.

— Yankeesource (@YankeeSource) November 23, 2018
There are obvious differences between the situations in the Bay Area and the Bronx. The former plays in a salary cap league whereas the latter doesn't, though the luxury tax is certainly acting as a de facto tax for most teams. Additionally, individual basketball players have a much bigger impact on the team than individual baseball players do, generally speaking. The playoffs in which the Warriors play are also a lot more predictable than baseball ones. But the Yankees could take a page from the Warriors' playbook in pushing themselves over the edge to championship territory.
In Steph Curry, Draymond Green, and Klay Thompson, the Warriors drafted and developed three great core players and built around them with trades and signings, including grabbing Kevin Durant, a top-3 player in the NBA. Could they have won and kept winning without him? Probably, but why risk it? You could argue the Yankees did something similar in developing talent like Luis Severino, Gary Sanchez, Miguel Andujar, Aaron Judge, and (partially) Gleyber Torres. You wouldn't be wrong. You could even make the KD analogy with the Yankees having acquired Giancarlo Stanton about a year ago. But as we've established, baseball isn't basketball and sometimes, one big ticket item isn't enough. The Yankees need to go out and get more. The Yankees can go out and get more.
Bryce Harper and Manny Machado are as close to the caliber of Kevin Durant as a free agent in 2018-19 could be. Grabbing one of them would probably be enough, but why should the Yankees stop there? Grab them both. Grab, as Bob said yesterday, Patrick Corbin. Trade for Corey Kluber. Add on to trading for James Paxton. Becoming a super team in baseball doesn't guarantee anything–just look at the Phillies with their rotation from a few years ago–but it certainly helps.
The Yankees have the resources to become the Warriors of MLB and the only thing holding them back is their own will, or lack thereof. Bronx brass–Hal Steinbrenner and Brian Cashman–aren't wrong when they say that you don't need a $200M+ payroll to win. But there are no points for "efficiency." You don't get a boost for winning with a low $/WAR or anything like that. The biggest advantage the Yankees have is their financial might and they should flex it at every turn, especially in free agency when the free agents available are so talented and so fit the Yankees–and any team's–needs. Choosing not to do so is like trying to hit a pinata blindfolded and swinging a cardboard tube instead of a bat or stick. The game is hard enough as it is; why sacrifice something else to make it harder on yourself?