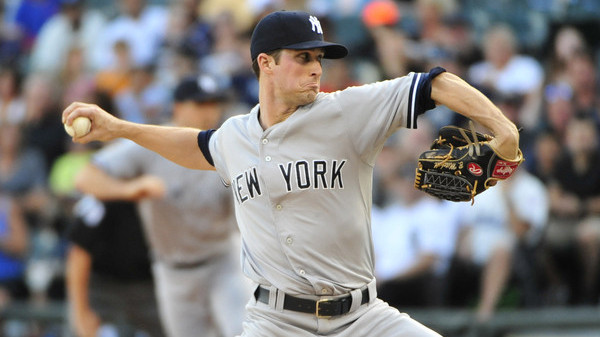 Tomorrow, top pitching prospect Luis Severino will join the rotation and make his big league debut with the Yankees. I wouldn't call it a long-awaited debut — Severino zoomed through the minors and wasn't much more than an "intriguing arm" at this point two years ago — but that doesn't make it any less exciting. The Yankees haven't had a pitching prospect of this caliber make his debut since Phil Hughes, Joba Chamberlain, and Ian Kennedy in 2007.
Severino is getting a chance to help the Yankees because the team didn't acquire any pitching depth at the trade deadline, and he's the next best option. Bryan Mitchell made a spot start Saturday for the same reason. Severino is replacing the injured Michael Pineda in the rotation, and I would bank on Mitchell making another few starts before the end of the season. The Yankees play 16 games in 16 days starting next week, and I'm sure they'll use a spot sixth starter at some point.
"Some of the offers that were coming our way, I'll be honest, whether it played out this way or not, I'd rather try relying on the Mitchells and Severinos than bring in somebody that's got more experience but maybe less ability with more money attached to it," said Brian Cashman to Chad Jennings following the trade deadline last week. "Although (money)'s not necessarily an issue for us, in the assessments, it's like, you know what, I'd rather go this route with these kids than go do that."
Those are some pretty strong words! Cashman basically said they project Mitchell and Severino to have more impact down the stretch than whoever they were discussing at the deadline, at least in terms of cost (prospects plus salary) relative to production. Considering Mitchell and Severino are relative unknowns — yeah, we know the numbers and the scouting reports, but we have no idea what they'll do taking a regular rotation turn in the bigs — the team is showing a ton of faith in them.
The Yankees have turned to their young players to fill needs all season, whether it was outfielders or especially bullpen help, and that will continue in the second half with Severino and Mitchell. That's fun! It's also kinda scary because they're basically the last line of rotation depth. The Yankees could stick Adam Warren back in the rotation if necessary, and Chris Capuano is sitting in Triple-A, but that's about it. Unless you want to see Kyle Davies.
The good news is the Yankees do have a nice lead in the AL East — they're 5.5 games up in the division and FanGraphs says their postseason odds are well over 90% — and rosters expand four weeks from today, so the pitching depth issue (which may not be an issue at all!) won't last much longer. Get through these next four weeks with Mitchell and Severino, then add a bunch of extra arms on September 1st. That seems like the plan.
The Yankees don't necessarily need impact from Mitchell and Severino, though I'm sure they'd take it. Mitchell showed some seriously nasty stuff on Friday night, so it's easy to dream on him, but you can't expect him to carry the staff. Same with Severino. Rotation stalwarts like Masahiro Tanaka, Ivan Nova, Nathan Eovaldi, and healthy Pineda will be counted on for impact. Mitchell and Severino just need to hold their own and provide innings. Don't Chase Wright it, basically.
"We'll augment the roster with a lot of these power arms that we have in the system," said Cashman. They've done it all season with the bullpen — eight different relievers have made their MLB debut with the Yankees already this season — and now they're taking the next step and doing it with the rotation. I'm sure resisting the urge to get a more established arm at the deadline was tough, but the Yankees showed a lot of faith in Mitchell and Severino by not making a move. Now it's up to those two to capitalize on the opportunity and show the team they made the right call.