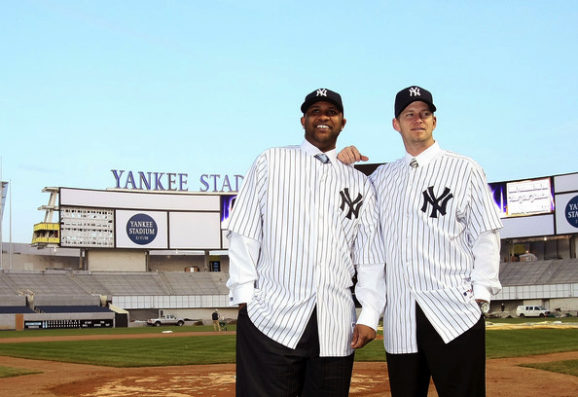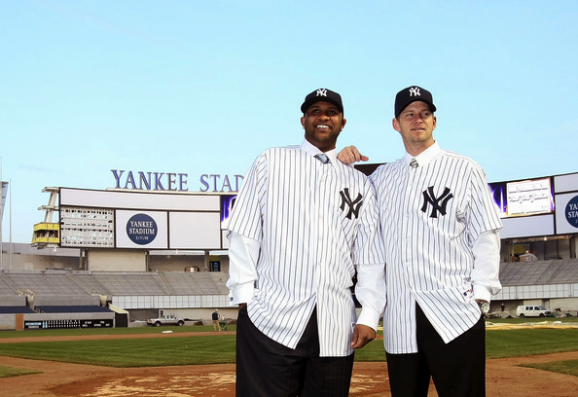 The 2008 season might not have been as bad as 2013, but Yankees fans would still like to forget it. It seemed that every little thing went wrong that season. Whenever it looked as though the Yankees might have a charge in them, the suffered another blow.
Let's consider a (perhaps incomplete) list of those maladies:
Both Ian Kennedy and Phil Hughes, top prospects who showed promise in 2007, started off the season in disastrous fashion.
Then Hughes got hurt.
Darrell Rasner started 20 games.
Much worse: Sidney Ponson started 15.
Save for a brilliant start here and there, Andy Pettitte was thoroughly mediocre.
The only two starters under age 30, Robinson Cano and Melky Cabrera, had wholly disappointing seasons. Cano was benched for lack of hustle, while Carbera got sent back to AAA after more than two service-time years in the bigs.
Jorge Posada, fresh off signing a new contract, played the first half with a bum shoulder which required surgery, forcing a cast of offensively inept backups into starting roles.
Hideki Matsui's balky knees limited him to under 400 PA and sapped him of his power.
Chien-Ming Wang suffered a foot injury that would indirectly end his career.
Derek Jeter had his worst season since 1996. (Sure, he won the AL Rookie of the Year Award that year, but we'd come to expect more of him.)
Joba Chamberlain dazzled out of the pen, and then in the rotation — until he suffered a shoulder injury that cut his season short (and probably ended up causing a lot more long-term damage than we typically account for).
They traded a reasonably effective Kyle Farnsworth and got back a wholly terrible Ivan Rodriguez.
Xavier Nady hit .330/.383/.535 before the Yankees traded for him, .268/.320/.474 for them.
Damaso Marte was terrible and then broke after the trade. Thankfully, they didn't end up giving away anything of consequence.
All told the Yankees used 27 — twenty-seven! — pitchers.
What went right? Mike Mussina's resurgence was nice to watch. Bobby Abreu and Jason Giambi both stayed healthy and produced decent numbers. Alex Rodriguez wasn't his 2007 MVP self, but he was still a top-five hitter. Unfortunately, he started his streak of six straight years on the disabled list. (Which he'll have snapped at season's end.) The Yanks did discover Al Aceves, which was nice, and Brian Bruney, which was nice for a very short period of time.
Despite all that, had there been a second Wild Card, or had the Rays improved by 22 wins, instead of 31, the Yanks would have made the playoffs. So how bad could the season have been?
It could have been a fatal sign going forward. The franchise players were getting older. Each had been hurt or saw diminished production during the 2008 season. The only starters under age 30 took steps backwards. Maybe it didn't feel like it at the time, but the potential for disaster loomed during that off-season. The Yankees needed big changes, and that's not easy to achieve through free agency.
Thankfully for the Yankees, the 2008-2009 free agent class featured a number of players who fit their exact needs. Even more thankfully, they shed a number of their biggest, and in some cases worst, contracts at the exact right time.
The 2008 payroll was a then-franchise-record $209 million (just a bit more than the 2005 payroll). Without some of those bigger contracts coming off the books, there's now way that even the Yankees can afford to add contracts for CC Sabathia, A.J. Burnett, and Mark Teixeira (and to a lesser extent, Nick Swisher). But the exact right contracts expired at the exact right time.
Jason Giambi cost the club $22 million in 2008. They essentially shed $17 million, though, since they had to pay him a $5 million buyout on his 2009 option.
Carl Pavano cost the club $11 million in 2008.
Bobby Abreu cost $16 million, but with a $2 million buyout the Yankees saved $14 million.
Mike Mussina cost $11 million, but the Yankees probably weren't glad to be rid of him at that point.
Andy Pettitte cost $16 million. Worthwhile in 2007, but not so much 2008.
They also saved some money when Ivan Rodriguez's contract expired. Trading away Wilson Betemit's $1.6 million was like finding some loose change in the couch cushions.
In total the Yankees shed more than $70 million in salaries, mostly for players they were glad to be rid of, of who were considerably overpaid in 2008.
Time to reallocate those resource to more productive players.
Add up the guys they signed. At $23 million for Sabathia. $22.5 million for Teixeira, $18.5 million for Burnett, and $5.3 million for Swisher, plus another $5.5 million for bringing back Pettitte, you get $74.8 million.
They were able to fill their needs with such high-priced guys, because they had a number of lower-cost players on both sides of the ball. It took some faith in them rebounding, but Cano and Cabrera cost them a combined $7.4 million in 2009. Joba Chamberlain and Phil Hughes earned the minimum, as did almost everyone in the bullpen. If they didn't have those major-league-ready younger players, then spending $75 million on top-tier players makes less sense. You can have a core of great players, but you still need 25 players on the roster.
At the end of 2008, the Yankees were in a tough spot. Their younger players saw their flaws exposed during the season. There was plenty of uncertainty about the tested veterans. Without the perfect free agent class and money to lure them, the 2009 Yankees might not have been much better than 2008. Without some of those younger guys returning to form, or performing well for a change, the successful free agent signings might not have mattered.
The Yankees found the exact guys to fill needed spots. It cost them plenty, but each of the free agent signings (and trade bounty, in Swisher's case) added significantly to the 2009 team's production. Perhaps just as importantly, the Yankees stuck with those younger players and saw their patience rewarded. The entire off-season could have gone a lot differently. But it played out perfectly. We all know the reward.