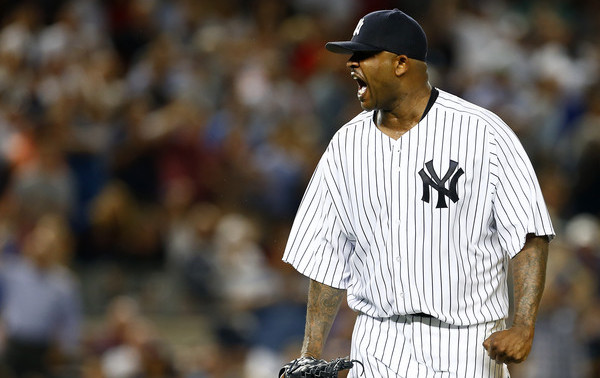 Boy. When it rains, it pours. Brian Cashman delivered some bad injury news prior to last night's game, announcing Nathan Eovaldi might not return until the postseason due to elbow inflammation. That's assuming the Yankees make the postseason, of course. The GM also said Mark Teixeira is still on crutches and it's unclear if he'll return this year. Brett Gardner? He jammed his shoulder a few weeks ago crashing into the wall.
Greg Bird has stepped in and held down the fort while Teixeira has been out. Despite last night's ugly game, I'm not sure anyone could have reasonably expected Bird to play this well in the middle of a postseason race in what is his first taste of the big leagues. Replacing Gardner is a bit more tricky even with expanded rosters, though he is expected to rejoin the lineup soon, possibly tonight. Hopefully he gets back on track with a healthy shoulder.
Replacing Eovaldi is another matter. It's not possible to replace him, at least in the sense that the Yankees can't replace the pitcher Eovaldi was after picking up the splitter, meaning the guy who had a 2.93 ERA (2.93 FIP!) in 12 starts and 73.2 innings following the disaster in Miami. That guy was awesome. Adam Warren is expected to step back into the rotation and it'll take a few turns to get him stretched all the way back out. The timing is really bad.
Even with Warren coming back, the pressure is suddenly on CC Sabathia, who is scheduled to come off the disabled list and start tonight's series finale against the Orioles. Sabathia spent the minimum 15 days on the DL and his importance to the team increased while he was on the shelf. Eovaldi's hurt and both Michael Pineda and Ivan Nova have been inconsistent at best since returning from their injuries. Luis Severino has been awesome since he was called up, but he is only one pitcher.
Sabathia was kept in the rotation earlier this season simply because of his contract. That's all there was to it. No contender who pushes the "World Series or bust" mantra keeps a pitcher with a 5.01 ERA (4.44 FIP) in his last 395.1 innings in the rotation because they think he's one of their five best options. There was an argument to be made Sabathia was not even one of New York's seven best starters at one point earlier in the season.
And yet he remained in the rotation because the Yankees were not ready to admit he's a sunk cost. That's fine. They can do whatever they want, they run and own the team. (And yes, I'm sure the Yankees were well aware Sabathia was hurting their chances of playing in the postseason. They're not stupid.) Now the story is different. Now Sabathia will be in the rotation because the Yankees have no other choice. They're out of pitching depth. It's been stretched to the max.
I have little reason to believe Sabathia can be even an average starter going forward. I thought he would bounce back a bit coming into the season with a healthy knee, but that didn't happen. I thought maybe Sabathia would improve as the season progressed and he shook off the rust after missing so much time last year, but that didn't happen either. I'm not falling into the same trap again. If Sabathia contributes in a meaningful way going forward, it will be a surprise to me.
That said, I won't ever doubt Sabathia's effort level or his desire to help the team. He's a leave it all out on the field type. Always has been and always will be. For better or worse, Sabathia is going to give the Yankees whatever he has, and at this point that's all they can ask from him. Go out every fifth day, grind it out, and do what you can to help the team win. That's all. There's nothing more the Yankees can do. They've exhausted all their options.
In a way, Sabathia has a chance to redeem his season these next few weeks by pitching well and helping the Yankees get to the postseason despite all these injuries. He's been The Guy before, any sort of pressure to win won't be new to him, it's just a matter of being able to get outs with a compromised knee and whatever's left of his fastball. Sabathia's a total gamer and right now the Yankees need him more than they've needed him at any point in the last three seasons. CC is suddenly a key piece of the rotation.