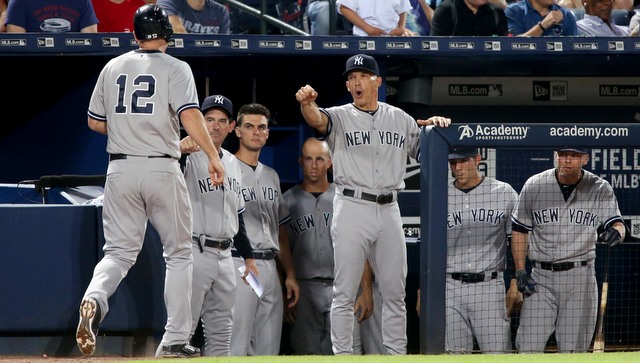 The Yankees have played well for long stretches at times this season, and today they'll try to earn their eighth sweep of at least three games in 2015. That sounds like a lot, doesn't it? Eight sweeps? The 2013-14 Yankees had 13 sweeps total, and the 2009 Yankees had eleven sweeps, so I guess eight isn't a ton. Kind of a normal amount.
Nathan Eovaldi, who is at least in the conversation for staff ace right now, will be on the mound this afternoon looking to clinch that sweep. The Yankees have taken care of business against the Braves these last two days, but the series isn't over yet, there's still one more win sitting out there. Here is Atlanta's lineup and here is New York's lineup:
1B Greg Bird
2B Stephen Drew
RHP Nathan Eovaldi
It has been raining for much of the morning in Atlanta, but the forecast says the showers are supposed to clear out by game time. Then they'll come back later this afternoon, hopefully after the game ends. We'll see. This afternoon's game is scheduled to begin at 1:35pm ET and you can watch on YES. Enjoy.
Injury Updates: CC Sabathia (knee) received a cortisone shot Thursday and played catch both Thursday and Saturday. There is no firm timetable for Sabathia to throw off a mound. Just catch for now … nothing new to pass along about Mark Teixeira (leg). He's on antibiotics to get rid of the inflammation and won't do anything until it clears out.