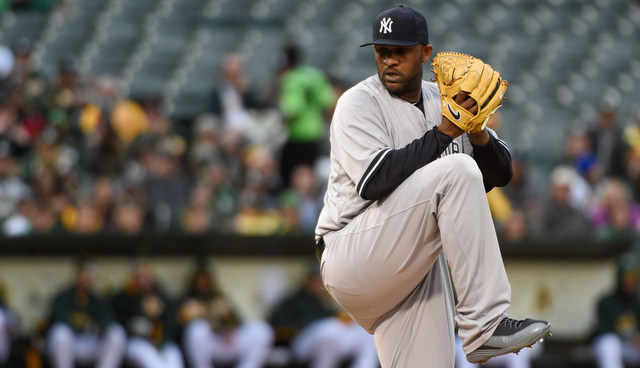 Once upon a time, CC Sabathia was a rock in the Yankees rotation. He was the guy who allowed Joe Girardi to sit back and relax every fifth day, because Girardi knew Sabathia would give the team a quality outing. The Sabathia of old was an ace in every way — he soaked up innings and they were all high quality innings. It was great.
The Sabathia of old is now just old Sabathia. All those innings and all those years of his massive frame coming down hard on his right (landing) knee have taken a toll on Sabathia physically. At age 35, things don't work as well as they once did. Sabathia was ineffective in 2013 and both hurt and ineffective in 2014. What would 2015 bring? No one knew heading into Spring Training.
A Spring Away from the Spotlight
Sabathia's season ended in mid-May last year due to ongoing knee problems, which eventually required a clean out procedure in mid-July. The surgery was season-ending but it was much better than the alternative: career-threatening microfracture surgery. Sabathia had his knee cleaned out and came to camp healthy and ready to pitch.
The Yankees didn't necessarily hide Sabathia during Spring Training, but he did most of his prep work away from the spotlight in minor league and simulated games. The team wanted him in a more controlled environment following knee surgery. Sabathia made just three Grapefruit League starts and got hammered: nine runs on 14 hits and three walks in ten innings. He did the rest of his work on the side.
"I don't give a (expletive!) what stock they put in (my performance)," said Sabathia to reporters at the end of March. "It is what it is. I've had Spring Trainings where I've given up a lot of runs and went out and had a good season. I've had Spring Trainings like last year where I didn't give up (any) runs and I gave up (six) in the first game (Opening Day against the Astros). So you all can put stock in whatever you want. I'm not really worried about it."
Sabathia wasn't worried about his spring performance and that's good, an athlete needs to be confident, but it didn't make fans feel any better. He struggled big time from 2013-14 and it would have been nice to see some zeroes in camp. It's Spring Training, it wouldn't have meant anything, but geez, seeing him get lit up so soon after knee surgery was not reassuring.
Reliably Unreliable
Once again, the start of the season was a struggle for Sabathia. He allowed five runs (four earned) in 5.2 innings against the Blue Jays in his first start of the year — that was the third game of the season, the Yankees gave Masahiro Tanaka the Opening Day start (and Michael Pineda the second game) after Sabathia started Opening Day every year from 2009-14 — and then allowed four runs in seven innings next time out.
In his third start, Sabathia held the Tigers to two runs in eight innings in a tough complete game loss. It was a game the Yankees should have won, but their offense let them down. That's baseball sometimes.
Those first three starts were essentially a microcosm of Sabathia's season. A lot of bad with enough good mixed in to keep you hoping a turn around was coming. Sabathia allowed seven runs in five innings in his next start, and come the end of June, he owned a 5.59 ERA (4.62 FIP) in 16 starts and 95 innings. That's basically half a season.
The Sabathia we saw from 2013-14 was the Sabathia we were seeing in 2015. His strikeout (20.2%) and walk (4.4%) rates were wonderful, but he was exceptionally homer prone (1.80 HR/9) and not the same caliber of workhorse — Sabathia averaged just under six innings per start in those first 16 starts. From 2009-12, Sabathia failed to complete six innings only 13 times (!) in 129 starts. He did it six times in his first 16 starts of 2015.
Committed, For Better or Worse
The Yankees made is clear they were committed to keeping Sabathia in the rotation in late-June, when Ivan Nova returned from Tommy John surgery and Adam Warren was sent back to the bullpen. On merit, Warren had no business being demoted. He was pitching well as a starter — especially at that time too, he was really starting to settle in — and was one of the five best starting pitchers in the organization. He might have been the second or third best at time.
And yet, the Yankees were committed to Sabathia, and obviously his contract has something to do with that. I'm guessing the team wouldn't have been so hesitant to yank him from the starting rotation if he was owed, say, $10M in 2015 rather than $53M from 2015-16 (and possibly $73M from 2015-17). Sabathia stayed in the rotation, and in his next eight starts, he had a 4.57 ERA (5.30 FIP) in 43.1 innings. That's … better?
To their credit, the Yankees started to shelter Sabathia in the second half. They rearranged the rotation whenever possible — they did this with off-days and an occasional spot sixth starter — to make sure he avoided the Blue Jays, for example. The Yankees knew Sabathia was a detriment, and while they were not willing to take him out of the rotation, they did the next best thing. They used him sparingly.
The Knee Brace That Fixed Everything, Maybe
If there's one thing we've learned about Sabathia during his seven years in pinstripes, it's that he's willing to pitch through just about anything. He pitched with knee pain most of 2010 and with a bone spur in his elbow in 2012. Sabathia suffered a Grade II hamstring strain in September 2013 and finished the damn start. For better or worse, Sabathia wanted to be out there.
That's why, on August 23rd, it was disheartening to see Sabathia remove himself from a start against the Indians. He was struggled big time — he allowed two runs on four hits and four walks in only 2.2 innings — and the pain in his right knee simply became too much. He pulled himself from the start without even attempting a test pitch or lobbying to stay in the game.
Sabathia had his right knee drained multiple times throughout the course of the season, and it seemed like it was working, but the pain was too much to take that Sunday afternoon. The initial reaction was Sabathia's season was over. That always seems to be the first reaction whenever a pitcher gets hurt. The Yankees sent CC for tests, tests that showed no new damage, just inflammation. He needed rest.
After all of that, Sabathia missed only the minimum 15 days. The Yankees put him on the DL and activated him as soon as possible. He didn't need any additional surgery or anything like that, just rest. Well, rest and new knee brace. Sabathia had been wearing a sleeve on his knee for much of the season, but, after the injury in August, he switched to a clunkier brace that reduced the bone on bone contact.
For whatever reason, the new knee brace or otherwise, Sabathia was awesome after coming off the DL. Five starts, 29 innings, and only nine runs (seven earned) allowed. He held hitters to a .224/.320/.327 batting line. It wasn't the old ace version of Sabathia, but it was a heck of a lot better than what the Yankees were getting from him most of the season. He allowed one earned run or less in four of those five starts.
The Yankees were never not going to have Sabathia in their postseason rotation — he probably would have been their fourth starter at best had they qualified for the ALDS, but he was going to be in the rotation, that was clear — but after his September dominance, he belonged in that postseason conversation. Sabathia really stepped up in that final month.
He ended the season with a 4.73 ERA (4.68 FIP) in 29 starts and a team leading 167.1 innings, which obviously isn't very good despite the great finish. Right-handed batters crushed Sabathia — they hit .303/.362/.500 (.370 wOBA) against him while lefties hit a mere .186/.235/.283 (.231 wOBA). Manny Machado hit .286/.359/.502 (.370 wOBA), for comparison. Righties absolutely destroyed Sabathia.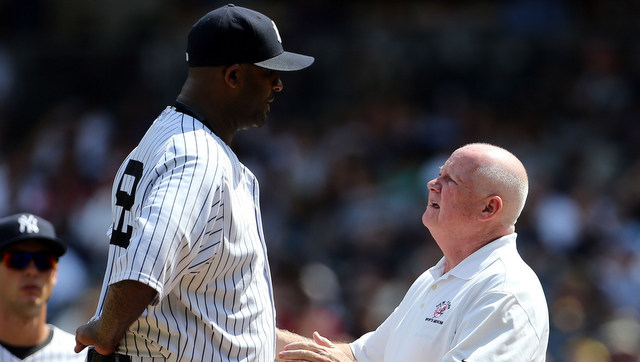 Bigger than Baseball
It can be easy to forget baseball players are regular people too. Regular people with kids who keep them up at night and bills they hate paying and other problems. Sabathia had a drinking problem, little did we know. A problem severe enough that he decided he needed help at the end of the season.
Sabathia approached Girardi on the final day of the regular season and told him he needed treatment. The Yankees, who were set to play in the wildcard game a few days later, gave their erstwhile ace their unwavering support. This was about Sabathia the person, not the baseball player, and Sabathia is beloved and respected within the organization. He's a team leader, without question.
How severe was Sabathia's drinking problem? Severe enough that it even spilled into the clubhouse near the end of the season. From Wally Matthews:
After the Yankees' game with the Baltimore Orioles was rained out on Friday afternoon, Sabathia was seen by reporters walking unsteadily as he left the Yankees' clubhouse. The normally affable pitcher also failed to respond to the greetings of reporters who have known him for a long time.

A short time later, an onlooker noticed Sabathia offering a paper cup containing a brown liquid to a teammate who was finishing up a workout, urging the teammate to "take a sip." The teammate refused, saying he still had some running to do. Sabathia was then ushered out of the building and into a waiting cab by a third teammate.
Yikes. We'll never know what pushed Sabathia to get treatment — did his wife give him an ultimatum? did he come to the decision on his own? did his teammates push him? — but the important thing is he decided to get treatment. Sabathia was criticized by some for leaving the team right before the start of the postseason, that was inevitable, but this isn't like getting a tooth pulled. He couldn't put it off. Addiction ruins lives.
So on Monday, October 5th, the day between Game 162 and the wildcard game, Girardi and Brian Cashman took part in a press conference at Yankee Stadium to discuss Sabathia leaving the team. "I applaud CC for his courage. He is not alone in this," said Cashman. "What CC's dealing with is a life issue. It's bigger than the game we have tomorrow night."
From a baseball perspective, Sabathia leaving the team had little impact. James Pazos made the wildcard game roster in his place, but pitching wasn't the issue in the loss to the Astros, so Sabathia being on the roster wouldn't have made a difference.
From a human being perspective, Sabathia is doing what is best for himself and his family. He's a father and a husband first, and a baseball player second. I'm sure leaving the team right before the postseason killed him. But baseball is a secondary concern at a time like this.
Looking Ahead to 2016
Sabathia is expected back for Spring Training and will enter the final guaranteed year of his contract. (His 2017 vesting option is based on the health of his shoulder, which has been fine so far.) As long as he's healthy, there's no reason to think he won't be in the rotation. The Yankees are going to want to see if the new knee brace leads to a sustained improved performance, plus they still owe him a boatload of money, so his leash will be long.