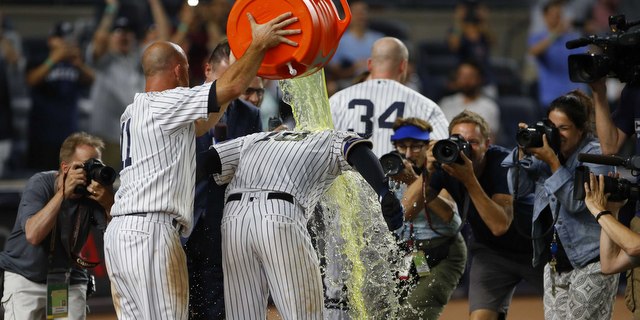 Was that the best game of the season last night or what? That was so fun. This season has generally sucked, but games like last night make it all worth it. Baseball is still pretty dang cool.
Thanks to that win, the Yankees have a chance to earn a split of this four-game series with the AL best Rangers this afternoon. Heck, the Yanks were pretty close to winning the first game of the series too before the rain interfered. This is the final home game before the All-Star break, so go out, get the win to split the series, then head to San Diego. Here is the Rangers' lineup and here is the Yankees' lineup:
We've got pretty much perfect weather in New York today. No clouds in the sky, temperatures in the mid-80s, not that humid. Couldn't ask for a better afternoon for a ballgame. Today's series finale will begin at 1:05pm ET and you can watch on YES locally and MLB Network out-of-market. Enjoy the game.
Injury Update: Carlos Beltran (hamstring) feels better and is planning to hit today. I'm not sure if he'll take batting practice or hit in the cage. He's not in the lineup, but he did test the hammy with some baseball activities.
Rotation Update: The Yankees will call up Chad Green to make a spot start Sunday. CC Sabathia will start Monday instead, so he won't have to hit or run the bases on his balky knee (and ankle) over the weekend in San Diego. As an added bonus, the starters get an extra day of rest. It's also worth noting this means Masahiro Tanaka will start July 10th, the Sunday before the All-Star break, which makes him ineligible to pitch in the All-Star Game should he make the roster. I wrote about that this morning.