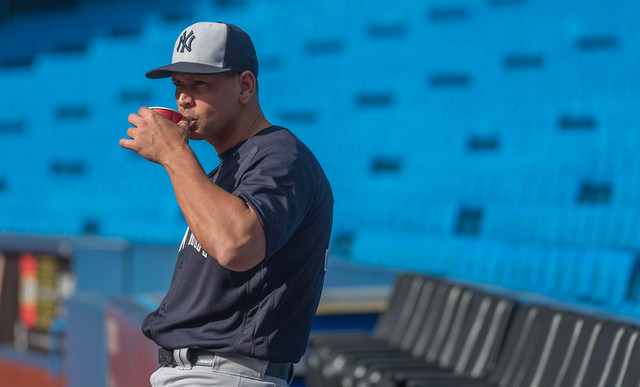 Later today, Alex Rodriguez will return to the lineup after spending the last two days on the bench. He wasn't hurt. The Yankees are looking for ways to improve the offense and sitting Alex against right-handers is the solution they came up with. With lefty Cole Hamels on the mound tonight, A-Rod will be back in there.
"It's a hard decision. Alex has meant a lot to this club over the years, but right now we're gonna do something a little bit different and see how it works," said Joe Girardi to Howie Kussoy yesterday. "It's been tough for him against right-handers. That's why we're looking at this … You perform, that's the bottom line. We're in the business of performing. Things change. Nothing is set in stone."
Rodriguez certainly has struggled against righties this year. The demotion is not undeserved. He's hit .200/.236/.348 (50 wRC+) with a 31.7% strikeout rate against them so far, and his at-bats have looked pretty bad. A-Rod can't seem to lay off sliders away and is getting chewed up by good fastballs. Removing him from the lineup against righties is necessary and smart.
That's not the only lineup change the Yankees can and should make, however. Everyone involved keeps saying they're trying to contend — "We can't keep treading water. I want to be a contender, not a pretender," said Brian Cashman to Josh Thomson yesterday — yet they can't maintain the status quo and expect different results. It's almost July. Here are some other changes the Yankees should make.
Give Teixeira's Knee A Break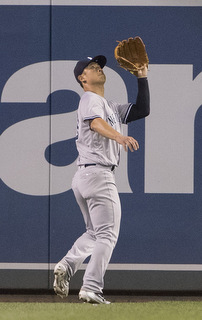 Even with Mark Teixeira going deep the last two days, my guess is Rob Refsnyder will be at first base against Hamels tonight. Not only is there the left-right thing, but the Yankees had a very long night last night, and Teixeira also just played three straight games after coming off the DL with a knee problem. Girardi said they plan to give Teixeira a little more rest just to make sure the knee doesn't flare up again. Makes sense, right? Right.
The Yankees have to do something to get Refsnyder at-bats and Teixeira's knee is going to need regular rest, so this works well. Maybe something like three games on and one day off for Teixeira? Or two games on, one game at DH, and one day off? That will be difficult if these homers the last two days are a sign Teixeira is snapping out of his season long funk, but the Yankees can deal with that when the time comes. The point is to get Refsnyder some more at-bats. The kid has to play.
Drop Castro In The Lineup
There are 168 players qualified for the batting title as of this morning. Starlin Castro ranks 156th with a .285 OBP. That is terrible. I know he's hit some big dingers and has generally been better than Stephen Drew, but man, his at-bats are consistently the worst on the team. He hacks at everything. Execute a slider off the plate in a two-strike count and Starlin will go fishing, no doubt about it.
Castro's hot start and consistent dinger production — not to mention his age and contract — has bought him a long leash in a fairly premium lineup spot. He's been hitting fifth or sixth for a while now. That has continued even though others, specifically Didi Gregorius and Chase Headley, have out-hit Castro for weeks now. Here are some numbers since May 1st, a totally arbitrary date I picked because it's the start of a month:
| | PA | AVG/OBP/SLG | wRC+ | 2B | HR | BB% | K% |
| --- | --- | --- | --- | --- | --- | --- | --- |
| Castro | 209 | .231/.260/.372 | 64 | 7 | 7 | 3.3% | 19.1% |
| Gregorius | 193 | .311/.344/.443 | 110 | 10 | 4 | 4.1% | 8.3% |
| Headley | 183 | .279/.344/.412 | 104 | 8 | 4 | 8.2% | 21.9% |
So yeah, Gregorius and Headley have been way more productive players for close to two months now. Benching Castro won't (and shouldn't) happen — he's still only 26 and at least has a chance to be a building block player going forward — but dropping him in the lineup shouldn't be off the table. Moving him behind Gregorius and Headley would be totally justifiable given their recent production.
Give Gardner & Ellsbury More Rest
Remember the plan to rest the regulars more often? The Yankees talked about it all offseason and in Spring Training. It hasn't happened though. The team got off to a slow start, so Girardi kept running his regulars out there in an effort to get things turned around. As a result, Brett Gardner has started 64 of 75 games while Jacoby Ellsbury has started 61. That's more than I think the Yankees originally planned.
Perhaps not coincidentally, Gardner and Ellsbury have slowed down of late. Gardner is hitting .273/.340/.295 (75 wRC+) over the last two weeks and Ellsbury is at .222/.255/.244 (32 wRC+). I don't know if giving them one extra day on the bench a week while help things, but that was the plan coming into the season, right? That plan shouldn't be abandoned, especially with the offense being so hit and (mostly) miss. It's time to try something different.
I know most folks are done with Aaron Hicks but I'm nowhere near ready to give up on him. Clamoring for the Yankees to sell and wanting to move on from Hicks are conflicting ideas. I say give Gardner and Ellsbury that extra day of rest per week and stick Hicks in the lineup in their place. The two veterans get more rest and hopefully stay productive while Hicks gets some at-bats.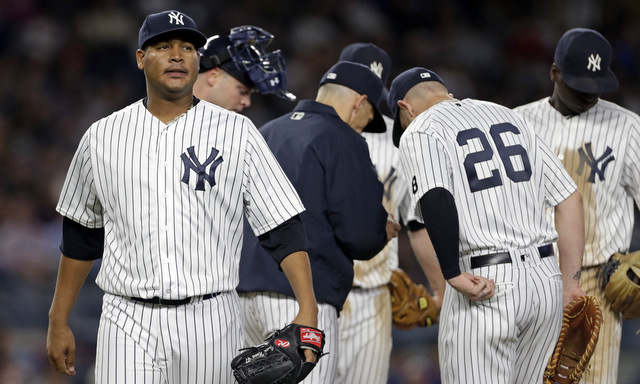 Bonus Non-Lineup Suggestion: Get Nova Out Of The Rotation
Ivan Nova stepped into the rotation a few weeks back and strung together three very good starts. The rotation was a total mess at the time and Nova did a really nice job calming things down. Props. Lately though, Ivan has been a mess, and following last night's dud he owns a 5.32 ERA (5.07 FIP) on the season. That can't continue. Chad Green has a 1.54 ERA (2.25 FIP) in 81.2 Triple-A innings and lines up to take Nova's spot perfectly. The Yankees have plenty of dead weight in the bullpen they can cast aside, so put Nova back into a long relief role and give Green a chance to show what he can do.
* * *
Are the Yankees doing all they can right now to give themselves the best chance to win? I don't think so, not if Refsnyder is sitting on the bench for three days at a time and Nova is taking a regular rotation turn. Benching A-Rod is a good move that figures to improve the offense. There's more than can be done though, and the sooner the Yankees start making other changes, the better off they'll be. Sitting A-Rod should be step one, not the only step.