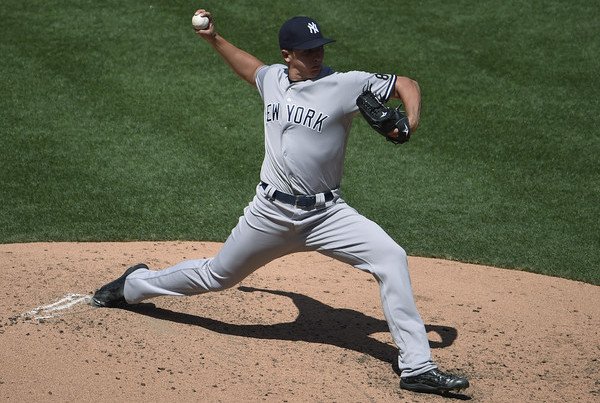 Saturday, 4:58pm: Today's tests revealed a sprained ulnar collateral ligament and strained flexor tendon, according to reporters in Baltimore. Green is going for a second opinion. Injuries like that often result in Tommy John surgery, though Green may be able to avoid the knife if the UCL sprain is minor.
Friday, 8:10pm: Green left the game with right elbow pain, the Yankees announced. That's a big ol' WELP. Green's going to head for additional tests and all that.
8:01pm: Chad Green exited tonight's start in the second inning with an unknown injury. His velocity did seem to be down in his second inning of work, though that doesn't necessarily mean anything. Didi Gregorius called for the trainer and Green exited the game without throwing any test pitches.
The Yankees traded away Ivan Nova at the deadline and Nathan Eovaldi's elbow exploded a few weeks ago, so they're short on starters as it is. They do have Luis Severino available and he would be the obvious candidate to replace Green should he need to miss an extended period of time. Bryan Mitchell is in Triple-A too.
Now, that said, Severino has been pretty terrible as a starter this season, plus the Yankees seemed to be counting on him to improve their middle relief situation these last few weeks of the season. We'll see what happens. The Yankees have not yet released an update on Green, so stay tuned.