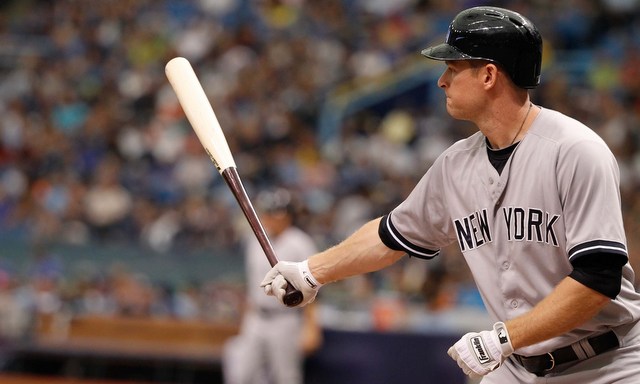 The Yankees both do and do not have a third baseman for next season. Yes, Alex Rodriguez, the team's starting third baseman from 2004 through 2013-ish is under contract and has finished serving his suspension, but the Yankees are not counting on him to play the field at all.  "Nobody here expects him to play third," said one team official flatly to Jeff Passan. A-Rod is 39 years old and he's played 44 games over the last two years. It would be foolish to count on him playing the field.
So yes, the Yankees have a third baseman. But they don't, really, so they're out looking for one this winter. They got lucky with Yangervis Solarte for a few months this past season but probably don't want to try that again. Brian Cashman confirmed the team has had a "brief conversation" with Chase Headley, who was so very rock solid for the Yankees after being acquired at midseason, but is a free agent with plenty of suitors. The Red Sox, Giants, and White Sox are also reportedly looking for help at the hot corner. Does bringing Headley back actually make sense though? Let's look.
The Defense
Let's start with Headley's defense at third because it'll be nice and easy. We saw him for two months this past season and he was outstanding at third base, legitimately Gold Glove caliber. He had range, first step quickness, a strong arm, the works. It was no aberration either. He's been this good for a while and various defensive stats back it up:
| | Innings at 3B | DRS | UZR | Total Zone | FRAA |
| --- | --- | --- | --- | --- | --- |
| 2010 | 1407.2 | 14 | 16.5 | 14 | -0.2 |
| 2011 | 895.1 | 1 | -3.8 | -8 | -9.0 |
| 2012 | 1397.0 | -3 | 7.3 | 10 | -6.3 |
| 2013 | 1235.0 | 5 | 7.0 | 7 | -8.1 |
| 2014 | 1082.2 | 13 | 20.9 | 17 | 3.2 |
I honestly have no idea what's going on with FRAA, the preferred defensive metric over at Baseball Prospectus. When three of the systems are pointing in one direction and the fourth is pointing in other, I'm going to throw out the fourth and stick with the other three. FRAA saying Headley has consistently been a below-average fielder throughout his career doesn't pass the sniff test at all. Weird.
Anyway, since becoming a full-time third baseman back in 2010 — the Padres had him play a bunch of left field earlier in his career because they had Kevin Kouzmanoff at third — Headley has been solidly above-average in the field most years. He looked great at third base this year and the numbers agree. That's good enough for me. I have no trouble accepting Headley as an asset in the field whatsoever. He's very good.
That's at third base. First base is a bit of a different story. (He hasn't played left field since 2009 and I don't think he's going to do it again anytime soon.) The Yankees stuck him there for a few games this season and he looked inexperienced, to put it nicely. He looked inexperienced because he was inexperienced — prior to coming to New York, Headley had a grand total of three career innings at first base in his career. One inning in 2009 and two in 2012. Zero in the minors. Yet the Yankees were comfortable enough to stick him over there for 54 innings late in the season and he made the best of it. He's a third baseman first and foremost. That part is clear.
The Up And Down (And Up Again) Offense
I've liked Headley for a really long time, dating back to his college days at Tennessee. He was a switch-hitter with power and patience coming up through the minors and early on in his career, and I thought he'd be a star-caliber hitter during his peak years if he ever got out of spacious Petco Park. That hasn't happened, though Headley did have a huge year back in 2012 (145 wRC+) while playing in Petco. Here's how his career has shaken out offensively (he became a regular at age 25):

Source: FanGraphs — Chase Headley
Headley progressively got better once he became a full-time player, peaked in 2012, and has progressively gotten worse since. He's never actually been a below-average hitter though. Not as a regular. At worst he was an average hitter, once you adjust for ballpark and the offensive environment around the league and all that. There's nothing sexy about being average, but average would be an upgrade for the Yankees, sadly.
As you know, Headley was much more productive with the Yankees after the trade than he was with the Padres before the trade this past year. He hit .229/.296/.355 (90 wRC+) with seven homers in 307 plate appearances for San Diego before hitting .262/.371/.398 (121 wRC+) with six homers in 224 plate appearances for New York. Explaining why Headley's offense improved after the trade is a bit tricky and it isn't all park-related.
Obviously we aren't dealing with the biggest of samples, and I'm sure there's a psychological component we can't account for. Headley went from being The Man in the lineup in a terrible hitter's park to being just another guy on a team with a good home park for hitters. Let's look at his plate discipline and batted ball numbers to see what's going on there:
| | PA | GB% | FB% | LD% | HR/FB% | O-Swing% | Z-Swing% | Swing% | Contact% |
| --- | --- | --- | --- | --- | --- | --- | --- | --- | --- |
| '10 | 674 | 46.1% | 36.0% | 17.9% | 6.4% | 27.6% | 61.1% | 44.0% | 80.0% |
| '11 | 439 | 45.8% | 32.3% | 21.9% | 4.3% | 25.2% | 62.5% | 42.4% | 79.9% |
| '12 | 699 | 48.5% | 32.1% | 19.5% | 21.4% | 25.7% | 67.2% | 44.5% | 74.7% |
| '13 | 600 | 46.1% | 31.3% | 22.6% | 10.9% | 28.1% | 67.2% | 45.9% | 74.3% |
| '14 – SD | 307 | 39.3% | 34.0% | 26.7% | 10.0% | 27.6% | 61.9% | 44.0% | 78.3% |
| '14 – NY | 224 | 42.6% | 29.1% | 28.4% | 14.6% | 23.6% | 61.6% | 40.9% | 82.4% |
Plate discipline and batted ball stats are among the quickest to stabilize in baseball — they usually settle in around the 200-250 plate appearance mark, which Headley cleared in pinstripes. His HR/FB% increased after the trade and that makes perfect sense given Yankee Stadium. For whatever reason he swung at fewer pitches with the Yankees, both inside and outside the zone, and he made more contact when he did swing. Improved selectivity? The Yankees and former hitting coach Kevin Long do preach patience, after all. It's not just about drawing walks, it's also about swinging at better pitches.
Anyway, Headley's offensive performance ticked up after the trade and that's why we're talking about the Yankees possibly re-signing him. If he came over and didn't hit a lick, I don't think anyone would want him back regardless of his defense. The real Headley is probably somewhere between the 90 wRC+ he put up with the Padres and the 121 wRC+ he put up with the Yankees in 2014. (For what it's worth, Steamer projects a 112 wRC+ in 2015.) Considering the Yankees have gotten an 87 wRC+ out of their third baseman the last two years, I find it hard to think Headley won't be an upgrade going forward. On both sides of the ball too. At the plate and in the field.
Durability Concerns
Headley has been on the disabled three times in his career and two involved fluke injuries. He missed six weeks after breaking his pinky sliding into a base in 2011, then he missed four weeks after breaking his thumb sliding into a base in 2013. Maybe he needs to spend more time on sliding drills in Spring Training or something. The third DL stint was for a calf strain this past season. He returned after the minimum 15 days.
That stuff really isn't much of a concern. None of them are chronic injuries or anything. Headley's back is a bit a concern even though it's never sidelined him for more than a week, nevermind sent him to the DL. He missed a few days at the very start of Spring Training in 2012 with lower back stiffness, then missed one game with the same problem that May. More lower back stiffness sidelined him for seven days in August 2013. This past June, Headley missed four games and received an epidural to deal with a herniated disc.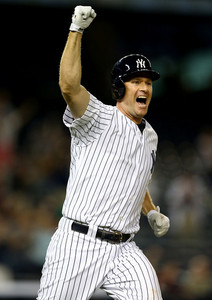 Back injuries never really get better, they just get more manageable. They affect everything too. Hitting, fielding, running, walking, sitting in the dugout … I'm not kidding when I say everything. The epidural seemed to do the trick and Headley was both healthy — he did miss a few games after taking that Jake McGee fastball to the chin, another fluke injury — and very productive after the epidural. In fact, Cashman cited Headley's improved "hit velo" after the procedure as a reason for making the trade.
Headley will turn 31 next May, so he's not old but he's not a spring chicken either. Any sort of back problem is a red flag, especially when it's slowly progressed from stiffness to a herniated disc that required an epidural. Is that enough of a reason to not sign Headley at all? Maybe, if the medicals don't check out well. The Yankees did have him around for a few weeks, so they do know something about his injury history firsthand, which can only help them make a better decision. I don't know how much of a red flag the back is, but I do know it's not something that can be ignored.
Contract Estimates
I am absolutely terrible at estimating free agent contracts. Especially ones for everyday players. I'll hit on the occasional bench player or reliever from time to time, often enough to keep me guessing, but I'm really bad at it overall. So let's look at some other kinda sorta informed Headley contract estimations from around the web:
FanGraphs Crowdsourcing: Four years at $14M per season ($56M total).
Keith Law (subs. req'd): Three or four years at $13M to $14M per season.
Jim Bowden (subs. req'd): Three years at $9M per season ($27M total).
Bowden has been weirdly excellent at predicting free agent contracts the last few offseasons, so I figured it was worth it to include him here. I think he's a bit off with Headley though. A three or four-year deal at $14M or so per season seems much more likely than a deal that only pays him $9M per year.
A four-year contract worth $46M is right in line with the contracts signed by Nick Swisher and Curtis Granderson the last two winters, for reference. I think Headley has similar value as those two, though the shape of his production is different. He's some offense and a lot of defense. Swisher and Granderson were a lot of offense and some defense. Maybe that means he won't get four years and $56M since offense pays a lot more than defense, even nowadays.
In Conclusion
In a nutshell, Headley offers one positive (his defense) and two negatives (declining offense and bad back). His offense did improve after joining the Yankees for whatever reason and that wasn't completely unexpected. And, again, Headley has never been a below-average hitter since becoming a regular. Even at his worst, he's been league average. A league average hitter with above-average defense is a very good player and a big upgrade for the Yankees. It basically comes down to how comfortable the team is with the health of his back.
The Yankees have a clear need at third base in the short-term. Their top third base prospects are Eric Jagielo and Miguel Andujar, who figure to open next season with Double-A Trenton and High-A Tampa, respectively. There are also some questions about whether Jagielo will stick at the hot corner long-term. Point is, the Yankees need a third baseman in 2015 as well as 2016 and probably 2017 as well. Counting on prospects who are several years away is no way to operate. Wait until they're knocking on the door before worrying where they fit.
Unlike Pablo Sandoval, who seems destined for a five or six-year contract at $16M+ per season, Headley figures to come on a shorter contract that is more payroll friendly. He fills an obvious positional need and will greatly improve the team's awful infield defense while improving the offense to a lesser extent. Considering Sandoval and Headley are the only no doubt third basemen on the free agent market both this year and next — the best free agent third basemen next winter will be David Freese, Aramis Ramirez, and Juan Uribe, assuming Adrian Beltre's option vests — it makes sense for the Yankees to push their chips into the middle of the table and plug a potentially long-standing hole this winter.