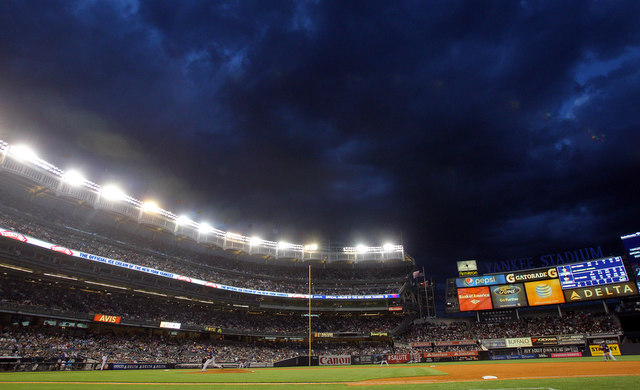 So here we are. The final home game of the regular season. What better way to celebrate the occasion than by clinching a postseason berth? The Yankees can clinch a wildcard spot tonight with a win. That's all it takes. One stupid little win to secure a spot in the postseason. Glorious, October baseball with a chance to win the World Series. It's wonderful. I miss it so much.
The clincher scenarios are getting a little less complicated, thankfully. The Yankees will clinch a playoff spot with a win at any point (preferably tonight). They can not clinch tonight with a loss, however. No other combination of losses around the league can clinch a spot for New York tonight. To clinch the first wildcard spot, the Yankees need either two wins or one win plus one Astros loss at some point before the end of the season. Nice and easy, right? Here is the Red Sox's lineup and here is the Yankees' home finale lineup:
It is cloudy and there has been a raining on and off for a few hours now, but the forecast says it'll clear up later tonight. The internet makes it appear a delay is a possibility. Hope we avoid it. Tonight's game is scheduled to begin at 7:05pm ET and you can watch on YES locally and ESPN2 nationally. Enjoy the game.
Injury Update: Both Jacoby Ellsbury and Chase Headley are out of the lineup with back soreness. Ellsbury hurt himself crashing into the wall last night. Joe Girardi made it sound like both are available in an emergency … Masahiro Tanaka (hamstring) came through last night's start just fine. No problems at all … Nathan Eovaldi (elbow) is still playing catch but there is no firm timetable for his return.
Award Update: A-Rod was named one of three finalists for the MLBPA's Comeback Player of the Year Award, the union announced. Prince Fielder and Kendrys Morales are the other finalists. This is not MLB's official Comeback Player of the Year award. The union has their own set of awards. Still cool though. The players nominated A-Rod.