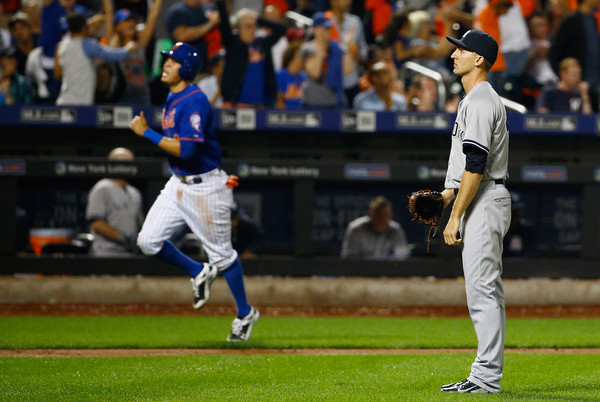 For most of last season, Chasen Shreve was one of the Yankees' best and most reliable relievers. He stepped into the seventh inning role when Andrew Miller visited the DL, then slid back into a more traditional middle reliever's role when Miller returned. Regardless of role, he was excellent for the first four months. It looked like the Yankees had landed themselves a low-profile bullpen gem.
Shreve had a 1.77 ERA (3.16 FIP) on the day of the trade deadline but struggled in August and totally collapsed down the stretch in September. He finished the season with a 3.09 ERA (4.92 FIP) in 58.1 innings after allowing four homers and six walks in his final five innings. His walk rate in August and September was a way too high 18.8%. Yuck.
Joe Girardi always seemed to be one reliever short down the stretch, which contributed to the Yankees falling out of first place. Miller, Dellin Betances, and Justin Wilson were pitching every day it seemed. Shreve was no longer trustworthy in big spots. Unsurprisingly, Girardi said figuring out what happened to Shreve is a priority this offseason after the Yankees lost the wildcard game.
"I think Shreve has a chance to be better because of the struggles he went through and (he) learned a lot about himself," said Girardi at his end-of-season press conference. "For the first couple of months he was really good and a huge part of his bullpen. We have to figure out what happened, mechanically. There were probably some things that were a little bit off … I think it has a chance to really help him."
Girardi indicated Shreve had a mechanical problem, which is always possible. Fatigue could have been an issue too. Yes, Shreve only threw 58.1 innings after averaging 65 innings per season in the minors from 2011-14, but high-leverage MLB innings are a different animal. They can be much more mentally and physically taxing. It would be silly to dismiss fatigue as a possible explanation for Shreve's fade.
Whatever the reason(s), Shreve's fade has caused him to be overlooked for most of the offseason. The Yankees essentially replaced Wilson with Aroldis Chapman — an enormous upgrade despite what many want you to believe — and much of the talk about the remaining bullpen spots has focused on the shuttle relievers. Nick Rumbelow, Jacob Lindgren, James Pazos, Bryan Mitchell, Branden Pinder, guys like that.
Shreve has rarely been mentioned despite having more MLB success than all of those other guys combined. Relievers come and go, that's what they do, but Shreve's dominance early last year — and that's not hyperbole, he was dominant for the first four months — has earned him another chance this coming season. The Yankees have to see if his mechanical issues have been corrected, if fatigue is no longer an issue.
The job Shreve held for much of last season is currently open on the 2016 roster. That is the No. 4 reliever behind the top three guys at the end of the game. Someone to pitch the sixth inning or fill-in when one of the other guys aren't available. Those three guys for the late-innings are outstanding, that group has a chance to be historically great, but the middle innings are important too.
Given the current options on the roster, the best candidate to fill Chasen Shreve's old role is, well, Chasen Shreve. He's had sustained success at the MLB level — at least moreso than the other guys — and at his best, he's a left-hander who can retire both righties and lefties, and rack up strikeouts. Getting Shreve back on track would take what looks to be a very good bullpen and make it even better.