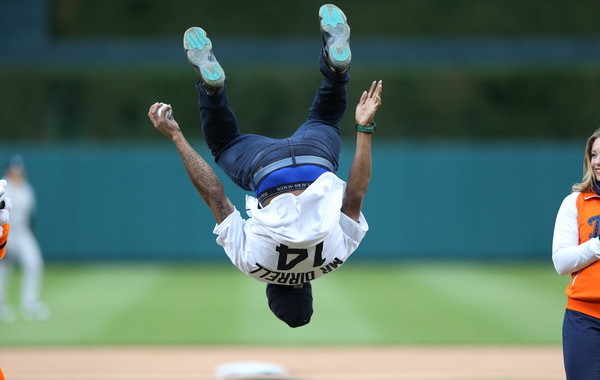 The Yankees dropped a very winnable game in last night's series opener against the Tigers. Winnable because of CC Sabathia, mostly. You're not going to beat this Detroit team scoring just one run most nights. Oh well, nothing they can do about it now. The Yankees just have to turn the page and try to get back on track tonight. They have won five of their last eight games, after all. Things are going okay.
Nathan Eovaldi is making his third start in pinstripes tonight and he's looking to build on his last start, when he fanned nine in only five innings. Of course, three runs and eleven base-runners in five innings kinda stinks, so he needs to improve on that too. If Eovaldi keeps missing bats, the number of runs and base-runners should eventually come down. Here is the Tigers' lineup and here is the Yankees' lineup:
The weather in Detroit tonight is a lot like last night: rainy, cold, and windy. It rained earlier this afternoon but is supposed to stop before game time. There might be some drizzle during the game though. First pitch is scheduled for 7:08pm ET and can be seen on YES locally and MLB Network nationally. Enjoy the game.
Roster Move: The Yankees have recalled Chasen Shreve and optioned Branden Pinder to Triple-A, the team announced. Shreve was sent down following the 19-inning game and his ten days in the minors are up. Welcome back, Chasen.