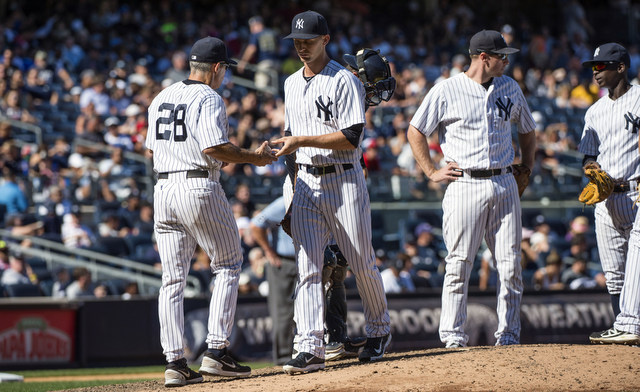 For most of the season, left-hander Chasen Shreve has been a middle innings weapon for Joe Girardi, often getting crucial outs in the sixth and seventh innings to get the ball to the big guys (literally and figuratively!) in the eight and ninth innings. From Opening Day through the end of July, Shreve had a 1.77 ERA (3.17 FIP) with a 27.0% strikeout rate in 40.2 innings. That is really, really good.
Lately though, Shreve has been a liability, and he hit what I hope is rock bottom in the first game of Saturday's doubleheader, when he walked in three runs after inheriting a bases loaded jam. Since August 1st, the 25-year-old Shreve has a 4.02 ERA (7.62 FIP!) in 15.2 innings. He's still striking out a ton of guys (25.6%), but he's also walked 15 of 78 batters faced (19.2%). That's bad. Shreve had a 9.7% walk rate prior to August 1st.
When the Yankees acquired Shreve in the offseason, he was billed as a fastball-slider pitcher who turned his career around last season by simply throwing harder. He stopped holding back for the sake of improved location. Shreve's splitter, which we all now know is a huge reason for his success, was undersold or overlooked. That pitch made him a borderline relief ace for much of the season, capable of retiring both righties and lefties.
That split-finger pitch — and its sudden ineffectiveness — is behind Shreve's recent struggles, it appears. In short, hitters aren't offering at the pitch as often as they were earlier in the season, and when they do swing, they're making contact. The swing-and-miss ability has disappeared and hitters aren't chasing the pitch out of the zone. To the numbers on the splitter:
| | % Thrown | Zone% | Swing% | Chase% | Whiff% |
| --- | --- | --- | --- | --- | --- |
| April | 20.7% | 82.7% | 45.5% | 6.5% | 21.2% |
| May | 26.4% | 79.2% | 50.0% | 8.8% | 26.2% |
| June | 35.1% | 70.3% | 38.5% | 10.3% | 23.1% |
| July | 33.3% | 70.2% | 42.1% | 10.5% | 19.3% |
| August | 38.8% | 69.5% | 47.8% | 12.3% | 19.6% |
| September | 30.4% | 72.2% | 29.2% | 3.8% | 8.3% |
(Swing% is just percentage of swings against the splitter. Chase% is swings at splitters out of the zone. Whiff% covers swings and misses on all splitters, in and out of the zone. Eno Sarris recently noted Shreve's splitter has the second largest difference in whiff rate between pitches in the zone and out of the zone in baseball.)

In the simplest terms, the splitter works by looking like a fastball. The pitcher throws the pitch, the hitter reads fastball, his brain sends instructions to the rest of his body, he starts to swing at the fastball, then boom, the pitch drops off the table. Laying off a good splitter out of the zone is impossible — good splitters start as fastballs in the zone and don't move out of the zone until the hitter starts his swing.
For some reason hitters have been picking up Shreve's splitter in recent weeks, and they aren't offering at the pitch as often. They aren't swinging at it as much in general, and they definitely aren't chasing it out of the zone either. During that disaster outing Saturday, Shreve threw six splitters and the Blue Jays swung at one. Josh Donaldson took this 1-2 splitter like he knew it was coming:
Shreve's inability throw his fastball for strikes — he threw 15 fastballs and only seven were strikes — hurt him more than anything Saturday. The splitter only works if you occasionally throw some fastballs in the zone to keep hitters honest. Big leaguers can hit almost any pitch if they know it's coming.
The sudden ineffectiveness of Shreve's splitter is likely the result of a combination of things. For starters, he's been in the league for a full season now, so the book is out. Teams know the splitter is his out pitch. The element of surprise is gone. Secondly, Shreve simply isn't throwing enough strikes with his fastball. Only 34.5% of his fastballs have been in the zone since August 1st. Yikes. He was up over 40% earlier this season. That little bit makes a big difference on the field.
With Adam Warren moving back into the rotation, the Yankees have a void in middle relief. They need someone to step up and help bridge the gap between the starter and the end-game trio of Justin Wilson, Dellin Betances, and Andrew Miller. Shreve was that guy for much of the season, but his recent performance has presumably knocked him down the depth chart a bit. The Yankees need Shreve to stop walking people first and foremost, and once he does that, his splitter should be a bit more effective.