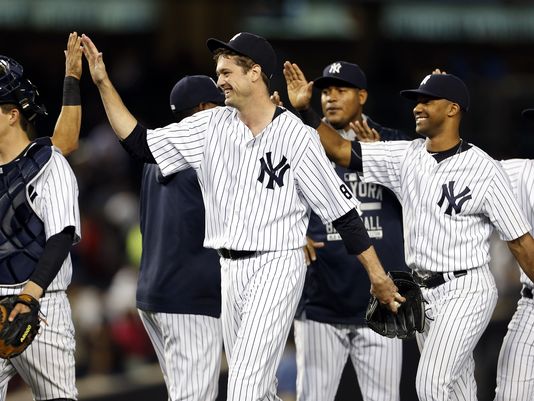 Not for Sale
It was another one-man offensive show on Thursday night, this time starring the 38-year-old Carlos Beltran. His bullet line-drive three-run homer in the third inning was the difference in the Yankees 3-2 win over the White Sox.
Beltran turned on a 98-mph fastball from lefty Chris Sale, the second time in less than a week he's hit a pitch that fast over the fence. (On Sept. 19 against the Mets, he crushed Noah Syndergaard's 99-mph heater into the right field seats.) Since Pitch F/X tracking began in 2008, those are the only two home runs Beltran has hit off pitches 98 mph or faster.
One of the guys on base for Beltran's blast was Alex Rodriguez, who scored his 2,000th run on that play. A-Rod joined Willie Mays and Barry Bonds as the only players in major-league history with at least 2,000 runs scored, 300 homers and 300 stolen bases in a career.
Michael Pineda scattered eight hits over six strong innings, allowing just one run with six strikeouts and no walks. That pinpoint control is something we've probably taken for granted with Pineda — he's riding a streak of 43 straight starts with two or fewer walks, including all 38 with the Yankees. The former streak (43 starts) is tied for the eighth-longest in the last 100 years by any pitcher, and the latter streak (38) is the longest by a Yankee since at least 1914.
Double trouble
Another night of wasted opportunities doomed the Yankees on Friday night against the White Sox. Despite putting 14 guys on base, they scored just two runs in a crushing 5-2 loss that dropped them further behind the can't-lose Blue Jays in the AL East race.
The loss also snapped a nine-game home win streak against the White Sox, which was the team's longest since winning nine in a row against the South Siders at Yankee Stadium in 1951-52.
Yankees had their chances against White Sox starter Carlos Rodon, who couldn't find the strike zone, but four rally-killing double plays really hurt them. The Yankees entered the game with the second-fewest double plays grounded into in the AL and third-fewest in MLB.
Rodon's lack of control resulted in five walks, two hit by pitches and a wild pitch. The last pitcher to reach each of those totals in a game versus the Yankees was Chan Ho Park in 2003. To find a guy that did all that, plus allow just two or fewer runs like Rodon did against the Yankees, you have to go back more than 50 years — Jim Kaat with Twins in 1962.
Double your pleasure
Two runs weren't enough to win on Friday, but it got the job done on Saturday thanks to a terrific performance from not-fill-in starter Adam Warren and a lockdown bullpen effort from the Circle of Trust.
Warren allowed just one run on three hits in six innings pitched, and then handed the ball off to the Justin Wilson–Dellin Betances–Andrew Miller trifecta, who sealed the 2-1 win with three perfect frames. It was an important victory in more ways than one — it was win No. 85 on the season, one more than they had all of last year.
Warren isn't flashy but he gets the job done — this was his 12th straight start of no more than three runs allowed dating back to the beginning of May. That the longest streak of its kind in a single season by a Yankee pitcher since Ron Guidry in 1981, and the longest by a righty since Jim Bouton in 1965.
Severino stops Sox
It is rare when a pitching prospect lives up to the hype, especially in the Bronx, but Luis Severino is doing that and more this season. He dominated the White Sox on Sunday afternoon with six scoreless innings for his fifth win, lowering his ERA to 2.77 in 10 starts.
Severino is the first Yankee in the last 100 years with eight starts of no more than two runs allowed within his first 10 career games. He wasn't the only Yankee rookie that shined on Sunday, though.
Greg Bird chipped in with two hits and an RBI. He now has eight doubles and 10 homers in his 39 games, becoming the only Yankee in the last 100 years to reach each of those totals before his 40th career game.
Slade Heathcott went 2 for 3 and now owns a .391/.400/.696 line in 14 games. That's the best batting average, on-base percentage and slugging percentage of any guy on the Yankees roster right now.