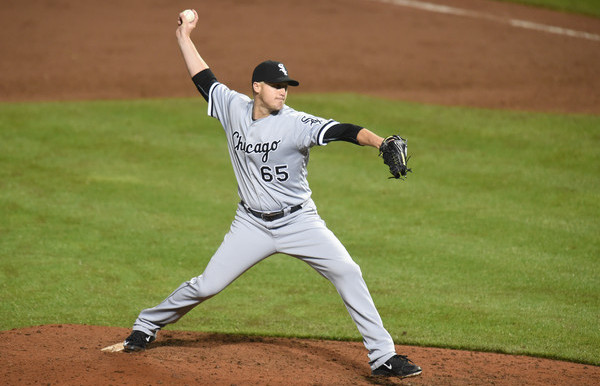 Given their Winter Meetings activity, the White Sox are clearly a rebuilding team right now. They traded Chris Sale and Adam Eaton, and reports indicate Jose Quintana is on the block too. The Astros are said to have shown the most interest in him, and, understandably, the ChiSox have asked for basically all their top prospects. I don't blame them. Quintana's awesome.
The White Sox do have other veterans to trade as well, including former Yankee David Robertson. My guess is the teams that lose out on Kenley Jansen will turn their attention to Robertson. It's another ChiSox reliever that interests me though: hard-throwing righty Nate Jones. The Yankees already have a pretty great closer-setup man tandem, but there's no such thing as too many quality relievers. Let's give Jones a look.
Recent Performance
Jones, who turns 31 in January, is like so many other relievers these days in that he's a failed starter. The White Sox selected him in the fifth round of the 2007 draft, and after a few years as a middling minor league starter, they moved him to the bullpen and he dominated almost immediately. Jones has spent parts of five seasons in the show now. His numbers:
| | IP | ERA | FIP | K% | BB% | GB% | HR/9 | RHB wOBA | LHB wOBA |
| --- | --- | --- | --- | --- | --- | --- | --- | --- | --- |
| 2016 | 70.2 | 2.29 | 2.93 | 29.2% | 5.5% | 45.9% | 0.89 | .211 | .276 |
| Career | 239.1 | 3.16 | 3.11 | 27.0% | 8.5% | 47.1% | 0.79 | .286 | .278 |
Jones was excellent this year. He's been good his entire career, really, but this year he took it to another level. Not coincidentally, he was healthy this season, but we'll get to that in a minute. Jones has always missed bats and gotten a good number of grounders, and this season he cut his walk rate. (He walked 15 in those 70.2 innings and three of the 15 were in intentional.)
This season Jones did have a pretty significant platoon split, though it's not like lefties smacked him around the yard. They hit .198/.257/.410 against him. It's worth noting he faced 109 lefties and gave up five homers this summer. It was two homers against 165 righty batters. Jones has always been more home run prone against lefties (career 1.22 HR/9) than righties (0.50 HR/9), which could be a problem at Yankee Stadium.
Generally speaking though, Jones was very good this past season and he's been comfortably above-average his entire career. This is not some run of the mill middle reliever. Jones is a bonafide power reliever capable of pitching high-leverage situations.
Present Stuff
Like most relievers, Jones is a two-pitch pitcher. He's a sinker/slider pitcher who has, at times, thrown a changeup and a curveball. Very rarely though. Jones threw seven changeups and four curveballs this past season. Total. So yeah, two-pitch pitcher. To the numbers (MLB averages in parenthesis):
| | % Thrown | Avg. Velo | Whiff% | GB% |
| --- | --- | --- | --- | --- |
| Sinker | 62.8% | 97.4 (91.3) | 8.7% (5.4%) | 42.5% (49.5%) |
| Slider | 36.0% | 88.8 (84.3) | 27.0% (15.2%) | 56.1% (43.9%) |
Those are 2016 numbers, which most closely reflect who Jones is at this point in time. Right away, the velocity jumps out at you. Averaging north of 97 mph with a sinker is no joke. Same with a slider that averaged close to 89 mph. Jones got the sinker as high as 100.2 mph and the slider as high as 93.2 mph in 2016. That is pretty crazy.
Weirdly, that high-octane sinker doesn't generate many grounders. Jones does get a good amount of swings and misses with the sinker, but not grounders. That's not necessarily a bad thing — it's not like Jones pitched poorly this year — just unusual. Maybe it's more of a true four-seam fastball that had just enough movement to trick PitchFX into thinking it's a sinker? Video is scarce — unfortunately no one made a highlight video of a relatively unheralded setup reliever — but let's look at some anyway:
Okay, that's a sinker, not a four-seamer. You can clearly see the pitch run away from the left-handed batter. I'm not quite sure why Jones didn't get many grounders with his sinker this season — he had a 28.6% grounder rate with the sinker last year, so it was even worse — but it happened. It's not a deal-breaker as far as I'm concerned because Jones was so good anyway, just a little weirdness. (
Here's video of his slider
, if you're interested.)
Injury History
Like so many other hard-throwing relievers these days, Jones has had some arm problems in his career. Nowadays it seems the guys who haven't had an arm injury are the outliers. Anyway, here is Jones' injury history:
2010: Missed about two weeks in May with shoulder tendinitis while in Double-A.
2014: Landed on the disabled list three games into the season with hip problem. He had relatively minor back surgery in early-May to shave down a bone that was causing nerve irritation and the hip issue.
2014: Blew out his elbow in mid-July and needed Tommy John surgery. He was working his way back from the back procedure when the ligament snapped.
The good news: Tommy John surgery is the only serious arm issue. Jones' shoulder has been fine since that little two-week stint on the minor league disabled list nearly seven years ago. Also, the back surgery wasn't a structural issue, like a herniated disc. It was an arthroscopic procedure and Jones was throwing less than six weeks later. He wasn't far away from rejoining the White Sox when the elbow gave out.
Now, that said, Jones is a guy with a herky jerky delivery who needed elbow reconstruction not too long ago. That's a red flag, no doubt. Every single reliever is a risk these days. They all seem to get hurt. Jones appears to be in the clear at this point — his stuff and performance have bounced back well following Tommy John surgery — but he is slightly more risky than most relievers because his elbow was rebuilt less than three calendar years ago.
Contract Status
Interestingly enough, the White Sox signed Jones to a long-term extension while he was rehabbing from his Tommy John surgery. You don't see that often. A team signing a player long-term as he's rehabbing from major surgery. The ChiSox figured it was worth the risk, and I'm sure Jones appreciated the long-term security. Here's the remainder of the contract:
2017: $1.9M
2018: $3.95M
2019: Club option at league minimum ($555,000 per the new Collective Bargaining Agreement)
2020: $3.75M club option
2021: $4.25M club option
The contract also includes all sorts of escalators and bonuses. If Jones doesn't need another elbow surgery by the end of the 2018 season, the contract options jump to $4.65M in 2019 and $5.15M in 2020, and the 2021 club option becomes a $6M mutual option. The ChiSox built in some protection in case the ligament gives out again. Jones can earn another $5.25M through bonuses based on games finished totals that, realistically, no pitcher could reach as a setup man. We're talking 30+ games finished a year. He'd have to become a closer to trigger those.
So, all told, Jones can max the contract out at $26.9M over the five years if he stays healthy, becomes a closer, and neither side declines the mutual option. If the Yankees were to acquire Jones and use him as a setup man exclusively, and his elbow stays healthy, they'd owe him $15.65M from 2017-20 with the $6M mutual option for 2021. (Every option in the contract includes a $1.25M buyout.) Got all that? Point is, Jones is a contractual bargain relative to other top relievers.
What Would It Take?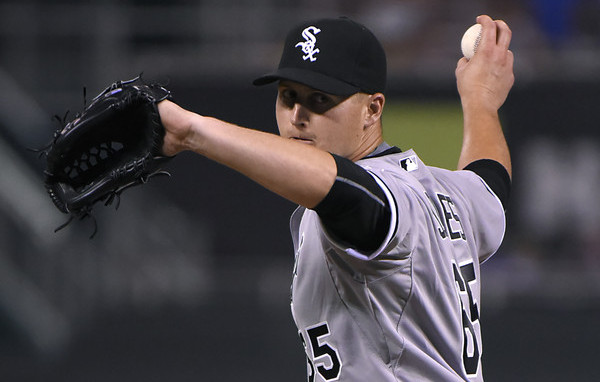 Gosh, it's going to be really tough to pin down a trade benchmark for Jones given his recent Tommy John surgery and unique contract. Here are some relievers who were recently traded with at least four years of team control remaining:
Ken Giles: Traded with a top 20 org prospect (Jonathan Arauz) for a young big league starter (Vince Velasquez), a big league swingman (Brett Oberholtzer), a top ten org prospect (Mark Appel), a top 20 org prospect (Thomas Eshelman), and a non-top 30 org prospect (Harold Arauz).
Trevor Gott: Traded with a non-top 30 org prospect (Michael Brady) for Yunel Escobar in a salary dump.
Craig Kimbrel: Traded with Melvin Upton for Cameron Maybin, Carlos Quentin, a top 50 global prospect (Matt Wisler), and a non-top 30 org prospect (Jordan Paroubeck).
Yeah, this doesn't help us much. Kimbrel was firmly established as one of the best relievers in baseball when he traded from the Braves to the Padres, if not the best. Gott had one year in the show as a middle reliever and was traded in a salary dump. Giles had five years of control remaining, not four, and that package is all over the place. That's the deal that raised the price for late-inning bullpen help.
The Red Sox just gave up a young-ish player off their MLB roster (Travis Shaw), a top ten org prospect (Mauricio Dubon), a non-top 30 org prospect (Josh Pennington), and a player to be named later for three years of Tyler Thornburg, who like Jones is a good reliever with an injury history. That feels like the starting point for Jones. The Thornburg package. He won't come cheap. I know that much. No good reliever does these days. The Yankees won't be able to swing a deal by cobbling together a package of three or four guys from the bottom of their 40-man roster.
So What About The Yankees?
Even after agreeing to a deal with Aroldis Chapman last week, the Yankees are reportedly in the hunt for even more bullpen help. Nothing significant, they're not going to sign Kenley Jansen or anything like that, but they want to beef up the middle relief. Ideally, they want a left-hander to pair with (or maybe replace?) Tommy Layne. Jones is not a southpaw, but he's really good, so good that handedness doesn't matter.
The Yankees already have a strong relief crew with Dellin Betances and Tyler Clippard behind Chapman. Adam Warren is a fine fourth bullpen option, has been his entire career, though the Yankees may need him in the rotation. Adding Jones to Betances and Clippard would give the Yankees three really good setup relievers — Joe Girardi can have a sixth inning guy! — next year, and two really good setup relievers in the following years. (Clippard will be a free agent next winter. Betances and Jones would still be around.)
The real question is whether it's worth giving up the prospects to acquire Jones given his contract and injury history, and really, we can't know the answer to that until we get some idea of what the White Sox want. The Yankees don't need Jones. He'd be a luxury. They're in position to hang back and see how his market develops before deciding whether to get involved. New York doesn't have to rush into any sort of decision. That's good.
Problem is, Jones will probably be long gone before the prospect price drops low enough for the Yankees to get involved. I don't think they want to give up any prospects for a reliever, especially not after signing Chapman. Maybe if they'd whiffed on Chapman and passed on Jansen because of the draft pick, Jones would make more sense. He'd be a really great addition to the bullpen. No doubt. My guess is the Yankees will find the cost prohibitive.