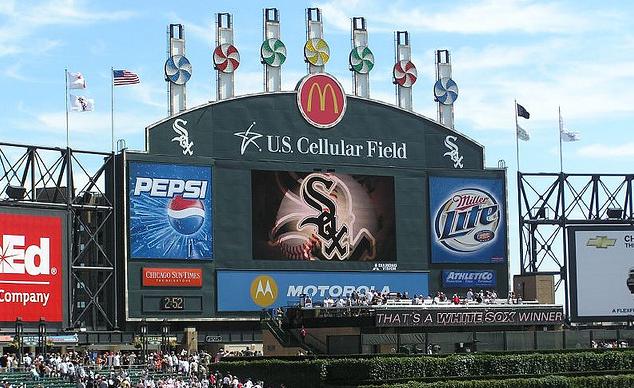 The homestand is over, and the Yankees are heading to Chicago's south side to play a team with a losing record at home. The White Sox did split a four-game series in the Bronx earlier this year, two of their three wins during a 17-game stretch extending from mid-April to early-May. Weird stuff tends to happen to the Yankees at U.S. Cellular Field, there seems to be an inordinate amount of infield hits and great defensive plays and what not, but I'm sure that's just a coincidence.
What Have The White Sox Done Lately?
The ChiSox are trying to stay relevant in the AL Central race (they're three back in the loss column), but two straight losses to the Red Sox hurt their cause. Ozzie Guillen's team had won five of six before Boston took the last two, and overall they're 7-6 since the All-Star break. The White Sox are 52-54 with a -7 run differential this year, about as close to a .500 true talent team as it gets.
White Sox On Offense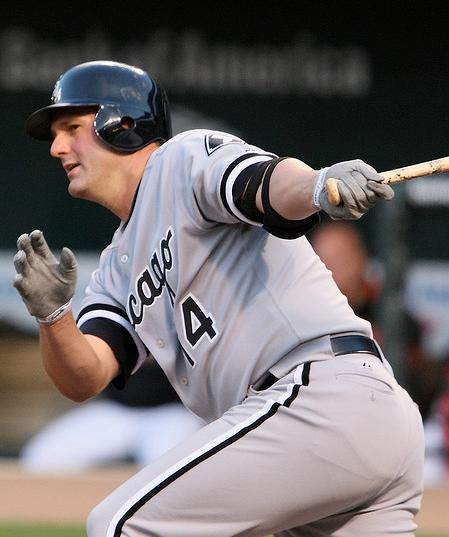 The Yankees might catch a little bit of a break right off the bat; Paul Konerko is not expected to play in the series opener tonight because of a bruised calf (UPDATE: Konerko is not in tonight's lineup). Andrew Miller hit him with a pitch yesterday and he's day-to-day after x-rays came back negative. Konerko is the ChiSox's best hitter and it's not particularly close, a .305/.385/.550 monster with the sixth most homeruns in baseball (25). That a significant right-handed batter to lose on the night CC Sabathia starting.
Stepping at first base will likely be Adam Dunn, the most disappointing disappointment to ever disappoint. He's hitting .165/.298/.303 on the season after signing a four-year, $56M contract last winter, and just .041/.220/.041 against southpaws. Don't be surprised if he sits tonight. If he does, Brent Lillibridge (yes, that Brent Lillibridge) would likely give it a go at first. He's hitting .250/.336/.461 in part-time duty. Carlos Quentin is the only other player on the team producing at an above-average rate, a .261/.350/.501 hitter that's already part of the rare 20/20/20 club. That's 20 homers, 20 doubles, and 20 hit-by-pitches.
Alexei Ramirez is at .269/.333/.397 and A.J. Pierzynski at .283/.327/.386, the only other two guys in the lineup above a 90 OPS+. Gordon Beckham is a(nother) rushed prospect that has disappointed (.248/.307/.357), Juan Pierre is just bad (.275/.330/.324), and rookie Brent Morel has been overmatched (.253/.271/.305). Alex Rios has been so bad (.207/.253/.296) that he's losing playing time to Alejandro De Aza (eight at-bats so far, and the only time he's reached base was on a homer). Omar Vizquel does nothing off the bench (.263/.291/.316), and quality backup catcher Ramon Castro (.235/.307/.456) is injured. The White Sox have the tenth worst wOBA in baseball (.308), so losing Konerko for even a day is a killer.
White Sox On The Mound
Monday, RHP Jake Peavy (vs. CC Sabathia): It's a matchup of 2007 Cy Young Award winners. Sabathia out-bWAR'd Peavy 6.8 to 6.2 that year, and he's massively outperformed him since. That mostly due to Peavy's injuries (ankle, elbow, shoulder), which have cost him more than a full season's worth of playing time. The now 30-year-old righty has made seven starts since his latest DL stint, putting 60 runners on base in 37.2 IP (5.73 ERA, ~3.00 FIP thanks to a miniscule homer rate). Peavy's fastball(s) still sit in the low-90's but are trending downward with the injuries, though it's always been about life and movement for him. His heater runs all over the place, and it still does. A changeup and slider are his two secondary pitches, and he'll also mix in a curve. He's not the same guy he was when he won the Cy, but he's still quite good.
Tuesday, LHP John Danks (vs. Phil Hughes): Luckily Joe told you everything you need to know about Danks less than two weeks, so I'll just refer you to that. In two starts since coming back from his oblique injury, Danks has allowed one run in 13 IP, striking out 16 and walking four.

Wednesday, RHP Gavin Floyd (vs. A.J. Burnett): Mark Teixeira's neighbor growing up, Floyd has allowed just two earned runs across 22.1 IP in three starts since the All-Star break, taking his season ERA down from 4.59 to 3.96. He's a low-90's four-seamer/mid-80's cutter guy, missing bats with a high-70's curveball that's among the best in baseball. Floyd doesn't have much of a changeup and struggles against lefties because of it. He beat the Yankees already once this year (8 IP, 4 H, 2 R, 10 K) and has traditionally been tough against them, but it's a five start (and one relief appearance) sample.
Thursday, RHP Phil Humber (vs. Ivan Nova/Bartolo Colon): So it turns out that Humber doesn't suck. Yankees' fans were irate after Humber shut them down back in April (7 IP, 1 H, 0 R, 2 BB, 5 K), but he shut everyone else down in the first half and carried a sub-3.00 ERA into July. The second half has not been kind to Humber though, he's put 28 men on base in 14 IP, allowing at least four runs in all three starts. We've heard all about his new cutter and how it's helped him resurrect his career, but PitchFX hasn't been able to pick the pitch and says he's thrown zero this year. Maybe the break is so subtle that it's registering as a four-seamer. Anyway, Humber uses his low-90's heat and high-70's curve two-thirds of the time, filling in the gaps with a pair of low-80's offerings: a slider and changeup. I feel confident in saying he won't one-hit the Yankees for seven innings again).
The Yankees, meanwhile, have announced that Colon with start Thursday's game, but I wouldn't be surprised if they started Nova instead. That would allow them to start Bartolo in Fenway against the Red Sox on Friday. (UPDATE: Yep, the Yankees just announced that it's Nova on Thursday, Colon on Friday)
Bullpen: It took some time to figure out the ninth inning, but former infielder Sergio Santos is the undisputed closer now. He actually got his first two saves of the season against the Yankees in April. He's a strikeout machine (11.71 K/9) but will walk himself in trouble (4.37 BB/9). Hard-throwing southpaw Matt Thornton wasn't traded before yesterday's deadline, and he's got a 9.00 K/9 and 3.75 BB/9. Those numbers are actually bad for him compared to the last few years, when he was routinely north of 12 K/9 and under 3 BB/9. Lefties are also hitting him far better than they should be.
New import Jason Frasor (3.63 FIP) just came over in the Edwin Jackson-Colby Rasmus three-team deal, and high-price import Jesse Crain (3.34 FIP) as been solid in setup work. Former Yankee Brian Bruney has been terrible (5.84 FIP) in limited action, and he was hung out to dry for 58 pitches on Saturday. We might not see him until tomorrow at the earliest. Lefty Will Ohman is the quintessential LOOGY with a big platoon split, though fellow lefty Chris Sale (3.25 FIP) is slightly better against righties. It's a solid bullpen but not an unbeatable one, especially now that Thornton has returned to mortality.
Recommended White Sox Reading: South Side Sox. Here's some ticket pricing info if you happen to be in Chicago this week and watch to catch a game or four. RAB Tickets can help you get in for cheap.