Five post-Thanksgiving questions for you this week, but a few of them are really short. Remember to use the Submit A Tip box in the sidebar to send us anything throughout the week.

Many asked: What about Chone Figgins?
The Mariners finally cut ties with Figgins earlier this week, tying a bow on one of the biggest free agent busts in baseball history. Seattle paid him $26M over the last three years to hit .277/.302/.283 (69 wRC+) in over 1,200 plate appearances (-0.9 fWAR and -1.6 bWAR), and they still owe him $8M next season. Just brutal.
Lots of people still view the 34-year-old Figgins as some kind of supersub, but he's played primarily third base for the last six years while dabbling at second in the corner outfield (fewer than 500 innings). That's it. He's played 14 innings at shortstop in the last eight years and none in the last six years. He's a third baseman who can fake second and left but rates no better than average anywhere. Figgins has just stopped hitting and it's not just a Safeco Field thing, he's got a 71 wRC+ on the road as a Mariner. I'd give him a minor league contract with an invite to Spring Training and nothing more. If he doesn't show signs of being useful in camp, just release him. Don't even waste the Triple-A roster spot.
Joe asks: What do you think of Michael Morse? Nationals cold make him available if they sign Michael Bourn.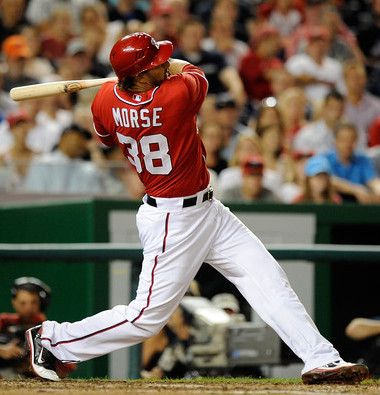 I'm not much of a Morse fan but that doesn't mean he isn't a good player. The 30-year-old right-handed hitter has posted a .296/.345/.516 (133 wRC+) batting line with 67 homers in just shy of 1,300 plate appearances over the last three years, which is damn impressive. He never walks (5.7 BB% since 2010) and is very BABIP-reliant (.339), and when those guys go south, it tends to happen in a hurry. It's not like Morse is old though, there's no obvious reason he can't keep up this kind of production for another few years.
The Nationals are reportedly looking to re-sign Adam LaRoche as well as add a long-term center fielder, and acquiring both would leave Morse without a defensive home. He's owed $6.75M next year and will become a free agent after the season, so they should have no trouble trading him if they bring LaRoche back and sign Bourn or B.J. Upton or someone like that. Morse can obviously hit but he's a terrible defensive player regardless of position, yet he would still make sense for New York since they need some pop to replace Nick Swisher. I really have no idea what the Nationals are looking for in a trade, I suppose just more pitching, which the Yankees don't really have much to offer. I don't love Morse but he would be a fit for the Yankees.
David asks: There has been a lot of talk about signing players this year to a one-year deals because of the $189 million dollar limit. How does that help them next year? Are the Yankees going to be in the same situation for the next two years or is there a few large contracts coming off the books?
By signing all these guys to one-year contracts, the Yankees are going to have to replace all of 'em next winter as well as Robinson Cano, Curtis Granderson, and Phil Hughes. That's just scary. They'll have to replace half the roster. Then again, they'll also have the flexibility needed to get the payroll down. Still, having to potentially replace two outfielders, three starting pitchers, the second baseman, and various relievers/bench players all in one offseason will be very difficult to do. Not impossible, just difficult.
Tucker asks: When does the payroll in 2014 need to be below $189 million? Is it just the Opening Day payroll, or do the Yankees need to stay under that mark for the entire season?
They basically have to stay under the entire season. The luxury tax is based on the final club payroll, which includes everything paid to players from salary to performance bonuses to benefits. That includes pro-rated portions of salary paid to players called up, traded/acquired in the middle of the season, etc. The Yankees won't be able to get under on Opening Day then add payroll, they'll have to maintain it all year.
Anonymous asks: We always talk about the "five-tool player," but it seems that when evaluating players we look for the following tools: Can he get on-base? Can he field his position? Can he hit for power? And can he run? In your opinion, are those the four most important tools and how would you rank them?
Yeah, I think those are my four most important skills (let's not call them tools just to avoid confusion with the usual five-tool stuff). Getting on-base either through batting average or drawing walks or getting hit by pitches is the single most important thing a position player can do. It would be nice if a hitter did all three of those things, but those guys are rare. Not making outs at the plate is the easiest way a player can contribute to his team.
I'd rank hitting for power second ahead of defense just because I'm an offense-first guy. That doesn't mean I'm cool with having a team of butchers out there, I certainly understand the important of turning batted balls into outs, but power is becoming harder to find these days and I value it more. The ability to run the bases — not necessarily speed, just the ability to be a smart base-runner and make good decisions — lags behind everything else for me. Health is also a skill to a certain extent and frankly I would rank that right before defense and ahead of running. A player isn't any good to you if he's hurt.