Archive for Chris Denorfia

The non-waiver trade deadline is 4pm ET this Thursday, and between now and then there will be a ton of rumors and speculation. Some actual moves too. The Yankees have already swung trades for Brandon McCarthy and Chase Headley, but Brian Cashman has said he is still seeking another starter and another bat. I don't know if they'll get another deal done, but I fully expect plenty of Yankees-related rumors this week, hence a full week of open threads rather than one or two days.
Over the last few days we've heard New York connected to John Danks (link) and Ian Kennedy (link). They do not have interest in Matt Kemp (link), however. The Rockies and White Sox are said to be keeping an eye on Francisco Cervelli (link). Obviously young catching is one of the team's most tradeable assets. We'll keep track of the day's Yankees-related rumors right here in this post, so make sure you check back throughout the day. All of the timestamps below are ET.
The Yankees came into the All-Star break five games back of the Orioles in the AL East but only 3.5 games back of the Mariners for the second wildcard spot. The problem: they have to jump four teams to get that wildcard spot. Going for the division title figures to be a little easier thanks to all the head-to-head games remaining.
The team's focus will likely be on pitching at the trade deadline in the wake of Masahiro Tanaka's elbow injury, but they can't forget about the offense either. They average only 3.99 runs per game, one-third of a run below the AL average. They're getting below-average production from every position other than left field, center field, and first base, but they are unable to make changes at some spots due to contract status, iconic status, etc.
Right field and third base are the easiest positions for the Yankees to upgrade. They're shaken things up a bit by cutting ties with Alfonso Soriano and giving Zelous Wheeler a chance, but that has had negligible impact. The Yankees will need to make a trade (or two) to improve their run-scoring, and one of the teams that will be a seller at the deadline is the Padres, who are currently between GMs. That complicates things. Last week we looked at their pitchers, now let's look at their position players.
3B Chase Headley
Over the last three weeks or so we've heard the Yankees are both "regularly" scouting Headley and not strongly pursing him. Both are probably true. The Padres are terrible and Headley is an obvious trade candidate, so the Bombers have to do their due diligence and get some eyes on him. They don't have to be knocking down the door trying to trade for him at the same time either.
Headley, 30, is having a miserable season, hitting .226/.296/.350 (87 wRC+) with seven homers and a career-low 7.5% walk rate in 74 games. He has been better of late, going 21-for-63 (.333) with a 109 wRC+ in his last 18 games, which coincidences with his return from four games on the shelf with inflammation near a disc in his lower back. (He received an epidural.) Headley had a monster 2012 season, putting up a .286/.376/.498 (145 wRC+) line with 31 homers, and even last year he hit a solid .250/.347/.400 (113 wRC+) with 13 homers. This season has been a disaster though, and Headley doesn't believe a simple change of scenery will do the trick.
"Even when things are going full-on crappy, like now, I'm confident that sometime in the near future, I'm going to get healthy, stay healthy and start playing the way I know I'm capable of," he said to Chris Jenkins recently. "I don't look at it like, 'Man, I gotta get out of here to be me again.' I'm going to be me again, whether it's here or somewhere else."
Petco Park is a notorious pitcher's park, even after the walls were brought in last season. Headley is a career .286/.360/.444 (118 wRC+) hitter on the road (.243/.331/.371 (107 wRC+) at home), including a 154 wRC+ away from Petco Park in 2012 (97 wRC+ on the road from 2013-14). If the Yankees were to acquire Headley, he would be moving from one of the worst hitting parks in the game to one of the best. It would be damn near impossible for his numbers not to improve.
Headley's struggles this year are not all ballpark related, however. Obviously his back was acting up at some point and that likely hurt his performance. How could it not? He is hitting fewer ground balls this season — 40.3% compared to 46.1% last year and 45.1% career — and the average distance of his batted balls in the air is down a bit from recent years. From Baseball Heat Maps: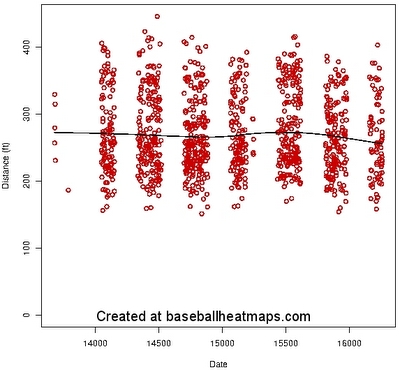 That seems like something that could be explained by the back issues. Headley's plate discipline numbers are right in line with his career norms and his numbers from both sides of the plate are down as well, so it's not like he's been fine as a lefty and brutal as a righty or something like that. Headley isn't hitting the ball as far (and thus as hard) as he did the last few seasons, which could be attributed to the back injury or something else entirely, like a swing or mechanical problem. It could be both.
On the surface, Headley is a great fit for the Yankees as a switch-hitter with some power and a lot of patience from both side of the plate. He has also consistently graded out as an above-average defender at the hot corner, so he's a true two-way player. That's not who Headley is right now though, at least not at the plate. He hasn't hit this year at all, and while the last few weeks have gone better, that's not enough to erase three pretty terrible months.
The Padres missed their best opportunity to trade Headley following that huge 2012 campaign. He is due to become a free agent after the season and has about $5M still coming to him in the second half. I can't imagine the Padres will give him a qualifying offer after the season — the qualifying offer is expected to be north of $15M this winter, and after what happened with Stephen Drew and Kendrys Morales, I think Headley would accept it in a heartbeat — so it won't require a ton to get him in a trade. Nothing as valuable as a first round pick, obviously.
The list of rental hitters traded in recent years includes Kevin Youkilis and Shane Victorino, both of whom were once productive players going through disappointing seasons mired with injury concerns. Youkilis netted the Red Sox two fringe big leaguers (Zach Stewart and Brent Lillibridge) and salary relief while Victorino brought the Phillies a fringe big leaguer (Josh Lindblom), a middling prospect (Ethan Martin), a non-factor player to be named later, and salary relief. Seems like decent framework for a Headley trade, no? He is very much available and I don't think the Yankees would have much trouble actually acquiring him. The question is whether he will produce in the second half.
OF Carlos Quentin
One of the many reasons the Padres can't seem to get out of the gutter are their failed contract extensions. Guys like Cameron Maybin, Cory Luebke, Nick Hundley, and Jeff Gyorko simply haven't lived up to expectations either due to poor performance or injury. Quentin belongs in that botched extensions group as well, though he was already a veteran and established when San Diego gave him four years and $37M three years ago.
The 31-year-old Quentin is hitting a weak .182/.287/.322 (78 wRC+) this season, though he has only appeared in 45 games due to lingering knee problems. He has played in only 331 of 581 possible games (57%) since 2011 due to ongoing problems with both knees, including four surgeries. Quentin hit .262/.356/.498 (137 wRC+) with 53 homers from 2011-13, so up until this season he had always hit when healthy. He was just never healthy.
The Yankees have zero right-handed power on the roster right now — their right-handed hitters have hit 16 (!) homers all season — and Quentin would provide that, at least in theory. He has always been a patient hitter who draws a healthy amount of walks (10.2% from 2012-14) and gets on base, which is something the Yankees lack in general as well. Quentin has zero base-running value and he's more or less a DH who can play the outfield, so if he doesn't hit, he's useless.
Unlikely Headley, Quentin would not be a rental. He is owed roughly $4.5M through the end of the season plus another $8M next season. Unless the Padres eat a bunch of money like the Cubs did with Alfonso Soriano last year, I'm not sure Quentin is someone the Yankees want on their roster despite their need for righty pop. He should come cheap as a salary dump player, but there is no room for a defensively challenged, injury prone player on the roster.
OF Chris Denorfia & OF Will Venable
These two don't have the name value of Headley and Quentin, but they have been quality platoon bats who also provide some value in the field and on the bases. Denorfia, 34, is hitting only .244/.295/.329 (79 wRC+) overall this year, but he has mashed lefties at a .296/.357/.458 (131 wRC+) rate since 2012. It won't exactly solve the team's right-handed power problem, but it would help. Denorfia is a rental. He'll be a free agent after the season.
Like so many of his teammates, the 31-year-old Venable is having an awful year, hitting .201/.258/.277 (54 wRC+) overall. Just last season he managed a .268/.312/.484 (122 wRC+) line, and since 2012 he's hit .252/.311/.417 (104 wRC+) against righties. Introduce him to Yankee Stadium and the short porch and his power output should tick up. Venable is arbitration-eligible for the fourth time as a Super Two next season, though his salary won't be anything crazy. He's making $4.25M this year. A year ago, both Denorfia and Venable would have been solid additions. This year, they aren't worth much thought because they've stunk.
* * *
Outfielder Seth Smith would have been the best fit for the Yankees as a left-handed power-hitter for right field, but San Diego gave him a two-year contract extension two weeks ago. Jon Heyman says the Padres told Smith he will not be traded following the extension, so forget about that. He is hitting .283/.387/.508 (155 wRC+) with ten homers and would have been a wonderful fit as a rental right fielder. Too bad he's off the table now.
Aside from the prospect of buying super low on Headley and hoping he rebounds in the second half, the Padres don't have many quality position players to offer in a trade this summer. I'm guessing they would move Quentin today if some team was willing to take on his contract, and neither Denorfia or Venable are impact players even when they're at their best. They're just quality role players. If the Yankees can get Headley for a Youkilis or Victorino-esque package, they should be all over him. Other than that, there aren't many reasons to call San Diego this trade season.
Four questions and four answers this week. Remember to use the Submit A Tip box in the sidebar to send us anything throughout the week, mailbag questions or otherwise.
Travis asks: Do you think a trade with San Diego for Chris Denorfia could work? Denorfia had a .337/.390/.500 slash line with 15 walks and 16 strikeouts in 178 at bats against lefties in 2012.
Denorfia, 32, has very quietly emerged as one of the best right-handed platoon outfielders in baseball over the last few seasons. Since joining the Padres in 2010, he's hit .281/.339/.423 (115 wRC+) overall and .323/.388/.468 (142 wRC+) against southpaws. He rarely strikes out (9.9 K%) against left-handers, can steal the occasional base, and grades out as average or better defensively in the corners. Denorfia would be a fantastic target for that righty outfield platoon bat role, but the Padres just signed him to a two-year extension and I doubt they're looking to trade him.
Now, Denorfia is not San Diego's only right-handed platoon bat. They also have 28-year-old Jesus Guzman, who's hit .276/.339/.439 (118 wRC+) overall as a big leaguer and .311/.387/.509 (150 wRC+) against lefties. He doesn't make as much contact as Denorfia (16.0 K%) and he won't steal as many bases, but he draws walks (10.4 BB%) and can play all four corner positions while also filling in at second in a pinch. Guzman was a bit of a late-bloomer who didn't stick in the show until 2011.
While Denorfia just received his new contract, there was actually some talk the Padres might non-tender Guzman a few weeks ago. I was planning to write a Scouting The Market post the very next day had they cut him loose. Instead, they're going to bring him to camp and see how the bench shakes out. If there's no room — San Diego has a ton of bench players to sort through in Spring Training — they could trade him or just option him down to Triple-A for depth. Denorfia would be nice, but I think there's a much better chance of Guzman actually being available at some point. Needless to say, the Yankees should have interest in both.
A few people asked: What about Domonic Brown?
It's that time of year again, huh? The Phillies continue to show no interest in giving the 25-year-old Brown a legitimate chance, this time signing Delmon Young (!) to play right field everyday. Not only are they not giving him a chance, but now they're slapping him in the face in the process.
Anyway, I'm pretty much over Brown at this point. He didn't look so hot during his 212 plate appearance cameo last summer (.235/.316/.396, 91 wRC+), plus he played awful defense. Like, maybe he should be a first baseman defense. Brown is out of options, meaning he'll have to go through waivers to go back to Triple-A, plus the Yankees don't really have a need for another left-handed hitting outfielder. I suppose there's the DH spot, but meh. The Phillies did Brown no favors by jerking him around these last few years, but at some point we have to assign some blame to the player as well. I'm at that point and wouldn't give up much of anything for him.
Justin asks: With the Diamondbacks loaded on young pitching, should the Yankees try and pry away Pat Corbin from them?
Corbin, 23, was part of the trade that sent Dan Haren to the Angels a few years ago. He made his big league debut last season and pitched to a 4.54 ERA (4.00 FIP) in 107 innings spread across 17 starts and five relief appearances. The strikeout (7.23 K/9 and 18.9 K%), walk (2.10 BB/9 and 5.5 BB%), and ground ball (45.7%) rates were all pretty strong. Certainly a solid showing for a rookie.
The Diamondbacks added yet another young arm yesterday, getting Randall Delgado in the Justin Upton trade. Delgado, Corbin, and Tyler Skaggs (another part of the Haren trade and one of the best pitching prospects in baseball) will compete for the team's fifth rotation spot in Spring Training. The two losers will go to Triple-A and serve as depth. Kevin Towers is a pitching guy and will stockpile arms until the cows come home.
Baseball America (subs. req'd) said Corbin "projects as a No. 4 starter" before last season because he doesn't light up the radar gun and none of his offspeed pitches is a true swing-and-miss offering. He's almost like a left-handed (and slightly younger) David Phelps. That's someone who is nice to have, but not someone you go all out to acquire. Corbin would be nice to have in stock come 2014 after Hiroki Kuroda, Andy Pettitte, and Phil Hughes all hit free agency, but I think the Yankees should use their trade chips to acquire a bat first. That's a much more pressing need.
Tucker asks: Back in the 2010-11 offseason, there was speculation of a Robinson Cano-for-Matt Kemp trade. In hindsight, would you have made the move?
I'm pretty sure that was much earlier than 2010-2011, no? I thought it was during the 2008-2009 offseason, after Robbie had his awful year. That's usually when fans conjure up trade scenarios for players, after their down seasons. Anyway, I remember the idea was to trade Cano for Kemp and sign Orlando Hudson to take over at second base.
I was all for that trade at the time (not so much signing Hudson, but I digress) because I thought Kemp would turn into a star (he has!) and Cano would settle in a solid second baseman (he's been much, much better than that). That was back when the Yankees were looking at replacing both Johnny Damon and Hideki Matsui in the near future, and before they acquired Nick Swisher or had seen what Brett Gardner could do in a full season. There was a need for an outfielder and I was all for such a trade.
Now, looking at this in hindsight is another matter. Cano's been the better hitter (138 vs. 135 wRC+), the better defender (by a mile), and the healthier player (again by a mile) over the last four seasons. Kemp has the advantage in base-running (by a mile) and in terms of contracts ($21M vs. $39M). Despite the significant difference in salary, I would have not done that trade in hindsight. I valuable durability and Cano never ever misses a game. But, as I said, I was all for it at the time and it's not like Kemp is chopped liver either.