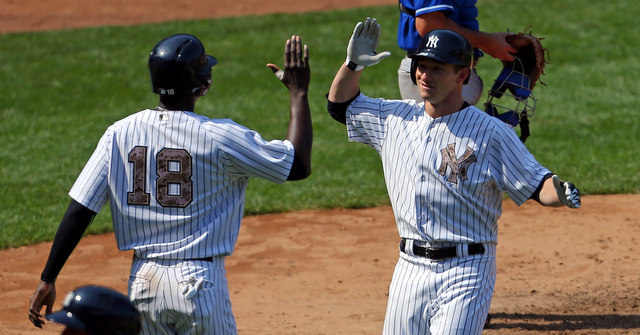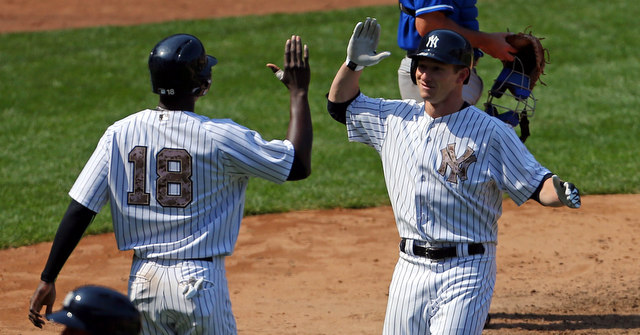 Twelve days from now, the Yankees and every other team in baseball will be able to expand their rosters and carry up to 40 active players. September call-ups are somewhat controversial, lots of people don't like seeing the final month of the season played with different rules, but I'm a fan of expanded rosters. Players get worn down during the course of the season, so the extra bodies in September are welcome.
For the 2015 Yankees, expanded rosters will be about much more than adding a third catcher or some spare arms for blowouts. They will be in position to add some real weapons to the roster even though most call-ups will be used in limited roles. Still, adding the extra players will be very beneficial. The Yankees have used their depth quite a bit this season and next month they'll be able to have everyone on the roster at once.
During an interview with YES over the weekend, Brian Cashman said the player development staff has been told to prepare for mass call-ups on September 1st, so the Yankees won't waste any time. They're not going to wait for the Triple-A postseason to end or anything like that. The big league team is the priority and the Yankees are going to call guys up as soon as possible. Here's a breakdown of who we will and could see next month.
Locks To Be Called Up
During that YES interview, Cashman said "any and all" of the relievers who have been shuttled up and down this summer will return in September, and it's a long list. Caleb Cotham, Nick Goody, Branden Pinder, and Nick Rumbelow are the notables. (Rumbelow is up right now but that could change in a day or two the way things have been going this year.) Those are four extra arms on the 40-man roster who will be able to soak up any miscellaneous innings.
On the position player side, Slade Heathcott and Jose Pirela are safe bets to be called up to serve as the extra outfielder and extra infielder, respectively. Both are still on the 40-man and were up earlier this year — Pirela was sent down due to performance, Heathcott got hurt — and both offer different things. Heathcott adds speed and defense, Pirela offers versatility and another right-handed bat. Heck, I wouldn't be completely surprised if Heathcott snuck onto the potential postseason roster as a pinch-running specialist.
Called Up If Healthy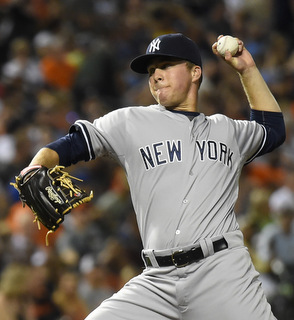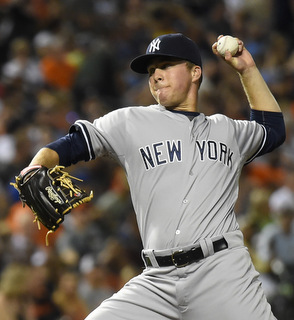 Bryan Mitchell was just placed on the 7-day concussion DL after taking a line drive to the face, though earlier this week Joe Girardi told Chad Jennings there's a chance Mitchell will be back in the bullpen within a week. That sounds … optimistic. Either way, Mitchell will be on the roster in September if he's healthy. No reason to expect otherwise. He's been on the 25-man roster for a big chunk of the year already.
Righty Chris Martin and lefty Jacob Lindgren are both on the Triple-A DL with elbow problems and figure to return in September, if healthy. Lindgren had surgery to remove bone spurs and the Yankees have said they expect him to return this year, so it's just a question of whether he gets through his rehab in one piece. The nature of Martin's injury is unknown. We're just going to have to wait and see whether he's healthy and able to pitch in September.
The Obligatory Third Catcher
Cashman confirmed the Yankees will call-up a third catcher because duh. Every team brings up a third catcher. The only catcher on the 40-man roster aside from Brian McCann and John Ryan Murphy is Gary Sanchez, who has hit a bit of a wall with Triple-A Scranton after crushing the level immediately after his promotion. Austin Romine has had a nice year too, but he's not on the 40-man roster. My guess is Sanchez gets the call as the third catcher but rarely catches, sorta like Jesus Montero in 2011. (Also, Romine would require clearing a 40-man spot.) That is especially true if the race for a postseason spot goes right down to the wire, as expected. Sanchez might only catch in blowouts or after the team clinches all it can clinch.
Likely To Be Called Up, But Not Locks
There's really only one player in this category: Rob Refsnyder. He's had a good year in Triple-A, not a great year, and his brief four-game cameo in pinstripes earlier this year was a bit of a mixed bag. Some good, some not so good. There have been unconfirmed reports floating around that the Yankees were less than enthused with Refsnyder's attitude during his call-up — not so much that he didn't work hard, but that he was arrogant and acted entitled — and I suppose the club could keep him down in September as something of a wake-up call. My guess is Refsnyder comes up and takes second base platoon at-bats away from Brendan Ryan. I just wouldn't put his chances at a call-up at 100%. Maybe it's more like 95% or so.
Unlikely To Be Called Up
Among the healthy 40-man roster players, the only one who I think has less than a 50/50 chance of getting a September call-up is Tyler Austin. Another righty bat would be neat, but Austin's had a very rough year and was recently demoted from Triple-A Scranton to Double-A Trenton. Players who have struggled like Austin usually don't get called up unless there's no other option. There's a "reward" aspect to being a September call-up, and he didn't earn this year.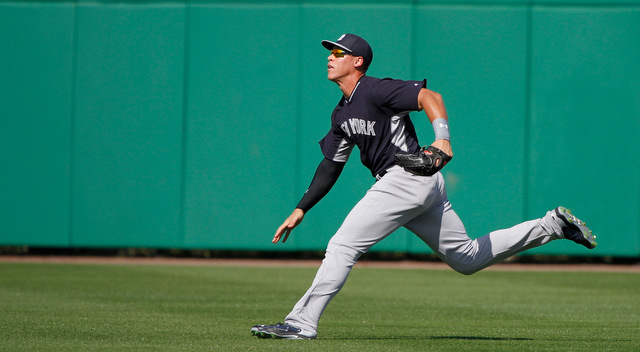 The biggest name among non-40-man players is Aaron Judge, the team's top prospect. The Yankees added both Refsnyder and Greg Bird to the 40-man early and called them up this year, but they were both performing in Triple-A. Judge has been striking out a ton of late and he won't be Rule 5 Draft eligible for another few years, not another few months. I would be surprised if the Yankees tied up another 40-man spot by adding Judge. His time will come eventually. Just probably not this September.
Other non-40-man players I don't expect to be called up in September: Ben Gamel, Brady Lail, James Pazos, and Johnny Barbato. Lail and Barbato just reached Triple-A and there are too many arms ahead of them on the depth chart to add them to the 40-man roster early. Gamel's had a breakout season and I wouldn't necessarily put his call-up chances at 0%. Heathcott will fill the "extra lefty hitting outfielder" role though, and I'm not sure the Yankees should clear a roster spot to add another. Pazos could be a victim of the number's crunch more than anything. There simply might not be any room for another lefty reliever.
The Non-40-Man Wildcard
The non-40-man player who I think has the best chance of being called up in September is Andrew Bailey. He's working his way back from shoulder surgery and been able to stay healthy for a few weeks now, plus he's pitched effectively in all sorts of situations (back-to-back days, multiple innings, etc.) in the minors. The Yankees have put a lot of time and effort into helping him rehab these last two years, remember.
Cashman admitted Bailey was recently held out of a Triple-A game in case he needed to be called up to help the tired bullpen, but that didn't happen. Bailey wasn't needed. That they've already come thisclose to calling Bailey up this month leads me to believe they will bring him to the show once rosters expand. Bailey hasn't pitched in MLB since getting hurt in July 2013. It's been a long and difficult road back. Hopefully he stays healthy these next two weeks and gets the call in September.
The 40-Man Situation
The 40-man roster is full right now. It's actually extra full. The Yankees have four players on the 60-day DL (Sergio Santos, Diego Moreno, Mason Williams, Chase Whitley) and none of them will be ready to be activated in September following their season-ending surgeries. The Yankees will need to clear a spot to call up, say, Bailey or Romine, and there are a few ways to do that.
First and foremost, the Yankees could call up an injured 40-man roster player and place them on the 60-day DL. Martin (elbow) and Domingo German (Tommy John surgery) are two candidates for that move. The Yankees haven't done the call-up/60-day DL thing often — they did it with Justin Maxwell and Heathcott a few years ago, that's pretty much it — but it is an option. Not wanting German to accumulate service time is understandable. Martin though? Who cares. Of course, he'd have to actually be hurt to pull this move. Can't 60-day DL a healthy player.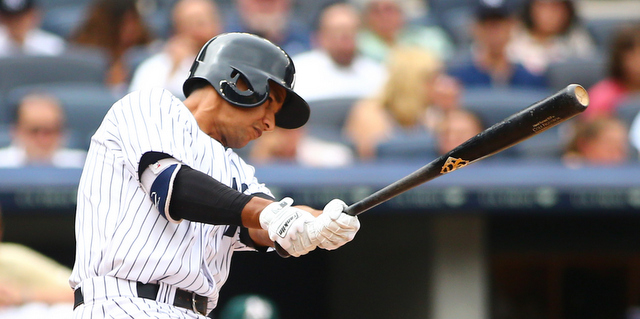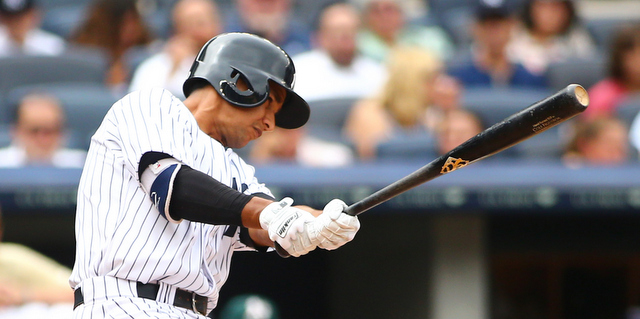 The Yankees could always outright or designate a player for assignment to clear 40-man space. There just aren't many obvious candidates. Perhaps they'll decide to cut Chris Capuano again in September since they'll have all the extra relievers and won't necessarily need a long man. Cole Figueroa could also get the axe, especially if Refsnyder does get called up and/or Dustin Ackley gets healthy. Martin? He could lose his 40-man spot if healthy as well.
Capuano, Figueroa, and Martin are the three main 40-man casualty candidates. It would be a surprise if the Yankees dropped someone like Austin, Pirela, or Cotham from the roster. Those guys are probably the next three in line, if anything. Aside from Bailey and maybe Romine, the Yankees don't figure to need any 40-man spots this September, though they could clear two with the call-up/60-day DL move. We'll see.
* * *
Once September rolls around, the Yankees will obviously add a bunch of pitchers and a third catcher, plus a few extra position players. The extra arms will be a huge help, the bullpen has worked a ton this year, and Refsnyder could really help if he gets those platoon at-bats instead of Ryan. If not him, then Pirela. Also, Heathcott could be a factor as a defensive replacement/pinch-runner.
No one in their right mind is an expecting major impact from a September call-up — guys who do what Francisco Rodriguez did in 2002 are extremely rare — but they can help in limited roles. Those extra pitchers and platoon bats and pinch-runners are valuable in their own way. Given how tight the AL East race is at the moment, every little upgrade helps. September call-ups this year will be about more than resting regulars in blowouts.