The Yankees have lost more than their fair share of players to injury this spring, most notably losing Mark Teixeira (wrist) and Curtis Granderson (forearm) for the first month of the season. Lesser injuries to Clay Rapada (shoulder) and Boone Logan (elbow) threaten the Opening Day bullpen. The Bombers have the depth to replace the two left-handed relievers if need be, but replacing the first baseman and center fielder will be impossible.
"This ain't good," said Brian Cashman to Mark Feinsand following Teixeira's injury. "We'll just wait and see. What we have in our camp is what we'll continue to evaluate, and we have at our disposal potential casualties from other camps … It's not the time of year to try to make any moves. Usually movement takes place after the draft unless people are trying to cut garbage."
At this time of year, that "garbage" is typically players who are out of minor league options and can't go to Triple-A without passing through waivers. A handful of these guys are traded in late-March every season as clubs finalize their roster and try to turn spare parts into something useful. Chris Stewart is a perfect example — he was out of options last year, so when the Giants didn't have room for him on the roster, they made a small trade with the Yankees. Happens every single year.
Unfortunately for the Yankees, this spring's crop of out of options players is rather unappealing. Lots and lots of fringy relievers, it seems. There isn't much potential help in that garbage pile for Cashman, not even decent depth players for first and the outfield, nevermind a legitimate starting caliber position player. Here are three out of options guys who might help New York if they become available before the start of the season.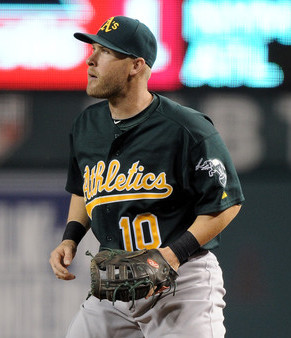 Daric Barton, Athletics
Barton, 27, was a sabermetric darling a few years ago, when he hit .273/.393/.405 (126 wRC+) with more walks (110) than strikeouts (102) in 686 plate appearances for the 2010 Athletics. He's been hurt and ineffective since, putting up a .209/.329/.275 (75 wRC+) in 416 plate appearances from 2011-2012 while battling injuries to both shoulders — he had labrum surgery on the left shoulder in September 2011.
Oakland is set to go with the left-handed hitting Brandon Moss at first base — with various platoon partners — making the left-handed hitting Barton expendable. The Yankees have a similar hitter in Dan Johnson already in camp, except he will actually hit for some power in addition to drawing a ton of walks. Barton is a better defender at first, but he hasn't been healthy and he hasn't hit. I'm not sure he's much of an upgrade over what New York already has in-house.
Casper Wells, Mariners
I think the 28-year-old Wells has gotten pretty overrated in recent weeks. The right-handed hitter owns a .264/.349/.489 (132 wRC+) line with a 10.2% walk rate against lefties in his career, but that has come in 313 plate appearances spread across three years. Those three small samples — career-high in plate appearances against a lefty is 151 last season — smashed together doesn't really paint an accurate picture of what he can provide.
That said, Wells is better than most of what the Yankees have in camp. He is a (much) better defensive player than the established veterans like Juan Rivera, Ben Francisco, and Matt Diaz, and he has more of a big league track record than the youngsters like Melky Mesa and Zoilo Almonte. Since the Yankees will need a right-handed hitting outfielder even after Granderson returns, picking Wells up would be more than a one-month stopgap. The Mariners are overloaded with corner outfield and DH types, so he could become available. He's useful, I just think he's gotten a little overrated lately.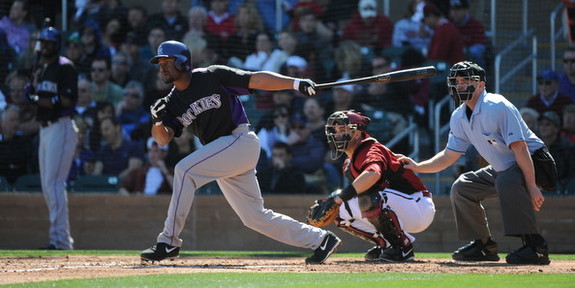 Chris Nelson, Rockies
Nelson, 27, hit .301/.352/.458 in 377 plate appearances last summer and .284/.327/.427 in 593 career plate appearances overall. Pretty solid right? Well, he's a Rockie and when you adjust that stuff for Coors Field, you get a 105 and 90 wRC+, respectively. Not too hot all of a sudden.
Anyway, Nelson has a little bit of pop from the right side and can play the three non-first base infield positions in a pinch. He's not a great defender but he is better than Eduardo Nunez, plus he offers a little more with the bat than Jayson Nix. The Yankees have talked about using Kevin Youkilis at first base and finding a new third baseman while Teixeira is out, though I wouldn't recommend playing Nelson everyday. He could fit as a bench player though, representing a tiny little upgrade over what New York already has in-house. Given where they sit on the win curve and what they've lost due to injury, grabbing every little upgrade possible is a wise idea.