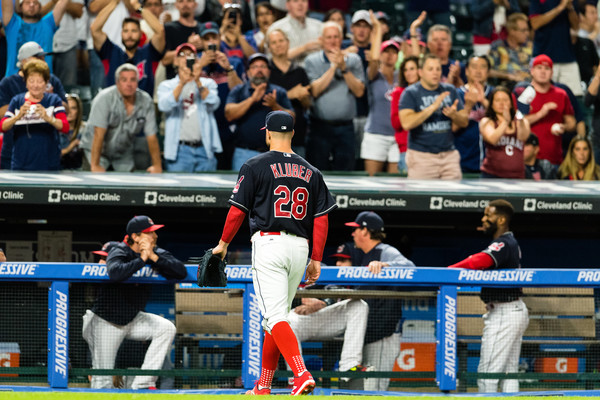 A debt of gratitude is owed to the Orioles and Indians, who combined to win 5 of 7 against the Red Sox last week. As a result of this (and taking two of three from both the Tigers and the Mariners), the Yankees are now within 2.5 games of first place, with four games against the Sox this coming weekend. That doesn't mean that the Yankees should be looking beyond this series, though, as the Indians are arguably among the five best teams in baseball.
The Last Time They Met
The Yankees and Indians split a four-game series in Cleveland earlier this month. You may remember this as the series in which Joe Girardi called out Gary Sanchez for his defensive effort, and benched him for a game. That seems so long ago, doesn't it? Some other notes from the series:
Sonny Gray made his Yankees debut in the first game, and was treated to some horrendous defense. He pitched to the following line: 6.0 IP, 4 H, 4 R (2 ER), 3 BB, 6 K.
Jaime Garcia made his debut the next day, and also dealt with some lackluster defense in the form of a Sanchez passed ball. Unlike Gray, though, he was kind of bad, going 4.2 IP and allowing 5 hits, 6 runs, and 4 walks, while striking out 4.
Game three was much more fun for Yankees fans, as Jordan Montgomery had a great start (5.0 IP, 3 H, 1 R, 0 BB, 7 K), and Headley hit a clutch go-ahead home run in the bottom of the 8th, as the good guys won 2-1.
And, to make this a pitcher-friendly section, Luis Severino was dominant (if inefficient) in the last game. He went 6.2 IP and allowed just 2 hits, 1 run, and 1 walk, while striking out 9. It took him 107 pitches to do so, as his control was a bit off. His stuff was so good that it didn't matter.
Check out Katie's Yankeemetrics post for more in-depth information.
Injury Report
Cleveland is pretty banged-up right now, with a slew of talent on the disabled list. Michael Brantley, Lonnie Chisenhall, Jason Kipnis, former Yankee Boone Logan, former Yankee Andrew Miller, and Danny Salazar are all out with injuries, and their returns are up in the air. There's an outside chance that Brantley and Chisenhall could be back for this series, but no announcement has been made as of this morning. The rest will not be back until September (aside from Logan, who's likely done for the year).
Their Story So Far
The Indians are currently 73-56, with a 6.5 game lead in the AL Central and a +145 run differential (good for third in the majors). They've won four in a row, even as they deal with the aforementioned injuries, and rank among the most formidable teams in the game. They're second in the majors in runs allowed and eighth in runs scored, and they stand to get better in the coming weeks.
Post-non-waiver deadline acquisition Jay Bruce has been incredible for the Indians, batting .311/.391/.590 (159 wRC+) with 4 HR and 13 RBI in 17 games. His presence has allowed the team to replace Brantley without missing a beat, even improving the heart of their order along the way.
The Lineup We Might See
Despite his willingness to buck common practice with his bullpen, manager Terry Francona has had a mostly steady hand with the lineup. The only reason for whatever shake-ups have occurred are rooted in injuries – and that works just fine for them. Here's the group that we'll probably see in Yankee Stadium this week:
Francisco Lindor, SS
Austin Jackson, LF
Jose Ramirez, 2B
Edwin Encarnacion, 1B
Jay Bruce, RF
Carlos Santana, 1B
Yandy Diaz, 3B
Bradley Zimmer, CF
Yan Gomes, C
The Starting Pitchers We Will See
Monday (7:05 PM EST): RHP Luis Severino vs. RHP Corey Kluber
If you prefer traditional statistics, Kluber may well be the best pitcher in the American League. He leads the Junior Circuit in ERA, WHIP, and H/9; and, if you want to go by a bit more advanced measures, he also leads in ERA+ and bWAR. Kluber is averaging 12.3 K/9 and 1.9 BB/9, as well, both of which are second to Chris Sale. In short, he's an ace – and the Yankees saw that first-hand on August 3 (9 IP, 3 H, 1 R, 1 BB, 11 K).
Last Outing (vs. BOS on 8/23) – 7.2 IP, 4 H, 2 R, 1 BB, 12 K
Tuesday (7:05 PM EST): LHP Jaime Garcia vs. RHP Trevor Bauer
Bauer has had a middling 2017, which is par the course for his career. His 4.59 ERA is good for a 101 ERA+, and his 3.88 FIP is just about league-average. He's a perfectly fine back-end starter, whose high-level stuff and draft pedigree (he went 3rd overall in a loaded 2011 draft class) make fans desperate for more.
Last Outing (vs. BOS on 8/24) – 5.1 IP, 7 H, 4 R, 3 BB, 8 K
Wednesday (1:05 PM EST): LHP CC Sabathia vs. RHP Josh Tomlin
I have long referred to Tomlin as a crafty lefty that just so happens to throw with his right hand, and I will stick to that for as long as he's in the majors. That's just the sort of pitcher that he is, and I am constantly baffled when I see him pitch. He has been on the disabled list since the end of July, so Wednesday will be his first appearance in just over four weeks.
Tomlin is a four-pitch guy, with a couple of fastballs in the upper-80s (four-seamer and cutter), a low-80s change-up, and a mid-70s curveball.
Last Outing (vs. CHW on 7/30) – 4.0 IP, 0 H, 0 R, 0 BB, 5 K
The Bullpen
Injuries to key relievers has not slowed down this group, as the Indians bullpen sports a 2.99 ERA in 390.2 IP, along with 2.93 BB/9 and 10.1 K/9. It's a strong bullpen from top to bottom, and, amazingly, that's true with Andrew Miller and his 1.65 ERA, 13.0 K/9, and 2.8 BB/9 on the disabled list.
Cody Allen handles the closer role, and he's sitting on a 2.94 ERA and 12.1 K/9. Former Yankees Nick Goody (2.98 ERA and 12.5 K/9) and Zach McAllister (2.52 ERA and 9.6 K/9) join Bryan Shaw (3.25 ERA) in the middle innings, and deadline pick-up Joe Smith (3.25 ERA and 12.2 K/9) has slid into a set-up role.
Who (Or What) To Watch
I'm ridiculously excited to see Luis Severino versus Corey Kluber tonight, even though I fear what Kluber can do to this (or any) lineup on a given night. These are two of the best pitchers in baseball right now (top-four in the majors by fWAR, top-four in the AL by bWAR), so you couldn't ask for much more.
And, as always, Francisco Lindor is a joy to watch.