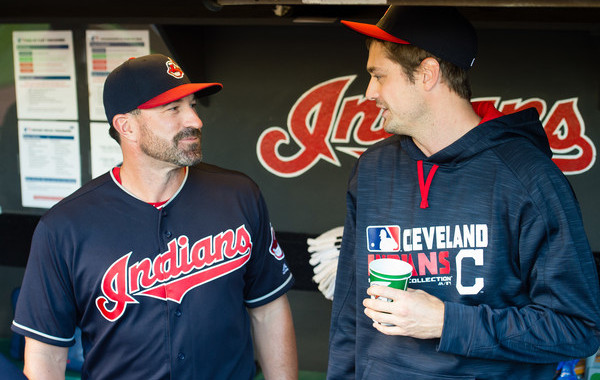 This quick little five-game homestand wraps up this weekend with a visit from the first place Indians. That means Andrew Miller is back in the Bronx for the first time since the Yankees traded him away five whole days ago. The Yankees took three of four from the Tribe in Cleveland right before the All-Star break.
What Have They Done Lately?
The Indians have been struggling a little bit recently. They managed to beat the Twins yesterday, which allowed them to avoid a four-game sweep at home by Minnesota. Yikes. That's not good. The Tribe is still 61-45 with a +85 run differential overall. That's the second best record (behind the Rangers) and second best run differential (behind the Blue Jays) in the AL.
Offense & Defense
When you're as good as the Indians, chances are you have an above-average offense, and sure enough this club is scoring exactly 5.00 runs per game with a team 105 wRC+. That's really good. They're doing that without OF Michael Brantley, their best all-around hitter. He's played only eleven games this season due to ongoing shoulder trouble. Brantley is still on the DL and won't be active this series. C Yan Gomes (shoulder) is out too.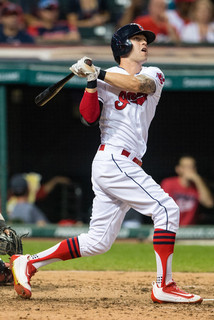 I mentioned this the last time these two clubs played, but Indians manager Terry Francona uses platoon leadoff hitters. OF Rajai Davis (94 wRC+) leads off against lefties while 1B/DH Carlos Santana (122 wRC+) gets the call against lefties. 2B Jason Kipnis (123 wRC+), SS Francisco Lindor (118 wRC+), and 1B/DH Mike Napoli (128 wRC+) follow as 2-3-4 hitters. Santana hits fifth when he's not leading off, otherwise that lineup spot goes to 3B Jose Ramirez (111 wRC+).
OF Tyler Naquin (174 wRC+) and OF Lonnie Chisenhall (119 wRC+) are Cleveland's other regular outfielders. C Chris Gimenez (32 wRC+) and C Roberto Perez (11 wRC+) split time behind the plate with Gomes out. If the Tribe had their way, Jonathan Lucroy would be their catcher, but he vetoed a trade last weekend. IF Erik Gonzalez (-12 wRC+), OF Brandon Guyer (114 wRC+), and OF Abe Almonte (97 wRC+) are the other bench players.
The Indians really improved their defense this year by putting Lindor at short and Naquin in center. Davis and Napoli help too, though going from Juan Uribe to Ramirez at the hot corner is a downgrade. (Uribe was designated for assignment a few days ago.) Chisenhall and Kipnis are just okay. Perez can really throw when he's behind the plate. Gimenez? Not so much.
Pitching Matchups
Friday (7:05pm ET): RHP Michael Pineda (vs. CLE) vs. RHP Josh Tomlin (vs. NYY)
The internet tells me Tomlin broke into the big leagues in 2010 and is already 31. What?!? Doesn't it feel like he just got called up? It does to me. Anyway, Tomlin has a 3.43 ERA (4.81 FIP) in 19 starts and 120.2 innings this season. He never walks anyone (2.8%), but his strikeout (17.6%), grounder (41.0%), and homer (1.86 HR/9) rates all leave something to be desired. Righties have hit him a bit harder than lefties, which is not unusual. He's had a reverse split his entire career. Tomlin sits in the mid-80s with his cutter, which is his main fastball. He also throws an upper-80s four-seamer, but that's basically a get-me-over pitch when he needs a strike. Low-80s changeups and mid-70s curveballs are his two secondary pitches. The Yankees did not see Tomlin in Cleveland a few weeks back.
Saturday (1:05pm ET): LHP CC Sabathia (vs. CLE) vs. RHP Corey Kluber (vs. NYY)
Kluber, 30, has firmly established himself as one of the best pitchers in the AL over the last few years. He's pitched to a 3.27 ERA (2.86 FIP) in 21 starts and 143 innings this season, and his peripherals are phenomenal: 25.5% strikeouts, 5.8% walks, 46.7% grounders, and 0.69 HR/9. Pretty, pretty good. Lefties have had a tad more success against him than righties. The Klubot is a low-to-mid-90s sinker pitcher who uses a four-seam fastball at similar velocity in need-a-strike situations. His low-80s slider is one of the best breaking pitches in baseball. It's filthy. He also throws upper-80s cutters and low-80 changeups. Filthy, filthy stuff. Kluber held the Yankees to one run in eight innings last month.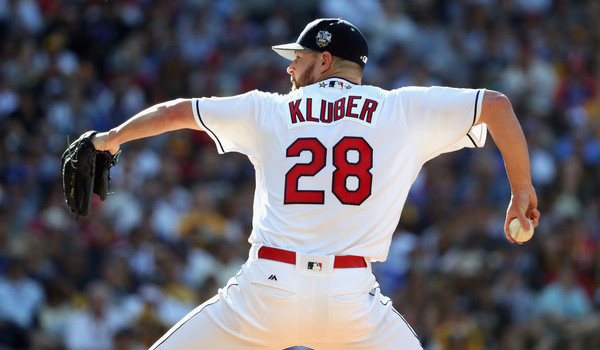 Sunday (1:05pm ET): RHP Masahiro Tanaka (vs. CLE) vs. RHP Carlos Carrasco (vs. NYY)
Last year the 29-year-old Carrasco became a stathead darling by having a much lower FIP (2.84) than ERA (3.63). This year the opposite is true (3.12 ERA and 4.30 FIP). Carrasco has thrown 95.1 innings in 16 starts around a hamstring injury, and aside from his homer rate (1.42 HR/9), his underlying numbers are pretty good (22.7 K%, 7.3 BB%, 50.4 GB%). He has no platoon split because he uses five pitches regularly, led by his mid-90s four-seamer and sinker. Both his upper-80s slider and low-90s changeup are legitimate put-away pitches, and he'll also throw a bunch of mid-80s curveballs per start too. The Yankees roughed Carrasco up for five runs in 3.2 innings when these teams met in Cleveland before the All-Star break.
Bullpen Status
The Indians have remade their bullpen over the last few weeks, and not just by adding Miller. They've swapped out some middle and long relievers too as they try to find the right mix. Here is the seven-man relief crew Francona has at his disposal:
Closer: RHP Cody Allen (2.54 ERA/3.53 FIP)
Setup: LHP Andrew Miller (1.53/1.97), RHP Bryan Shaw (3.80/4.51)
Middle: LHP Kyle Crockett (5.40/2.04), RHP Zach McAllister (5.34/4.62), RHP Dan Otero (1.60/2.58)
Long: LHP Ryan Merritt (0.00/2.39)
That Miller guy is pretty good. I hear he has a nasty slider. Francona hasn't had much of a chance to use his bullpen the way he wants of late, but he's expected to match up with Miller and Shaw ahead of Allen, the closer. Otero is the trusted No. 4 guy and Crockett is more of a left-on-left matchup guy than a full inning lefty.
Francona has had to use his bullpen quite a bit the last few days. Otero (12), Miller (18), Shaw (18), and Merritt (12) all pitched yesterday. Otero has pitched each of the last three days and both Crockett and McAllister have pitched three times in the last five days. Our Bullpen Workload page will keep you updated on Joe Girardi's recent reliever usage.