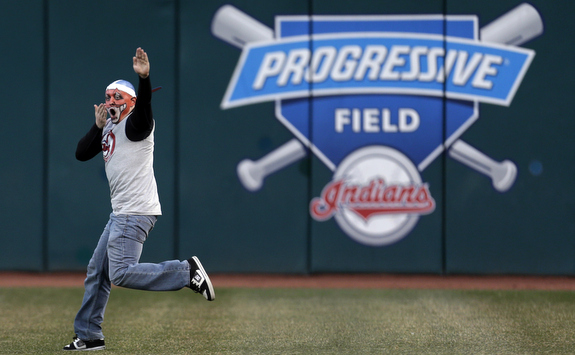 The Indians are the only AL team the Yankees have yet to play this season, and that'll change today, with the first of three games in Cleveland. This is the start of a six-game road trip for the Yankees and the first of 16 games in 16 days.
What Have The Indians Done Lately?
The Tribe took two of three from the fading Twins at home over the weekend and they've won three of their last five games overall. I picked the Indians to go to the World Series! So, naturally, they are in the AL Central cellar and way out of the wildcard race at 51-59 with a -21 run differential. Not this year, Cleveland.
Offense & Defense
The Indians have failed to meet expectations in many ways this season, including offensively. They're a slightly below-average club that is scoring 4.02 runs per game with a team 99 wRC+. Cleveland is missing 2B Jason Kipnis (146 wRC+), who is having an incredible season, but had to be placed on the DL last week with a shoulder issue. He's out this series. The Yankees catch a bit of a break there.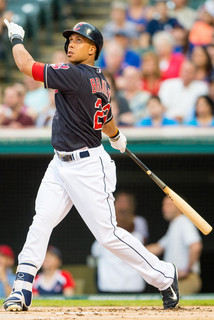 Manager Terry Francona's lineup is led by OF Michael Brantley (137 wRC+), who was a legitimate MVP candidate last year and has been merely excellent this season. 1B Carlos Santana (109 wRC+) is the team's only other reliably above-average everyday hitter. UTIL Ryan Raburn (137 wRC+) has performed well in a platoon role and C Roberto Perez (111 wRC+) is a productive backup catcher, but that's really it. No one else still on the team has been above-average at the plate in 2015.
Top prospect SS Francisco Lindor (88 wRC+ in limited time) and 3B Giovanny Urshela (79 wRC+) were called up a few weeks ago and form the new-look left side of the infield. IF Jose Ramirez (61 wRC+) is filling for Kipnis at second and Brantley is currently joined by former Yankees farmhand OF Abe Almonte (106 wRC+ in very limited time) and UTIL Jerry Sands (102 wRC+) in the outfield. They traded Nick Swisher, Michael Bourn, and Brandon Moss within the last two weeks or so. C Yan Gomes (72 wRC+), 3B Lonnie Chisenhall (70 wRC+) and IF Chris Johnson (75 wRC+) are also on the roster.
Aside from Lindor and Urshela, who are top notch glove men, the Indians have a brutal team defense. Well, it has gotten better with Almonte playing center and Ramirez filling in at second, but otherwise this one of the worst defensive clubs in baseball. Santana, Sands, Brantley … all below-average in the field. Hit it anywhere but the left side of the infield.
Pitching Matchups
Tuesday (7pm ET): RHP Luis Severino (No vs. CLE) vs. RHP Carlos Carrasco (vs. NYY)
The 28-year-old Carrasco was reportedly on the market before the trade deadline and there was a ton of interest, but the Tribe decided to keep him. Carrasco has a 3.76 ERA (2.82 FIP) in 22 starts and 136.1 innings this season with excellent strikeout (27.1%), walk (5.2%), grounder (51.7%), and homer (0.79 HR/9) rates. He's also owed just $19M from 2016-18 with affordable club options for 2019 and 2020. So yeah, easy to see why teams wanted him and why the Indians kept him. Carrasco has a weird reverse split (.302 vs. .271 wOBA in favor righties) and did last year as well. He's a five-pitch pitcher though it's really more like a four and a half pitch pitcher. He sits in the mid-90s with both his two and four-seam fastball and in the upper-80s with both his changeup and slider. Carrasco also throws a low-80s curveball on occasion, which is his fifth pitch. If it wasn't clear, this dude is a power pitcher. Don't be fooled by the ERA. Blame the defense for that. Carrasco is very good.
Wednesday (7pm ET): LHP CC Sabathia (vs. CLE) vs. RHP Danny Salazar (vs. NYY)
The Indians have nothing but power pitchers in their rotation and Salazar might throw the hardest out of all of 'em. The 25-year-old has a 3.38 ERA (3.46 FIP) in 20 starts and 125.1 innings this season, and both his strikeout (28.1%) and walk (6.9%) rates are dynamite. His grounder (45.0%) and homer (1.15 HR/9) numbers aren't too eye-popping though. Salazar has a tiny platoon split (.286 vs. 281 wOBA in favor of lefties) which isn't too surprising because he's a fastball/changeup pitcher. His four-seamer sits mid-90s and will touch 98-99, and his changeup is a mid-80s offering. Huge difference in velocity. Salazar also throws a mid-80s slider but not often, less than 10% of the time this season.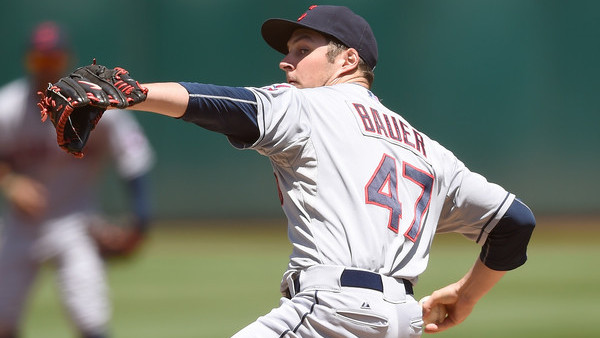 Thursday (7pm ET): RHP Nathan Eovaldi (vs. CLE) vs. RHP Trevor Bauer (vs. NYY)
Bauer, 24, is a classic enigma pitcher with tremendous stuff but infuriating inconsistency. He has a 4.06 ERA (4.38 FIP) in 22 starts and 137.1 innings on the year, but aside from his strikeout rate, his peripherals aren't all that good: 23.8 K%, 9.6 BB%, 39.0 GB%, and 1.38 HR/9. Righties (.308 wOBA) have been insignificantly more successful against him than lefties (.306 wOBA). Bauer is a power kitchen sink guy, if that makes sense. He throws hard and will throw just about anything. Low-to-mid-90s two and four-seamers, upper-80s cutters, mid-80s changeups, low-80s sliders, and upper-70s curveballs. He favors the four-seamer over the two-seamer but has thrown all six pitches at least 9% of the time in 2015.
Bullpen Status
Like the Yankees, the Indians had an off-day yesterday, so their bullpen is as fresh as it's going to get. Closer RHP Cody Allen (4.06 ERA/2.04 FIP) recovered from a brutal start to the season, and these days his primary setup man is former Yankees farmhand RHP Zach McAllister (2.89/2.50), who has found a home in the bullpen. I thought that might happen.
LHP Kyle Crockett (2.57/4.53) is Francona's lone lefty reliever. RHP Bryan Shaw (1.99/3.91), RHP Austin Adams (3.22/3.50), RHP Shawn Armstrong (one inning this year), RHP Jeff Manship (1.56/3.16), and RHP Ryan Webb (2.70/4.03) are the other righty relievers. They're carrying eight relievers right now because they only have a four-man rotation — Cody Anderson landed on the DL not too long ago and they've been able to skip that rotation spot thanks to off-days. Our Bullpen Workload page can keep you updated on the Yanks' bullpen. Check out Let's Go Tribe and The DiaTribe for the latest on the Indians.