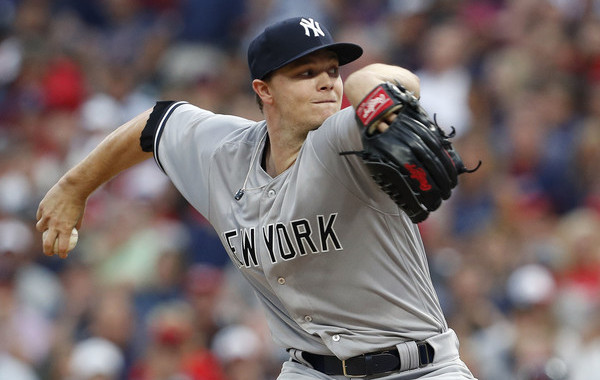 Very nice of the Yankees to allow their big trade deadline acquisition to pitch tonight's game. Sonny Gray has been a Yankee for eleven days now and this will be his second start. It'll be his third start in the last 22 days. 22 days! If nothing else, Sonny should be feeling pretty fresh. That's good, because the Yankees could really use a starter going out and throwing seven innings one of these days. Lots of short starts lately.
In other news, Aaron Hicks is back! Hooray for that. He was activated off the disabled list one day ahead of schedule because Clint Frazier's oblique landed him on the disabled list. Frazier tweaked something during batting practice last night and went for tests today, and apparently the tests showed the injury was severe enough for a disabled list stint. Welcome back, Hicksie. Now go carry the offense. (I kid, I kid. Kinda.) Here is the Blue Jays' lineup and here is the Yankees' lineup:
DH Brett Gardner
LF Aaron Hicks
RF Aaron Judge
SS Didi Gregorius
C Gary Sanchez
3B Todd Frazier
CF Jacoby Ellsbury
1B Garrett Cooper
2B Ronald Torreyes
RHP Sonny Gray
It is cool and cloudy in Toronto this evening, and I'm not sure whether the Rogers Centre roof will be open for the game. There's a little bit of rain in the forecast later tonight, so maybe they'll close it preemptively. Whatever. Not like I'm at the park anyway. Tonight's series finale will begin a little after 7pm ET and YES will have the broadcast. Enjoy the game.
Roster Moves: Like I said, Frazier was placed on the 10-day DL with an oblique strain and Hicks was activated, the Yankees announced. An oblique injury swap. Hicks has been out since June 25th, so more than six weeks now. Frazier's strain is considered mild, though he will be shut down for a week. No swings or legendary bat speed for a while.
Rotation Update: Joe Girardi indicated Jordan Montgomery is likely to start Sunday night, in place of CC Sabathia. Montgomery was sent down Sunday, so Sabathia would have to be placed on the disabled list to bring Montgomery back before his ten days in the minors are up.