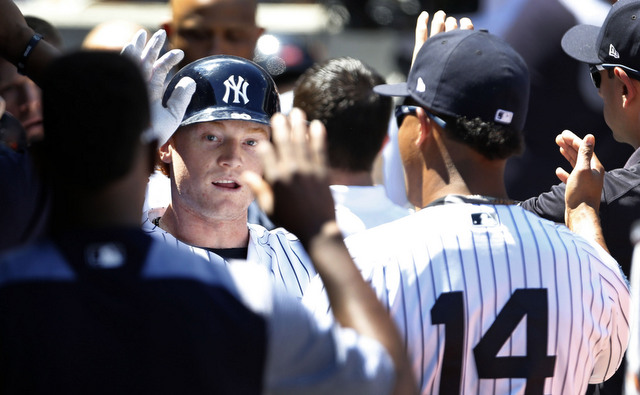 The emergence of Clint Frazier as one of the Yankees' best outfielders this year is a microcosm of the Yankees' 2017 in general. We expected steps forward for the Yankees, but not necessarily in terms of winning games; rather, we expected them to forward the development of young players at the Major League level — like Aaron Judge, Gary Sanchez, Greg Bird, and Luis Severino — while fostering the same thing in minor leaguers like Gleyber Torres and, of course, Frazier. And for Frazier, we expected him to be with the big club, but not until late in this year at the earliest. Instead, somewhat like his team and organization itself, he jumped those expectations and arrived earlier than the schedule originally intended.
Following Tuesday night's action against the Reds, Frazier is hitting .277/.284/.569 with a .347 wOBA (117 wRC+). Of his 18 hits, 11 have gone for extra bases. As Katie pointed out on Twitter, that's just two fewer XBH than Jacoby Ellsbury has in 137 fewer at bats. The good ol' eye test also tells us that Clint stings the hell out of the ball, thanks to his incredibly quick hands that generate great bat speed; the numbers back that up, too. Among players with at least 40 batted ball events, Frazier ranks 28th in the majors, with an average exit velocity of 90.7 MPH. The only wrinkle in Clint's game, it seems, has been a lack of walks (one in 67 plate appearances). It's not as if that's gotten in the way of his production, but it's still curious.
Aside from his 30-game stretch at AAA last year, split between the Yankees and Cleveland's organization, Frazier has always tallied respectable walk rates in the minors. His 2013 stint in rookie ball — and the aforementioned 2016 AAA stint — is the only time he failed to put up a double digit walk rate; even then, it was 8.7%. We could definitely chalk it up to armchair psychological factors: rookie jitters, wanting to impress, the feeling of needing to hit instead of walk to earn a spot on the team. Clint's not necessarily going up there hacking, though. He's seeing 3.96 pitches per plate appearance and, again with the eye test, does seem to have a plan when he's up at the plate. There are numbers, aside from P/PA, to back this up as well.
If we look over Frazier's swing data from FanGraphs, the first thing we notice is a low out-of-zone swing rate of 21.7%. The league average is usually around 30ish, so that's great. In terms of pitches in the zone, he's swinging at 71.5% of those pitches, compared to the average of around 67%. A low O-Swing% and a high Z-Swing% would seem to point to a lot of walks, but that's not the case here. Perhaps, then, the answer can be found in the fact that Frazier sees more pitches in the zone — 54.4% — than the league average of around 45%. Given that number and his high in-zone swing rate, it's a bit easier to see why Frazier isn't taking his walks. Take a look at his heat map, also from FanGraphs: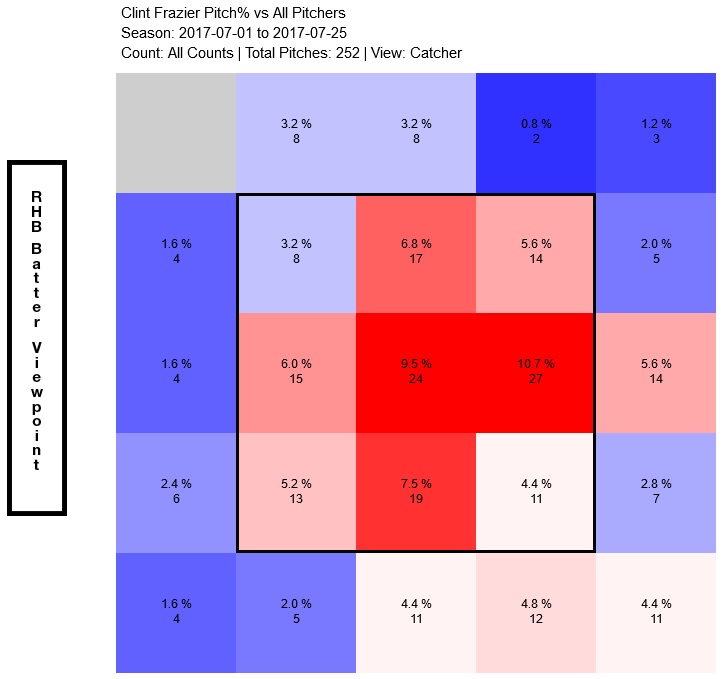 Look at all that red in the zone, especially in the middle portion. Pitchers are pounding him there and he's taking advantage by swinging. Additionally, pitchers are throwing lots of fastballs to Clint. Per Brooks, 196 of the 252 pitches he's seen have been fastballs. Lots of fastballs. Lots of in the zone pitches. A hitter with remarkably quick hands. This isn't too hard to figure out.
As the league adjusts to Frazier, I image he's going to see more pitches out of the zone and more pitches with some wrinkles to them. Given he's done so in the minors and does seem to have a good approach at the plate, I think we'll see him laying off more pitches and taking his walks. Until then, let's enjoy his bat and rejoice that he's taken the "singles are for the weak" approach to hitting.