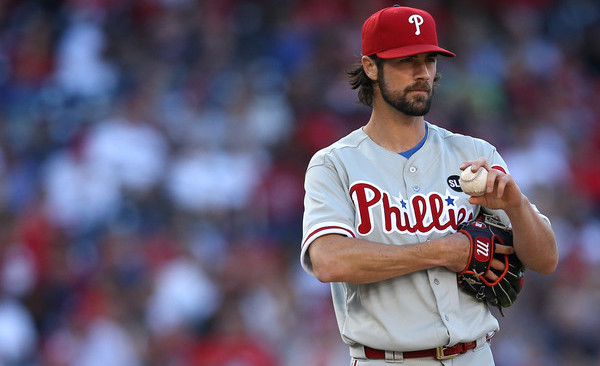 The Yankees are not ruling out a pursuit of the very available Cole Hamels, reports David Lennon. Bob Nightengale reminds us the Yankees are not included on Hamels' no-trade list, so that's not an obstacle. Back in March we heard the Yankees had "come the closest" to landing the Phillies ace in what seemed like an obvious attempt to drive up the price for other teams.
Hamels, 31, allowed five runs in five innings at Yankee Stadium earlier this week, though his defense did him no favors. I've seen plenty of people say Hamels wouldn't survive in the AL and other stuff like that because of that game, but the Yankees aren't stupid. They're not going to read too much into that one start. Hamels has been around a while and one start doesn't supersede his overall body of work.
The Yankees have six starters for five spots … sorta. CC Sabathia has been pretty bad all season and Masahiro Tanaka's elbow makes his a perpetual injury risk. Moreso than the average hurler. Michael Pineda and Adam Warren have workload/fatigue concerns as well. Ivan Nova's return adds depth and there's no such thing as too much pitching, especially when it comes to someone as good as Hamels. He makes any rotation better.
Hal Steinbrenner has indicated the Yankees will focus on rental players at the trade deadline and recently we heard the team has "sworn off" trading top prospects for those rentals, but Hamels is under contract at $23.5M annually through 2018 with an option for 2019. That's not a bad contract! Hamels and Jon Lester are the same age and have been almost the same pitcher since 2013 …

… and Lester just signed a six-year deal worth $155M this past offseason. Hamels is a bargain by ace standards. Of course, acquiring him would also require trading prospects, which factors into the equation. In a perfect world a big market team like the Yankees would just spend money to acquire an ace, but doing so typically requires a long-term commitment. Giving up prospects to make a trade is one way to avoid an ugly long-term deal.
I am generally pro-Hamels trade with the lame "depends on the cost" caveat. I'd have no trouble trading Luis Severino or Aaron Judge for Hamels. But both? Eh, that's where it gets messy, and maybe I'm just prospect hugging. At the same time, I understand the argument that Hamels is already 31 and is starting to approach the age where even great pitchers break down. We see Sabathia every fifth day but he's hardly the only example. Roy Halladay, Justin Verlander, Johan Santana … the list goes on and on.
Anyway, regardless of whether you're pro-Hamels or not, I think we can all agree the Yankees should at least keep in touch with the Phillies and keep tabs on the lefty. Ruling out a trade at this point would be sorta silly, especially when talking about a pitcher of this caliber. The Yankees tend to make their biggest, long-term impact moves in the offseason while searching for band-aids in-season. Someone of Hamels' caliber would probably be an exception.