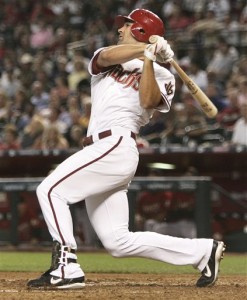 Now that the Diamondbacks appear to have landed Adam LaRoche, they have themselves a bit of an old fashioned logjam at first base and left field. No one in their right mind will take on the corpse of Eric Byrnes and his $11M salary, nor would the Diamondbacks even entertain the idea of moving dirt cheap and extremely talented youngsters Brandon Allen, The Justin Upton, and Gerardo Parra. Chris Young is stuck in limbo given his declining performance and contract that runs through 2013, so it seems that if GM Josh Byrnes wants to maximize an asset and optimize his roster, his best bet would be to move former Cal-Berkeley star Conor Jackson.
What makes CoJack so desirable is pretty obvious, the guy is a tremendous offensive player when healthy. He's a career .281-.361-.431 hitter in the big leagues, .292-.371-.451 with a .369 wOBA in his three full seasons, though that's just part of the story. Jackson does his best work against lefty pitchers (.297-.396-.470 career vs. LHP), and he's demonstrated the ability to hit both fastballs and breaking balls, finesse pitchers and power pitchers, you name it.
Adding on to that, Jackson also fits the Yankee mold of being a patient hitter, seeing just about 3.7 pitches per plate appearance in his career. He's swung at just 18.9% of the pitches he's seen outside of the strike zone during his career, and despite working all those deep counts, Jackson is also a high contact hitter that comes without the caveat of high strikeout totals. He's struck out just 211 times in 1,624 career plate appearances, and has made contact on 87.6% of the swings he's taken, which is Robbie Cano territory. It's easy to see the value in that.
Defensively, Jackson is a bit better than I originally thought in left. In just over 850 innings at the position (an admittedly small sample size), he's posted an essentially league average -0.3 UZR, and Jeff Zimmerman's age-adjusted UZR Projections have him at +2 UZR next year. The Fan's Scouting Report grades him out decently as well. He's also capable of playing first, though that doesn't matter much to the Yanks. Jackson has been worth 1.62 runs above average on the bases in non-stolen base situations during his career, although he's been steadily improving in recent years. For the sake of simplicity, let's just assume he's a slightly below average defender in left and dead average on the bases.
Last year was the first (and only) time Jackson has hit the disabled list in his career, and it was because of a bout with Valley Fever of all things. It ended his year in mid-May, though Jackson showed he was healthy by hitting .425-.561-.589 with more walks than strikeouts in 23 winter ball games after the season. He's had a few day-to-day soreness type of things throughout the years, but who hasn't. No big deal. The problem, well two problems, are that Jackson is under contract with the Diamondbacks, so the Yanks would have to trade to acquire him, plus he's not cheap.
In 2009, his first year of arbitration, Jackson pulled in $3.05M, and tonight we found out that he agreed to the same $3.1M salary for 2010 as Melky Cabrera. The Yanks reportedly have only $2M to spend on left, so some money would have to be moved to make it work. Given Arizona's need for another arm, maybe Chad Gaudin (likely to get $2.5-$3M in arb) and a quality prospect would work. Jackson is arbitration eligible for the final time in 2011, so any team that acquires him would be getting two years of service. Given their lack of outfield depth in the farm system, the Yanks could certainly benefit from having that extra outfielder around next year.
Like anything else, the price has to be right. Given Brian Cashman's absurd track record of thievery on the trade market, I trust his ability to pull off a favorable deal for the Bombers. Arizona already has  seven guys on the 40-man capable of playing the same positions as Jackson, most of whom are considerably cheaper as well. Diamondbacks' GM Josh Byrnes has himself a surplus and a valuable trade chip, and the Yanks match up in a potential deal. Hopefully they at least kick the tires.
Photo Credit: Matt York, AP