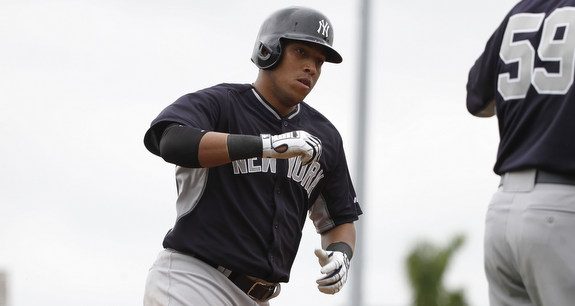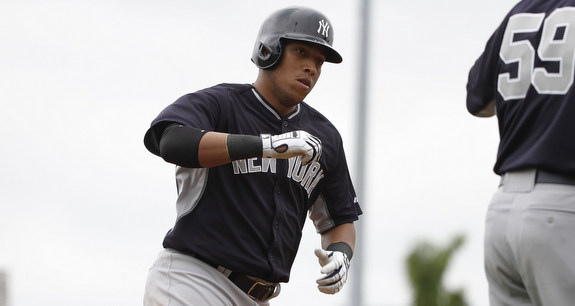 Barring injury or a trade, 12 of the 13 position player spots are already set. Joe Girardi made it clear Brian Roberts and Kelly Johnson will be the starting second and third basemen, respectively, leaving Brendan Ryan on the bench with Frankie Cervelli and Ichiro Suzuki. The fourth and final bench spot is up for grabs in Spring Training and the Yankees have indicated it will go to an infielder. More than a few players are competing for the job.
IF Dean Anna
Acquired in a minor November trade with the Padres, Anna had a big year in Triple-A (.331/.410/.482) but was unable to land a 40-man roster spot with San Diego. They flipped him to the Yankees for a Single-A reliever rather than lose him for nothing in the Rule 5 Draft. The 27-year-old lefty hitter has a ton of experience on the middle infield and a little at third, making him prime backup infielder fodder.
Anna lacks a standout tool but he's okay at everything. His plate discipline is his strongest skill but there is more to life than minor league strikeout and walk rates. Last year was the first year in which he hit higher than .280 and he's never been much of a power guy or base-stealer. His defense is generally regarded as solid even though last Saturday's play in the hole makes you think he's the best defender ever. It's a classic backup infielder's profile and a strong spring could push Anna onto the Opening Day roster.
1B/OF Russ Canzler
As of right now, Johnson is the backup first baseman according to Girardi even though he only has 18 career innings at the position. The 27-year-old Canzler is the only other true first baseman in camp, though he has a good amount of left field experience as well. The Yankees had him working out at third base earlier in camp in an attempt to increase his versatility. Canzler is a pure right-handed platoon bat, hitting .307/.390/.531 against lefties in Triple-A over the years compared to .267/.346/.442 against righties. He only has 102 career big league plate appearances to his credit. Canzler is a long shot for the bench despite his ability to play first, so he's likely ticketed for Triple-A.
IF Corban Joseph
CoJo, 25, made his very brief big league debut last season before needing season-ending shoulder surgery. They Yankees dumped him off the 40-man roster over the winter and he went unclaimed on waivers, giving you an idea of how he's regarded around the league. Joseph had a big 2012 season split between Double-A and Triple-A (.276/.375/.465 with 15 HR) and while he's versatile in that he can fake first, second, and third bases, he's a liability everywhere. If he shows he can hit like he did two years ago, Joseph might have value as a bench player. If not, well there's really nothing he can offer. He seems to be well behind the rest of the pack in the race for the final bench spot.
IF Eduardo Nunez
Boy did Nunez blow a golden opportunity last summer. Rather than cement his place in the future of the team by playing well at shortstop during Derek Jeter's various leg injuries, he got hurt himself and showed little improvement at the plate or in the field. Nunez had a strong September as the (almost) everyday third baseman, but one good month wasn't enough to salvage his season, nor should it be.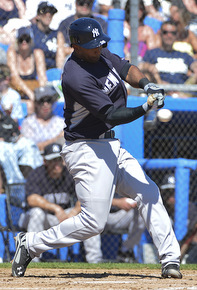 Nunez, 26, came to camp as the incumbent backup infielder but that doesn't guarantee him anything. The Yankees could have very easily handed him the job and been done with it — they really seem to like Nunez, don't they? — but instead they brought in several players as legitimate competition. It definitely appears as though he fell out of favor with last summer's continued lack of progress. I don't think they would bring in so many infielders if they were comfortable with him.
We all know what Nunez can do at this point, right? He is a high contact hitter who can run but doesn't have much power — he did say he spent most of the winter trying to bulk up and add strength, for what it's worth — and his defense is a complete wildcard. He'll make a stunning play one inning and botch a routine one later in the game. Unfortunately the bad plays outweigh the good ones. Nunez is not being handed a bench job and if he doesn't make a strong case for one in camp, he has a minor league option left and can go to Triple-A.
2B/3B Scott Sizemore
After missing all but two games over the last two years due to back-to-back torn ACLs, the 29-year-old Sizemore signed a minor league contract and got into his first post-surgery Grapefruit League game last night. He had a nice half-season with the Athletics in 2011 (.249/.345/.433 with 11 HR) but given the sample size and the long layoff, I don't think we can say that's the real Sizemore. Healthy or not, he's a tough guy to predict for the upcoming season.
If you're a believer in uniform numbers being an indicator of a player's roster chances, then Sizemore is sitting pretty after being issued Robinson Cano's old #24. Everyone else in this post other than Nunez has a number north of 70. Maybe that's a sign the team considers Sizemore the favorite for the job as long as he's healthy. Who knows. Either way, he has a lot to prove after missing two full years. I believe Sizemore has a best chance of being a league average player (that's very valuable!) out of everyone in this post but making the team is not a given.
UTIL Yangervis Solarte
I didn't expect to include the 26-year-old Solarte in this post initially, but he's hit the snot out of the ball early in camp (.778/.800/1.444) and is very versatile, spending a bunch of time at the three non-first base infield positions as well as both corner outfield spots in his career. That would be nice to have off the bench. The switch-hitting Solarte has hit .282/.332/.404 in 1,145 Triple-A plate appearances the last two years, which is pretty underwhelming considering how hitter friendly the Pacific Coast League is.
The Yankees have shown a willingness to give roster spots to big Spring Training performers in recent years (2009 Ramiro Pena and 2012 David Phelps, most notably), so it's not completely out of the question that Solarte could sneak onto the Opening Day roster if he keeps raking. A versatile switch-hitter would be nice to have. Then again, nothing in his track record suggests he's some kind of hidden gem or in the middle of an early spring breakout.
* * *
Others like Zelous Wheeler and Jose Pirela have utility man profiles and are technically competing for that bench job in camp, but they are clear long shots to me. Solarte really belongs in that group as well, hot spring start notwithstanding. Because of the questionable starting infield arrangement and various injury risks, whoever gets that final bench spot may wind up playing a larger role than expected. Despite being the 24th or 25th spot on the roster, this bench spot offers quite a bit of opportunity.