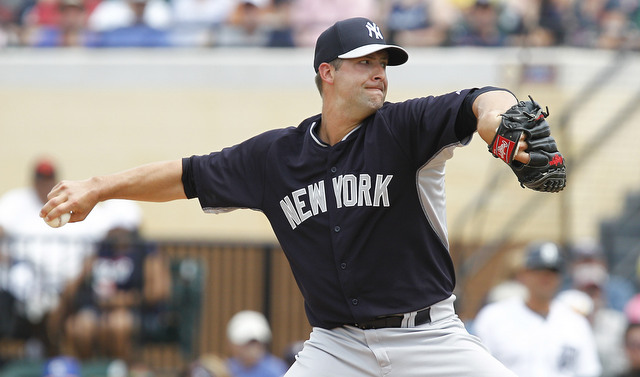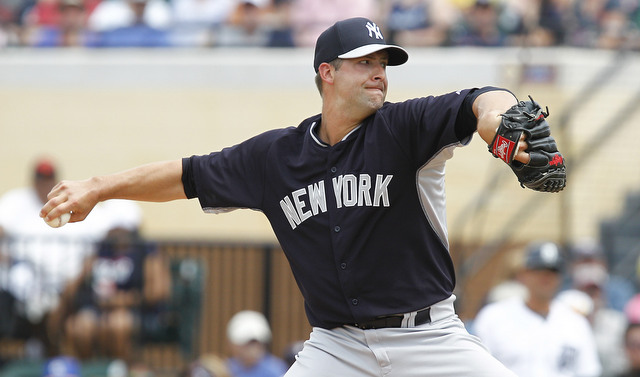 The big league roster portion of our 2015 Season Review series comes to an end today. All that's left are the spare pitchers who made cameos with the Yankees this summer. These guys were on the bullpen shuttle but weren't regulars, if you know what I mean. They came up to the big leagues once or maybe twice in 2015 and that was it. The average number of big league innings thrown by the players in this post this season: four. Let's get to it.
Danny Burawa
The Yankees selected Burawa, a Long Island kid, out of St. John's in the 12th round of the 2010 draft. He went unselected in the 2013 Rule 5 Draft, but the Yankees didn't want to risk it again last offseason, so he was added to the 40-man roster. The Yankees saw him as part of that pipeline of power arms they stashed in Triple-A.
Burawa, 26, started the season in the Triple-A Scranton bullpen. He was called up to MLB for the first time in late-June and appeared in one game, allowing four runs in two-thirds of an inning against the Tigers. Burawa was sent back to Triple-A the next day, demoted to Double-A a month later, then in mid-August he was claimed off waivers by the Braves after being designated for assignment to clear a 40-man spot for Garrett Jones, who re-signed with the Yankees following Dustin Ackley's injury.
All told, Burawa had a 2.55 ERA (3.56 FIP) in 49.1 Triple-A innings with the Yankees this year. He was called up by the Braves in September and saw a fair amount of work, allowing five runs in 12.1 innings. Burawa has nasty raw stuff — PitchFX says his fastball averaged 94.9 mph and his slider 85.4 mph — but his lack of control always held him back.
Kyle Davies
The 32-year-old Davies was signed last offseason to be the designated Triple-A veteran innings eater. He spent the entire season in the RailRiders rotation aside from one MLB appearance, when he gave the Yankees 2.1 scoreless innings of long relief on April 12th. That was the ESPN Sunday Night Game when the Bombers scored seven runs against Clay Buchholz in the first inning. You remember that.
That was actually Davies' first appearance of the season. (The Triple-A season started April 9th.) The Yankees designated him for assignment the next day, he accepted the outright assignment, and he spent the rest of the season soaking up innings for the RailRiders. Davies had a 3.30 ERA (3.35 FIP) in 152.2 innings for Triple-A Scranton. He was the first pitcher to throw 140+ innings for the RailRiders since Ramon Ortiz (169.1) and Adam Warren (152.2) in 2012. Davies is now a free agent.
Jose DePaula
Last winter the Yankees signed DePaula to a Major League contract, which was curious because he had been hampered by injuries in recent years and didn't have a whole lot of experience above Single-A. They saw something they liked though, so they gave him a split contract worth $510,000 in the big leagues and $175,000 in the minors.
DePaula, 27, came down with a shoulder problem in Spring Training and did not make his regular season debut until early-June. He made three starts with Triple-A Scranton, then was called up in mid-June for long relief work. On June 21st, the same day Burawa made his debut, DePaula made his big league debut and allowed one run in 3.1 mop-up innings against the Tigers.
Back to Triple-A went DePaula (and Burawa) the next day. DePaula made three more starts with Triple-A Scranton before coming down with another shoulder problem, one that ended his season. He finished the year with 5.20 ERA (3.48 FIP) in 27.2 Triple-A innings plus the one MLB appearance. The Yankees designated DePaula for assignment in late-June to clear a 40-man spot for Ivan Nova. He became a minor league free agent after the season.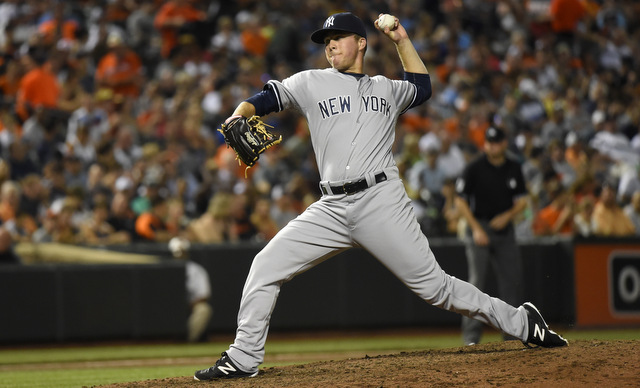 Jacob Lindgren
Unlike most of the other players in this post, Lindgren came into the season as a well-regarded prospect. He was New York's top draft pick (55th overall) in the 2014 draft and he zoomed through the system as a college reliever. Lindgren pitched at four levels in 2014 and nearly made the Yankees out of Spring Training this season. They instead sent him to Triple-A for more fine tuning.
After 15 appearances with the RailRiders, the Yankees called Lindgren up in late-May and showed they were planning to stick with him. When they needed to clear a roster spot a few days later, they designated David Carpenter for assignment when they could have easily sent Lindgren back to Triple-A. I guess that was part of the team's sudden youth movement this past season.
Lindgren, 22, appeared in seven games with the Yankees and allowed four runs on five hits and four walks, including three homers. He struck out eight. The team sent him back to Triple-A in mid-June because they desperately needed a fresh long reliever, and soon thereafter Lindgren told the trainers he'd been pitching with some elbow pain. He had season-ending surgery a few days later to remove a bone spur from his elbow.
All told, Lindgren had a 1.23 ERA (1.88 FIP) in 22 Triple-A innings plus a 5.14 ERA (8.13 FIP) in seven MLB innings this past season. He's expected to be ready in time for Spring Training — there was some thought he'd be ready to pitch in September, but the team decided not to rush it — and again figures to compete for a bullpen spot. Even if Lindgren doesn't win a big league job in camp, I'm sure we'll see him at some point in 2016.
Diego Moreno
The Yankees originally acquired the 28-year-old Moreno from the Pirates in the A.J. Burnett trade a few years ago. He's spent the last few seasons in the farm system either pitching or going through the Tommy John surgery ordeal. Moreno started 2015 in the Triple-A bullpen and stayed there until late-June, when he was called up to MLB for the first time. He appeared in two games (two runs in two innings) before being sent back down.
Moreno returned to the RailRiders soon thereafter but did get a second call up in late-July. The Rangers knocked Chris Capuano out of the game in the first inning on July 28th, then Moreno came in and chucked 5.1 scoreless and hitless innings to earn his first MLB win.
Rather than be sent right back to Triple-A for a fresh arm, the performance earned Moreno some more time with the big league team. He allowed four runs in three innings against the White Sox four days later, and a few days after that he landed on the 15-day DL. Moreno later had season-ending surgery to remove bone chips from his elbow.
In 53.2 innings with the RailRiders, Moreno had a 2.18 ERA (2.73 FIP) this year. He also allowed six runs in 10.1 big league innings. The Yankees dropped Moreno from the 40-man roster after the season and he became a minor league free agent.
James Pazos
People can't help but overreact to Spring Training stats, I'm guilty of it too, so when Pazos allowed two hits in 4.1 innings during Grapefruit League play, there was some thought he could crack the Opening Day roster. That didn't happen. He actually suffered an undisclosed injury at the end of camp and started the season on the shelf.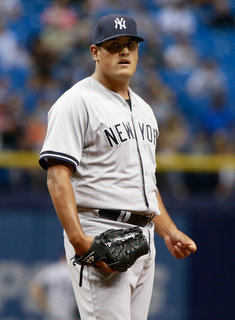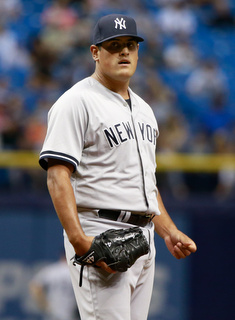 Pazos, 24, was the team's 13th round pick in the 2012 draft. Once healthy, he joined Double-A Trenton in late-May, stayed there for a six-game tune-up, then was promoted to Triple-A Scranton. He remained there until being called up to the big leagues for the first time on September 1st. Pazos was Rule 5 Draft eligible this offseason, so the Yankees got a head start on things and added him to the 40-man roster in September.
Joe Girardi used Pazos fairly regularly in September — he appeared in eleven of the team's final 28 games — but he was limited almost exclusively to left-on-left matchup work. Pazos threw five scoreless innings in pinstripes and stranded four of five inherited runners. Left-handed batters did go 3-for-11 (.273) with one walk and one strikeout against him though. Not too great.
Pazos finished the season with a 1.09 ERA (2.46 FIP) in 33 Triple-A innings plus those five MLB innings. He was on the wildcard game roster but didn't pitch in the game. As a hard-throwing lefty — PitchFX says his fastball averaged a healthy 93.2 mph in September — it's easy to understand why the Yankees added Pazos to the 40-man roster. We'll see him plenty next summer, I reckon.
Jose Ramirez
The 25-year-old Ramirez has been on the prospect radar an awfully long time. He's always had explosive stuff but injury problems and generally unreliable command never allowed him to really break through. I thought there was a chance Ramirez would make the team out of Spring Training, but that didn't happen (seven runs in 8.2 Grapefruit League innings didn't help his case) and he started the season in Triple-A.
Ramirez spent some time as the RailRiders' closer and was called up to the big leagues for the first time this year in mid-May. He got hammered by the Royals on May 15th (four runs in one inning) and was sent right back down. Ramirez was called up again in mid-June, allowed one run in two innings across two appearances, then was sent back down once again. The Yankees traded him to the Mariners with Ramon Flores for Ackley at the deadline.
Seattle called Ramirez up when rosters expanded in September and he got hammered again (nine runs in 4.2 innings). The stuff is electric, though in an admittedly small sample size (17.2 innings), he hasn't come close to positive results (20 runs!). Ramirez had a 2.90 ERA (2.67 FIP) in 49.2 innings for the RailRiders this summer. He'll be out of minor league options next year and the Yankees simply wouldn't have a spot for him in the bullpen. I'm sure that factored into the decision to trade him.
Sergio Santos
Santos, 32, has had a pretty long and interesting career. He was a first round pick (27th overall in 2002) as a shortstop, developed into a very good prospect (Baseball America ranked him No. 37 on their 2004 top 100 list), was traded in a deal that involved Troy Glaus and Orlando Hudson in 2005, converted to pitching when he stopped hitting in 2009, then became a 30-save guy with the White Sox. How about that?
The Yankees picked Santos up off the scrap heap in mid-June after the Dodgers cut him loose and he never went to Triple-A. He immediately joined the big league team. Santos pitched in two games with the Yankees: he allowed two runs in two innings against the Orioles on June 13th, then he inherited a bases loaded, no outs jam against the Marlins on June 15th and escaped without allowing a run.
Four days later Santos was placed on the 15-day DL with right elbow inflammation. A few days after that he underwent Tommy John surgery, ending his season. Santos remained on the MLB DL the rest of the season and collected a big league paycheck, so good for him. He elected free agency after being dropped from the 40-man roster after the season.
Matt Tracy
The Yankees drafted Tracy in the 24th round of the 2011 draft and he was a sleeper prospect for a little while there, but he never did take that next step forward in his development. He still reached the big leagues though. On April 11th, the day after the 19-inning marathon loss to the Red Sox, Tracy was called up to the show for the first time to give the Yankees a fresh long arm.
Tracy, 27, allowed three unearned runs in two innings against Boston that afternoon. The Yankees designated him for assignment the next day — clearing a 40-man spot for Davies — and the Marlins claimed him off waivers. Four days later, the Yankees re-claimed him on waivers when Miami tried to drop him from the 40-man roster. Tracy was then optioned to Triple-A Scranton.
On April 26th, after the call-up and waivers shenanigans, Tracy finally made his season debut with Triple-A Scranton. He spent the summer bouncing back and forth between Triple-A and Double-A — he went wherever an extra arm was needed, basically — and was unceremoniously outrighted off the 40-man roster in mid-June. No one claimed him on waivers that time.
Tracy finished the 2015 season with a 3.79 ERA (3.77 FIP) in 90.1 minor league innings. He had just the one brief stint in the big leagues. As far as I know Tracy remains in the organization, and if so, he figures to again do the Double-A and Triple-A shuttle thing in 2016.
* * *
And finally, a special shout-out goes out to right-hander Joel De La Cruz, who was called up in April but didn't appear in a game. He was called up on April 13th to replace Davies, sat in the bullpen for two days before being optioned back to Triple-A, then was outrighted off the 40-man roster a few days after that. That is the extent of his big league service.
De La Cruz, 26, is most notable for being the guy Brian Cashman tried to trade for Alfonso Soriano two years ago before ownership jumped in and dealt Corey Black. De La Cruz had a 3.31 ERA (4.04 FIP) in 84.1 innings split between Double-A Trenton and Triple-A Scranton this summer. He became a minor league free agent after the season and recently signed a minor league deal with the Braves. De La Cruz didn't get to pitch during his time with the Yankees, but hey, two days of big league pay plus health care for life is pretty cool.