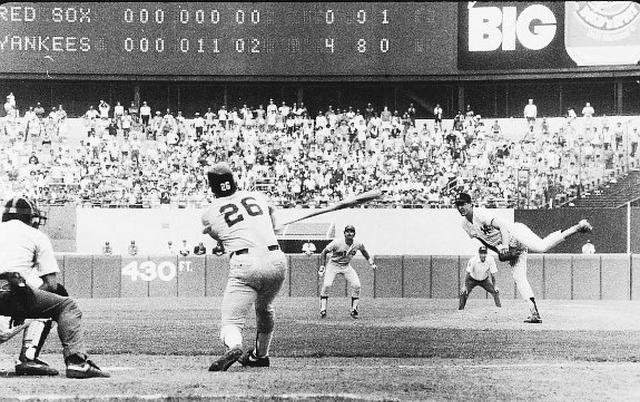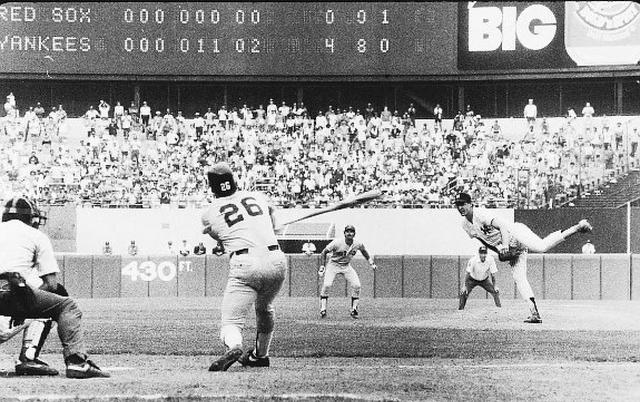 The Dave Righetti era in the Bronx started because of Goose Gossage. Left-hander Sparky Lyle had been the Yankees' go-to ninth inning reliever from 1972-77, compiling 132 saves with a 2.23 ERA in 634 innings during that time. He pitched so well in 1977 — 2.17 ERA with 26 saves in 137 innings — that he was named the AL Cy Young award winner, beating out Jim Palmer (2.91 ERA in 319 innings) and Nolan Ryan (2.77 ERA in 299 innings), among others.
Lyle pitched well enough in 1977 to win the Cy Young but not well enough to stop the Yankees from replacing him. The team signed Goose Gossage to a six-year contract worth $2.75M that offseason and gave him the closer's job. Gossage saved 27 games with a 2.01 ERA in 134.1 innings during his first year in New York while Lyle put up a 3.47 ERA in 111.2 innings as a middle reliever. Both were a big part of the team as they won their second straight World Series title.
At age 27, Gossage was seven years younger than Lyle and flat out better. He made Lyle expendable. So, on November 10th, 1978, the Yankees shipped Lyle to the Rangers in a massive ten-player trade. Lyle went to Texas with four prospects (catcher Mike Heath, shortstop Domingo Ramos, and lefties Larry McCall and Dave Rajsich) for light-hitting veteran outfielder Juan Beniquez and four prospects (outfielder Greg Jemison, righty Mike Griffin, and lefties Paul Mirabella and Righetti).
Although it was a ten-player swap, the principals were Lyle, Mirabella, and Righetti. Lyle was Lyle, a Cy Young award winning veteran reliever, and Mirabella and Righetti were two highly touted young players. Mirabella was the 21st overall pick in the 1976 January draft and Righetti was the tenth overall pick in the 1977 January draft. The Yankees flipped Mirabella to the Blue Jays in the Chris Chambliss/Rick Cerone trade the following offseason but they held on to Righetti.
Righetti was only 20 years old at the time of the trade and he spent most of the 1979 season in the minors, where he had a 2.31 ERA with 122 strikeouts in 109 innings split between Double-A and Triple-A. He made his MLB debut in September and had a 3.63 ERA in 17.1 innings across three starts. Righetti spent the entire 1980 season in Triple-A and was pretty awful — he had a 4.63 ERA with 139 strikeouts and 101 walks in 142 innings. The Yankees declined to call him up in September.
"I don't mind still being a rookie, but I got tired of being a 'flame-throwing prospect,"' said Righetti to Dave Anderson early in the 1981 season. "Especially when I went home to San Jose, California, last year after the record I had in Columbus last season. All my friends kept asking me, 'What happened?' Even people I didn't know would come up on the street and ask me."
Righetti had a strong Spring Training in 1981 but the team send him back to Triple-A anyway, where he put up a 1.00 ERA with 50 strikeouts and 26 walks in 45 innings across seven starts. "At least they told me that if I pitched well (in Triple-A), I'd be back soon," said Righetti to Anderson. "I tried to make sure that I pitched well … Getting a taste of the big leagues two years ago made me want to get back here."
Tommy John's ailing back helped clear a rotation spot for Righetti, who, at age 22, got his first extended taste of the show. He allowed two runs in seven innings against the Indians in his first start, then held those same Indians to two runs (one earned) in eight innings next time out. Eight shutout innings against the Orioles followed that. In his first eleven starts of the 1981 season Righetti had a 1.59 ERA with 71 strikeouts and 28 walks in 79.1 innings. He finished the regular season with a 2.05 ERA and 89 strikeouts with 38 walks in 15 starts and 105.1 innings, which earned him the AL Rookie of the Year award with ease.
The Yankees won the AL pennant in 1981 thanks in large part to Righetti. He struck out ten in six scoreless innings in Game Two of the ALDS against the Brewers, then came out of the bullpen to throw three innings of one-run ball in the decisive Game Five. In his Game Three start against the Athletics in the ALCS, Righetti threw six more scoreless innings. His worst postseason start came in Game Three of the World Series, when Ron Cey clubbed a three-run homer in the first inning. Righetti allowed three runs in two innings before being replaced.
It was a disappointing end to the season — the Dodgers won the World Series four games to two with Righetti lined up to start Game Seven — but Righetti had established himself as a bonafide big league starter. He spent the 1982 season in New York's rotation and had a 3.79 ERA with 163 strikeouts in 183 innings spread across 27 starts and six relief appearances. The problem? He led the league with 108 walks. He rebounded during he 1983 season to post a 3.44 ERA with 169 strikeouts in 217 innings while cutting his walk total down to 67. On July 4th of that season, he became the first Yankee to throw a no-hitter since Don Larsen's perfect game in the 1956 World Series.
Through age 24, Righetti had a 3.29 ERA (117 ERA+) with a well-above-average 7.5 K/9 — the AL average was 4.7 K/9 from 1979-83, if you can believe that — in 522.2 career innings. He also had a Rookie of the Year award and World Series experience to his credit. Righetti wasn't a star, per se, but he was a damn fine Major League starter and a promising piece of the Yankees rotation going forward. The kind of player every team would love to have. So, naturally, the Yankees took him out of the rotation and moved him to the bullpen full-time for the 1984 season.
Gossage took a five-year contract from the Padres after the 1983 season, leaving New York with a big hole in the bullpen. George Frazier was traded to the Indians that offseason as well, further decimating the reliever corps. "We've talked about all the starters (taking over as closer) at one point or another," said GM Murray Cook to Murray Chass after the Frazier trade. "(Manager Yogi Berra) will talk to each one in Spring Training and make a decision. We're not going to do anything between now and then."
The Yankees got off to a dreadful start in 1984. The team went 8-17 in its first 25 games and 22-31 in their first 53 games. Righetti was doing his part in the bullpen but the rotation was unimpressive — the starting staff had a 4.03 ERA during those first 53 games, slightly better than the 4.19 ERA league average. "No one has picked up the slack there. That made it even harder to take. I knew I could do the job as a starter. That made it tougher to make the move," said Righetti to Chass in early-June.
Righetti was dominant in his first season as a reliever, saving 31 games with a 2.34 ERA and 90 strikeouts in 96.1 innings. The team went 87-75 and finished in third place in the AL East, their third straight postseason-less year after winning four pennants and two World Series titles from 1976-81. Both Berra and GM Clyde King wanted to keep Righetti in the bullpen, and, after a brief dance with free agent closer Bruce Sutter that offseason, the bullpen is where Righetti remained.
Ed Whitson was brought in to solidify the rotation and Righetti again dominated out of the bullpen in 1985, saving 29 games with a 2.78 ERA and 92 strikeouts in 107 innings. The Yankees went 97-64 but missed the postseason for the fourth consecutive year. Righetti was a first-time All-Star and finished fourth in the Cy Young voting the following season — he led MLB with 46 saves and had a 2.45 ERA with 83 strikeouts in 106.2 innings in 1986 — though the Yankees went 90-72 and again missed the postseason.
From 1984-90, Righetti was New York's ninth inning stopper and one of the best relievers in all of baseball. He ranked second in saves (223, one behind Jeff Reardon), second in innings (614), and third in strikeouts (506) among full-time relievers from 1984-90, and among the 182 pitchers who threw at least 500 innings during those years, only four bested his 137 ERA+. Righetti was dominant. And the Yankees never once made the postseason from 1984-90.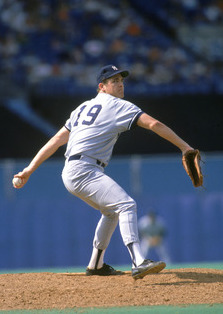 Righetti became a free agent after the 1987 season and returned to the Yankees on a three-year contract worth $4.5M after reportedly spurning a lucrative offer from the Tokyo Giants. Righetti became a free agent again after the 1990 season and, at age 31, winning had become the priority. The Yankees went 67-95 in 1990 and had traded away several big name players in recent years, including Rickey Henderson and Dave Winfield. Righetti's return to New York was not a given.
"We're negotiating to the extent we're still speaking warmly with each other about the length of contract," said Bill Goodstein, Righetti's agent, to Michael Martinez in September 1990. "The Yankees have given me parameters of the kind of money they're willing to pay, but I can tell you that I have absolutely rejected those parameters because they were unacceptably low."
The Yankees and GM Gene Michael were sticking to a three-year contract offer but Goodstein was looking for five years — "If Bud Black can come up with four years, why shouldn't Righetti command a five-year contract?" he said to Martinez — and had begun talking to other teams. The Yankees, meanwhile, added some bullpen insurance by signing Steve Farr to a three-year contract worth $6.3M. "I think our bullpen would be okay without Righetti," said Michael to Jack Curry after the Farr signing.
One week after the Yankees signed Farr, Righetti decided to leave the only big league team he'd ever known — he was the Yankees' all-time saves leader at the time — and took a four-year contract worth $10M from the Giants, who had just won the NL pennant. The Yankees' offer reportedly topped out at three years and $9.3M. Righetti, who grew up in San Jose, told Chass he "would have loved to stay in the right circumstances."
"We had a set policy and we weren't going to break it," said Yankees vice president George Bradley to Chass. "It was an organizational decision. We were all in agreement. I think more than three years is a big risk with a pitcher. Three years is a risk, too … Anytime you lose a player of that caliber, it's a big loss."
Farr, the new closer, was excellent in both 1991 (2.19 ERA with 23 saves in 70 innings) and 1992 (1.56 ERA and 30 innings in 52 innings) before slipping in 1993 (4.21 ERA and 25 saves in 47 innings), the final year of his contract. The Yankees let him walk as a free agent and used the late Steve Howe as their closer in 1994 before bringing in John Wetteland for 1995.
Righetti, meanwhile, was very good with the Giants in 1991, saving 24 games with a 3.39 ERA in 71.2 innings. He started to fall apart the following season though, pitching to a 5.06 ERA in 78.1 innings in 1992 and a 5.70 ERA in 47.1 innings in 1993. San Francisco released him following the 1993 season. Righetti had a 5.94 ERA in 69.2 innings with the Athletics, Blue Jays, and White Sox from 1994-95 to close out his playing career. He took over as the Giants pitching coach in 2000 and has been there ever since.
Holding firm on a three-year offer and losing Rags as a free agent was an unpopular decision but ultimately the right one for the Yankees, in hindsight. His golden left arm had just one good year left in it and the Yankees replaced him with the cheaper and more effective Farr. The decision to move Righetti into the bullpen in the first place is the one that deserved plenty of second guessing. His potential as a starter is one of the franchise's great "what if" scenarios.