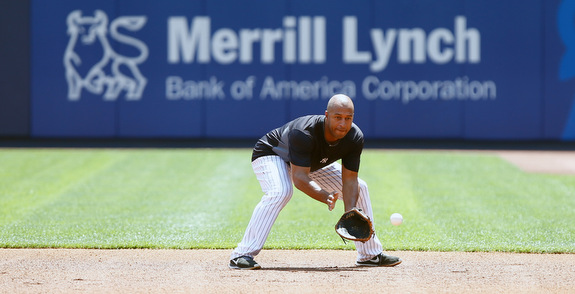 The six-game winning streak is over and that's fine, it was bound to happen eventually. I guess it's comforting to know they were only a rare Mariano Rivera blown save away from making it seven straight. I dunno, not really.
Anyway, there are seven games left before the All-Star break, and the Yankees will play all seven of them at home against teams with losing records. It's like the baseball gods gifted them a chance to go into the break on a high note after such a turbulent first half. The Yankees have to take advantage of that opportunity now though, nothing else will be handed to them. Here's the lineup Joe Girardi is sending out there against noted Yankees-hunter* Jeremy Guthrie:
CF Brett Gardner
LF Zoilo Almonte
2B Robinson Cano
DH Travis Hafner
RF Vernon Wells
1B Travis Ishikawa
3B Luis Cruz
SS Alberto Gonzalez
C Austin Romine
And on the mound with an extra day of rest is right-hander Phil Hughes. Like most pitchers, he's allowed fewer runs with an extra day (4.03 ERA and 4.43 FIP) than on a normal schedule (4.92 ERA and 4.20 FIP) throughout his career.
It has cooled off just a tiny bit in New York, but it's still pretty damn hot and humid. There's actually some rain in the forecast a little later tonight, nothing really substantial but maybe enough to bring the tarp out at some point. I hope not. First pitch is scheduled for 7:05pm ET and can be seen on YES. Enjoy.
Roster Move: As expected, David Adams have been optioned down to Triple-A Scranton to clear a 25-man roster spot for Ishikawa. He was claimed off waivers yesterday and will be the 25th different position player to play for the Yankees this year. That's the most in the big leagues. /sobs
* A whopping 16.1% of Guthrie's career hit batsmen have come against the Yankees in 7.2% of his total innings pitched. He always seems to hit one or two of 'em a start.