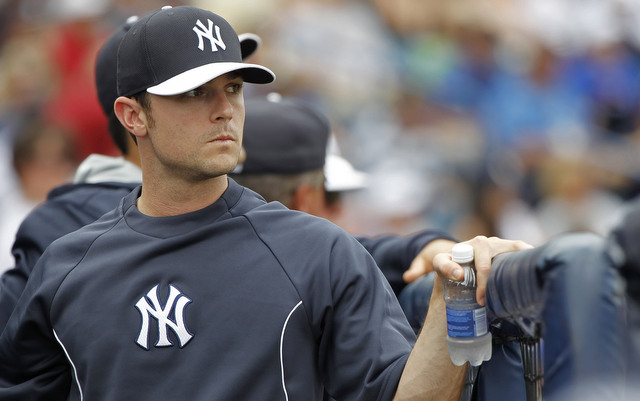 Late Monday night/early Tuesday morning, word came down that David Robertson had agreed to a four-year contract worth $46M with the White Sox. The Yankees preemptively replaced their closer by signing Andrew Miller to a four-year, $36M contract last week. I have thoughts.
1. It was really easy to say goodbye to Robinson Cano last offseason because Seattle's contract offer was ridiculous. The Mariners blew everyone right out of the water. That isn't the case with Robertson. Four years and $46M is perfectly reasonable for a pitcher of his caliber. The difference between Robertson's contract and Miller's contract is basically what the Yankees are paying Brendan Ryan on an annual basis. It's an amount of money that I don't think should ever stand between the Yankees and keeping a homegrown player who ranks among the best players at his position. Now the Miller signing goes from adding an elite reliever to the bullpen to replacing one and maintaining the status quo. Brian Cashman said Robertson "checks every box" when looking for a closer, but I guess that wasn't enough to keep him. It's one thing to let a homegrown star like Cano leave because a desperate team came out of nowhere with an insane offer. It's another when you let one go because you wouldn't compete against a reasonable contract.
2. Devil's advocate: Robertson had his worst season since 2010 in 2014 and his FIP (chart) has been gradually trending in the wrong direction since 2011. His velocity had fallen off in the second half (chart) in each of the last three years as well, perhaps indicating he was getting worn down. A total of 86 relievers in history had at least five 60+ inning seasons before their age 30 season — Robertson's one of them — but only 26 have eight such seasons before their age 33 season. Will Robertson be one of those guys? The Yankees very likely got the best years of Robertson's career, replaced him with a comparable reliever making $2.5M less per season, and gained a draft pick in the process. It's a smart move, though it doesn't make the team any better. Like I said, it only maintains the status quo. How they use the savings and draft pick — will the compensation pick for Robertson make them more willing to give up their first rounder for a qualified free agent? — is pretty important in this equation. Whether you agree or disagree with them, there were several valid reasons to let Robertson go.
3. The Yankees are going to end up having four different primary closers in four years — Rafael Soriano in 2012, Mariano Rivera in 2013, Robertson in 2014, and whoever in 2015 — after having one from 1997-2011. I think (hope) they'll sign a low cost veteran free agent to close, someone like Soriano or Jason Grilli who can start the ninth inning fresh and live in that confined role, so Joe Girardi can use Miller and Dellin Betances liberally in the sixth, seventh, and eighth innings. The alternative would be letting Miller close since he's the high-priced free agent pickup, or letting Betances close so he can fulfill his eerie Mariano Rivera-esque career path destiny, going from failed starter prospect at 25 to dominant multi-inning setup man at 26 to replacing the team's departed free agent closer at 27. I would prefer to see them sign Soriano or Grilli or whoever — the Yankees will probably trade for Jonathan Papelbon after replacing Cano and Robertson with Jacoby Ellsbury and Miller just to make sure they pour every last grain of salt in the wound — to close as long as they limit it to a one-year contract. No need to go multiple years with someone like this. You want to be able to easily cut bait next summer if necessary.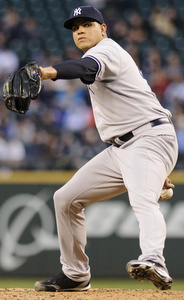 4. As of right now the bullpen is Miller, Betances, Shawn Kelley, Adam Warren, Esmil Rogers, and Justin Wilson, plus one open spot that will depend on whether David Phelps is needed in the rotation. The Yankees have a slew of internal candidates for that last spot if Phelps has to start — Jacob Lindgren, Manny Banuelos, Jose DePaula, Danny Burawa, Branden Pinder, perhaps an upcoming Rule 5 Draft pick, etc. — but those young guys will inevitably get their shot at some point next season anyway. There's definitely room to add another reliever there, maybe even two if the Yankees are willing to option Wilson to Triple-A or slip Rogers through waivers — he's out of minor league options — to send him down to the minors. The bullpen is a low level priority right now but the Yankees are going to wind up playing a ton of close games next season again. It's inevitable. Adding more depth there wouldn't be a bad idea.
5. The compensation draft pick for losing Robertson is neat — that pick is currently 30th overall but it'll change depending where the remaining unsigned qualified free agents land — but it is only a small consolation prize. Talent tends to come off the board very linearly in the draft these days thanks to the spending limits. The best players go at the top of the draft and everyone else falls in line behind them. The days of hoping a top draft prospect falls due to contract demands are pretty much over. Assuming the Yankees don't go bonkers and sign a bunch of qualified free agents, having the extra pick will be fun as someone who enjoys the draft and writes far too many words about it every year. After the club forfeited all those picks last winter and using their remaining selections on seemingly nothing but college relievers, I'm looking forward to the excitement of the Yankees having two first round picks next June.