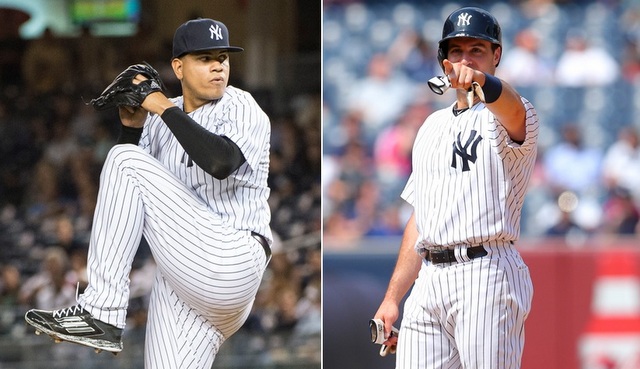 The 2015 All-Star Game rosters were announced on Monday night and the Yankees are sending two players to Cincinnati next week, maybe a third. Dellin Betances and Mark Teixeira were selected to the AL squad and Brett Gardner is one of five players on the Final Vote ballot. The full All-Star Game rosters are right here.
I thought Betances was the club's only shoo-in for the Midsummer Classic. He has a 1.50 ERA (1.58 FIP) in 42 innings this season and leads all relievers with 1.8 fWAR. Dellin, 27, has played two full seasons in the big leagues and had made the All-Star Game both times. Pretty awesome. Betances is very deserving.
"I'm thankful and honored to have been selected by the players to represent the New York Yankees in the 2015 All-Star Game, and I'm looking forward to having a great time in Cincinnati with Tex," said Betances in a statement. "I also hope our fans get behind Brett Gardner in the online final vote. He's a big reason for the success we've had this year, and I believe he should be an All-Star."
Meanwhile, the 35-year-old Teixeira was added to the All-Star Game roster as an injury replacement for Miguel Cabrera, who will miss six weeks with a calf strain. Teixeira is hitting .243/.356/.532 (141 wRC+) with 20 home runs and an AL-leading 59 RBI. This is his second All-Star Game with the Yankees (2009) and only his third overall, believe it or not.
Gardner, who is hitting .297/.373/.481 (137 wRC+) with nine homers and 15 steals, is up against Xander Bogaerts, Mike Moustakas, Yoenis Cespedes, and Brian Dozier on the Final Vote ballot. Here is the ballot. Voting ends Friday. Royals fans stuffed the ballot box for the starters, so I imagine it'll be tough for anyone to beat out Moustakas in the Final Vote.
"Gardy has turned himself into a dynamic all-around player," said Joe Girardi in a statement. "He has also evolved into one of the true leaders in our clubhouse. He's a tremendous outfielder and an offensive force who can affect the outcome of a game in so many ways. I know Yankees fans gravitate toward the way he plays the game, because he plays it with a great deal of grit and determination. It's my hope that we can all rally behind him and give him the opportunity to play in his first All-Star Game. It's hard not to root for a guy like Gardy."
In all seriousness, if you would have told me two years ago that Betances and Teixeira would be 2015 All-Stars, I never would have believed it. Dellin was still struggling to throw strikes in the minors at the time and Teixeira was out with his wrist injury after battling other injuries in previous years. Quite a turn around for those two. Congrats to both.
Obviously the Yankees' biggest snub is Alex Rodriguez — every player in baseball with a .900+ OPS is in the All-Star Game except for Alex, who is hitting .284/.390/.513 (149 wRC+) with 16 homers. AL manager Ned Yost said he left A-Rod out because he wanted a more versatile roster. Whatever. I'm cool with Alex getting four days off next week. Brian McCann was a minor snub as well.
The 2015 All-Star Game will be played next Tuesday in Cincinnati's Great American Ball Park. The Home Run Derby is the day before that (Teixeira? McCann? A-Rod???) and the Futures Game is the day before that. Aaron Judge and Gary Sanchez will represent the Yankees at the Futures Game.