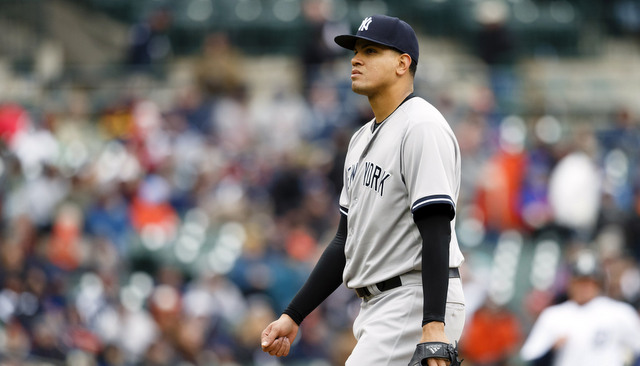 I don't think there was a more exciting development last season than Dellin Betances going from suspect pitching prospect to dominant setup man. Betances has been in the organization a very long time — he predates RAB! — and during that time he's experienced everything. Success, failure, trade rumors, more success, more failure, injuries, you name it. Dellin's road to the big leagues was long and difficult.
After being a surprise last season, the Yankees had some very high expectations for Betances heading into the 2015 season. He was expected to anchor the bullpen along with free agent pickup Andrew Miller — the Yankees let David Robertson walk and replaced him with Miller, saving payroll space and picking up a draft pick in the process — and he did just that, though things didn't come as easy for Dellin in 2015 as they did in 2014.
The Walks of Spring
After Robertson was allowed to leave, it was unclear whether Betances or Miller would close. Both guys were worthy of the job as far and as I was concerned, there was no wrong answer. Heck, Joe Girardi even talked about using them as co-closers, matching up in the eighth and ninth innings rather than having one dedicated pitcher for each inning.
The co-closers plan never materialized. Betances had some big time control problems in Spring Training and was missing some velocity, which was a cause for concern but not outright panic. He allowed five runs in 8.1 Grapefruit League innings, striking out nine and walking six. Betances brushed off questions about his velocity, but, near the end of camp, he really seemed to cut it loose and his control suffered even more.
"The velocity will come. It's the same thing as last year in Spring Training. I just trusted it. This year I'm trying to do a little extra with whatever I have instead of just trusting it," said Betances in March. "I just have to pitch more. The more I pitch, the better I feel. That's always been (the case), ever since I moved to the bullpen. The more I'd get to pitch, the better I'd feel."
Betances struggled with his control through the end of Spring Training — he struck out three batters in the final exhibition game but also walked one and allowed a hit, which was another problem, he was very hittable in camp — and given his history of control problems, there was no guarantee Dellin would snap out of it once the games counted.
"There's not concern for me now. If it was to go on for a long time you'd be concerned," said Girardi. "Power pitchers usually take a little bit longer to get going … We'll keep it consistent. It's a long year. We'll keep it consistent with what we've done in Spring Training. He'll be ready to go."
Early Struggles
The control problems carried over into the regular season. Betances walked two batters in each of his first three appearances — that's six of 18 batters faced (33.3%) — while striking out only three. Only 36 of his 81 pitches in those three outings were strikes. Here's his strike zone plot via Baseball Savant: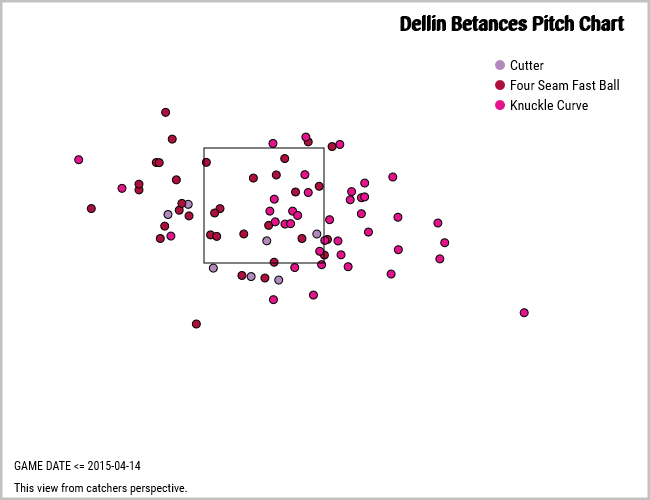 When Betances missed, he missed by a lot. This isn't a guy who nibbled at the edges and didn't get some calls. Dellin overpowers hitters in the strike zone, that's his thing, and he was nowhere close to the zone in those first three appearances. Also, his velocity had not yet returned all the way. He was still humping it in there in the mid-90s, but it was max effort and with no control whatsoever. Here is his game-by-game velocity graph for 2014 and the first three games of 2015, via Brooks Baseball: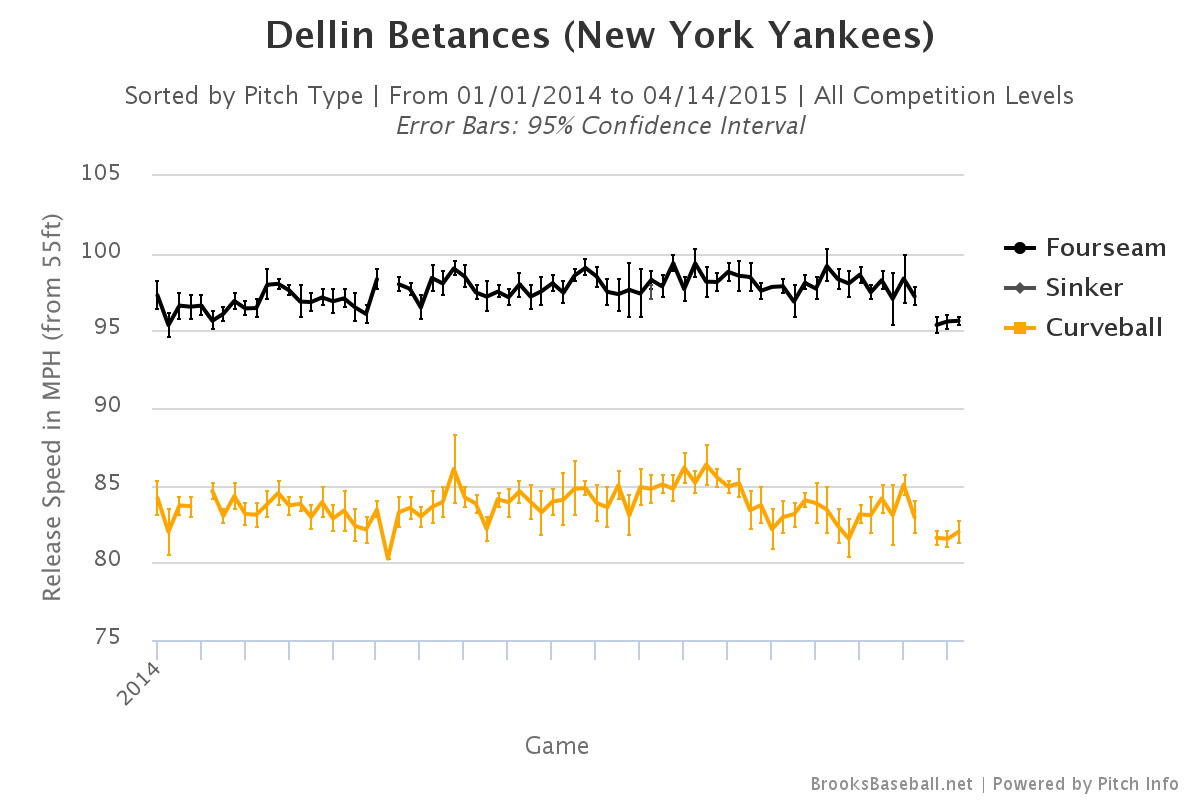 Betances allowed just one unearned run on three hits and six walks in 3.1 innings in those first three appearances, so the results from a runs allowed perspective were fine. Dellin was clearly not right though. He labored constantly. After an inauspicious Spring Training, Betances struggled in early-April, and it was fair to wonder if his pre-2014 control problems had again surfaced.
"I feel good. I mean, the confidence is there," said Betances in April. "I'm making pitches when I need to and I'm just following (Brian McCann's) game plan and trying to help the team win. I feel better the more I pitch and I'm just getting into a good rhythm."
An All-Star, Again
On April 14th, the day after that third appearance of the season, it was like someone flipped a switch. Betances started dominating and looked like the 2014 version of himself. He struck out two and walked none in an inning in his fourth appearance of the season on April 15th. Two days later he struck out another batter and walked none in an inning. Two days later he struck out two and walked one in 1.2 innings.
From April 15th through the end of the May, Dellin allowed two unearned runs on seven hits and five walks in 24 innings, striking out 41. Opponents hit .091/.143/.103 in 84 plate appearances during those 24 innings. At one point he struck out 38 of 76 batters faced, exactly half. The old Dellin was back it was glorious. Even his velocity returned. When Miller landed on the DL for a month, Betances filled in at closer and went 6-for-6 in save chances.
Dellin's perfect 0.00 ERA lasted until June 5th, when he was charged with one run on a hit and two walks against the Angels. That was the near disaster game, when the Yankees led 8-1 going into the final inning, but allowed six runs and the tying run to reach third base before recording the 27th out. Dellin took his first loss on June 23rd, when he was charged with four runs in an inning against the Phillies. (Nick Rumbelow allowed three inherited runners to score.)
Even with that messy outing against Philadelphia, Betances finished the first half with a 1.53 ERA (1.75 FIP) in 47 innings. He struck out 77 and walked 19, though six of those 19 walks came in his first three outings. That performance earned Betances his second straight All-Star Game nod, and this time he actually got in the game. Dellin threw a scoreless seventh inning in the Midsummer Classic.
Betances continued to be a bullpen force immediately after the breaking, throwing 17 scoreless innings to start the second half. He allowed seven hits and seven walks while striking out 24. Opponents hit .123/.219/.140 against him in 64 plate appearances.
In his first 56 appearances of the season, Betances pitched to a 1.13 ERA (1.70 FIP) in 64 innings. He struck out 41.2% of batters faced while walking 10.6%, which is high, but Dellin allowed so few hits that it didn't really matter. After those first three appearances he was back to being the 2014 Betances, the guy who dominated all hitters with an overpowering fastball and a knee-buckling breaking ball. The plan to team Betances with Miller and own the late innings was working to perfection.
Late Control Problems
Dellin's control problems resurfaced late in the season and they really started in August. In his final 26 appearances and 29.1 innings, Betances walked 17 batters, or 13.9% of batters faced. He walked 12 of the final 63 batters he faced, or 19.0%. It's not so much that he was throwing fewer strikes overall — Betances threw 60% strikes in September — but when he missed, he missed by a lot and in bunches.
For the most part Betances was able to navigate around the walks. He allowed four runs in 16.2 September innings and two of the four came on solo home runs. Batters had a .371 OBP against Dellin that month though, and only four times in his 14 appearances after September 1st did he have a 1-2-3 inning. September 7th against the Orioles was the most Betances outing ever. He faced six batters, walked three, struck out three, and allowed no runs.
Betances recorded five outs in the wildcard game and allowed an insurance run on a walk, a stolen base, and a stupid little single that was more about Jose Altuve being Jose Altuve than Betances doing something wrong. The pitch was down and away — it wasn't even a strike — and Altuve just reached out and hooked it to right (
video
). What can you do?
After September 1st, Betances pitched to a 2.16 ERA in 16.2 innings, though his FIP was unsightly 4.81 FIP due to all the walks. He ended the season with a 1.50 ERA (2.48 FIP) in 84 innings spread across 74 appearances. He struck out 39.5% and walked 12.1% of batters faced, and got a ground ball on 47.7% of balls in play. That is obviously excellent, though it is a very slight step back from his 2014 season. I guess that was inevitable, right? How could Dellin be that good again? All things considered, he came pretty damn close.
Betances led all relievers in innings (84), strikeouts (131), and bWAR (3.8), was second in pitches thrown (1,373), and third in fWAR (2.4) this past season. He's the first reliever in Yankees history with back-to-back 100 strikeout seasons and only the fourth reliever in history with two 130+ strikeout seasons, joining Dick Radatz, Goose Gossage, and Rob Dibble. Those guys all threw more innings than Betances though. Different eras.
Two Release Points Is One Too Many
Dellin is a physically huge dude. He's listed at 6-foot-8 and 265 lbs., and it's tough to keep those long arms and legs under control. Betances is not a great athlete either — by baseball standards, anyway, but normal person standards he's out of this world — so he can struggle with his mechanics and repeating his delivery. He's battled it his entire career.
One of the reasons Betances was so great last season was his ability to release his fastball and breaking ball from the same spot. Owen Watson wrote a really great post on Dellin's deception back in March. Betances released his fastball and breaking ball from the same release point, so hitters had a tough time differentiating the two pitches, leading to a lot of those funny called strikes on pitches seemingly down the middle.
That was not necessarily the case this season. PitchFX data shows Dellin had different release points for his fastball and curveball. One arm slot for the fastball, one for the breaking ball. The first graph is his vertical release point and the second is his horizontal release point.
Last season Dellin's fastball and breaking ball release points where nice and tight together. Everything came out of his hand in the same spot and that is bad news for the hitter regardless of whether the pitcher is throwing 91 mph with an upper-70s curveball or touching 100 mph with a hammer mid-80s breaking ball like Betances.
Not only did Betances have different release points for his fastball and breaking ball this season, but the two graphs make it appear as though the two release points drifted farther apart as the season progressed. Betances has nasty stuff, even when he's struggling to throw strikes, but if he has different release points for his heater and bender, it helps the hitter. It gives them a better idea what's coming.
Why did Dellin have one release point last year and two this year? That's almost impossible to answer. We can't rule out fatigue — Betances has pitched a ton the last two years, and especially so in high-leverage spots this year, and all those intense pitches can take a toll — but it could be he fell out of whack with his mechanics and never did get back on track. Again, he has a history of this.
Either way, with one release point or two, Betances was pretty excellent this past season. He wasn't quite as excellent as last season, when he seemed to overpower everyone and rarely get into jams, but he still kept runs off the board. Things were a little more difficult for Dellin this summer. He made us all sweat a bit, especially in early-April and late-September.
Looking Ahead to 2016
Betances will be in his final pre-arbitration season next year, and while an offseason trade should never be completely ruled out, it would be a surprise if Dellin wasn't in the 2016 Opening Day bullpen. The Yankees will again count on him to team with Miller and dominate the late innings. They had a .957 winning percentage when leading after seven innings this past season — the MLB average is .882 — and they'll look to repeat that next year. Betances is a big piece of the puzzle.