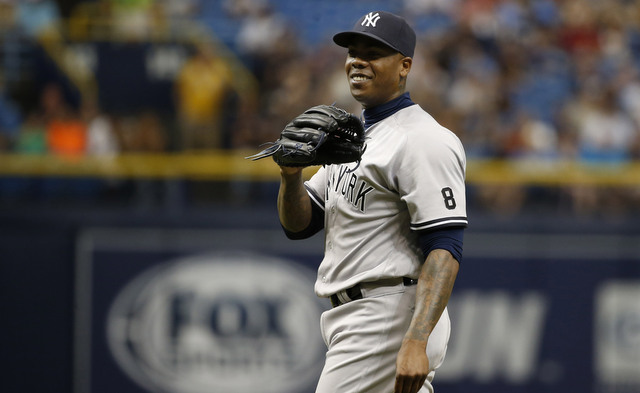 The Yankees aren't very good, folks. It's true. They haven't been all that good since the middle of last year. They were going to need some things to break their way to contend in 2016, and not only are those things not happening, unexpected things are going wrong. Luis Severino and Michael Pineda have been awful and Mark Teixeira forgot how to hit, for example. Last night's loss dropped them to 24-27 on the season. Yuck.
Last night's seventh inning meltdown notwithstanding, pretty much the only thing going right for the Yankees this year is the back-end of their bullpen. The trio of Dellin Betances, Andrew Miller, and Aroldis Chapman have allowed eleven earned runs in 54.1 innings (1.82 ERA) with 100 strikeouts and eight walks. Most of that is Miller and Betances since Chapman had to serve his suspension. But still, they've been collectively awesome.
Those three guys are the reason the Yankees are 23-0 when leading after seven innings and 18-1 when leading after the six innings. The problem is the rest of the team isn't nearly good enough to hand them leads consistently. The offense is powerless (and average-less) and while the rotation has been much better of late, it's not going to win many games by itself. The Yankees have three Ferraris in the garage but they can't figure out how to get the door open.
It's easy to say Betances, Miller, and Chapman are crucial to the team's success this year and that they'll go nowhere without them, and that is 100% true, but they're not going anywhere with them either. What needs to happen for the Yankees to make a run and contend this year? Like four guys in the lineup need to start putting up huge numbers and both Severino and Pineda need to do a complete 180. Possible? Sure. So very unlikely though.
The Yankees are not a team that is one or two pieces away from contention. They need something pretty close to an overhaul whether they want to admit it or not. Ownership can continue to spout the "you can't rebuild here" line until they're blue in the face. It doesn't change that it needs to happen. How much more obvious could it be? The Yankees have a ton of money coming off the books the next two years but they can't spend their way back into contention. Baseball doesn't work like that anymore.
The quickest and easiest way for the Yankees to add some desperately needed young talent is by breaking up that end-game bullpen and trading those relievers. Every single one of them should be on the market. Relievers are too volatile to be counted on as part of a rebuild — serious question: how confident are you Betances will still be an ace reliever when the Yankees are ready to contend again? — even the very best of them. These guys are hot commodities.
The good news is high-end relievers are always in demand. Every contender will want those guys. The Cubs lost last night because Clayton Richard had to face lefties Chase Utley, Corey Seager, and Adrian Gonzalez in the eighth inning of a scoreless game, for example. Don't you think they'd be willing to pay big for Miller? The need for elite bullpen help always exists. There is lots more demand than supply. We saw the kind of packages Craig Kimbrel and Ken Giles fetched this offseason. They were significant hauls loaded with top prospects.
Believe me, there is nothing I would love more than to watch the Yankees storm into the postseason with Betances, Miller, and Chapman turning every game into a five (four?) inning affair. The bullpen is by far the most exciting and watchable part of the team (Masahiro Tanaka is a distant second). No one wants to see these players traded. They're fun! That said, in the grand scheme of things, trading a reliever or three is 100% the right baseball move given the state of the franchise.
The Yankees are not ready to win with this group right now. There are too many weaknesses. This isn't "the season is still young" stuff anymore. Holding on to these relievers only to win, say, 83 games instead of 78 would be a massive mistake, and the Yankees can't afford any more mistakes. They're paying for a lot of them right now. The sooner they trade them, the more they get back and less injury risk they assume. The Yankees must be willing to deal Betances, Miller, and Chapman starting today.