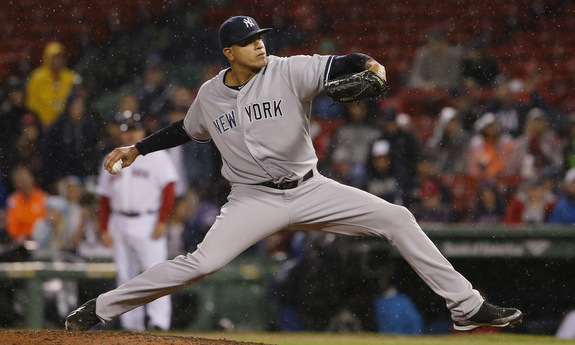 Man, Dellin Betances had to travel a long and hard road to get to where he was in 2014, namely being a deserving All-Star and arguably the best relief pitcher on the planet. The Yankees drafted him way back in the eighth round of the 2006 draft, gave him a $1M bonus to pass on a commitment to Vanderbilt — that was before the draft got borked — and waiting patiently as he battled injury and (occasionally extreme) control problems in the minors.
Here, let's take a moment to soak in Dellin's minor league career to fully understand where he's coming from:
Year
Age
Lev
ERA
G
GS
IP
H
R
ER
HR
BB
SO
HBP
WP
WHIP
H9
HR9
BB9
SO9
2006
18
Rk
1.16
7
7
23.1
14
5
3
1
7
27
1
2
0.900
5.4
0.4
2.7
10.4
2007
19
A-
3.60
6
6
25.0
24
11
10
0
17
29
2
3
1.640
8.6
0.0
6.1
10.4
2008
20
A-Rk
3.92
25
24
121.2
100
64
53
9
62
141
11
11
1.332
7.4
0.7
4.6
10.4
2009
21
A+
5.48
11
11
44.1
48
29
27
2
27
44
2
3
1.692
9.7
0.4
5.5
8.9
2010
22
A+-AA
2.11
17
17
85.1
53
25
20
4
22
108
4
6
0.879
5.6
0.4
2.3
11.4
2011
23
AA-AAA
3.70
25
25
126.1
102
61
52
9
70
142
10
7
1.361
7.3
0.6
5.0
10.1
2012
24
AAA-AA
6.44
27
26
131.1
144
107
94
13
99
124
12
20
1.850
9.9
0.9
6.8
8.5
2013
25
AAA
2.68
38
6
84.0
52
25
25
2
42
108
7
8
1.119
5.6
0.2
4.5
11.6
8 Seasons
3.99
156
122
641.1
537
327
284
40
346
723
49
60
1.377
7.5
0.6
4.9
10.1
There's a lot going on there, and a lot of it isn't good. Betances was damn near out of baseball in May 2013 before the Yankees permanently shifted him to the bullpen, hoping the shorter outings would better allow him to repeat his delivery and locate. The decision paid off immediately as Betances dominated for Triple-A Scranton the rest of the season and impressed during his September call-up.
For the first time in his eight full seasons as a professional baseball player, Betances came to Spring Training this year with a chance to win a big league job. There was an opening in the bullpen, and while he was the best choice for the spot on paper, he had to come to camp to show last season's bullpen success was no fluke first. His career had been way too up-and-down to hand him anything. Dellin had a minor league option left. The Yankees could have easily sent him to Triple-A.
Betances showed up to Tampa in the spring and won that bullpen spot with ease. He only struck out eleven in 12.1 Grapefruit League innings, but it felt like a lot more. More importantly, Dellin was locating his fastball — in addition to flat out blowing it by hitters, of course — and dropping his breaking ball in for called strikes. The outing that appeared to cement his place in the big league bullpen came on March 23rd, when he struck out Jose Bautista and got Edwin Encarnacion to fly out harmlessly to left with the bases loaded.
When the regular season started, Betances was the second-to-last man in the bullpen, ahead of only Vidal Nuno. David Robertson was locked into the closer's role and Shawn Kelley, Adam Warren, and David Phelps all had more big league time among the setup candidates. Betances made his first appearance of the year in the team's very first game, striking out two in a perfect inning of work with the Yankees down six runs in the seventh inning. That's as low-leverage as it gets.
Three days later, Betances entered a game the Yankees were leading by three runs with two outs in the eighth. He walked the first man he faced (Bautista) before getting the next (Encarnacion) to ground out to end the inning. The Yankees scored an insurance run in the top of the ninth, so Joe Girardi sent Dellin back out for the bottom half, but he walked the leadoff man on four pitches and that was that. The leash was short. Robertson came in to close out the game.
Dellin climbed the bullpen totem pole over the next few weeks, allowing three runs while striking out 21 of 47 batters faced in his final eight appearances and 12 innings of April. By mid-May he had established himself not as Girardi's primary eighth inning guy, but as a multi-inning middle reliever who routinely got five or six outs at a time. His coming of age moment, if you will, came on May 15th against the Mets, when he struck out six of seven batters faced with the Yankees leading 1-0.
From that moment on, Girardi regularly turned to Betances in the game's biggest situations and used him as a multi-inning high-leverage reliever. It was awesome. It was the perfect role. The kind of role we talk about all the time even though it never really happens because relief pitcher-ing is hard. Betances struck out 35 of 70 batters faced — half! — at one point from mid-May through mid-June, and he went into the All-Star break with a 1.46 ERA (1.36 FIP) and a 40.8% strikeout rate in 55.1 innings across 40 appearances.
Red Sox manager John Farrell named Betances to the AL All-Star Team — he was the only non-closing reliever named to the AL team — though he was one of three pitchers who did not pitch in the game, along with Mark Buehrle and David Price. It was disappointing but not really a bad thing given his first half workload. Betances threw a ton of important innings in the first half and a little four-day rest in mid-July was the best thing for him in the grand scheme of things.
After the All-Star break, it appeared Girardi and the Yankees made the conscious decision to limit Dellin's workload in the second half. After recording four outs or more 24 times in the first half, he was asked to do it only eleven times after the All-Star break. His effectiveness never waned but the Yankees were simply being careful with someone who quickly emerged as a top asset. Betances settled into a tradition eighth inning role in late-July and for the most part stayed their through the end of the season.
My single favorite plate appearance of the 2014 season came on August 5th, when Betances flat-out overpowered two-time reigning AL MVP Miguel Cabrera with the score tied in the top of the eighth. He got Miggy to swing over a breaking ball and through two 99-100 mph fastballs. It was swoon worthy. Check it out:
Dellin's final appearance as a multi-inning super-reliever came on August 13th, as the Yankees were clinging to postseason hope in a game against the division rival Orioles. They were up 2-1 in the sixth inning when Girardi called on Betances, who struck out he side in the sixth and retired the side in order in the seventh. He went back out for the eighth with his pitch count at only 24, got the first out, then served up a game-tying solo homer to Jonathan Schoop. The Yankees lost the game when the rest of the bullpen melted down.
Betances finished the season with a 1.40 ERA (1.64 FIP) in 90 innings spread across 70 appearances. His strikeout (13.50 K/9 and 39.6 K%) numbers were off the charts, and he also posted very good walk (2.40 BB/9 and 7.0 BB%), homer (0.40 HR/9 and 6.0 HR/FB%), and ground ball (46.6%) rates. Betances led all full-time relievers in innings, strikeouts (135), WPA (+4.42), fWAR (3.2), and bWAR (3.7). His 35 appearances of at least four outs were the most in baseball by a wide margin (Warren was second with 29.)
The parallels between Betances' career and Mariano Rivera's are kinda eerie. Both were starting pitching prospects who had their issues in the minors and didn't break out until being moved into the bullpen full-time. They both had dominant first full seasons with the Yankees as a multi-inning setup man at age 26 — Betances broke Mo's single-season reliever strikeout record (130 in 1996) this year — and like Rivera, Betances could wind up taking over as closer in his second year if the team's veteran closer leaves via free agency. That doesn't mean Betances will be the next Rivera of course, just that they've have freakishly similar careers to date.
What happens with Betances in the future is a conversation for another time. For now, let's just appreciate his 2014 mastery, when he was unquestionably the most exciting thing about the Yankees from Opening Day through Game 162. Masahiro Tanaka and Michael Pineda had their moments around their injuries, but Betances was there from start to finish. We were all upset every time the bullpen door opened and someone other than Dellin came running out even though we knew he couldn't pitch everyday. Dealin' Dellin was the rose that grew out of the cracks in the sidewalk that was the 2014 Yankees.