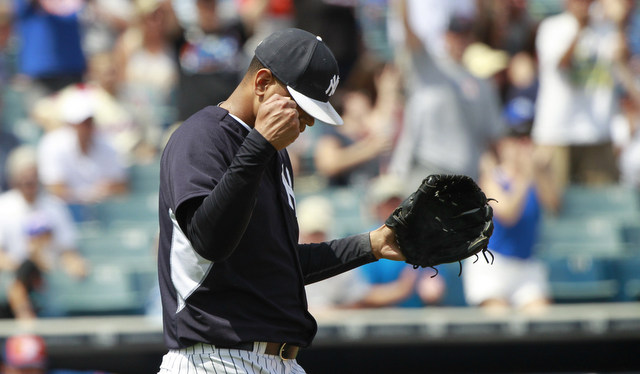 For the fourth consecutive appearance, ace righty reliever Dellin Betances allowed a run yesterday afternoon, this one on a home run by the generally powerless Juan Lagares. The homer came on a hanging breaking ball, and while it was Dellin's second straight day on the mound — his first set of back-to-back games this spring — it continued his recent stretch of tough outings.
Betances has allowed four runs on seven hits and two walks in his 5.1 innings this spring, striking out four. All four strikeouts came his first two outings. He hasn't struck out any of the last 18 batters he's faced after going no more than 13 batters between strikeouts in 2014 as best I can tell. Dellin allowed one run on five hits and four walks in 12.1 last spring, striking out eleven, just for reference.
The circumstances this year are much different than last year, however. Betances was trying to impress last spring because he wanted to make the team. He had a strong showing in September 2013 after moving to the bullpen full-time in Triple-A, but Spring Training was his best opportunity to impress the decision-makers. Betances has a roster spot locked up this spring, so he could afford to take it a little easier in March.
Now, that said, Dellin's struggles appear to go beyond something we could chalk up to a veteran just getting work in. There is no PitchFX in any Grapefruit League park, so while we don't have an accurate measure of his velocity, it is clearly down a few miles an hour. Joe Girardi acknowledged it the other day, telling Chad Jennings that Betances "wasn't throwing 97, 98 in Spring Training last year at this time. He wasn't. And power pitchers usually take a little bit longer to get going."
While true, PitchFX clocked Betances at 97.1 mph during his first regular season outing last year, on April 1st. First game of the year adrenaline? Maybe. He was at 95.4 mph in his second game and 96.6 mph in his third. Either way, Dellin hasn't come close to that average fastball velocity this month. His breaking ball hasn't had the same sharp bite either — it certainly isn't buckling as many knees — and his overall location has been poor. Betances knows it too and he's getting frustrated.
"I'm obviously frustrated. I mean, it's been four outings where every time out, I've given up a run. Today I felt better, but you got to make a better pitch than that to Lagares. It's frustrating, but I'm sure I got four more outings left and I'll do whatever I can to be better for the season," said Dellin to Jennings and Brendan Kuty following yesterday's game. "A lot of those guys know who I am now. Last year, I was unknown. Right now I need to get a few more (mph on my fastball) and maybe attack the zone better."
Three years ago we went through a similar situation with a pitcher showing reduced velocity, though I think Michael Pineda's situation in 2012 was much different than what Betances is going through now. Pineda was having a tough time cracking 90 mph — Jennings spoke to a scout who had Betances at 92-93 mph yesterday, for what it's worth — and he seemed to be laboring physically. Dellin doesn't give off that same vibe. It seems like it's a mechanical issue more than a physical issue, but I'm neither a doctor nor a pitching coach.
Betances of course has a long history of mechanical issues. Very long. Basically his entire career sans 2014. He struggled with extreme control problems in the minors and things didn't click until he went to the bullpen, and Dellin attributed the regular work to his improved mechanics. That could be part of the problem this spring — he's thrown roughly 40% of the innings he did last spring with only a week to go in camp. Maybe he hasn't seen enough game action to get up to speed.
Last season's workload — 90 innings across 70 appearances — could certainly be a factor, though the innings total itself was not out of the norm for Betances. He threw 89 total innings in 2013, 131.1 innings in 2012, and 129 innings in 2011. That said, he was a starter in 2011 and 2012, and throwing that many innings as a starter is different than doing it as a reliever in so many more appearances. Dellin threw a ton of stressful innings last year. Of course the workload could be a factor.
I'd be lying to you if I said I wasn't worried about Betances' rough spring and his stuff not being as crisp as it was in 2014. Between that, his minor league history, and last year's workload, I don't know how some concern doesn't creep into your mind. But full blown panic? No, not yet. I want to see what happens when Betances gets into the regular season and gets some more innings under his belt. If he's still throwing low-90s with no feel for his breaking ball say, three weeks into the season, then I'll be much more concerned than I am right now.
As I wrote in our Season Preview post earlier this week, Betances is unlikely to repeat last season's overwhelming dominance because basically no one does that two years in a row. That doesn't mean I expect to him bad though. I still expect him to be an elite reliever, the same way David Robertson never repeated his 2011 performance but remained elite from 2012-14. The good news is the Yankees have a deep bullpen and have the relievers to cover the late innings if Betances' struggles carry over into the regular season. They can be patient and let him work it out.
But let's not kid ourselves either. Dellin is a major piece of the 2015 Yankees, a team built to win close games on the back of a shutdown bullpen, a bullpen Betances was expected to anchor. If whatever is ailing him this spring continues deep into the season, it's going to hurt the team's chances of contending substantially. This isn't some generic middle reliever we're talking about. For now, I am a bit concerned about Betances and hope to see improvement over his final few Spring Training appearances. And if he doesn't get straightened out a few weeks into the regular season, the Yankees could have a big problem on their hands.