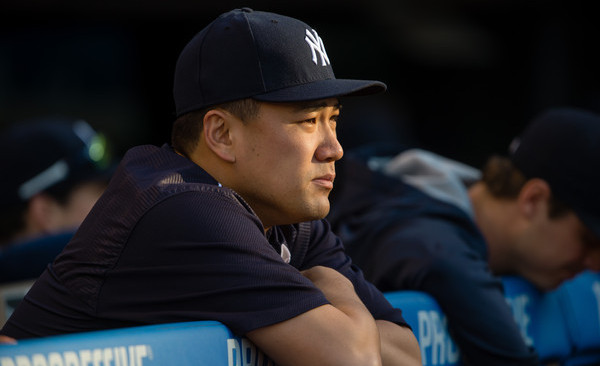 Each and every year, Spring Training around the Yankees is pretty hectic with important storylines to watch, regardless of whether they just won the World Series or missed the postseason. Last year we had the Alex Rodriguez circus and I'm not sure anything can compare to that. All things considered, it went pretty well, mostly because A-Rod showed he could still play.
This spring there are many things to keep an eye on as the Yankees prepare for the upcoming season, most of which involve health. That's the buzzword this spring: health. The Yankees have some injury risk — I think it's fair to say more than other teams — so that's something to watch these next few weeks. Is it the only think to watch? Hardly. Here are five of the most important storylines to monitor in Spring Training this year, roughly in order of importance.
Tanaka's Timetable
Masahiro Tanaka did indeed have elbow surgery this offseason, but it wasn't the Tommy John surgery that is widely considered inevitable. He had a bone spur removed from his elbow, a spur that reportedly dates back to his time playing in Japan. Tanaka is already in Tampa working out and he's thrown off a mound, so his rehab is going well. He threw some gas on the fire by saying he might not be ready for Opening Day, however.
"I can't really say (whether I'll be ready for Opening Day). I'll take it day by day. I just want to see myself go into the bullpen, get the innings and see how I feel. I feel perfectly healthy," said Tanaka to reporters the other day. Pitching coach Larry Rothschild said Tanaka has had no trouble with his throwing program and that the team's ace will "get to where he needs to get to as time progresses."
Brian Cashman hedged a bit, saying Tanaka will "enter Spring Training maybe a little behind for precautionary reasons," even though he is physically fine. CC Sabathia had the same surgery following the 2012 season and the Yankees took it easy on him in Spring Training. He was a few days behind the other starters in camp, and he made most of his early spring starts in controlled simulated games before getting into Grapefruit League action.
Every pitcher is different, though I suspect the Yankees will follow a similar plan with Tanaka this year. Simulated games early — that allows the team to control the action; they can end a inning if it goes too long, stuff like that — then a few tune-up Grapefruit League appearances late. (Sabathia made only two official Grapefruit League starts in 2013.) Is it ideal? No. But neither is offseason elbow surgery, even for something as relatively minor as a bone spur.
We should be able to get a pretty good idea whether Tanaka will be ready for the start of the regular season early in camp. Opening Day is April 4th, so give him four weeks of prep and we're talking about a March 7th target date for game action, even if it's only a simulated game. If Tanaka's not able to pitch in some kind of game and get his pitch count into the 40-45 range that week of March 7th, the odds of him being ready for the season fall big time.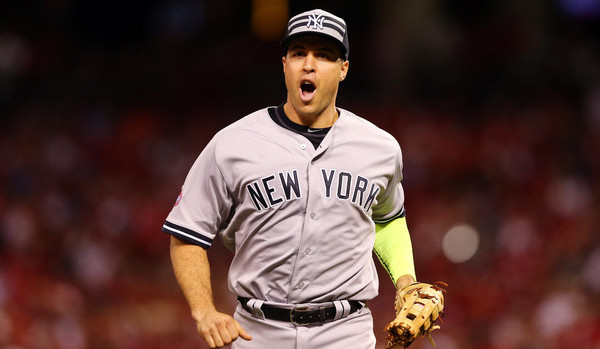 Teixeira's Leg
Greg Bird's shoulder surgery has made it easy to forget Mark Teixeira is coming back from a pretty substantial injury himself. He suffered a small fracture in his shin last August, then was shut down in mid-September with a three-month rehab timetable. The last Teixeira update came in mid-December and all indications were his rehab was going well, though he had not yet started running. That was scheduled for sometime in January.
Joe Girardi will hold his annual start of Spring Training press conference tomorrow and I'm sure we'll get an update on Teixeira at that time. It goes without saying how important he is to the Yankees. Teixeira is arguably the team's best two-way player and he is their best power hitter, and now Bird is not around as a backup plan. The Yankees could keep Teixeira off his feet and give him a bunch of DH at-bats in spring, but that is A-Rod's position now, so it's not so simple. Both guys need at-bats to get ready for the season.
Castro At Third
The Yankees have made it clear they plan to try Starlin Castro at third base this spring — "We're not going to force it … but we'll certainly find out when we get to know him a little better and see how he looks," said Cashman — and his ability to handle the hot corner will have huge roster implications. If he can play third, the Yankees can use their 25th roster spot as a revolving door, which is their plan. If he can't play third, they'll need to use that spot to carry a backup third baseman.
Not only will watching Castro physically play the position be important, but I'm also curious to see exactly how much time the Yankees give him there. Remember, Starlin is relatively new to second base as well. He only started playing second last August. He's going to need reps at that position as well. The Yankees can't have Castro focus solely on the hot corner in Spring Training. He's got to work out at second too. Will that leave enough time for him to pick up third base? There are reasons to believe Castro can handle the third, but it is still going to be a new experience, and he won't have much time to learn the position.
Headley's Throwing
I'm not sure any aspect of the 2015 Yankees surprised me more than Chase Headley's sudden inability to make routine throws. He made a career high 23 errors last year, including 12 throwing errors, fourth most of any non-first base infielder in baseball. Only Marcus Semien (18), Jean Segura (15), and Josh Donaldson (13) threw more balls away. That doesn't include all the errors Teixeira saved Headley as well*. There was too much of this last summer:
The routine plays gave Headley trouble, yet his throws on difficult plays (those with minimal reaction time) were largely perfect. That suggests a mental issue, not a physical issue, and to be fair he did cut down on the errors as the season progressed. He made 16 errors in the first half and only seven in the second half, which is still a lot, but not nearly as much as earlier in the season. "There are some balls there is nothing you can do about but I worked on recognizing. Hopefully it's behind me and hopefully it makes me mentally stronger," he said at midseason.
Don't get me wrong, I don't think anyone would say Headley is over his throwing problems based on his second half error total, including the Yankees and Headley himself. That's why his throwing will be a focal point this spring. The goal isn't to get Headley to do something he's never done before, like it is with Castro playing third. The goal is to get him back to where he was his entire pre-2015 career.
* For what it's worth, the fancy Baseball Info Solutions data I have access to through CBS says Headley ranked middle of the pack among third basemen in the number of errors saved by "good scoops" at first.
Dellin's Workload
Last spring was a new experience for Dellin Betances. It was the first time in his career he reported to Spring Training with a big league job locked up, and relievers who are locked into big league spots have light schedules. They throw only a handful of innings and rarely travel. It's a sweet gig if you can get it. Last spring Dellin threw 8.1 innings across nine appearances. In 2014 it was 12.1 innings across ten appearances.
Four innings doesn't sound like a huge difference, and it probably isn't, but Betances did struggle in Spring Training last year. His control was awful and even his velocity was down. It wasn't until a week or two into the regular season that he started to look like the 2014 version of himself. Betances has said he's a guy who likes regular work because it helps him stay sharp, so I don't think it's unreasonable to suggest the reduced spring workload led to his early season problems. He simply didn't have enough time to get ready.
I'm curious to see how the Yankees handle Betances this spring. Do they give him a few more Grapefruit League innings to prepare for the season, or do they keep him on the typical reliever plan and expect him to adjust? Maybe the solution is more bullpen work, not necessarily game action. A balance has to be struck between enough work to prepare and too much work. That doesn't seem like an easy thing to do, especially with a pitcher as unique as Dellin.