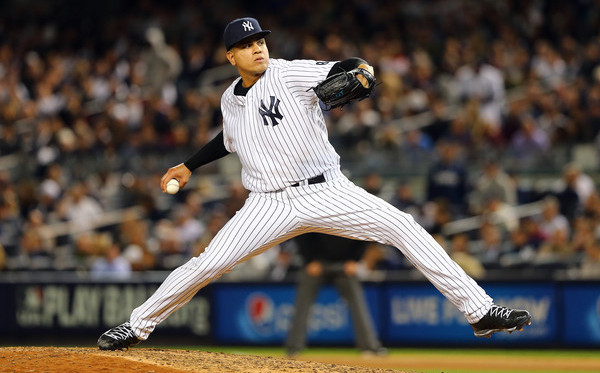 It's no secret Dellin Betances has endured a huge workload the last two seasons. He's thrown 174 innings the last two years, nearly 20 more than any other reliever, and most of those innings were high-leverage situations. Dellin hasn't just been throwing a lot of innings, he's been throwing a lot of high-intensity innings.
Betances is a physically massive human — he's listed at 6-foot-8 and 265 lbs. on the team's official site — and the workload hasn't really hurt his performance much. Yeah, he struggled throwing strikes late last season, but he has a history of control problems, so it wasn't totally out of the ordinary. Fatigue may have been a factor. We just can't say so definitively.
Either way, ideally Dellin's workload would not be quite as high as it has been going forward. Relievers don't throw 85+ high-stress innings year-after-year anymore. Aroldis Chapman will assume some of those high-leverage innings, and Betances said he's looking forward to having the team's new closer lighten his load a bit.
"It's exciting, obviously," said Betances to Meredith Marakovits when asked about Chapman (video link). "And I think that will help my workload as well, having Chapman there … I think everything will fall into place. Whatever the team needs me to do to help them win, I'll be ready."
I think Joe Girardi and the Yankees would like limit Betances to somewhere in the 70-75 inning range going forward, which is still pretty high by reliever standards. Only 19 relievers threw 70+ innings in 2015. Dellin's shown he can handle a larger than usual workload, and that's something the Yankees should take advantage of when possible.
Girardi likes to assign his relievers specific innings and it seems like Betances will take over as the seventh inning guy in 2016. That's not set in stone, but I think it's heading in that direction. That's a good spot for Betances because Girardi can use him to get a few outs in the sixth inning on occasion as well. Justin Wilson didn't do that much last year.
Betances is a big guy and he will turn 28 during Spring Training, so he's not a young prospect. That doesn't mean his workload can be brushed aside either. The Yankees want Dellin to help them win not only in 2016, but also in 2017, 2018, and 2019 as well. He's a core member of the roster, and using Chapman to help lighten the load on Betances is a big positive.