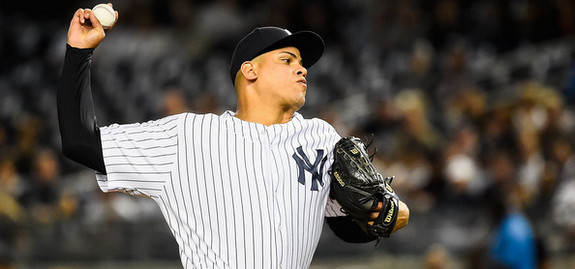 The regular season ends six days from now, which means the voting for the various league awards will soon end as well. The voting ends after the regular season but before the postseason — what happens in October has no bearing on anything. These are regular season awards, as it should be.
The Yankees are an extreme long shot to make the postseason and teams that don't make the playoffs tend not to have major awards winners. That's not always the case — Alex Rodriguez was the 2003 AL MVP on the last place Rangers, for example — just most of the time. Don't get mad at me. That's the way the voters vote. The Yankees do still have some candidates for each of the major awards this season, however. Let's run them down.
Most Valuable Player
There is an excellent chance the Yankees will not have a player finish in the top ten of the AL MVP voting this year for the first time since 1996, when Mariano Rivera finished in 12th place. The lack of a truly elite player, a Robinson Cano or prime-age A-Rod or Derek Jeter, combined with their second straight postseason-less year all but eliminates anyone on the team from serious MVP consideration. The BBWAA has shown time and time again they prefer to vote for players on contending teams.
Now, that said, the MVP ballot is ten players deep and those last two or three slots are like the Twilight Zone. A lot of weird stuff happens there. Raul Ibanez received a tenth place MVP vote in 2012, remember. Jacoby Ellsbury and Brett Gardner have been the team's two best players all year and I'm guessing they'll combine for at least one down-ballot vote this year. Same with Dellin Betances and maybe David Robertson. The Yankees don't have any serious MVP candidates this season but I feel comfortable saying someone on the roster will appear on a ballot.
Cy Young
Had he not gotten hurt, Masahiro Tanaka would have been an excellent Cy Young candidate alongside Felix Hernandez and Corey Kluber (and Chris Sale). The injury takes him right out of the running for the award, unfortunately. The Cy Young ballot is one five players deep and it would surprise me if Tanaka even managed to sneak on and grab one fifth place vote at this point. He simply missed too much time and there are too many good pitchers in the AL. Maybe Betances will grab a fifth place vote like Robertson did in 2011. Maybe. He is the club's only real shot at being included in the Cy Young conversation this season.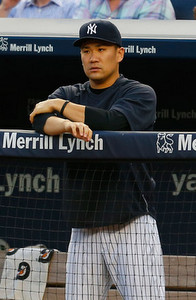 Rookie of the Year
Believe it or not, the Yankees have never had two players receive Rookie of the Year votes in the same season. That is all but certain to change this year thanks to Tanaka and Betances. There are a lot of good rookies in the AL this year but Jose Abreu has lapped the field — I think he should win unanimously, this is a no-brainer in my opinion — so neither Tanaka nor Betances will win. I do think both are safe bets to garner multiple second and third place votes though. (The ballot is only three players deep.)
Shane Greene has had a nice year but I would be very surprised if he received any votes. There are too many other good rookies in the league (Collin McHugh, Matt Shoemaker, George Springer, Marcus Stroman, Yordano Ventura, etc.) for him to get serious consideration. That doesn't take away from what he's done this year. This just isn't a good year to be a good but not great rookie in the so-called Junior Circuit.
Manager of the Year
The Manager of the Year award has morphed into the "manager whose team most exceeded expectations" award, so Joe Girardi won't win. I'm guessing the award will go to either Ned Yost of the Royals or Lloyd McClendon of the Mariners, depending on which non-Athletics team wins a wildcard spot.
The Manager of the Year ballot is only three names deep and it'll be tough for Girardi to get even a third place vote this year given his competition. I'm guessing at least one BBWAA member will give him a vote based on the team's ability to linger in the wildcard race until the final week of the season though. After all, nine of 15 AL managers received at least one Manager of the Year vote last season.
Comeback Player of the Year
This one will be interesting. If Jeter put together nothing more than a decent season, say hitting .280 with a .340 OBP and no power, I think he would have won the Comeback Player of the Year award easily. Mariano Rivera won last year and deservingly so, but, even if he had been merely good instead of excellent, I think he would have won anyway for sentimental reasons.
Jeter's brutal August and pre-current homestand September really dragged down his season numbers (.256/.304/.313) and it will be hard for voters to look the other way. Melky Cabrera and Albert Pujols stand out as two deserving Comeback Player of the Year candidates, so there is no lack of competition. Maybe Jeter will win on the strength of sentimental votes, but I don't think it's a slam dunk at all.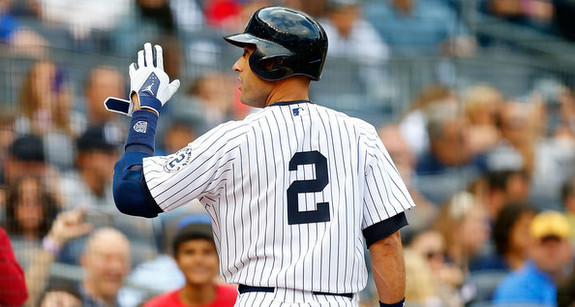 Gold Gloves
A sabermetric component was added to the Gold Glove voting a few years ago, but it only counts as 25% of the vote. The other 75% is still based on the league's managers and coaches. Whether they admit it or not, offense still has some impact on the voting, though it has gotten better in recent years.
Right off the bat, we can completely eliminate the entire infield. I mean, maybe Jeter will get a sentimental vote, but I can't see it at this point. Gardner is a good left field Gold Glove candidate — they used to hand out three general outfield Gold Gloves, but they are position specific now — but Alex Gordon has this one in the bag. He's outstanding in left and his offense won't hurt his case either. Yoenis Cespedes might also get more votes than Gardner because of his throwing arm.
Ellsbury has been stellar in center field all season though the numbers hate him for whatever reason: -6 DRS, +1.1 UZR, and +0 Total Zone. I don't get it. That doesn't match up with the eye test at all. The various defensive stats always seem to hate Yankees center fielders. Maybe because Gardner takes plays away from them. Anyway, Ellsbury has some stiff Gold Glove competition in Mike Trout, Jackie Bradley Jr., Adam Jones, Leonys Martin, and Desmond Jennings. I think the chances of Ellsbury winning the Gold Glove are better than the chances of any Yankee winning any other award, but I would bet on the field with this many qualified candidates.
Silver Sluggers
Yeah, no. You actually have to hit to win a Silver Slugger and not many Yankees did that this year. Gardner and Ellsbury have been the team's two best hitters and they aren't beating out Gordon or Trout, respectively. Nevermind the other candidates around the league. As far as the Yankees are concerned this year, the most exciting part of the awards voting will be seeing where Tanaka and Betances finish behind Abreu for the Rookie of the Year award. Jeter's possible Comeback Player of the Year and Ellsbury's possible Gold Glove are the only other items of note.